Chicago to DC With LTHForum As My Travel Agent, Part 3: Our Nation's Capitol
Of course, one does not go to Washington merely, or even primarily, to eat. You go to see holy shrines of great Americans, like Julia Child's kitchen:
I must admit, my first-ever visit to the Smithsonian Museum of American History was a bit disappointing, just because it's such a random grab-bag (unless you're the sort of person who gets up wanting to see the Star-Spangled Banner, the magnetic device A.G. Bell used to look for bullets inside President Garfield, and the one true Howdy Doody all in the same day). I couldn't help but feel that there were much more interesting ways to present much more stuff than this space-wasting, occasionally way too politically correct museum.
On the other hand, I have nothing but praise for the original Air & Space museum (it has a new facility out at Dulles which we didn't visit), which besides containing the holiest of all American relics-- the Wright flyer-- has lots of other cool displays. Here is the diorama depicting the attempt of the first Soviet time-traveling satellite, the Khronovik-1, to shoot down Charles Lindbergh in 1927 and claim the first transatlantic flight for Stalin, an attempt foiled by Chuck Yeager's X-15: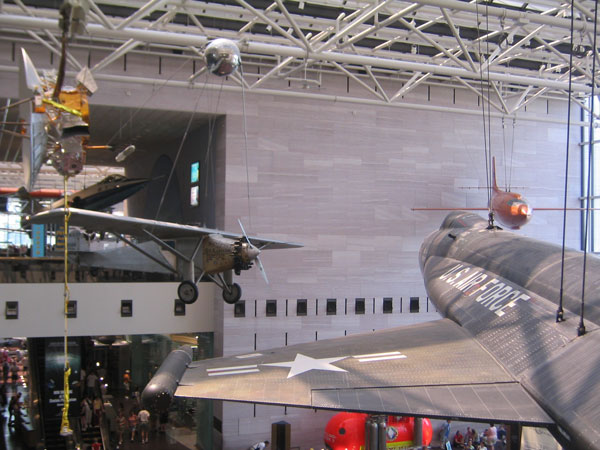 One day we made the kids take the long march through the presidential memorials-- you see them all your life, but it takes visiting them up close to realize that some providential hand ensured that every major memorial in Washington is just totally perfect. Washington-- towering, stern, mysteriously oblique in the Egyptian fashion. Jefferson-- sophisticated, urbane, Greek. Lincoln-- a Roman republic temple crossed with a tin cigar box, inviting you in for a jug and some tall stories. (Liam conked out at this point. George would have frowned but Abe wouldn't have minded.)
And the new FDR one, shapeless and with no single focus, yet with lots of interesting touches, willing to give anything a try, give lots of artists a crack at summing up his presidency and, in the process, a job. Here the boys pose with "my little dog, Fala."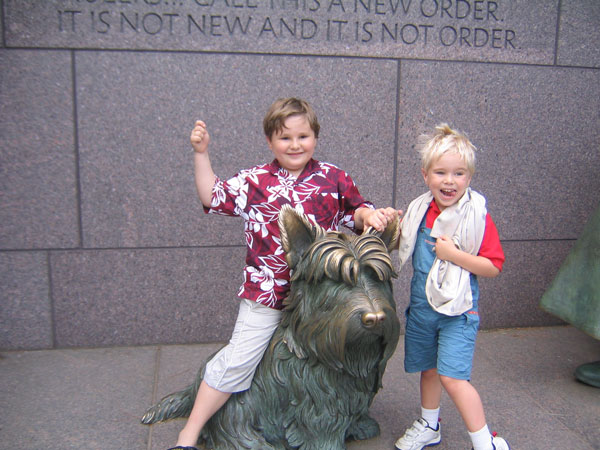 We also saw the new war memorials-- relatively new, anyway-- the
Korean one,
with its lifesize soldiers who look like Bill Mauldin drawings from WWII, walking ghostlike through a black marble landscape which can't help but make you think of the Vietnam memorial not far away-- bridging the two very different eras and wars with which it shares a bit of each. And the
WWII one,
which I had thought from drawings looked too much like fascist architecture with its rows of pillars, actually in real life is human-scaled, very much has the modern-but-not-Modernist feel of midcentury government architecture (like the Dept. of Agriculture, or Goodhue's masterful
Nebraska statehouse
), is low enough to the ground that it doesn't dominate one end of the reflecting pool (Washington still does that) and provides a peacefully triumphant space for a less ambiguous war.
And then (he said seguing quickly to food before someone gets all Leff on him) if you continue along, what was it, 14th or something past the Holocaust Museum and the Bureau of Printing & Engraving, you get to: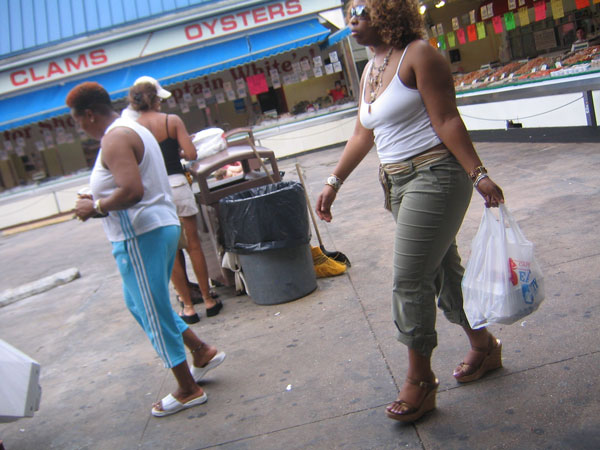 The waterfront fish market! We were actually tipped off to this by Jonathan Zurer (of whom more anon), and it was the perfect end to a morning of memorial trekking, both much-needed sustenance and welcome slice of urban vigor and reality after a morning of white marble contemplation. Ramshackle vendors along the waterfront, Italian and black and Vietnamese, raucously hawking things that were caught not far away (still-live crabs) and things that plainly weren't (salmon and sea bass).
Most was for cooking later, but one stand did a brisk business in crab cake sandwiches and shrimp by the pound, served from big butter-filled bins (in which they were overcooked, but still tasty). We sat in the parking lot and devoured them happily, pouring a little butter and garlic on the pavement for my dead homies George, Abe, Tom and Franklin.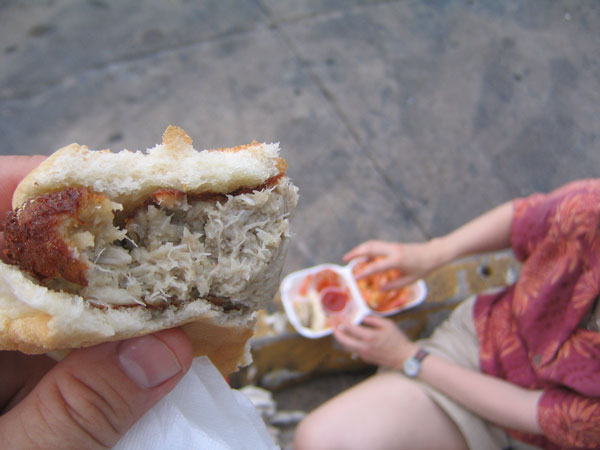 And now the moment you've all been waiting for: the clam report from Full Kee.
By now it is just accepted as normal in my family that when visiting a distant city, the natural thing to do is to have dinner with the brother you've never met of someone you mainly know from cyberspace. And so, remembering our own Seth Zurer's
words about the superiority of the clams in black bean sauce at Full Kee,
and his dad's
open invitation
to any out of towner to dine there, a few emails later, there we were with Seth's brother Jonathan.
Below: L. to r., Mom of Mike G., chicken and eggplant, clams in black bean sauce, leek flowers, Brother of Seth Z.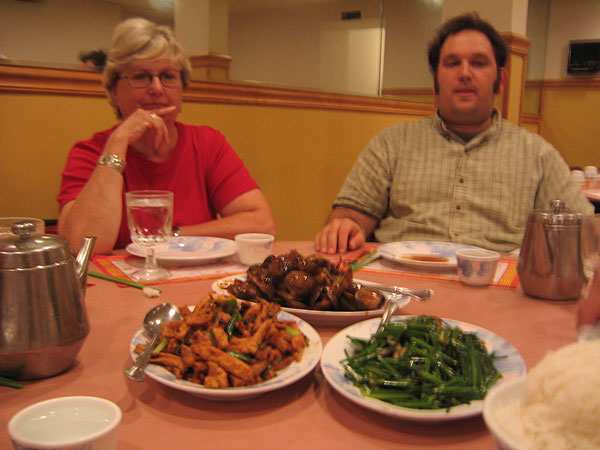 I wish I had enough basis with clams to be able to state definitively whether these made Little Three Happiness' appear insipid, but I've confessed my lack of mollusc knowledge or love
before.
So, all I can say is, I liked it, for a clam dish.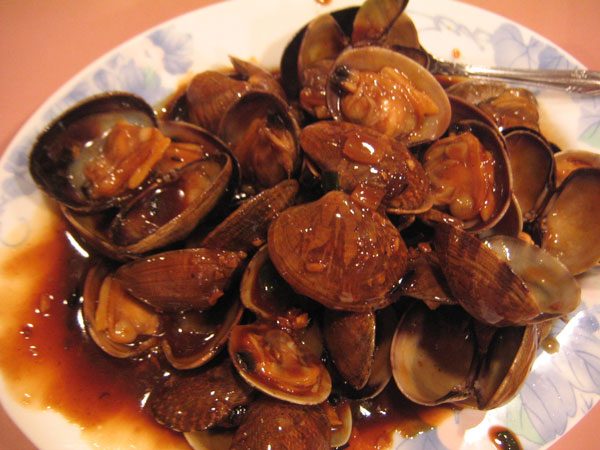 I really liked the soup with shrimp dumplings, a dish that showed shrimp off to their best advantage; and perhaps my other favorite was the leek flowers, better described as leeks which had been allowed to sprout slightly, cooked simply with a little soy sauce in a wok.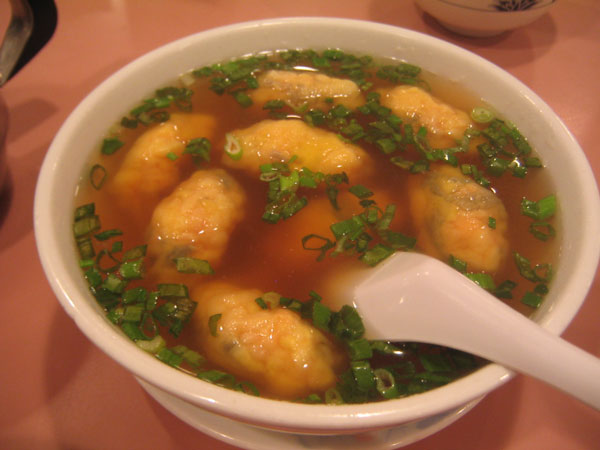 The eggplant "casserole" was oily but if you picked things out and let them drain a bit, had lots of good flavor. (Still, if we hadn't been so seafood-heavy at that point, I think the recommended oyster and ginger casserole sounded more promising.)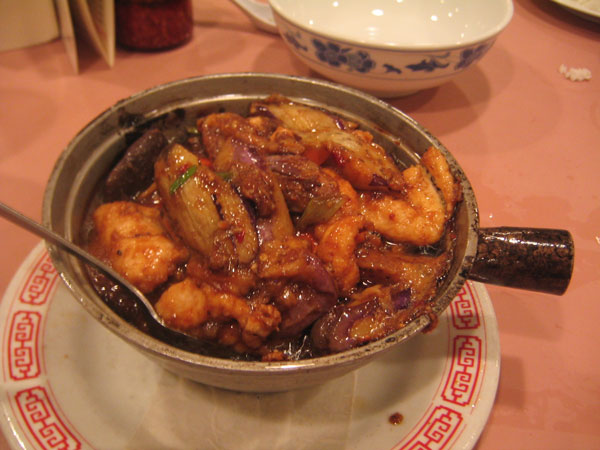 Here's a shot of us exiting: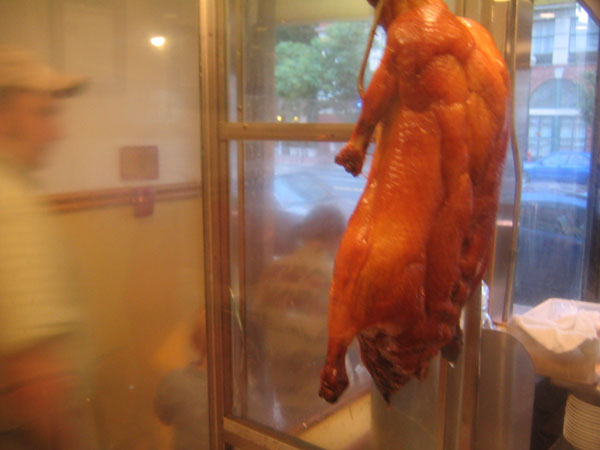 It's great that thanks to something like LTHForum, you can arrange dinner with a total stranger who shares your obsessions so closely that conversation starts off at a fast clip and never lets up. Jonathan was, like all Zurers in my experience, an extremely nice, smart and funny guy, and I thank him for joining us, enabling us to order more food to try, and not least for tipping us off to the fish market.
* * *
I escaped one day while the kids were playing to go off on a food adventure of my own via Metro. My destination: the
Sterns-approved
soul food lunch counter Florida Avenue Grill, which is
reputed
to be in a rather dodgy neighborhood. Well, as I was looking at the map, and noticed how few blocks separated Florida Avenue Grill from Adams-Morgan/Dupont Circle, I began to suspect that the reports of scariness may no longer be valid. Sure enough, the neighborhood (pretty tidy to begin with, like 79th Street more than Englewood) resounded to the sound of chic new condos going up, and the only fear I had was that I was already too late to buy property.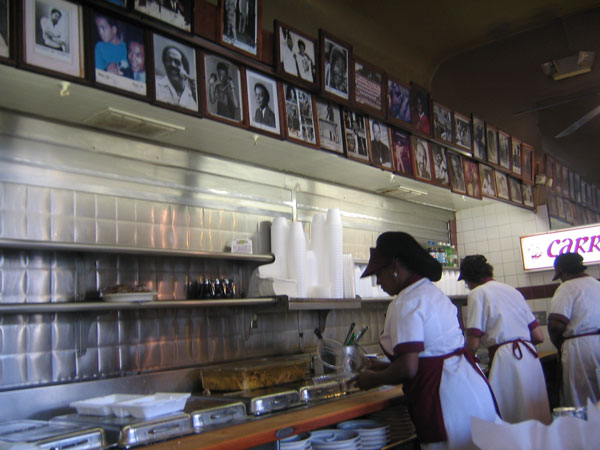 Maybe the gentrification is the reason, then, for the fact that I was less than welcomed or wowed here. I hoped to find, nay, wallow in the most rustic of Southern soul food delights, but the menu seemed only a little more Southern or soulful than an Illinois truck stop. (I just heard the Sterns on an old Splendid Table claiming there were both grits and redeye gravy on the menu, but I saw no evidence of either.) I also hoped to be welcomed by waitresses with southern charm to spare, but in fact the warmth of my welcome was just barely nudged over the edge to tepid. Fried chicken, collard greens and candied sweet potatoes were okay, but I've had better in Chicago, and it's not even like I eat that kind of food very much.
I was about to chalk it up as a little more evidence for the idea that once the Sterns make a place famous, its glory days are over, when I was offered dessert. Cut my losses or go for one more roll of the dice? I decided I would only regret
not
doing so, and so I ordered peach cobbler.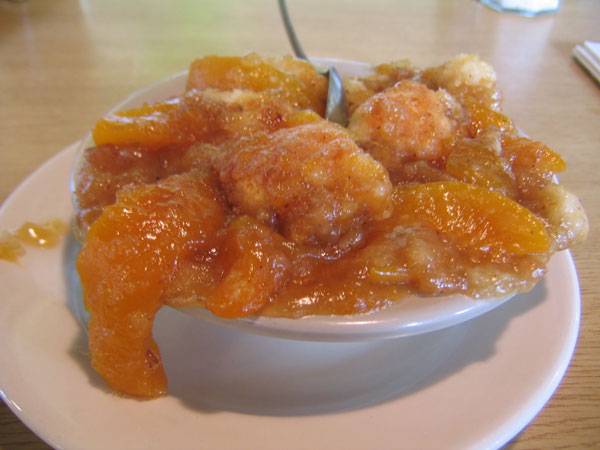 Bliss. Warm, spicy, goopy, it enveloped me with downhome goodness and made up for everything else. For some reason, too, it made them suddenly friendlier. Had I passed some test? Did they resolve some behind-the-scenes disagreement while I wasn't looking? Who knows, but dessert justified the reputation that lunch did not.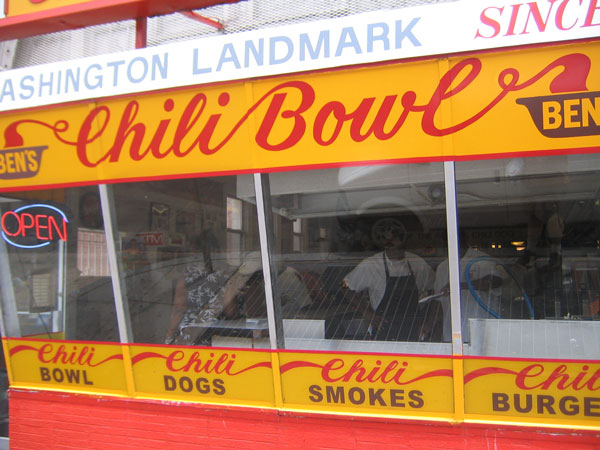 Walking back to the Metro, I saw the likewise Sterns-approved and
highly reputed
Ben's Chili Bowl. Well, my philosophy is, if you didn't like your lunch, keep having lunch until you do, so I went in for a half smoke with chili. Here's half of a half smoke (I forgot to take a picture until I was at that point):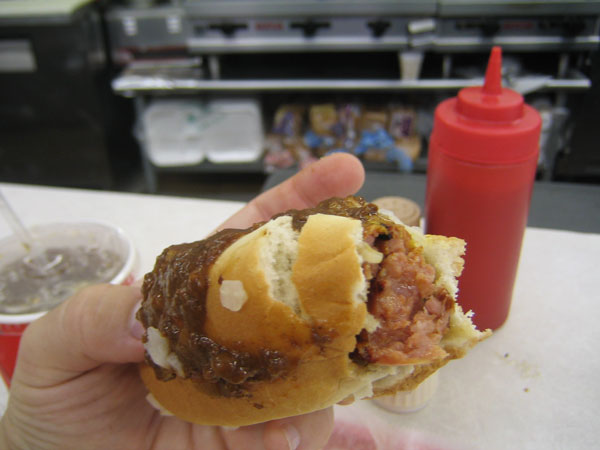 This is the kind of food that is probably at its best when you're drunk, but in its gut-bomb way, it was pretty wonderful if of little nutritionally redeeming value. As Eatchicago
said,
"Ben's has the amazing ability to use cheap, canned ingredients and turn them into something delightful." Although actually, I guess I wouldn't call them cheap when you look who their supplier seems to be:
(Incidentally, here's something no one seems to have commented on: I'd just bet that Ben's building was originally built as a nickelodeon. That arch window with the ring of bare electric lights around it is the classic nickelodeon style. P.S. Okay, digging around on the Ben's site I found this: "Built in 1909, the building first housed a silent movie house, the Minnehaha Theater." Cha-ching!)
* * *
One final visitor tip, at least for those with small kids: in Maryland northwest of DC there's the remnants of an art deco-era amusement park called
Glen Echo Park,
where they do puppet shows, have an old carousel, etc. Not that much is left of the old park but what's there is some of the best-preserved (or most atmospherically left-to-crumble) vintage art deco I've seen, very cool.
Oh, and true story. The next day, my wife went on her own adventure and tried to just walk right into the Capitol Building as she had done in pre-9/11 days. As she was stopped, the guard asked her if she was staff. No, a tourist, why did you think I was staff? The reason was, the Ben's Chili Bowl T-shirt I had bought her the day before....
Waterfront Fish Market
Maine SE, east of 14th St. bridge
Full Kee
509 H St., NW
Washington, DC
202-371-2233
Florida Avenue Grill
1100 Florida Avenue NW
Washington, DC
202-265-1586
Ben's Chili Bowl
1213 U Street NW
Washington DC
(202)667-0909