LTH,
Last evening an LTH group of 13 gathered at Spacca Napoli to present Choey's nomination the
GNR
, enjoy each others company, revel in drop-dead gorgeous mozzarella di bufala w/prosciutto, picture perfect Neapolitan style pizza and bask in the absolutely radiant energy of SN owner Jonathan Goldsmith.
Choey (L) Jonathan Goldsmith(R)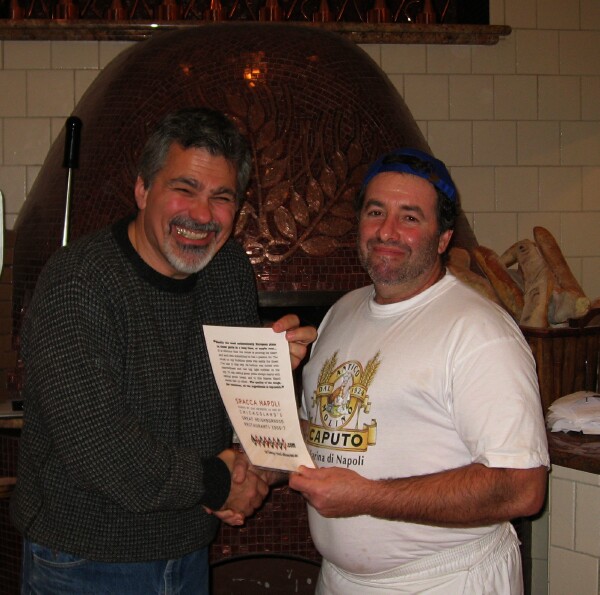 Spacca Napoli, which has been open less than a year, is an incredibly well oiled machine, handling our group with grace and efficiency, even though the house was packed. Choey, oenophile that he is, picked the wine, and terrific picks they were, and we got down to the pleasant chore of winnowing down our choices from One of Everything, to a slightly more reasonable request.
We started with a white board special of mozzarella di bufala w/prosciutto. Mozzarella rich, creamy, luxurious, just the faintest hint of tart, so incredibly full flavored and silky smooth gastroporn really doesn't begin to describe. Match this mozzarella with a ripe heirloom tomato or three and you'd have a 20 on Mike G's
Caprese Salad Index
.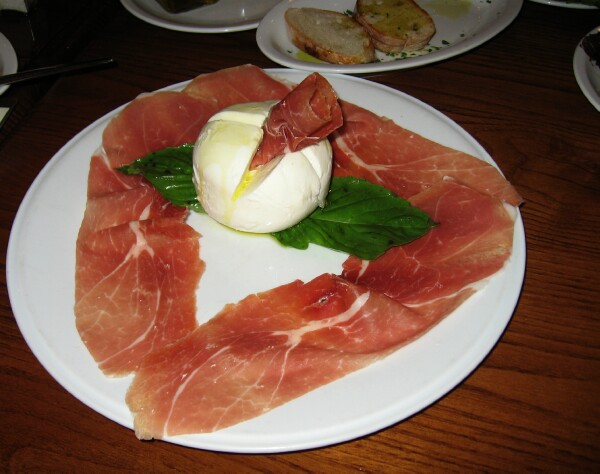 Melenzane (eggplant), salads and terrific made in-house bread completed our starters.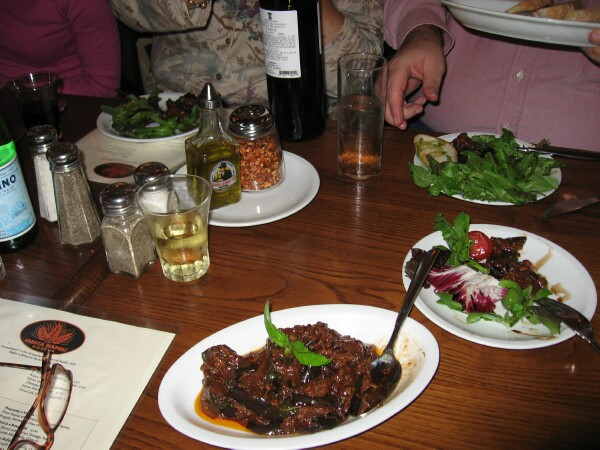 SN is all about the pizza, the mechanics of which Choey describes to a tee
here
. I love the lightly chewy crust, bit of bottom blister from the wood fired oven and obsessive attention to detail that dictates only the best possible ingredients available.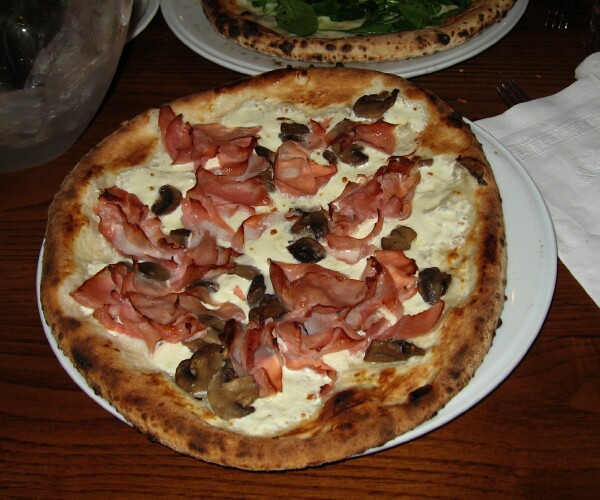 Joe G (germuska) and Ms. Joe G (Jennifer) quietly contemplate proper moisture content in the imported 00 Caputo flour.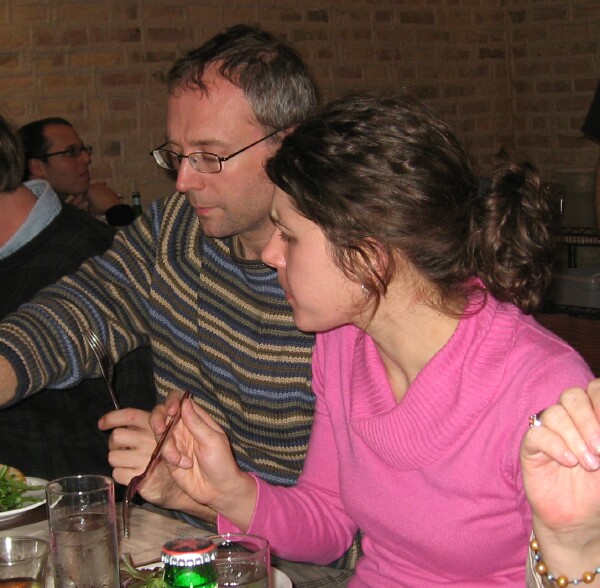 Even for a fellow as food obsessive as myself, last night was less about the food and more about the company perfectly complimented by the energetic, yet comfortable feel of SN.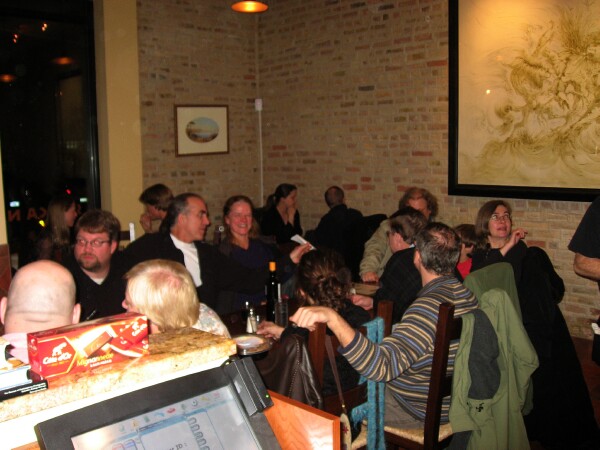 Lucantonius receives parting gift of bread from Jon.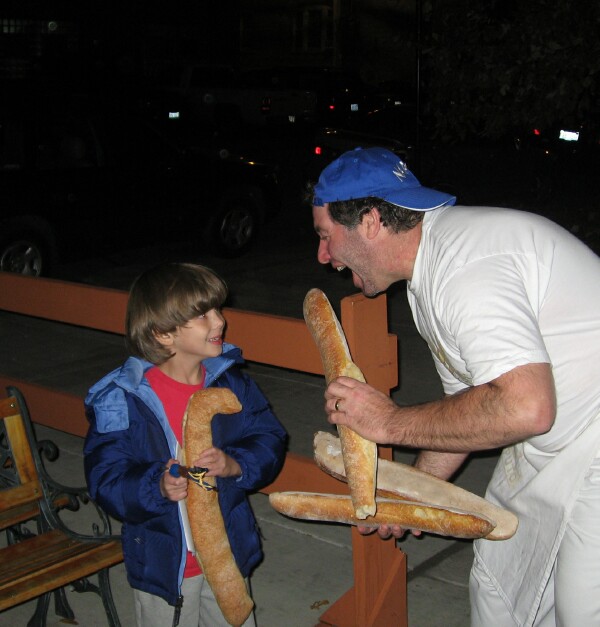 The only mildly unpleasant moment of the evening occurred when Antonius started after a passing Domino's delivery man with a loaf of bread.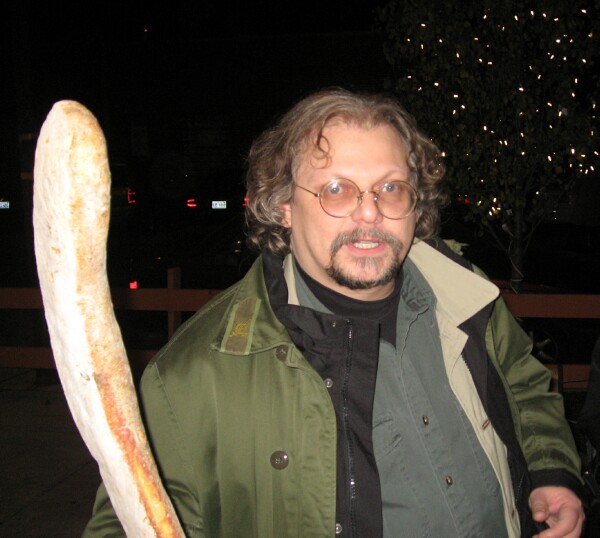 Terrific GNR nomination and, given the fact SN had a copy of their GNR award already displayed on the widow, it's apparent the regard is mutual.
la Professoressa (L) Choey (R)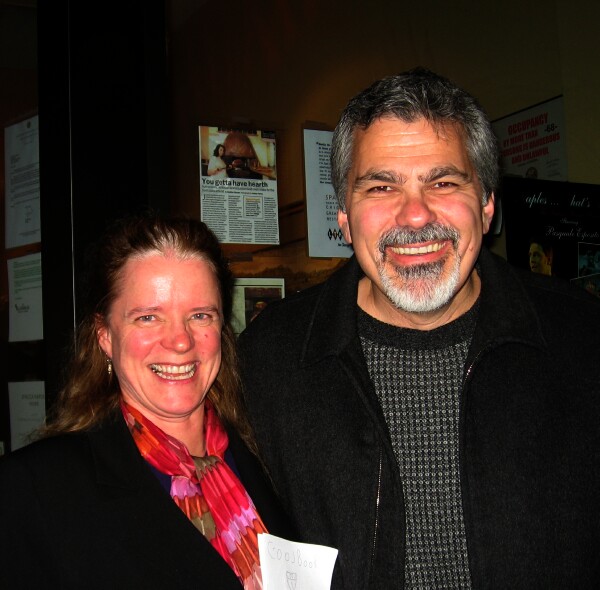 A terrific evening in the company of fellow LTHers.
A few additional pictures may be found
here
Enjoy,
Gary
Spacca Napoli
1769 West Sunnyside
Chicago, IL
773-878-2420