germuska wrote:but the good news is that (as Dave (d4v3) predicted), it was too much to bite off and we only made it through about half of the stretch of North Clark, so there is a strong likelihood of a sequel in the future.
Germuska,
Good news indeed, the first leg of the North Clark A Thon was quite enjoyable, not in small part to your, and others, pre Thon planning.
We gathered at Supermarcado Chapala, quite a nice grocery with in-house taqueria. Chapala will help to ease the neighborhood loss of Supermarcado Morelia
Supermarcado Chapala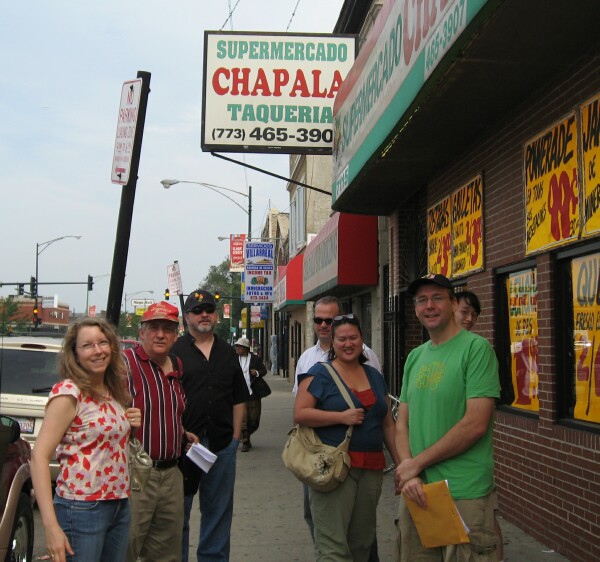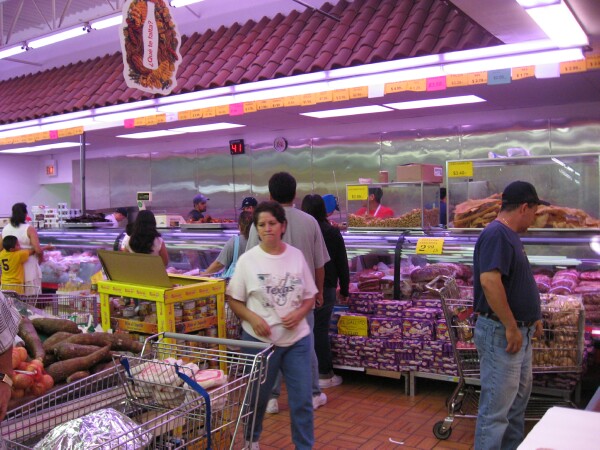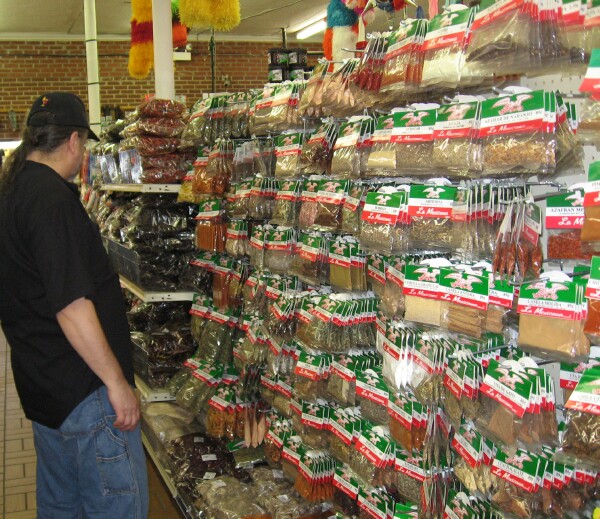 Taqueria was lively, pumping out the carnitas to counter customers and tacos etc to patrons in booths.
FastFoodSnob says
Bring it ON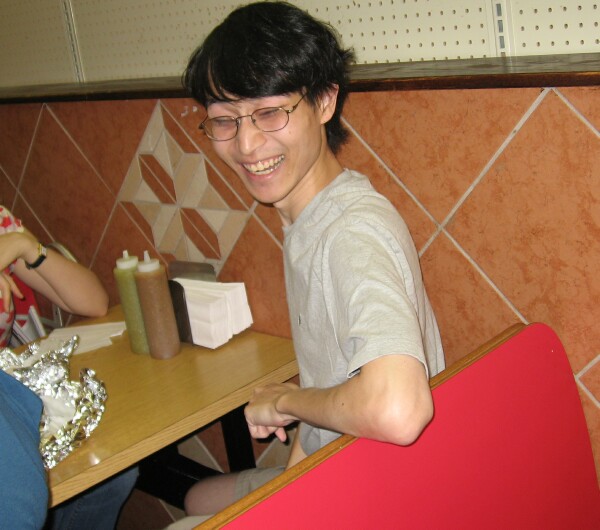 Clockwise from (L) Al Pastor, Lengua, Cabeza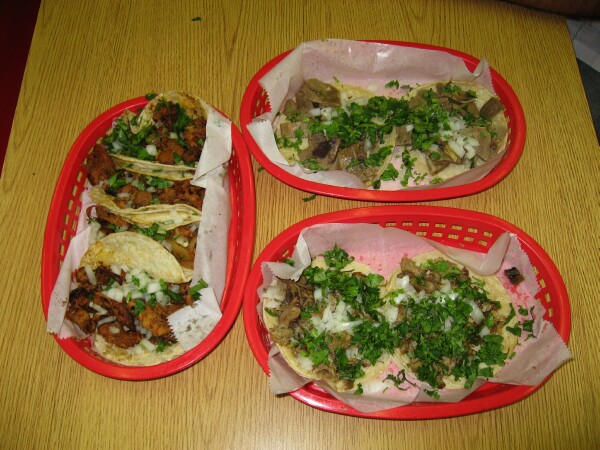 Grilled knob onion and pepper w/lime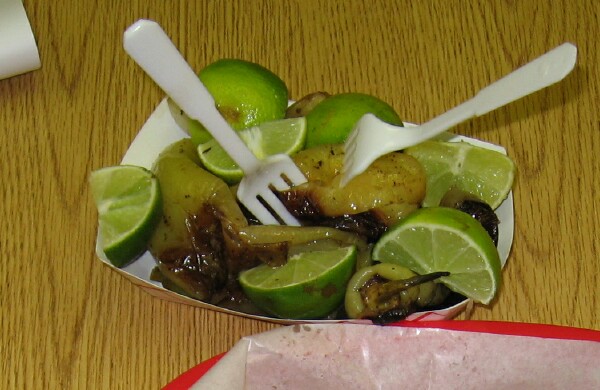 Top, carnitas w/rice and beans. Bottom, roast chicken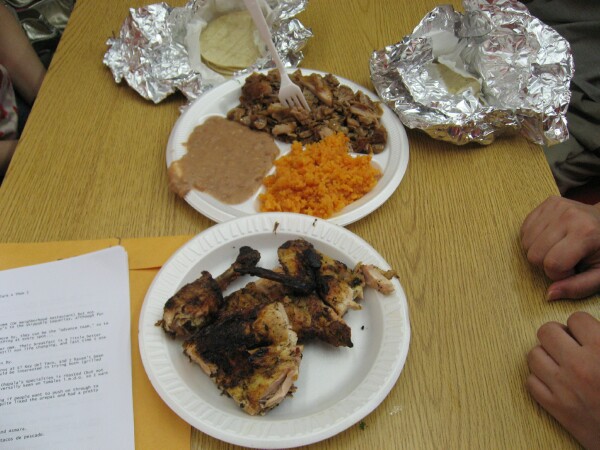 While it's true we only made 300 feet in a couple of hours, they were hours well spent! Qaato was very enjoyable, especially the spicy Pepper soup with assorted, and they do mean assorted, meat.
Qaato
Pepper soup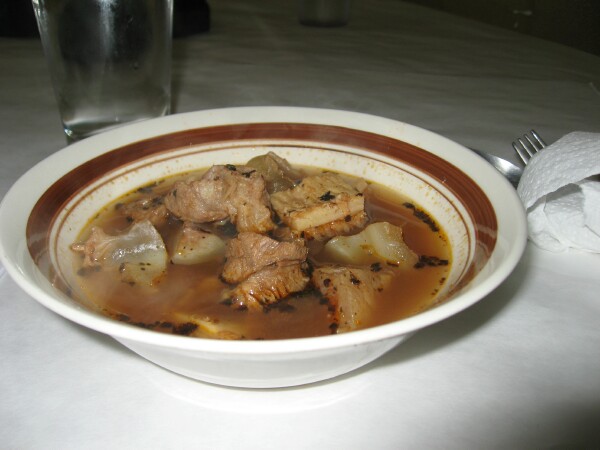 Service may have been a wee bit slow, though it might has seemed a bit slower than it was as we were on a mission, but you can't fault the friendliness factor.
Seth Z made fast friends with Qaato's waitress.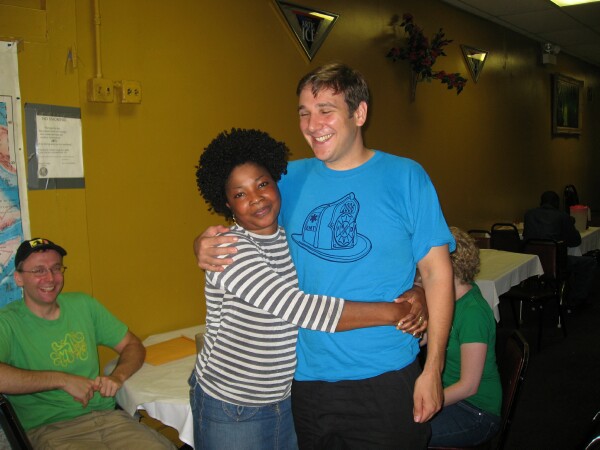 Egusi Soup w/goat was tasty, perfectly complimented by fufu, both yam and cassava. Yam fufu is more neutral, though the slight astringency of the cassava goes well with egusi soup.
Egusi Soup/Stew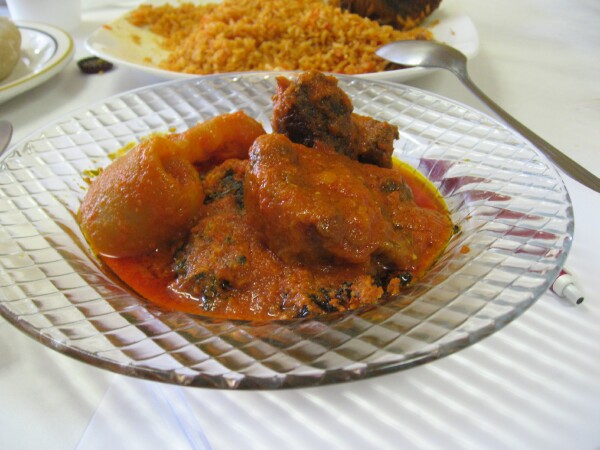 We also had Aya Mase, which the waitress said was very spicy. I did not find the Aya Mase particularly spicy, especially in comparison to the Pepper soup.
Aya Mase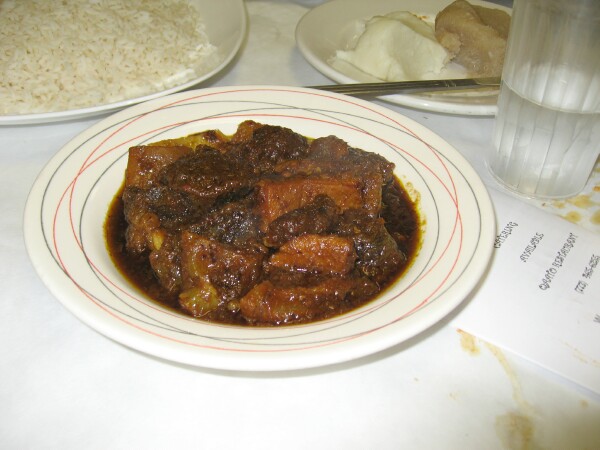 My favorite dish, next to the pepper soup, was the Jollof Rice, though more for the accompanying goat stew than rice, though the stew quite enlivened the rice. I loved the richness of the meat with palm oil.
Jollof Rice w/goat stew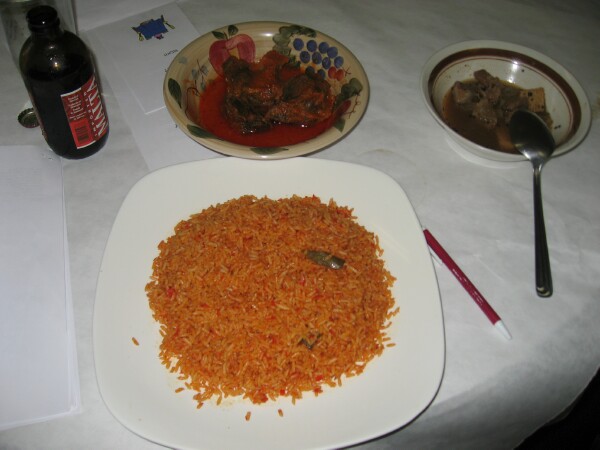 300-feet accomplished, another mile to go.
At this point Germuska implemented GAF's suggestion to split into foraging groups and reconvene in the Courtyard of the Rogers Park Branch of the Chicago Public Library. A very good idea.
Leek, Matt and I headed to Cuetzala for Tamales Nejos.
Cuetzala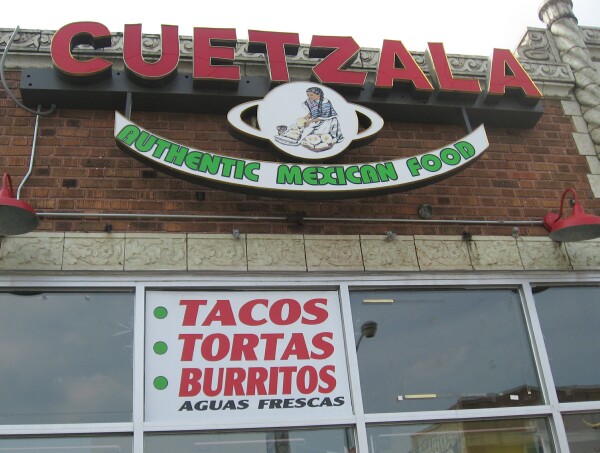 Matt/Leek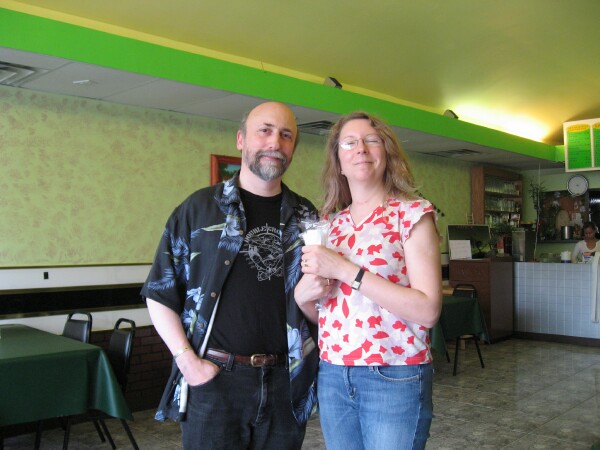 In addition to Tamales Nejos Cuetzala looks to serve a mean skirt steak.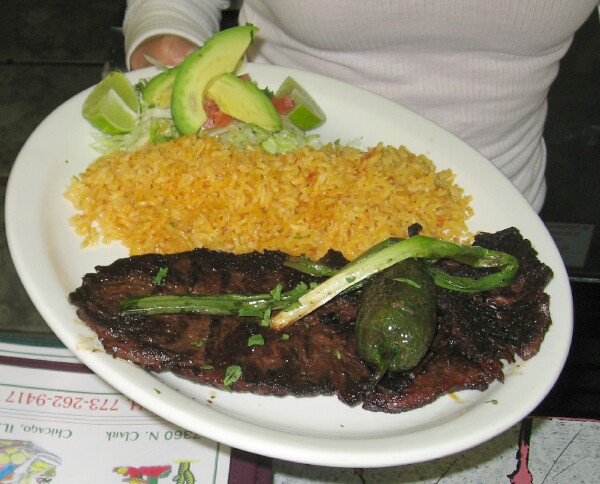 Directly outside Cuetzala's door was a Paleteria cart, in fact the vendor was the person having the skirt steak.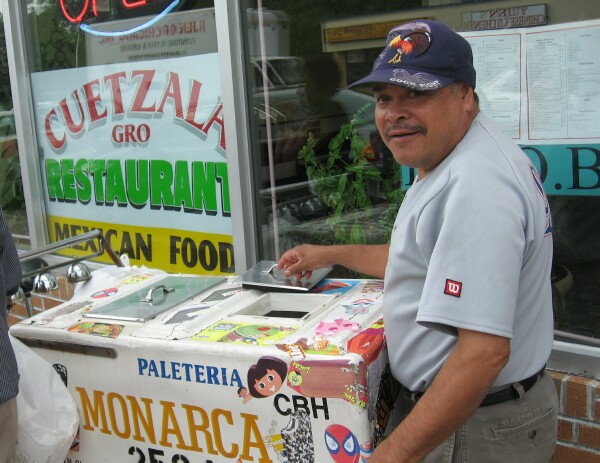 Leek, Matt and I shared a Mamey and Tamarind.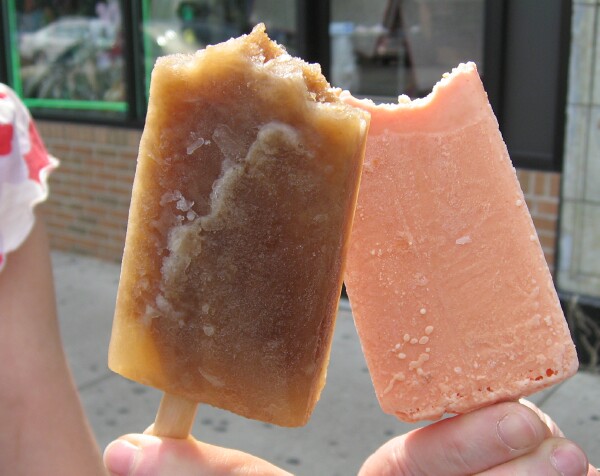 We regrouped at the library, the courtyard is quite the urban oasis.
Courtyard, Rogers Park Branch, Chicago Public Library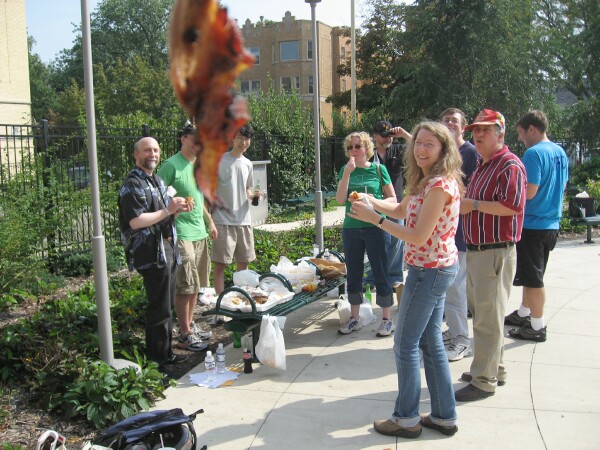 Kerensa and GAF w/pastry from Panaderia La Mexicana (7061 N Clark)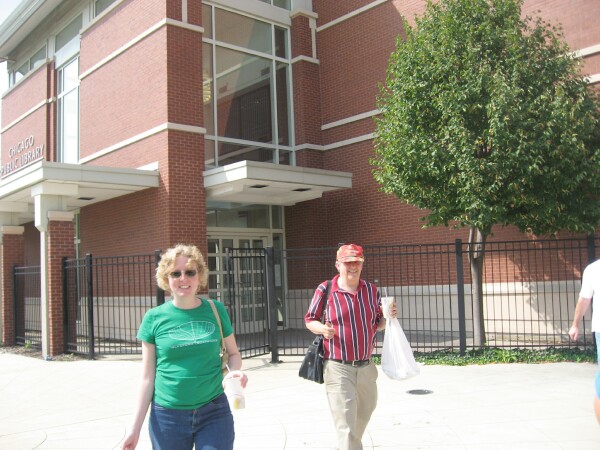 Trixie-Pea and Pigmon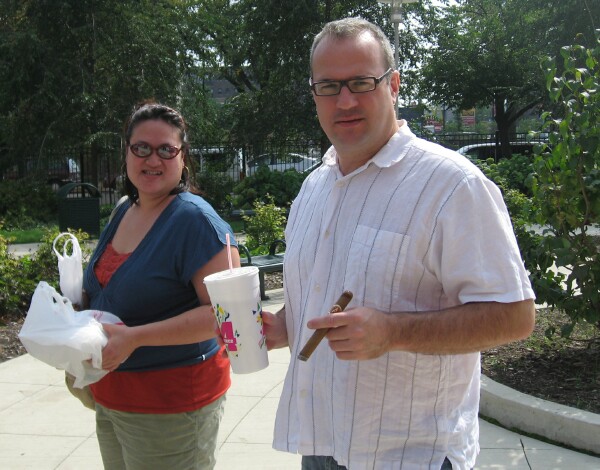 GAF with 'The French Couple'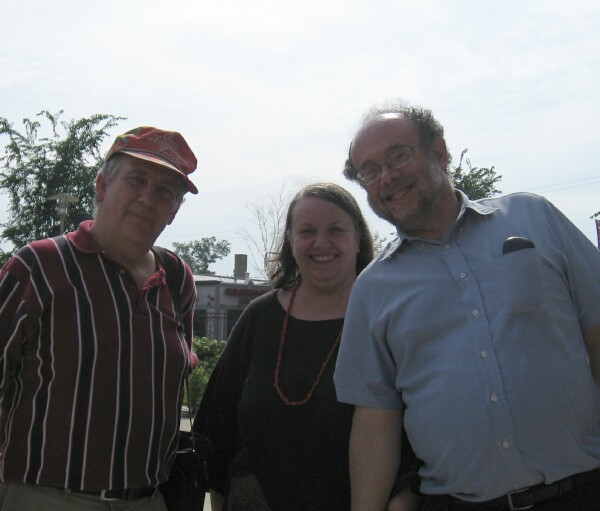 Seth picked up fresh fruit from a street vendor, chile and lime enhancing the taste.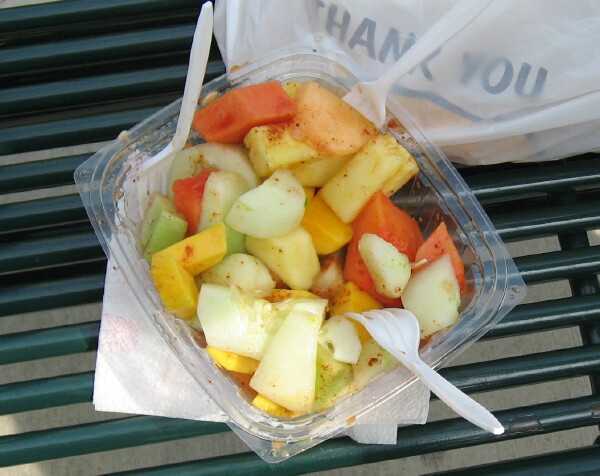 Shrimp Empanadas, which I'm not sure who brought, from Las Islas Marias (6635 N Clark St)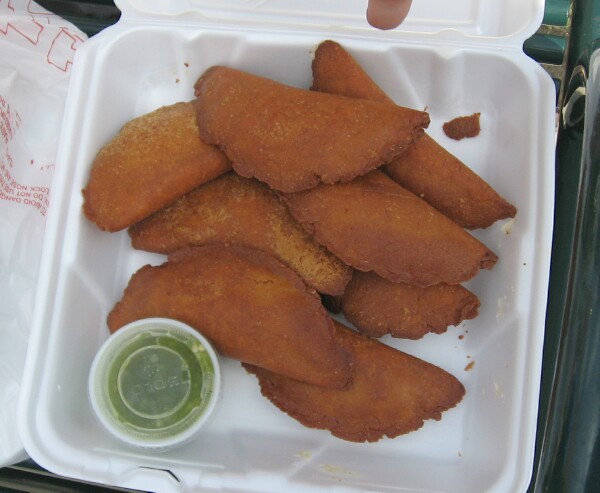 Tamales Nejos from Cuetzal (7360 N Clark S)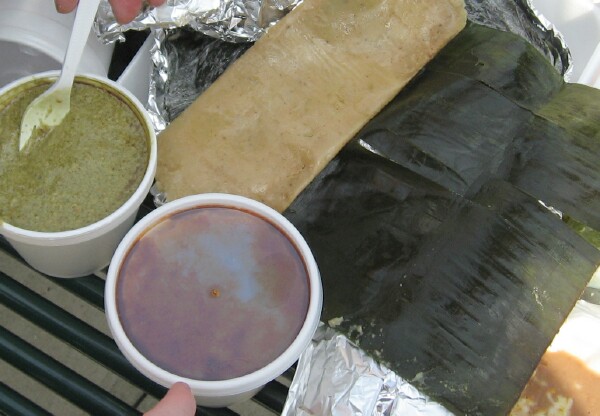 Frankly, I remain less enthused than most about the huitlachoche from Dona Lolis.
Huitlacoche Quesadilla from Dona Lolis (6924 N Clark St)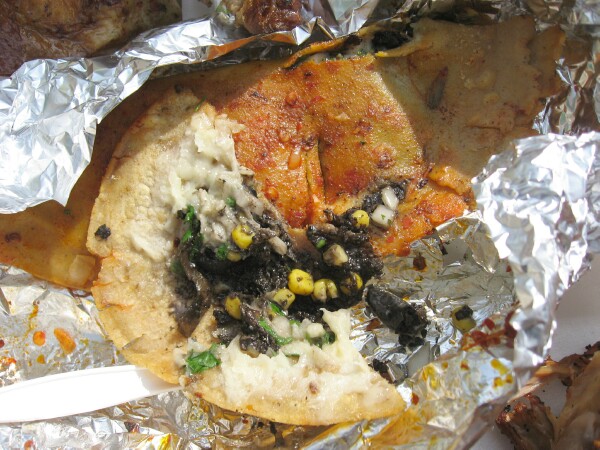 Birria de chiva (Goat) was quite good, though I'm not sure where it was purchased or who brought it to the courtyard.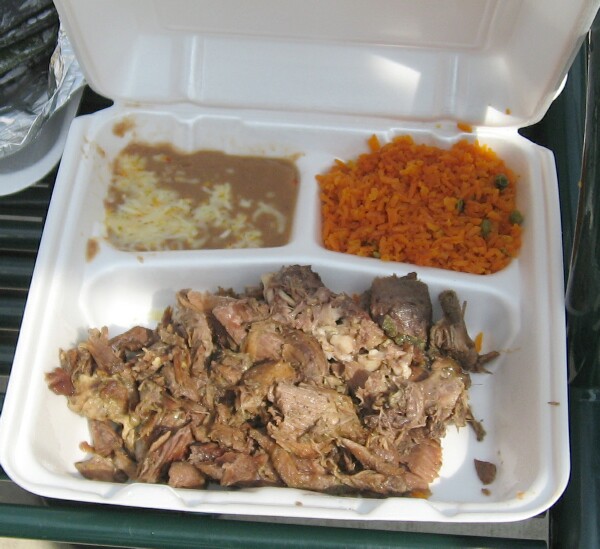 Chicharron, once again, not sure who brought it or from where. Either way, it was a bit lackluster.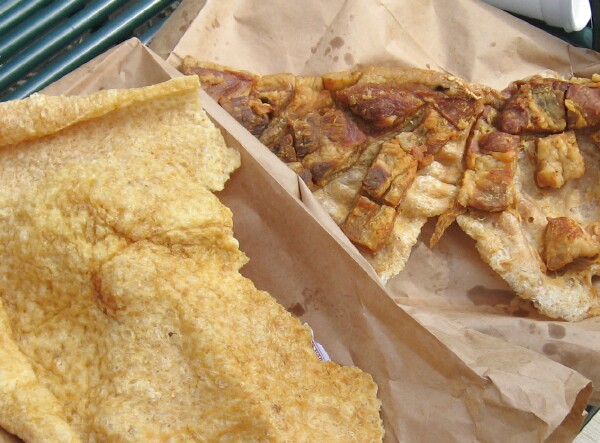 Bacon ++++++++++ Taco brought by dv43, not sure from where.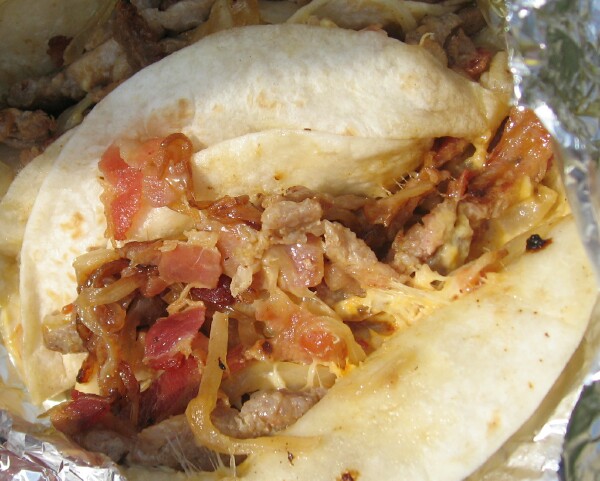 Colombian chorizo from El Llano Restaurant (7018 N Clark St)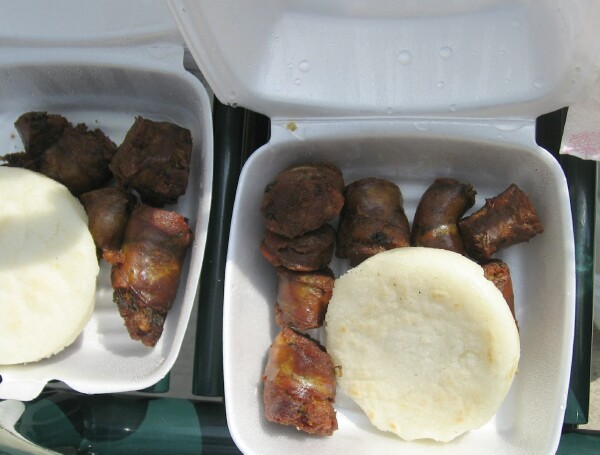 Rabbit from El Llano might have been my favorite, along with the stew accompanying the Jollof rice, bite of the day. I should point out the rabbit was not universally loved, some thought it dry, but the overall flavor/taste package really appealed to me. Chicken was quite good as well, but I dead-loved El Llano's rabbit.
El Llano Rabbit (L) Chicken (R)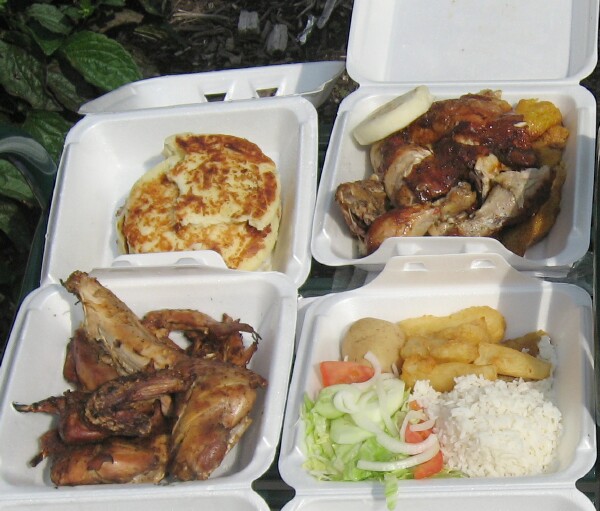 Joe, thanks again for the diligence in making everything run smoothly. A wonderful afternoon spent in the company of LTHers, looking forward to N Clark-A-Thon Part-2
A few additional pictures may be found
here
Enjoy,
Gary