LTHForum Great Neighborhood Restaurant Awards, Announced January 17, 2006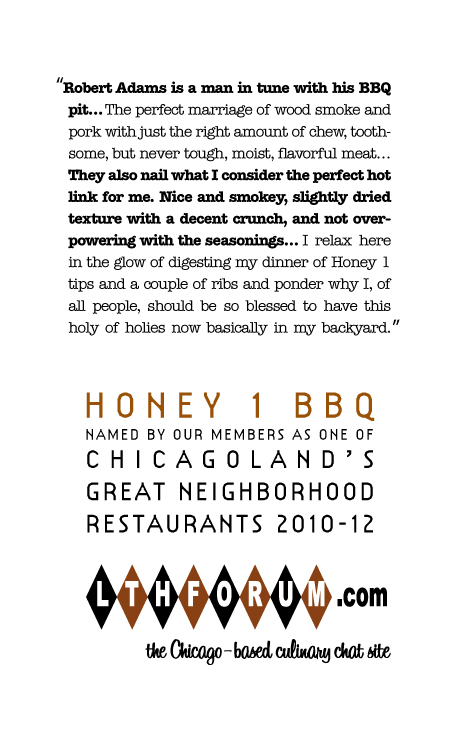 Example of new award certificate.
Chicago is a city of great neighborhoods, made distinctive by history, ethnic mix, and vibrant street life and culture. The Great Neighborhood Restaurant awards honor restaurants all over the Chicagoland area which contribute to their neighborhoods' and the city's character by offering outstanding food, an authentic experience of their ethnic culture, and/or a welcoming (or in some cases, belovedly cranky) atmosphere for guests.
For restaurants, the certificate is intended to help attract passersby to some of the best, but often unassuming, spots in town. For this round it has been redesigned (as in the example above) to highlight what's best about each restaurant, with quotes from LTHForum members--so it will not only make you hungry, but often tell you exactly what to order to satisfy that craving! For restaurateurs, the Great Neighborhood Restaurant award represents the honest acclaim of a broad mix of ordinary, passionate, spending-their-own-money food enthusiasts. As Chef Homaro Cantu of Moto said of his restaurant's award in an earlier round, "It hangs in my kitchen so all of my gastronomers won't forget what we are here for...the individual diner."
Restaurants are nominated by registered members of LTHForum.com, the Chicago-based culinary chat site, and ratified by the moderators of the board based on the degree of discussion and community-wide enthusiasm evidenced on the site. This second round was announced on January 17, 2006 and includes the following 17 restaurants, an eclectic group taking in everything from the most minimalist hot dog stand in town to the most exotic one, from a Japanese restaurant dishing up spiritual experiences in a Korean neighborhood to one dishing up homey Asian comfort food in Lincolnwood. Click on a restaurant's name to see its certificate and nominating thread.
AMERICAN
Candlelite
-- West Rogers Park tavern serving a venerable example of Chicago's other pizza style, thin crust.
Cunis Candies
-- Far South side ice cream parlor and candy shop serving up housemade delights.
Gene's & Jude's
-- Ultra-minimalist hot dog stand in River Grove serving classic Chicago dogs and fresh-cut fries.
Honey 1 BBQ
-- Terrific, authentically wood-smoked barbecue ribs, rib tips and hot links, transplanted from the west side to Bucktown.
Hot Doug's
-- Wildly innovative Roscoe Village "encased meats emporium" serving exotic sausages and duck fat fries.
Johnnie's Beef (Melrose Park location)
-- Italian beef and sausage fans line up all day long at this legendary spot for the quintessential Chicago specialty.
Lula Cafe
-- Creative, natural foods-oriented cafe which helped spark the Logan Square neighborhood revival.
Sweets and Savories
-- Unpretentious but impressive Lincoln Park bistro offering innovative cuisine at very reasonable prices.
JAPANESE
Matsumoto
-- A culinary temple hidden on a remote stretch of Lawrence, serving the most spiritual of Japanese meals, the kaiseki dinner. (Note February, 2006: Matsumoto has closed.)
Renga-Tei
-- Japanese comfort food and friendly service draws a homey, corner-coffeeshop style crowd in Lincolnwood.
MEXICAN
Birrieria Reyes de Ocotlán
-- A one dish restaurant, but what a dish-- birria, piquantly roasted goat, served with a simple squeeze of lime or salsa.
La Quebrada
-- Family of south and southwest side Mexican restaurants excelling at all the standards, including perhaps the best tortillas in town.
MIDDLE EASTERN
Semiramis
-- Roast chicken, shawerma and other middle eastern dishes at a place more upscale than most on the Kedzie middle eastern strip.
SOUTH AMERICAN
Cafe Salamera
-- Succulent roast pork sandwiches and other interesting Peruvian dishes at an extremely friendly Rogers Park storefront. (Closed.)
SWEDISH
Tre Kronor
-- Great breakfasts and other homey foods at a sunny, friendly west Andersonville Swedish restaurant.
THAI
The Elephant
-- The far northwest side's first Thai restaurant offers bright, freshly-flavored versions of Thai classics.
VIETNAMESE
Cafe Nhu Hoa
-- The city's only Vietnamese-Laotian-Cambodian restaurant specializes in a tasty, bargain-priced 7 courses of beef menu. [Closed.]
Thanks to Mike G and Tom Keith for their work putting together the GNR package, and this post. And a hearty thanks to all the posters, particularly those who participated in the nomination process, and those whose criticism and input continue to improve this program.
Eat well, explore new places, and keep sharing!
d
for the moderators