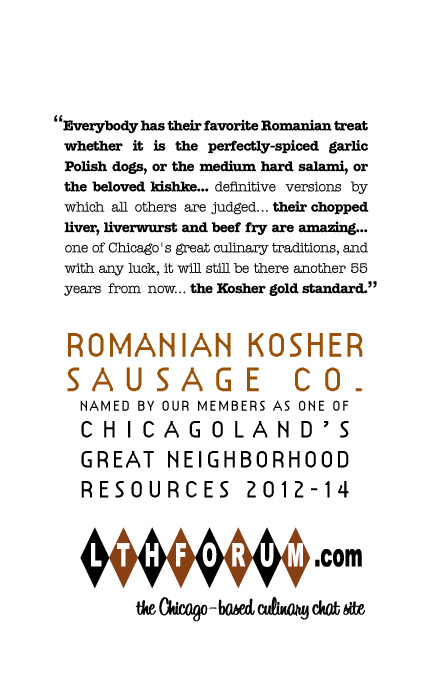 As I wrote in one of my earlier posts about Romanian Kosher sausage, it is the kind of place you forget about for a while, then one day you wander in there and wonder why the heck you have been away so long. It doesn't matter how long it has been since your last visit, there it is, exactly the same as when you left it. It is definitely one of Chicago's rapidly dwindling "time-warp" establishments. In fact, you get the feeling that the place hasn't changed an iota in the 47 years that it has been operating at it's present location in Rogers Park. Opened, 55 years ago, by the Loeb Family in Albany Park in 1957, RKS is a business that relies entirely on its reputation. Looking around the place, you notice the distinct lack of fancy displays or marketing gimmicks, all you see is what "The Romanian" is known for... its glorious meat. From the beautifully marbled skirt steaks to the smokey little beer sausages, you are surrounded by what makes RKS a favorite institution among Chicagoans.
Everybody has their favorite Romanian treat whether it is the perfectly spiced Garlic Polish Dogs or the Medium Hard Salami, or the beloved Kishke, there is always one thing that each of Romanian's loyal customers will tell you is "the best in the City". Surprisingly, my personal favorite is not a meat product at all, but the wonderful Shabbat potato salad made every Thursday especially for the upcoming Saturday's family meal (although mine rarely lasts past lunch on Friday). The great thing is you don't have to keep Kosher to love the Romanian, you do not even have to be Jewish. My father was Irish, and just adored the corned beef.
Anyhow, I don't know what to write to convince people that Romanian Kosher Sausage is one of Chicago's "Great Neighborhood Resources". To me it is one of those "no-brainers", and to any of their customers, I am sure it is the same. If you are not one of their customers, then you should be. I swear, go there once, and you will feel like you have been a customer for 50 years. If you are already a fan of RKS, then I am "preaching to the choir". If not, take a moment and read what others have said about the place (a simple search renders 6 pages of references). Better yet, stop in there and experience shopping with the personal touch that your parents and grandparents knew. It is truly one of Chicago's great culinary traditions, and with any luck, it will still be there another 55 years from now, but just in case, stop in soon.
http://lthforum.com/bb/viewtopic.php?f=16&t=12987
http://lthforum.com/bb/viewtopic.php?f=14&t=26502
http://lthforum.com/bb/search.php?keywo ... mit=Search
Romanian Kosher Sausage Co
7200 N Clark St
Chicago, IL 60626
(773) 761-4141
(closed friday Afternoon and Saturdays, but now open on Sunday Morning)
Last edited by
d4v3
on March 7th, 2012, 5:34 am, edited 1 time in total.