Well, I'm in a food coma, or perhaps a better way to describe our escapades was Vital Info's comment to me at Cunis, "I was admiring your restraint until I remembered you had a shake before we got here." So I'm going to just post a few pictures, make a few general comments, and fall asleep.
We started the day just as the big rain was clearing up, at Plush Horse, which I had raved about as the best ice cream in Chicagoland. Okay, so that was probably hyperbole, and Rob made the telling observation that some of the flavors relied too heavily on a heavy hand with extract flavorings, so they had lots of flavor punch-- but in an artificial way. There's also a clear distinction between Plush Horse and the three places we tried
last time
in that unlike them, it's
not
also a candy shop and thus relies on canned whipped cream and hot fudge, etc. The ice cream creations at those places were always more than the sum of their parts; Plush Horse was just ice cream.
Still, out of a list of 30-some homemade flavors, there were plenty of really, really good ones and nobody went away unhappy-- black walnut (with its maple flavor punch), homemade peach, chocolate, butter cream, help me out here... Liam also admired the fact that the mint chocolate chip uses BY FAR the strongest food coloring of any ice cream he's ever tried: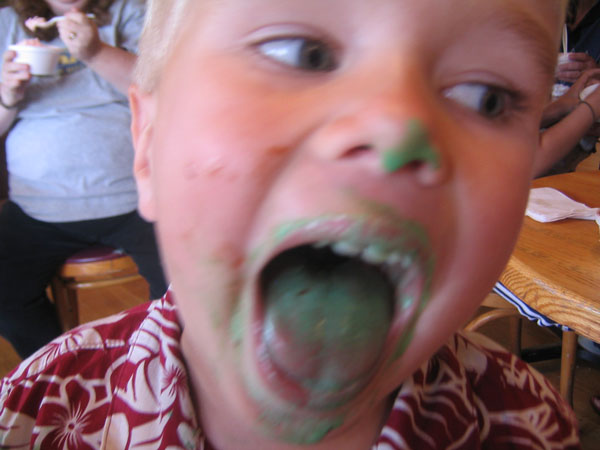 Though we lost Unbeknowneth, we were pleasantly surprised to gain Aaron Deacon & family out of the blue. Here Liam and Watson reminisce about sharing Margie's ice cream on the Milwalkathon: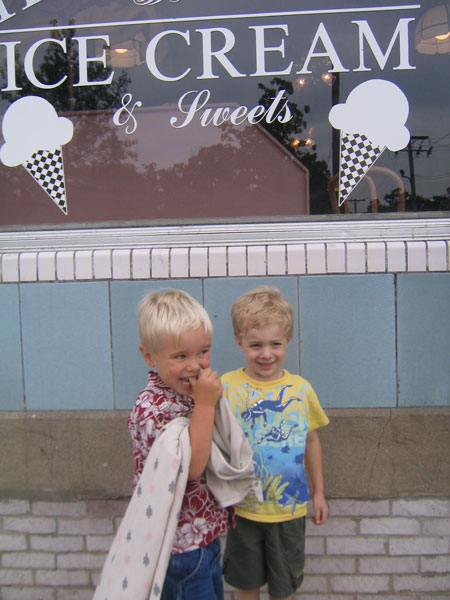 After Plush Horse we drove many, many miles pretty much due east to Calumet City. The drive was long, and probably dull for some, but of course as soon as we arrived Rob and I compared notes on things we had spotted along the way-- a soul food buffet called Dusties, a great-looking BBQ shack called George's (whose only trace on the web is
this old CH mention
), a really cool bowling alley sign at a place called Castaway's, etc. Driving through here, and then trying to find even the most meagre mention of what you've seen online, really makes you realize that the south suburbs are the great uncharted territory left in Chicago, even more than the south side of the city-- never written about, only known to their immediate inhabitants. Here's some great art I spotted at an intersection in Midlothian: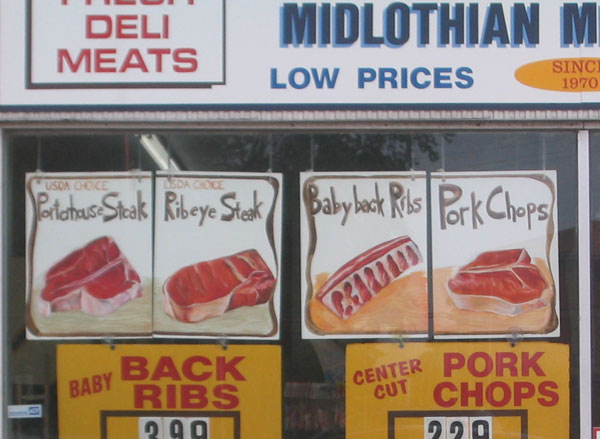 Anyway, we finally arrived at the end of the line, State Street in Calumet City, once one of the most notorious vice districts in America (see Life magazine in the 50s for a celebrated expose), cleaned up by a "reform" mayor a decade or so ago. (The quotes are because he wound up going to jail, too.) Nostalgia for its seedy criminal heyday is undoubtedly misplaced (and to judge by what we saw along the way, much of it's still active in Harvey) but still, there was something a little sad about imagining the once-lively strip now reduced to a single survivor, John's, overlooking forlorn warehouses and rails rather than the jazzy film noir that once took place every night on its doorstep.
Needless to say, none of this occurred to the kids, because they were standing at the window of the kitchen, watching the guys flip pizza dough and make pizzas: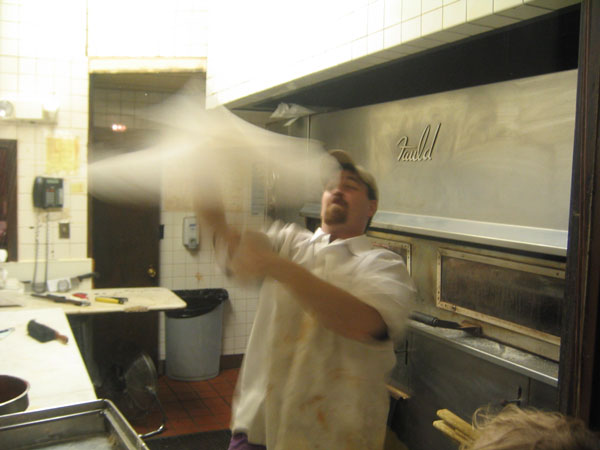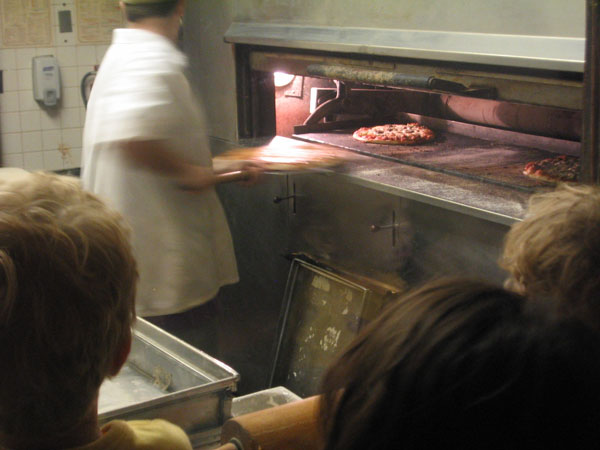 They must have enjoyed having an audience because the pizza maker soon brought out dough for the kids to play with, and they spent the rest of the dinner throwing it back and forth, trying to hit the ceiling fans (thankfully we were in a party room by ourselves), and making art: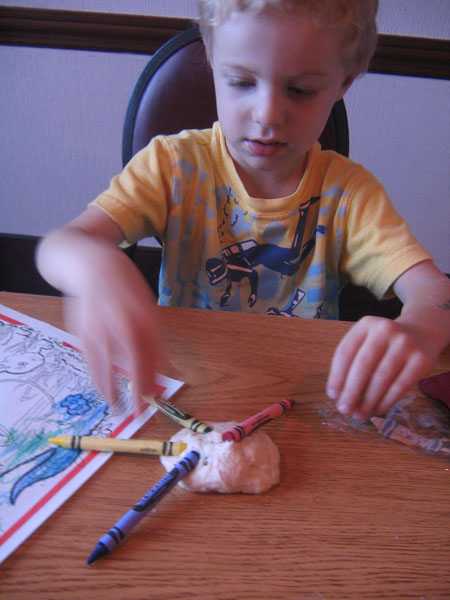 So how was John's? Pretty good, thicker and breadier than the Chicago cracker crust you might expect. The more stuff on each pizza, the better it was, the Italian sausage on a combo pizza grew on me as I adjusted to heavy use of fennel. Fried onion sticks and calamari appetizers were light and tasty, the homemade creamy anchovy dressing was old school satisfying, it was a good time.
Then it was off to Cunis, for the real motivator for the expedition: homemade peach ice cream. We got there first and had a peach shake. Good as Plush Horse's peach was, this was better, in fact outstanding, as worthy of alerts and loyalty as the peach ice at Mario's. (They also have homemade blueberry but as even the ice cream maker admitted, "It isn't the peach.") Of course when the rest of the crew got there they ordered a variety of things, making sure to get plenty of the dark, winey chocolate sauce: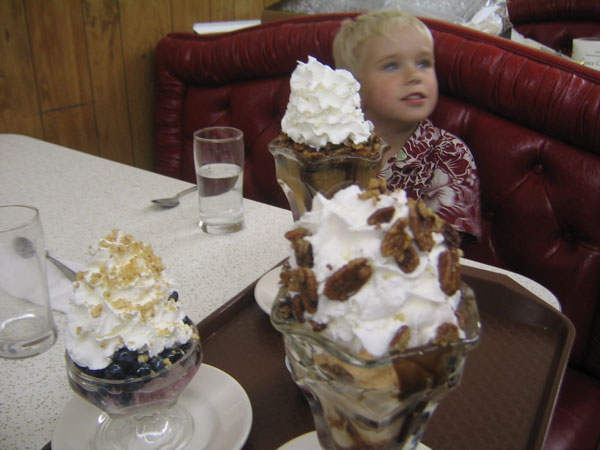 Sadly, as Rob noted, again here was one of the great ice cream shops in the area and it was nearly empty on Saturday night. Call me fickle for turning on Plush Horse so fast but I've seen it half full or better every time I've been there, it doesn't need our help; but we
need
to talk up peach ice cream at Cunis. It's an easy shot down the Ryan to the Bishop Ford freeway, less than a minute east of the 162nd street exit. You want this ice cream. Go and try it while we're still lucky enough to have it.
Thanks to Sdritz and family for helping coordinate all this and, as always, being our knowledgable and hospitable hosts on the far south side.
The Plush Horse
12301 South 86th Avenue
Palos Park, IL 60464
http://www.theplushhorse.com/index.html
John's Restaurant
121 State Street
Calumet City
708.862.8200
Cunis Candies Inc.
1030 E. 162nd St.
South Holland, IL 60473-2560
708-596-2440