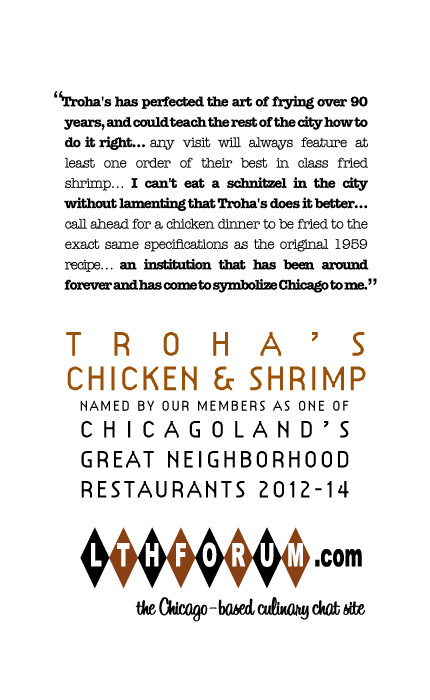 Troha's has perfected the art of frying over 90 years, and could teach the rest of the city how to do it right. Golden, light, flavorful, and fresh, its shrimp, chicken, fish, and pork are an art and a delight, and moreover, a bargain. I can't eat a schnitzel in the city without lamenting that Troha's does it better. The shrimp are juicy-moist on the inside and usually greaseless on the exterior, a balance I haven't seen duplicated, South Slavic tempura magic.
photo: ronnie_suburban
Below: one of my favorite box lunches in the city, this ran me under $7 with a large fountain drink last week, and came with sour pickle, house-mixed chili sauce, decent coleslaw, passable fries, and lemon. Same as it ever was:
Rene G wrote:No tables, no counter, nothing. Chicken is very good but, believe it or not, one of the best things to get at Troha's is the pork. Something like seven bucks gets you a cool little box holding a couple nice schnitzels, decent fries, a dill pickle spear and a lemon wedge—one of the great deals in Chicago.
photo: Santander
Some other notable mentions:
Da Beef on the fried chicken
Binko on Troha's as an essential food symbol of Chicago
Dicksond on the shrimp as his gold standard
Wiv on the magic
The food speaks for itself, but the history, family continuity, atmosphere, and remarkable level of service elevate the experience to the level of our archetypal Great Neighborhood Restaurants. It's hard to imagine a warmer phone response, with offers to run the order out to the curb since 26th is ever more like a parade each year. These are truly nice people, handing out pride with every order.
photo: Da Beef
We need more South Side (/West /Southwest) on our list; I considered a perennial favorite bar which now serves one of the best burgers in the city, but Troha's quickly won my heart after the revisit. Already thankful to LTH (see their website), this is a deserving if just slightly-under-the-radar spot for our roster. Make a snack run soon to be charmed again or for the first time, and here's to another 90. And if you're feeling slightly sacrilegious (or, like me), I won't blame you for bringing your favorite roll and making the best po' boy imaginable in your car.
Troha's Chicken & Shrimp House
4151 W 26th St
Chicago, IL 60623
773-521-7847
http://trohas.com/