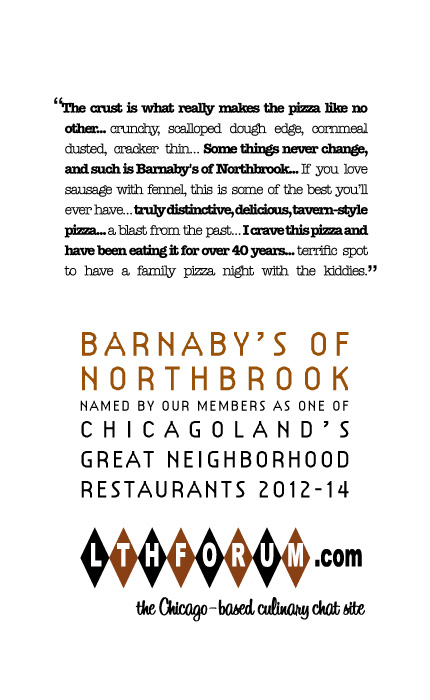 "If you've never had Barnaby's of Northbrook, you really haven't had Barnaby's." This is a commonly used phrase by the faithful fans of this pizzeria when speaking to people that have had Barnaby's at their other locations, and think it wasn't that big of a deal. The consistency is all over the place. I've eaten at some of the other Barnaby's locations that were not just inferior to the Northbrook location, they were inferior to most pizzerias anywhere.
Barnaby's The Family Inn was started by Angelo Geocaris as a concept called the Brown Bottle in the 1960's. They changed the name to Barnaby's because Schlitz Brewery operated a courtesy room with the same name. At one point Barnaby's had dozens of locations throughout Illinois, Indiana, Wisconsin, Florida, Ohio, and other states. The buildings were usually built the same, with a windowless restaurant, dark wood tables and booths, and no servers. They almost had a medieval feel to them. When I first started going there in the late 70's you would got to a table, and would mark off what you wanted with a golf pencil. Then you'd take it to the cashier who would then give you a number. When your number was called, you'd go up and get your food. There were some drawbacks. For one, a windowless room didn't appeal to many people. Two, Barnaby's were notoriously smoky inside. If you read some of the threads on LTH, you will still see reviews that mention how awful the interior felt. Three, even though they were a "pub" they didn't always have a bar where you could sit. You'd pick up your drinks at the "bar" and sit at your table. One by one, they closed. Maybe it was the atmosphere, maybe it was the food. Today, there are 4 left in the Chicago area (Northbrook, Niles, Des Plaines, Arlington Heights), 2 in Indiana, and 1 in Florida.
In the mid-1980's the Barnaby's in Northbrook had a complete renovation. They added – WINDOWS! They brightened up the room, they added brass railings to give it a pub feel, and they added some round tables for bigger parties plus some private round tables in a separate section. This made the restaurant much nicer than any other location on those features alone. The remaining Barnaby's are all individually owned, so the recipes are all over the place. Most of them still retain their unappealing original restaurant layouts as well. All of them have you order at the cashier now. The Northbrook location still has you order your drinks at the bar that you can't sit at.
For me, most of my friends, and my family, this is probably our favorite tavern style, cut in squares, thin crust pizza of all. The crust is what really makes the pizza like no other. From the crunchy, scalloped dough edge, to the cornmeal dusted, cracker thin, almost beer like tasting crust, to the peppery pizza sauce, to the great toppings, to the always cooked to a perfect golden brown cheese, this is a special pizza. If you love sausage with fennel in it, this is some of the best you'll ever have. I can't personally speak for the other toppings as I'm pretty much a cheese/sausage guy, I know people that absolutely love the pepperoni, or even jalapenos and fresh garlic on the pizza. It really doesn't matter, it's all great. They have a vintage rotating oven (could be a Fauld's) and you can watch them making the pizzas if you want. You won't see deep dish, stuffed, pan or any other style of pizza here, just the classic thin.
The burgers are a real sleeper, especially the Angus Burger which is usually on the specials menu. The French Onion soup is a big favorite. Lots of other sandwiches, pasta dishes, but I honestly haven't tried them, so I can't comment. There are always a good dozen or so specials for lunch and dinner on a menu board by the cashier. After 4:00 they even have a pimento cheese spread with Ritz Crackers that people go nuts for that is provided for free.
On Friday, Saturday and Sunday nights from 5-8pm this place is a madhouse, so beware of those peak times. Otherwise there is plenty of seating. They have a decent lunch crowd as well. They don't even do delivery though they have experimented with it. They do par-baked pizzas that can be frozen which is heaven for people who like to stockpile them or don't live in the area. Don't forget the heart shaped pizzas on Valentine's Day.
I am nominating this restaurant for a long deserved GNR because I know there are a legion of Barnaby's of Northbrook fans who love this place as much as I do. The irony is that we have to convince people who have eaten at the other Barnaby's locations that this is so much better. I think because the Barnaby's name is not really associated with truly great pizzas because of their reputation, a lot of us Northbrook lovers are a little shy about saying this is one of our absolute favorite pizzas anywhere.
Please do not dispute this nomination based on you only having Barnaby's elsewhere, this is solely based on the Northbrook location. Thanks.
Conveniently located right next to the Edens Expressway on Skokie Blvd, it's worth the drive.
Here's the main thread for Barnaby's:
http://lthforum.com/bb/viewtopic.php?f= ... arnaby%27s
An LTH lunch group thread:
http://lthforum.com/bb/viewtopic.php?f= ... arnaby%27s
A general Barnaby's thread:
http://lthforum.com/bb/viewtopic.php?f= ... arnaby%27s
Barnaby's of Northbrook
960 Skokie Blvd
Northbrook IL 60062
847-498-3900
http://www.barnabysofnorthbrook.com/home.html
Hours:
Sun-Thurs: 11am - 10pm
Fri-Sat: 11am – 11pm
If only the prices were still like this...
Image of the Des Plaines Menu from a long time ago.