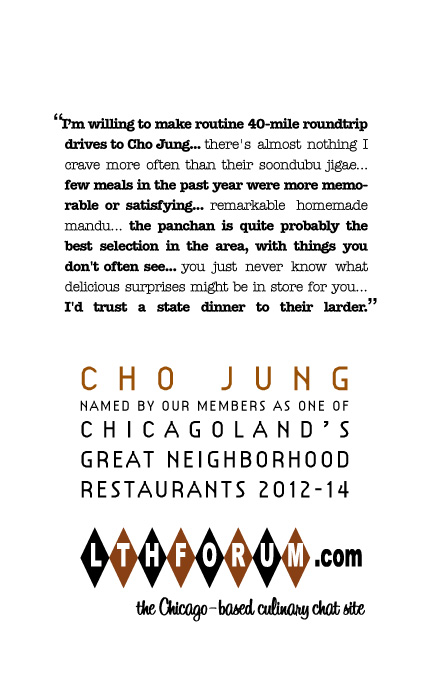 Cho Jung - 952 Harlem Ave, Glenview
LTH,
Cho Jung is a small, unassuming, no-frills shop in the back corner of a strip mall in Glenview. At a glance, there is a seemingly unending and growing number of Korean spots in north-suburban Cook County. Driving up and down Milwaukee Avenue, for example, one is presented with a dizzying number of Korean restaurants. But at the end of the day, it's only doing the legwork -- ducking into joint after joint -- that effectively susses out the best of the bunch. In the case of Cho Jung, my friend -- and fellow LTHer -- Pigmon did this legwork. He hit many of these spots and found a few that he believed were exceptional. Back in the fall of 2009, I was lucky enough to tag along with him for a lunch at Cho Jung.
After that very first time I ate there, which I enjoyed immensely, I began eating there every once in a while, recommending it to friends, etc. Happily, about a year ago, my job moved me from Highland Park to Niles, and also to less than 10 minutes from Cho Jung. I now eat there a few times a month and find it hard to go to any other Korean spots in the area. I've eaten at at least a dozen of them, all within a few miles from my office, and haven't felt compelled to post about many of them (there are definitely some good ones but this is not the thread for discussing those places
). However, Cho Jung continues to stand out, especially for their soups & stews but also for their panchan and a few other items.
There's almost nothing I crave more often than their Soondubu Jigae. The soft tofu in it is wonderfully silky, the broth is potent, spicy, deeply flavorful and clean. The varied seafood in this bowl -- clams, shrimp, octopus, squid, etc. -- is delicious and generously portioned. I've now remembered to always ask for the egg that comes with this soup as a raw egg on the side. When the bubbling bowl is served, I immediately crack the egg into the soup, mix it in and let it thicken. The egg imparts a fantastic richness to the broth, which is lost if the egg cooks through before it's mixed in. Then, as quickly as I can, I remove the shrimp from the piping hot broth so they don't overcook. The rice served with this soup (and all the others) is tender and flavorful. It's as important to the soup as bread is to a sandwich, and Cho Jung treats it as such.
As much as I love the soondubu, there are also several other soups that I love at Cho Jung. The Spicy Beef Soup with Leeks and Spicy Pork Neck Soup are both tremendous, too. Both broths are deeply flavorful; their spiciness is up front and the bowls are always generously filled with carefully prepared feature ingredients. The Spicy Pollack Roe soup is my favorite version in town.
The panchan are also great. The rotation changes fairly often and while it's not a huge array, the offerings are delicious and very well made. Some of them I see on almost every trip, others, only once in a while. The throughline is that they're all really well-made.
Even in areas outside of Cho Jung's specialization, numerous dishes stand out. Their seafood pajeon is as good a version as I've had in town. It's light and crispy, and chock full of great, fresh seafood and partially charred, aromatic scallions. Another dish, tofu with pork and kimchi, is very tasty. The mandoo -- both the light and crispy fried version and the tender steamed version -- are consistently delicious.
A few images of Cho Jung dishes described here . . .
Raw Egg; served by request with the Soondubu
Soondubu Jigae
Soondubu Jigae on another daySoondubu in Motion
Spicy Beef and Leek Soup
Spicy Pork Neck Soup
Spicy Codfish Soup
Spicy Pollack Fish Roe Stew
Thick Soybean Paste Soup
Typical Assortment of Panchan
Chayote Squash & Onion
Zucchini
Shredded Potato
Little Fishies
Warm Mushroom Salad
Seafood Pajeon
Alternative Pancake
(served with panchan)
Another Alternative Pancake
(served with panchan)
Tofu & Kimchi with Spicy Pork
Fried Mandoo
Here are links to a few threads pertaining to Cho Jung:
Cho Jung Main thread
LTH North Lunch Group - Cho Jung - 12/29/11
Glenview and nearby? Give me something good
Cho Jung Dinner - Tues, Oct 13, 2009
This thread documents a moderately successful group meal there well over 2 years ago at which I don't think we did a particularly great job of ordering to the restaurant's strengths (which were not entirely known to us). Still, I didn't want to leave it out, even though I'm not sure how relevant comments with such age on them actually are in the current GNR discussion.
Admittedly, there isn't a ton of current discussion on the main Cho Jung thread but what little is there has been very positive. I'm honestly not sure if there's enough support here to justify a GNR for Cho Jung. I certainly hope there is but at the very least, I hope this nomination will get LTHers who've never been -- or those who quickly dismissed it after 1 not-so-well organized/executed dinner -- to give it shot, especially during the discussion period. The place is a gem and the folks who run it are extremely humble and nice. I get the sense that receiving a GNR would mean a great deal to them. That's certainly not a requirement for a GNR but of all the places I was thinking about nominating this time around, it's the most true of Cho Jung and it's the reason I chose to nominate it. Over the past couple years, I've fallen in love with Cho Jung and I'm confident that when other LTHers try it, they will too.
=R=
Cho Jung (no web site)
952 Harlem Ave
Glenview IL 60025-4275
847 724-1111
Closed Mondays
By protecting others, you save yourself. If you only think of yourself, you'll only destroy yourself. --Kambei Shimada

Every human interaction is an opportunity for disappointment --RS

There's a horse loose in a hospital --JM

That don't impress me much --Shania Twain