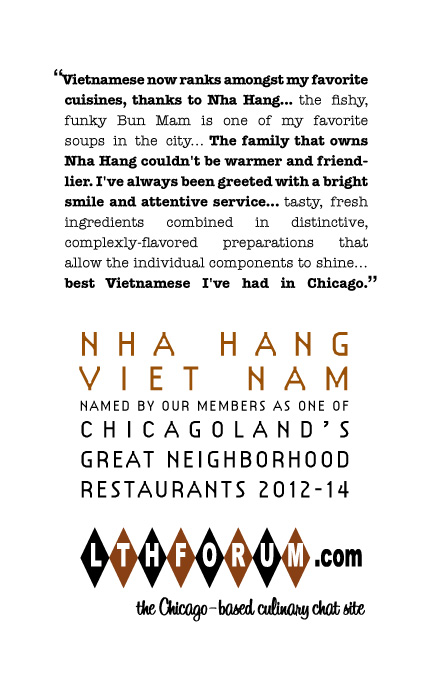 Argyle street has always baffled me. Why are there 10-15 Vietnamese restaurants lined up next to each other, yet most of them are nearly empty all the time?
So a couple months ago, I set out with a team of LTHers to figure it out
. What I discovered was a lot of restaurants that just weren't very good. Cold service, wilted herbs, and boring food were a common theme as we hunted around searching for a great bowl of pho. One star stood out from the crowd though for its focus on vibrant flavors and impeccable old world charm. That star is Nha Hang.
My trips to Nha Hang have been eye opening. Vietnamese food relies heavily on fresh herbs, meaty broths, and funky sauces. Nha Hang hits all these notes effortlessly. For a simple example of their strengths look no further than their bowl of pho. The broth is thick and satisfying, the meats are tender and plentiful, and the herb plate is overflowing with fresh and crunchy herbs. I recently tried their Bun Bo Hue and it was easily the best rendition I've had. The broth is spicy and hearty, warming you from head to toe on a cold day. And the fishy, funky Bun Mam is one of my favorite soups in the city (pictured above).
Nha Hang has an extensive menu, and I can't remember a miss in the bunch. They succeed even on relatively simple dishes like the grilled pork over vermicelli pictured above. The pork is marinated in a sweet and umami sauce and grilled to bring out the rich flavors of the marinade. I can't believe how tasty this simple grilled pork can be. I also have to recommend the catfish claypot. I've ordered this a couple times at other restaurants in the past, and it was too sweet and mushy, not pleasant at all. Nha Hang gets it just right balancing the sweetness of the caramel sauce with the funk of fish sauce making for an interesting and complex dish. The catfish clay pot is just another of the many Vietnamese dishes I've never liked before I tried it at Nha Hang.
The family that owns Nha Hang couldn't be warmer and friendlier. I've always been greeted with a bright smile and attentive service. Nha Hang embodies everything that's great about ethnic cuisine. Interesting flavors, different cultures, and, of course, cheap and delicious food. I've recommended it to so many people and heard nothing but glowing reviews. Their legend has been steadily growing on LTHForum, since their standout performance on the pho crawl.
What more can I say? I love the place. And I'm not alone.
sweetbread: A friend and I went to Nha Hang yesterday on their recommendation. We were blown away. It was the best Vietnamese either of us have ever had...and though I haven't been to Vietnam, I lived in the heart of Boston's Vietnamese neighborhood for 3 years.
laikom: I had never had a Vietnamese meal that sold me on the cuisine as a whole. After tonight, I am a changed man. Vietnamese now ranks amongst my favorite cuisines, thanks to Nha Hang.
stevez: [I] can safely say that this dinner was among the best Vietnamese food I have ever had in Chicago.
ronnie_suburban: . . . the food made sense to me. It wasn't course after course of overly sweet, unbalanced dishes. Instead, tasty, fresh ingredients were combined in distinctive, complexly-flavored preparations that still allowed the individual components to shine.
kl1191: I was happy with my meal and am looking forward to going back to try more of the menu. The wings were outstanding. In addition to the salty/sour tang, they had a sweet pineapple note to go along with greater than expected chile heat.
viewtopic.php?f=14&t=33231
Nha Hang Viet Nam
1032 W Argyle St
Chicago, IL 60640
773-878-8895
*All pictures courtesy of Ronnie_Suburban
Last edited by
turkob
on March 11th, 2012, 12:58 pm, edited 2 times in total.