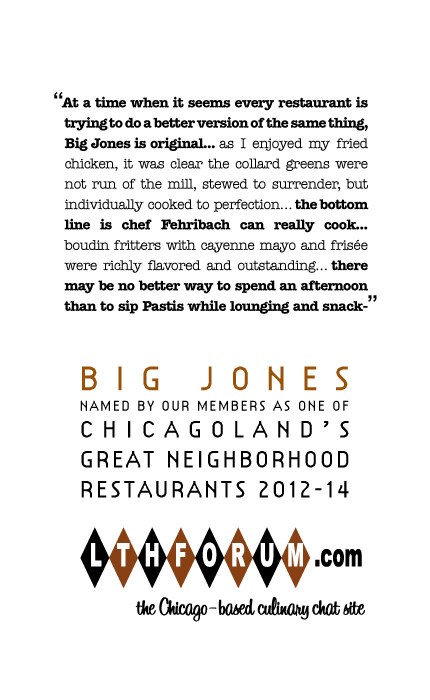 Big Jones bills itself as being "inspired by Southern heirloom cooking from New Orleans, the Gulf Coast, and the Carolina Lowcountry. We are inspired by the history and richness of Southern cooking. We use an abundance of local, seasonal, sustainable, and organic ingredients." It's a unique and special restaurant in one of the best restaurant neighborhoods in the city.
To me, it's grown from being a great restaurant in my neighborhood to being my favorite restaurant in the city. I've celebrated birthdays, New Years, and anniversaries there. My wife and I have also made it our go-to place for an exceptional weekday dinner. The cooking is both rustic and refined. At a time when it seems every restaurant is trying to do a better version of the same thing everyone else is doing, Big Jones is original, especially through their efforts to introduce historical dishes and menus (such as the current Creole Lenten Dinner, ca. 1900; Chicken Clemenceau, c. 1925.)
Big Jones has a long, positive history of discuss on LTH Forum.
There were some growing pains, comparisons to restaurants in the South, and disappointing meals. Most people who have eaten there regularly have noted small hiccups with service or a particular dish. But overall the trend has been that more people have been going to Big Jones, greatly enjoying their meal, and posting about their experiences here.
The main thread is viewtopic.php?f=14&t=18691
Ronnie_suburban has posted some excellent photos of meals at Big Jones. His most recent is
here
.
Other bits of praise include:
Stephen wrote:if Chef Fehribach still reads this thread, I would like to thank him for the Peanut Soup I had earlier in the week. One of the best things I've eaten in a long time and not something I'll soon forget.
LynnB wrote: Based on our dinner last night, I think this place has really found it's groove. The oyster stew I started with was a perfect warm-up coming in from the cold. Two large crispy croutons, topped with three plump lightly fried oysters and some grilled chickory were presented in a large bowl. Soup was poured in tableside. I really enjoyed this.
Jonathan started with the crabcakes. He refused to share so all I can say is that they disappeared quickly.
I had the Shrimp and Grits as my entree, a dish I came to love back when I worked at the late Soul Kitchen. Big Jones version was fantastic. Grits were the perfect consistency to my taste, the shrimp portion was generous and they were expertly cooked. The tasso gravy was addictive.
ronnie_suburban wrote:For me, the bottom line is chef Fehribach can really cook. I've enjoyed his food enough times (at Big Jones and various events around town) to know this. That's what I come away with and that's why I'll continue to return to Big Jones. Is there some inconsistency at Big Jones? Of course there is. Please, name a restaurant where there isn't. When you eat out, you're never insulated from that.
Big Jones has an excellent brunch menu (and you can make a reservation!). Some praise for their brunches includes
RAB wrote:I don't think Big Jones gets enough love around here. Three of us enjoyed an excellent brunch there this past Sunday.

Beignet amuse could have been a bit hotter and fresher, but still made my mouth happy.
Our appetizer, boudin fritters with cayenne mayo and frisée, was richly flavored and outstanding; my favorite bite of the meal.
Ronna loved her fried catfish and cheddar grits, topped with two sunny-side-up eggs.
MiL and I each finished every bite of our Eggs New Orleans (basically, crab benedict - two popovers topped with crabcakes, poached eggs, and béarnaise). The popovers were fresh, slightly sweet, and really made this dish special.
Recently the Boarding House lunch, cs. 1933, has received a lot of attention.
spiffytriphy

wrote:Highly recommend the family style fried chicken lunch! $16 per person. A LOT of food. Cornbread, biscuits, mashed potatoes, collard greens, black eyed peas and rice, and dessert (changes but ours was sweet potato pie with vanilla ice cream). There were three other tables that did the fried chicken lunch while we were there, and all of us had leftover chicken to take home. The chicken has a nice, thick, crunchy coating.
ronnie_suburban

wrote:This was some of most distinctive, flavorful and well-prepared fried chicken I can ever remember having. It was crispy, moist and utterly irresistible. As is fairly well-documented, the recipe is from Edna Lewis. The delicious lard biscuits were sensational also, with a crusty exterior and a light, break-apart interior. ….

I absolutely loved this lunch. Yeah, it's damned decadent but every calorie consumed was worth it. Hell, even the crackers were exceptional. It's so nice to have food prepared by a kitchen that cares about cooking as much as I care about eating. This lunch was so good, I'd take a day off work if I had to, to have it again.
dicksond wrote:Big Jones cheats. As I eyed, and then enjoyed my Fried Chicken, it was clear the collard greens were not run of the mill, stewed to surrender, but rather large, discrete leaves, individually cooked to perfection. This quality and attention to detail carried through in every bite of what stood out in my orgy of fried chicken as arguably the best fried chicken I have ever enjoyed. The crust was perfect, with a nuttiness and gentle seasoning that highlighted the chicken. Each piece was cooked perfectly, even the breasts were not too dry. The sides were delicious. If i were to make a criticism, it would be that they were a little too precious to really respect the tradition of the cuisine - but that would only apply if they were not truly delicious, and respected the flavor tradition so well.
Big Jones also has an excellent cocktail selection. They recently introduced the
Big Jones Bourbon Society
, which entitles members to a sample of different whiskey every month. Some praise for their beverages include:
Kennyz wrote:…With all the hooplah around town about absinthe and the New Orleans craze creating an Herbsaint mindset, it's become hard to damn near impossible to find a place that has Pastis. Even good French restaurants typically have only Pernod, not Pastis. So I was thrilled to see a bottle on the Big Jones bar last week. Big Jones stays open all afternoon and has wi-fi, and there may be no better way to spend a working afternoon than to sip Pastis while lounging and snacking at Big Jones.
Paul Fehribach, the chef at Big Jones, has participated in LTH Forum nearly from the opening of his restaurant. A particularly thoughtful post that addresses questions about the restaurant is
here
.
Big Jones is a unique contributor to the dining scene. That many of us look forward to the new things they introduce us to is a testament to the fact they are doing things exceptionally well.
Big Jones
5347 N. Clark Street
Chicago IL 60640
Phone: (773) 275-5725
http://www.bigjoneschicago.com
Email:
bigjones@bigjoneschicago.com
Monday–Thursday: 11am–9pm
Friday: 11am–10pm
Saturday: 9am–10pm
Sunday: 9am–9pm