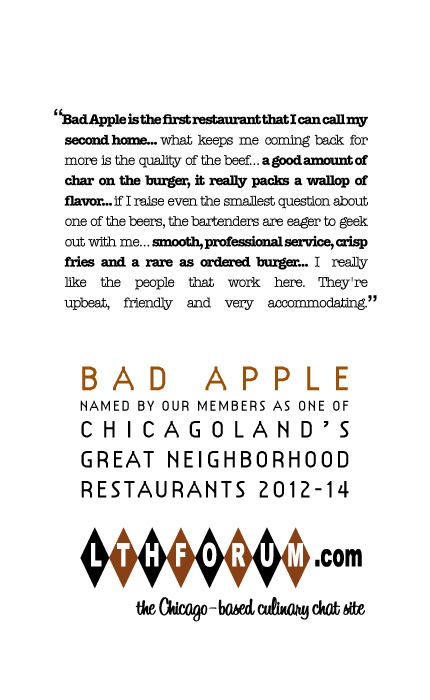 I apologize, it's a bit long.
I was torn between a few places when deciding which to nominate. Though other restaurants may have benefited more from the attention of a nomination, I'd have been lying to myself if I said Bad Apple was not the place I appreciate most in all of Chicago. With such a friendly, welcoming atmosphere on top of the amazing burgers and beer list, Bad Apple is the first restaurant that I can almost call my second home, sometimes finding myself going there 3 times in a week.
LTH loves burgers, so as with any burger joint there was a lot of buzz over bad apple on LTH when it first opened. Most of the posting being in early stages when it seemed to be getting it's foothold. What was initially received as good, but inconsistent, has over the past few years turned into a rock solid, consistently
great
establishment. They are churning out expertly cooked, juicy, flavorful burgers at what I consider the best place in chicago to sit down to have a beer!

The Burgers:
What keeps me coming back for more is the quality of the beef. They order a custom blend of beef from Pat LaFrieda. It is unlike any other burger, in that it is leaner and, dare I say, healthier tasting. By that I mean that it has all the beefy flavor and juiciness I want in a burger, without leaving me feeling heavy like I just ate a bunch of beef fat. Being lean, they make it clear when ordering, that it's best rare or medium rare, otherwise it will seem dry.
The fancy burger "fixin's" have really come into their own over time. The comparisons to Kuma's are unavoidable, but in my opinion Bad Apple really stands on their own. My two favorites are the Frenchie and the Belly Burger. The Frenchie which comes with Brie, spinach, truffle mayo, crispy onion. The flavor of the brie really punches through and compliments the burger, and the super crispy onions really pack a flavor and texture punch. The Belly Burger is topped with a couple thick slices of braised pork belly and an herbed horseradish sauce. The belly is fatty and melty, which texturally replaces the need for cheese. Being more of a fan of a simple burger, I appreciate that Bad Apple does some of their "fancy" burgers with subtlety. I also appreciate their sticking to the goal of keeping all of their burgers at $10 or less (one exception being the foie gras at $12).

The Fries:
Though there has been much contention regarding the fries at Bad Apple, LTH seems to have devised a solution. When ordered standard they are a bit on the soft side, but are the most flavorful fries I've ever tasted. When ordered crispy, they are sufficiently crispy. After trying both, I think I'm going to stay in the camp that orders them standard. They really do pack a lot of flavor, which more than makes up for what they lack in crisp.

The Beer:
Being a culinary website this makes sense that the focus of the burgers and fries trumps the beer, but to me a good beer is an important element to enjoying my burgers. Bad Apple offers one of the largest selections beers, having 25 taps rotating only craft and micro brews, as well as a bottle list with over literally hundreds of bottles to select from! A quick glance at beermenus.com will reveal that bad apple's prices are usually the best price per oz you can get in the city.
Atmosphere:
Bad Apple epitomizes the differentiation between simply a great restaurant and a great neighborhood restaurant. What makes this a neighborhood restaurant is the friendly, knowledgeable staff in a very comfortable setting. The staff is not just knowledgeable, but actually passionate about the food and the beers.
Separated into 3 rooms, you can have your pick of atmosphere. The front having the bar with dominating pieces of bizarre art covering the walls. The bar is where you want to sit to chat about beer with the staff. The rear room being more dinner oriented with lots of tables. This is where you'd go with a family or for a quieter dinner. The 3rd, separate room which is a bit hidden behind the bar has ms.pac man/gallaga, pinball games, and board games lining the shelves. It gives you the feeling that it's okay to hang out for a while and pretend you're still in college.
Some cred:
alessio20 listed the bad apple burger on a
top 10 dishes of 2010
It was listed twice on the "best thing you've eaten lately" thread:
http://lthforum.com/bb/viewtopic.php?f= ... 40#p310972
http://lthforum.com/bb/viewtopic.php?p=358195#p358062
Some quotes:
BR: "the quality beef, great beer list and excellent staff will keep me going here." "what really impresses me so far with the Bad Apple is that every single burger I've tried has been cooked perfectly medium rare as requested. And with this burger, the juice was running down my hand (a big plus for me)."
gastro gnome: "I preferred my naked fries which were, in a word, excellent."
elakin: "This is one of the better burgers in the city, imo. The meat is clearly very high quality and very fresh. That just hits you immediately and continues to be what you notice about the burger when you eat it. It tastes strongly beefy, plus they put a good amount of char on the burger, so it really packs a wallop of flavor. "
G Wiv: "Year later, smooth professional service, crisp fries and a rare as ordered burger. A very good bar burger at that, bit of grill char, loosely formed, quality ground beef, $8 including fries, reasonable for size, quality, atmosphere and neighborhood.... certainly won't take me another year to return"
eatchicago "If a mostly-under-the-radar burger bar like The Bad Apple can put together a world-class beer list, Kith and Kin should be able to."
Neighborhood quotes:
i<3pizza: "Every time I go here, I feel genuinely welcome and if I raise even the smallest question about one of the beers, the bartenders are eager to geek out with me."
Kman: "The beer list, both draft and bottle, at BA is extensive and each person I've ever engaged behind the bar has always been knowledgeable and helpful - definitely no attitude on tap here."
mbh "The beer list was overwhelming, but with a little help from our waiter I ordered a Blaugies La Moneuse that I was very happy with."

Because it's almost unavoidable, a comparison to Kuma's:

ld111134: "high-quality Pat LaFrieda beef (I don't think that Kuma's patties match the quality of the Bad Apple's)"
gleam: "I also really like the Bad Apple. Cheaper, easier to get into, and nicer vibe than Kuma's. And, I think, better burgers."
epicFades: "I definitely agree with it having a better vibe - I could hang out there drinking beer all night."
WhiskeyBent: "I too much prefer Bad Apple to Kuma's these days for a number of reasons, many listed above"
BR: "I'll take the burgers, lack of waits and normally easy street parking at Bad Apple (and I actually prefer their burgers to those at Kuma's)."
Main Bad Apple thread: http://lthforum.com/bb/viewtopic.php?f=14&t=25582

The Bad Apple
4300 N. Lincoln Ave.
773-360-8406
Chicago, IL 60618
http://www.badapplebar.com/
Bar Hours:
Monday - Wednesday :: 4:30pm - 2am
Thursday - Friday :: 11:30am - 2am
Saturday :: 11:30am - 3am
Sunday :: 11:30am - 2am
Kitchen Closes:
Sunday - Wednesday @ 11pm
Thursday @ 11pm
Friday & Saturday @ 1am
Last edited by
laikom
on March 6th, 2012, 12:27 pm, edited 2 times in total.
Part of the secret of a success in life is to eat what you like and let the food fight it out inside.

-Mark Twain