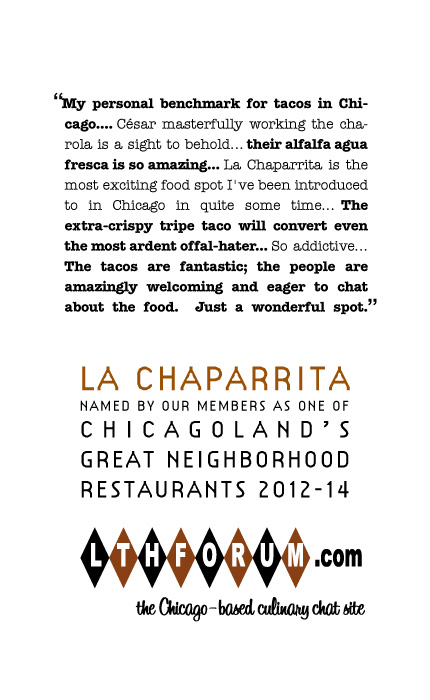 It is a pleasure to nominate La Chaparrita #1 as a Great Neighborhood Restaurant. I have been to La Chaparrita at least a dozen times since I first tried it last summer, and I honestly can't think of a restaurant in Chicago more deserving of the title.
First, La Chaparrita is a quintessential "neighborhood" restaurant. It's on a quiet, tree-lined street in the Little Village. As soon as you walk in, you get the feeling that this is a local place that will continue to serve the local population long after the foodie hordes have moved on to the next new thing. Angelina and her staff could not be more friendly and welcoming, and Cesar masterfully working the charola is a sight to behold.
The food is nothing short of spectacular. I honestly think almost any single item on the menu would be good enough to nominate this place as a GNR. The grilled onions and jalapenos seem so simple. . . so why can't I find a version this good anywhere else in the city? Recently, on the Shopping & Cooking board, there was a discussion regarding how difficult it can be to find consistently hot jalapenos. You won't have that problem at La Chaparrita – their peppers are always fiery, not to mention perfectly seasoned and grilled. The salsas are also some of the finest I've ever had. Spicy, with a remarkable depth of flavor that pairs perfectly with the food. And if Mario's is a GNR for serving Italian ice, surely La Chaparrita's incredibly refreshing aqua frescas should qualify it for similar recognition? Rene G described them as "best-of-type", and I am inclined to agree.
The tacos themselves are some of the best in the city, if not the best. The tacos al pastor are delicious, even without the use of a trompo. The lengua, molleja and sesos are all unusual tacos that I rarely even see on most taqueria's menus, let alone executed as well as they are at La Chaparrita. The asada you can find on any taqueria's menu, but I have never had an asada taco that so expertly highlights the flavor of the meat. The extra-crispy tripe taco will convert even the most ardent offal-hater. Did I mention that the most expensive taco on the menu is $2, and most can be had for $1.50? If some place on the north side started offering tacos this good at prices this low, it would cause a stampede.
For a long discussion of La Chaparrita, almost uniformly positive, see here:
http://lthforum.com/bb/viewtopic.php?f=14&t=31782
Finally, I think ronnie_suburban summed it up best when listing his highlights of 2011 (
http://lthforum.com/bb/viewtopic.php?f=14&t=33667
):
"The tacos I ate here this year completely re-set my baseline for the category. Even my previous local favorites seem almost not worth the bother anymore. If I can't eat tacos from La Chaparrita, I'd almost always rather just eat something else."
La Chaparrita #1
2500 S Whipple
Chicago, IL 60623
773-254-0975