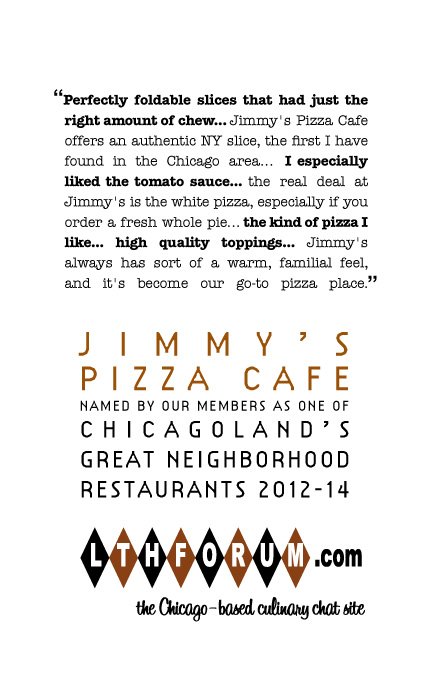 As a Philly transplant married to a New York transplant we've learned to enjoy the variety of Chicago style pizzas available in our great city, but we've never stopped searching for a great New York slice. When we heard rumblings that a New York style slice joint would be opening not too far from home (in the location formerly occupied by Crema) we scoffed, and chalked if off as another likely impostor. When Jimmy's finally opened, we were there the next day -- after a long conversation with Jimmy himself, and his brother Michael, we settled on sausage and white slices, and were cautiously optimistic as he put them into the oven for heating. What came out of that oven is the closest to a real, crispy, chewy, foldable, New York slice that either of us have found in Chicago. Add to that Jimmy's commitment to using quality ingredients, his enthusiasm for doing things the 'right' way, and his insistence on overseeing each pie himself, and we were hooked.
In addition to pizza by the slice, or whole pies, Jimmy makes garlic knots & stromboli, both of which really let his dough shine. The stromboli always seem to go as quickly as they come out of the oven, but on the one instance I was lucky enough to snag one I was impressed by the balance of toppings to cheese to dough. The garlic knots are something of a New York pizzeria staple, and Jimmy's are just right. Jimmy also makes beignets to order -- at first this seemed like a strange pairing with pizza, but with a cup of Intelligentsia its a great finish to a meal. I've seen cannoli in the display case, but haven't tried those, the wings, or the salads yet.
The decor is pizza parlor chic (minimal but comfortable and functional) with a handful of tables, and requisite shakers of oregano, garlic powder, parmesan, and crushed red pepper. There's always good conversation to be had, and eating in Jimmy's always has sort of a warm, familial feel, and it's become our go-to pizza place. I nominate Jimmy's Pizza Cafe for an LTHForum GNR based on their consistency, quality, and easygoing, neighborhood feel.
The current Jimmy's thread:
viewtopic.php?f=14&t=32733
Jimmy's Pizza Cafe
5159 N Lincoln Ave
Chicago, IL 60625
(773) 293-6992
Open Tue-Thu, Sun 9 am-10 pm, Fri-Sat 9 am-11 pm -- pizza generally not available until after 11am
Closed Monday and most holidays
Delivery available
Cash only - both in-store and for delivery