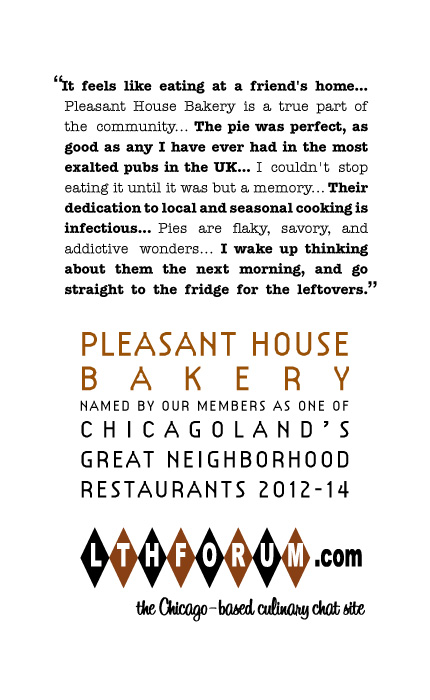 Fact – I would probably starve to death if it weren't for Pleasant House Bakery, so it's a good thing that their food is so thoughtfully prepared and a bonus that it is all made from scratch and almost totally locally sourced. Art, Chelsea and their entire team are dedicated to showing Chicago that English food is anything but boring, and they prove it day after day churning out pies, pasties, beautiful desserts, fresh and inventive salads, crisp, delicious house made beverages, and always exciting daily specials, from burgers to pies to fish frys to the always stunning Sunday Carvery. I honestly cannot heap enough praise upon this establishment, nor can I overstate how much thought, care and love goes into everything they make here. I consider Pleasant House Bakery to be one of the greatest boons to life in Bridgeport and, as a 3-5 times a week patron, am proud to nominate them for a GNR.
Over the last year, I've been continuously stunned by the quality of the food they turn out. The basics, their Royal Pies, Chicken Balti, Steak and Ale, Mushroom Kale and Cold Pork, are flaky, savory, and addictive wonders that have been beautifully photographed and documented by Ronnie Suburban
here
. The pasties are rich little steak bombs encased in a buttery, toothsome crust, and the gravy fries a loving and delicious tribute to Poutine. Their salads, so often an afterthought at other restaurants, are given the same care that everything else they serve is, with the greens and most veggies coming from a number of plots maintained by Chelsea's brother Morgan all over Bridgeport. In the summer, they are symphonies of fresh produce, in the winter, they are gentle reminders that spring will come again. Even the humble pea is given special treatment, gently cooked and carefully dressed with butter and mint, turning this humble vegetable into something very special. The Scotch Eggs are a thing of wonder with their house made sausage and slightly runny center that make them a perennial favorite. The daily specials ~ AKA, my dinner ~ always please as well. Bangers and Mash delight with house made sausage, rich mashed, and a savory onion gravy, burgers, always served on a homemade bun of some sort, are perfectly cooked to order and have inventive, yet simple toppings, the weekly special pies (as well as the occasional quiche) are creative tributes to whatever is in season, and the Sunday Carvery demonstrates Art's incredible skill with whatever happens to be fresh and available. I had the best piece of salmon in my life there last year, and have enjoyed other Sunday offerings from prime rib to duck. It makes me look forward to Sunday evening. The sausage rolls, on offer whenever Art's brother John has the time to make them, are so wonderful that I buy them in bulk now and keep them in the freezer for late night snacks. Then there is the fish fry, which I consider to be the best in Chicago. Art only uses sustainable fish, so it varies from week to week, but you get an enormous, delicately battered piece of fish, along with their fantastic chips and an incredibly pleasant tartar sauce. Malt vinegar, obviously, is available on each table. The fish fry has been well documented
here
and here:
and here
.
Desserts are carefully and lovingly prepared by Chelsea each day, and follow PHB's credo of local and seasonal, so they vary from week to week. They may have meringues, almond tarts, treacle pudding, luscious parfaits loaded with fruit, cake, even humble oatmeal cookies. I'm not much of a dessert eater, but it's all impossibly good and I rarely resist.
Art, Chelsea, and their extended family that work at Pleasant House, are transforming this corner of Bridgeport day by day, drawing people down to an often overlooked neighborhood with their friendly service and fresh take on English food. With the recent addition of High Tea on Sundays, the emergence of their pies at local markets, and the promise of brunch on the weekends sometime soon, they show no signs of slowing down. Their dedication to local and seasonal cooking is so infectious that they are now offering gardening classes. They've been honored by the press,
http://pleasanthousebakery.com/press/
and have even been the subject of a
short film
by our own Mike G. More than just a restaurant, Pleasant House is a true part of the community. They've wowed the critics, they've wowed this board , and I'm honored to nominate Pleasant House Bakery for a GNR. Please see main thread for additional discussion and praise here:
http://lthforum.com/bb/viewtopic.php?f= ... use+bakery
Pleasant House Bakery
964 West 31st Street
Chicago, Illinois 60608
http://www.pleasanthousebakery.com
773.523.PIES (7437)
(Edited to correct a typo)
Last edited by
Ursiform
on March 2nd, 2012, 11:52 am, edited 1 time in total.
"Baseball is like church. Many attend. Few understand." Leo Durocher