trixie-pea wrote:

A very generous portion of squishy pasta, watery sauce and no discernable pork flavor. Bucatini ala Matriciana this was not. This is why it's hard to order pasta in a restaurant.
Trixie-pea:
I'm very sorry to hear of your bad experience at Agostino's, in part because I'm fond of you and Pigmon and regret your having to suffer through a bad meal and in part because I have heard good things (both here and elsewhere) about this place and had hoped it would be an Italian restaurant I would be willing to visit, if and when need for that arose. As I've said before, I tend to avoid Italian restaurants, not just because I eat Italian food at home so often but also because of the disappointment factor. And when for some reason or another I do find myself in an Italian restaurant, I usually avoid ordering pasta because generally speaking, restaurants in this country, even otherwise fairly good ones, just refuse to take the simple steps required to be able to present an acceptable bowl of pasta to their guests.
The picture of the "bucatini alla matriciana" is interesting. Note that there clearly is - as my son, Lucantonius, would say - "green stuff" in the sauce; to me it appears to be basil. Now, as some of the broader LTH world may know, I tend to be a purist when it comes to traditional Italian recipes. In the case of "alla matriciana", the traditional recipe includes only onion, pork product, tomatoes, red chile, perhaps a splash of wine, but neither garlic nor ever any herb whatsoever. Judging from the above, the version at Agostino's is pseudo-alla-matriciana. More specifically, I would guess that what they have done is just taken some pancetta, fried it in a pan, and then ladled in a measure of their basic tomato-with-garlic-and-basil sauce. Now, a basic tomato-with-garlic-and-basil with some pork in it is by no means necessarily a bad thing at all
but it ain't 'alla matriciana'
, and at an Italian restaurant, owned by a native of Italy (though not from Lazio, I'm sure), one would hope for a more traditional, less yankified or gringeado version.
Now, compare the above version with one produced by one of my most promising students (
) (see
this thread
for accompanying text):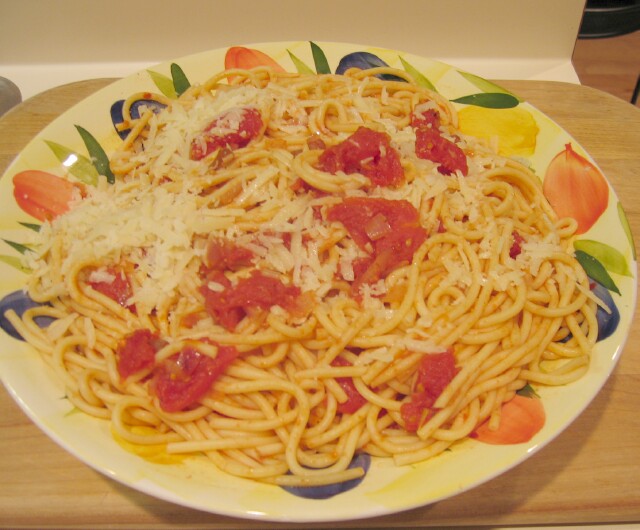 Note that there is nary a speck of green stuff in sight; just tomatoes and onion and pork bits and, as should be, a generous dusting of
pecorino romano
. And compare further how the above version looks with the one pictured along with a traditional recipe for the dish on this Italian site:
bucatini alla matriciana ancor' una volta
Restaurants must as a matter of course use certain short-cuts at times, but if, as I suspect, the
bucatini alla matriciana
you ordered were dressed with doctored tomato-basil-garlic sauce, that goes beyond what is appropriate for a real Italian restaurant. And perhaps this is the reason there are so many folks out there who seem to want to refuse to believe that there are lots of Italian dishes, such as the one in question here, which traditionally include no garlic or no herbs or in some other salient way fail to conform with the stereotypical, caricaturised form of Italianoid cuisine which is so commonly offered as "Italian" here.
***
After all that, I have to add that I still want to try Agostino's one of these days. The postive reports I've heard have been several and pretty consistent and, while I don't doubt at all the veracity of the report of the poor quality meal described above, it does seem possible the poor quality may have some reasonable explanation (who knows, maybe chef on vacation or something along those lines).
E come si dice a Roma: Magna bene, caca forte e nun avè paura della morte.
Antonius
Alle Nerven exzitiert von dem gewürzten Wein -- Anwandlung von Todesahndungen -- Doppeltgänger --
- aus dem Tagebuch E.T.A. Hoffmanns, 6. Januar 1804.
________
Na sir is na seachain an cath.