HI,
I met THE GUY, he is a creep.
Yesterday after Culinary Historians, a couple of lingerers inquired where to go for a good lunch for $15 - $20. Thinking about their tastes, I suggested Podhalanka. I added they have a white borscht where they advise adding a boiled egg for a slight upcharge. That detail sealed the deal this would be their place.
When THE GUY came over, he was pretty slick. Just as Jefe mentioned, gave the soup options, suggested sharing and what to have. I remembered this post, though I could not recall the details beyond his being irritating.
I quickly opted out of his suggested meal plan, because all I wanted was pierogis. I very specifically ordered potato and sauerkraut. He repeated my order, "Mixed pierogi, no meat." When it arrived, there were more cheese than potato and some sauerkraut. I suspect THE GUY just does not listen.
One of the key items desired was a stuffed cabbage roll. He inserted
his plan
once one of the ladies had a hard time deciding between beef or pork cabbage roll. My friends did go with his plan, which I had a gut feeling was going to be more than the $15-$20 range. The impression I had there would be both cabbage rolls types present, but THE GUY had a different plan.
Our table of three received a glass of compote each, no pitcher.
When the soup was served, THE GUY reached over to another table for a bottle of Maggi. Without inquiring if anyone wanted any, he squirted a number of drops into my friends bowls while proclaiming, "This will make this soup taste much better." Any other time I have had condiments offered, the waiter has always asked. THE GUY assumes his tastes are what you want. If that was my bowl of soup, I would have handed it back to him for a fresh bowl.
A parade of food begins to arrive to the table: blinis (never inquired which type were desired), pierogies (never inquired which type were desired), potato pancakes and one cabbage roll. Not two, like he hinted at, but one for two people. The bill without tip for these ladies was $46.
My bill for pierogies was just over $10. I will note the onions on top were cold to practically frozen. Fortunately the heat from the pierogies caused them to melt into submissiveness.
Helena was there roaming about without much to do. Whoever THE GUY may be, she is allowing him way too much influence.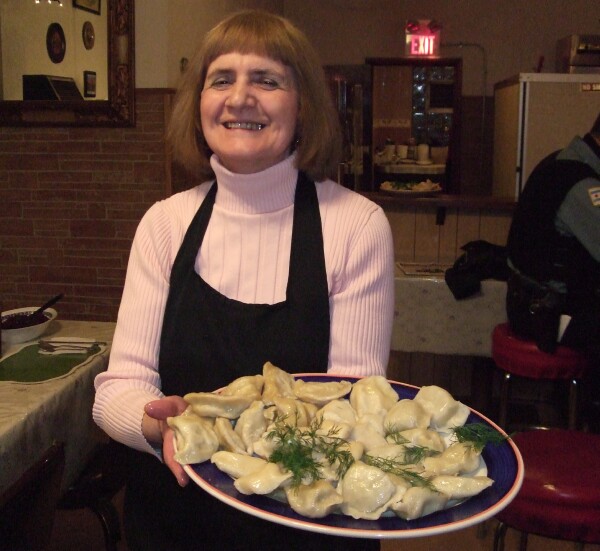 On the plus side, there was a lot of business. Far more active than Smak Tak, where I will be going next time I want Polish food.
Regards,