Ill just piggyback on this thread with a take on fried chicken and waffles I have been dreaming about since I saw a version that is offered @ Turner Field in Atlanta(the Hammer its called). Perhaps it was the bottles of cold syrup containg DXM I consumed this week, but it was all I could think of.
"The Hammer" is a chicken sandwich using waffles as the "bread" offered @ Turner Field, I think I prefer my take on it(I dont think cheese, or maple mayo would work for my tastes). Their version has cheese, and a maple mayo besides the chicken breast waffle and bacon. Mine has buttermilk onion rings, Texas Pete, buttermilk marinated chicken breasts, syrup, butter & bacon. A fistful of savory, sweet, salty, crunchy goodness.
Amish chicken was put in buttermilk, cajun seasoning, garlic powder, onion powder and honey for about 8 hours. Onion got the same treatment sans the honey. Waffle batter was made from scratch with 1.5 sticks of melted butter in the batter. Bacon used is cheap storebought stuff.
Chicken breasts were pounded out a little then, tossed ina bag with seasoned flour then deep fried in batches. Samples of the chicken out of the fryer had me knowing this was a winner, buttermilk, and a popping with flavor crispy crust. onion rings were also drained and tossed in flour and deep fried in batches. These sweet yellow onions were really good, crisp, and really sweet
Wafffles were done in a cheapo waffle maker.
Assembly, layed a waffle down, and spread a few pats of butter on it. layed down the chicken and some bacon slices and topped with syrup and Texas Petes,. then some onion rings, more syrup and hot sauce, and topped with a buttered waffle. Cut into portions and devoured. Probably took a few years off my life but its all good.
fried chicken breast: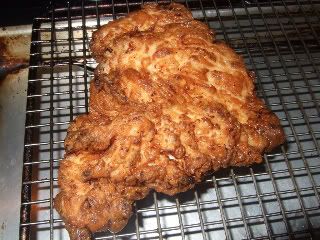 ready to top:
livin' the High Life(first beer in almost a week tasted as good as the sandwich):