I'd been eating at The Duke at least once a week for the past 4 years. I've sampled many menu items, fried zeppelins, boiled zeppelins, potato sausage, kugelis, pork cutlets, country style duck, pike in a cream sauce, fried fish, steaks, lots of sandwiches, cobb salads, soup almost every time, white salad, red salad, dumplings, even cheeseburgers on a few wayward occasions. If my wallet was tight, it's be soup & salad for $5.
After the first few meals there, we noticed they served breakfast, and went in not knowing what to expect. It was an American-style breakfast with the value price tag one expects to find on the South Side, 2 eggs, hashbrowns so fresh I think they were grated to order, choice of meat and pancakes or toast for $5.50-$8 depending on choice of meat. Perfectly crisped pork chops had a moist interior. The bacon, breakfast sausage and Polish sausage were homemade and all outstanding. The pancakes to die for. Normally I'd order toast to sop up my yolk, but after one bite of pancake I had to make do with hashbrowns to soak up any errant yolk. The breakfasting brought us to the Duke twice a week for a little over a year. After some time the Polish sausage was no longer homemade. It was about a month after the NRA Show that year, and I suspected that had something to do with the bought in Polish. The bacon and Lithuanian sausage did not succumb, however, so I was only out one option.
Imagine my dismay when breakfast was discontinued! All was not lost. We still had Chuck's for breakfast and the Duke was still there for evening meals.
Fast forward to present day, when I see this on the regular menu: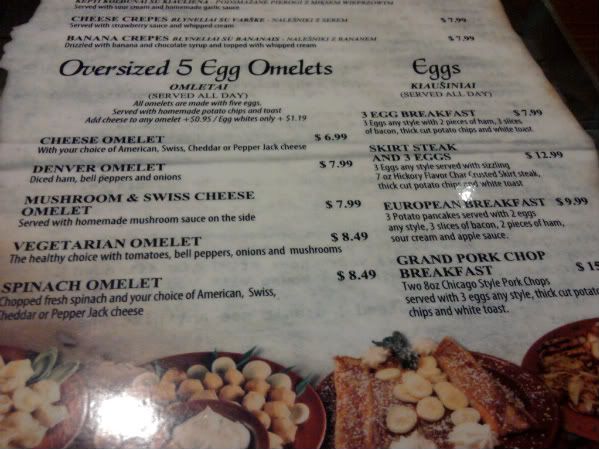 These were the only breakfast items, and I don't see pancakes anywhere, but at least it's a start. I'm not a fan of omelets, so it looks like I'm relegated to 4 breakfast options, all of which are more expensive than what used to be. And thick cut potato chips are something I have at home for breakfast. For example, a couple weekends ago I was inspired by the NOLA/Southern Food event at boudreaulicious' condo and made this for breakfast the next day: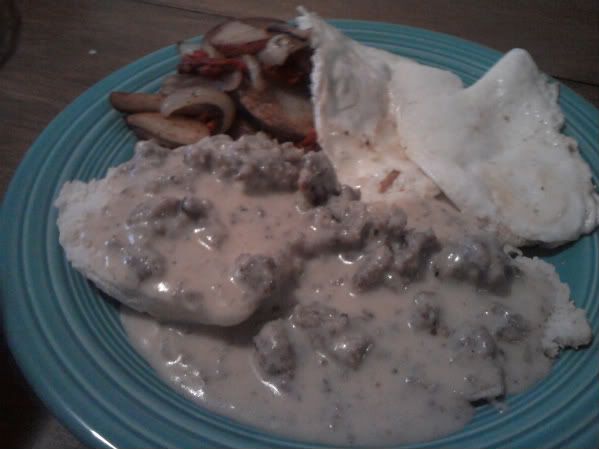 Maybe not as crispy as chips but flavored with the last of our melrose peppers, roasted and plucked out of the garden. Sorry no close-up on the potatoes. So I wish the new Duke's breakfast choices came with the freshly grated hashbrowns of yore.
Anyway, enough of this diatribe on breakfast, my intention with this post was to announce some menu changes that've happened within the month at the Duke. Along with the addition of their new breakfast, they've added to the regular menu a special that ran all Fall, Hungarian Goulash for $12.99 it's chunks of beef slow-cooked in a paprika sauce served with potato pancakes and pickles. I've eaten it twice and it's very good. Some items were taken off the menu, much to my boyfriend's son's horror, they no longer have potato dumplings! Other dumpling options are still available, but the potato is no more. Also, no broth with kybyn. I went there sick hoping to be fortified by their rich stock, but the menu changes did not allow it. I asked the server and he would not oblige. Kybyn was an option that came with the broth, it was a meat pie in flaky pastry dough, like a Lithuanian empanada. I didn't specifically check for other choices that have disappeared, but be forewarned, the next time you go to the Duke, they might not have what you came there for.
Of course, the zeppelins, kugelis, and potato sausage are still there, I guess I ordered things that didn't sell so well
"Did you know that all food in NC is served on a biscuit? I ordered a biscuit - it came inside another biscuit. It was like turducken, but all biscuit."
~ Al Madrigal, The Daily Show