Finally reporting back on this epic trip. The focus of this graduate school-organized trip was touring "earth work" land art sculpture and it was truly a once-in-a-lifetime chance to see monumental and historically significant works of American art. I personally felt that the landscape was the star of the show and for many of these artists, framing these desolate, breathtaking scenes was as much a part of the work as the sculptures themselves. Fortunately, our group of 11 was game to let me "curate" much of the eating itinerary. Sure there were many moments of "just getting there" with trisquits, almonds, and oj for lunch or the occasional abysmal premade sandwich, but we were able to explore some highlights of the cuisine of the southwest. Many of the stops in the more remote regions were simple roadside joints, the only ones in town, some of which I never caught the names of. Los Angeles was an obvious highlight, one of the great American food cities, the scope of which rivals our own. So here are the the highlights of 12 days and 3200+ miles on the road from Salt Lake City to Los Angeles to Marfa, TX with many stops in between. I am skipping out on crappy dark lit restaurant photography, since I'm limited to a flashless, zoomless camera phone these days. Sorry for the inconsistent photography, one of these days I will have a real camera again!
Day one included the Bonneville Salt Flats outside of Salt Lake City and a night at the
Center for Land Use and Interpretation in Wendover, UT
.
Day two included a visit to
Nancy Holt's Sun Tunnels
and Robert Smithson's Spiral Jetty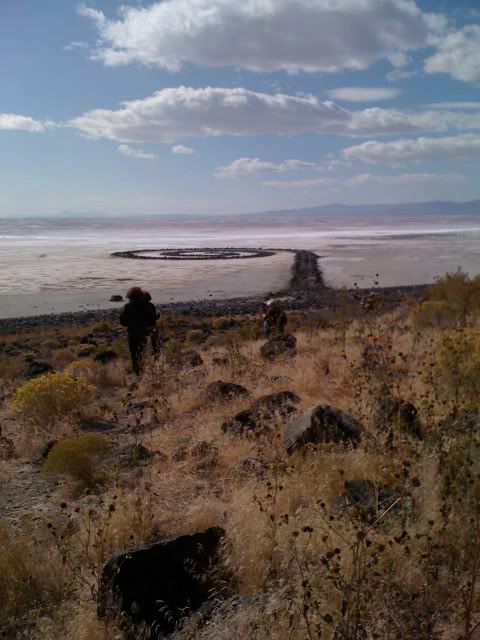 .
The Great Salt Lake is an alien landscape that is full of mystery.
Our first real culinary conquest went down at the highly lauded
Red Iguana in Salt Lake City
.
Though ravenous to enjoy most any real food at this point, the Red Iguana truly lived up to its reputation. Table salsa was thin and tomato based (read: gringo) but packed some heat and a garlicky bite as well. I tried bites here and there of a shrimp dish and carne asada, all solid, but the moles were sensational main event. I've enjoyed a share of Bahena and Bayless and have been fortunate enough to have five of the Oaxacan moles under my belt from my travels there. All said, Red Iguana served some of the best I've had. The moles were plated more traditionally with rice and tortillas, rather than the mashed potatoes served at more upscale joints in these parts. Some were paired with traditional proteins like turkey for their poblano, while some had haughtier options like grilled pork loin for the coloradito (my entree). I like a good home-style, coarser textured mole like some I've had in Mexico and the renditions by Diana Kennedy that I follow in my home kitchen. However, the sauces here were more refined with the multiplicity of complex flavors carried by a lusciously smooth consistency. And they had definitive chile burn. I was able to sample five of seven moles, but with such a wild ride of spicing combinations I could mostly focus on my own plate, in which buried in smoky, luxurious sauce were lightly charred and succulent pork medallions, a mighty wonderful dish.
Onward,
Vegas
- not my kind of town. Ate a microwaved $5 Nathan's "Original" hotdog in a mall-like eatery and then again late night at the Hunter S. Thompsonian
Peppermill
. We actually ate there twice (it was next to our hotel)- the first time at 2 am after a night trying desperately to find a laid back place to have a drink. To make up for lack in that department I binge ate mediocre fried shrimp, motz. sticks, and the like. Then seven hours later we dined there again at 9 am- the best I could do was eggs and toast on an unhappy belly.
Onward,
LA
, tastier pastures.
Conveniently we were staying at the tidy and recommendable Miyako hotel on east 1st St., directly across the street from Daikokuya Ramen, where I was hoping to enjoy one of my most anticipated meals on the trip. Unfortunately it was a Sunday night when apparently they close after they run out of soup, which happened to be 8:30 the night we got in. No worries,
Suehiro
was open a few doors down. Salmon skin salad was an unusual one. Can't go wrong with fried fish skin and fat, that component was working its shift. Miso vinaigrette dressing was good, greens fine. Watermelon balls? why not. Raisins? eh. Improperly ripened tomatoes and not- fresh corn threw otherwise fine ingredients out of synch. Too much going on.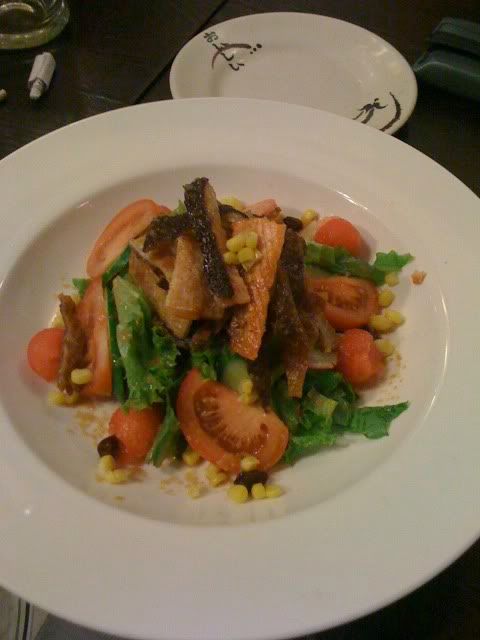 The ramen was good. Tonkatsu broth was unctuous as it should be. Noodles had good bite. The egg had telltale grey ring around the yolk, which was less than appealing. The pork belly, while enjoyable on a who- doesn't- love- pork- belly level and nicely marinated, a minor quibble would be that it was cut too chunky for an elegant bowl of ramen.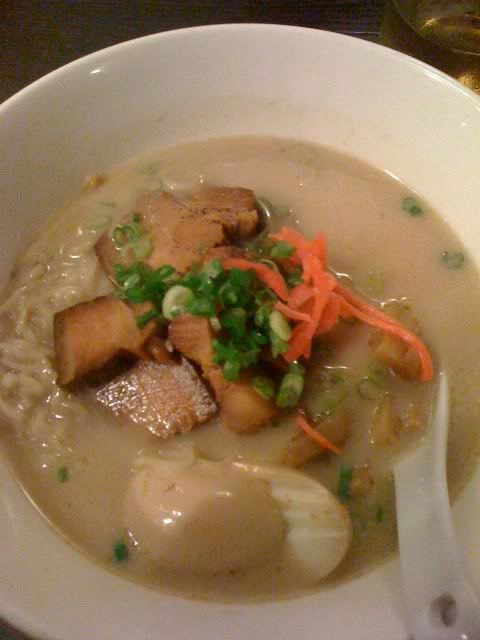 In the end it was hard not to enjoy.
The next day in LA we ventured into Watts for a tour of
The Watts House Project
. Our guide tipped us off to a neighborhood soul food joint called
Jordan's
, which was a cultural as well as culinary highlight of the trip for me. The sixty + year old cafeteria is a well kept two story space putting out soul food plates that are- as with the best of this type of chow- prepared so scratch that you feel at home.
My dining companion's coveted over (and generously shared) short ribs.
Fried pork chops (never had em before, yet set as the archetype- seems like a truly deft hand to maintain a juicy chop with a hard fry)
I can be a sides man, so I ordered a full dinner- greens (tender and vinegary, no meat fat to be found, still great), black eyed peas (I can easily be won over by a well cooked bowl o' beans and damn was I), mac n' cheese (soul food style, a little velveeta, a little real cheese, cheese crust bake) and requisite cornbread. Oh and I had the catfish- it had a different breading from the pork chop, cornmeal based that was greaseless and peppery, just right.
And on to the mythical
Jitalda
for dinner:
The food was damn spicy, for that I am grateful. It was crowded with people like us. It felt discovered. The food was just okay. I left a bit disappointed. As we left, the owner came running out after us, inexplicably, to let us know that that night they had been understaffed, slammed, and that we should definitely return. It was a touching moment, however mopey I might have felt, and a definite incentive to give this restaurant another chance. I really wonder sometimes what kind of affect the rabid conquest for real- deal food by people like us can actually afflict on the cuisine of places such as these. I can always justify that in harder economic times that it is practically a responsibility to support these types of mom and pop businesses. But what happens when you push them beyond their own means? I'm not sure what the food at Jitalda tasted like in the years before the buzz began (here?) and I am not going to claim that the food has been gentrified or dumbed down. I ordered clams in fresh turmeric curry with tea leaves. The curry itself was a fiery brew- in which I was unable to detect the discernible earthen tang of fresh turmeric, yet nonetheless found complex in its balance of fiery heat with a smoky/herbal contribution from the tea leaves. However, it really sucked that they mistook our order of clams for chewy, pencil eraser-like snails. I may have over-ordered on the curry- the green curry with fish balls and vermicelli was equally as hot spicy as the snails, yet perhaps from my own flavor exhaustion, it lacked a character of its own. My benchmark for this dish would be TAC's version, which has a cooked down coconut milk effect that provides a rich backdrop for a lovely set of spicing. There was a ground meat mixture incorporated into the curry which was different than aforementioned version. The presence of only three fish balls (which were very nicely textured) was also a bummer. The lamb curry from the specials menu was scant on the meat side and in the dry stir fry curry style, loaded with "stir fry" veggies, making its $13.95 price tag seem unreasonable. This dish struck me as a middle ground for American tastes. The salads that my dining partners let me sample were up to snuff- fresh and brightly flavored, the squid in the squid salad much fresher and finely prepared than our snails. So what happens when an off-the-beaten- path restaurant serving a very specific cuisine, most likely to a select population, gets discovered by the new-experience-rabid foodie/web culture? While it is clear that Jitalda is conscientious of the foodie's interest in authentic cuisine in that the spicing is not moderated and the translated menu has been incorporated into the main menu. Yet unfortunately- that night in particular- the food that we ate seemed hurried in its preparation and lacking in ingredient quality. And the fact of the owner apologizing points me to the conclusion that they do not seem to have the infrastructure to keep up with their demands. I guess we are watching our own Sun Wah adapt and survive their own growing pains and it seems like they are proving it possible to bring great, authentic food to the masses. Despite my underwhelming experience, Jitlada seems to have a bright future- the ownership is clearly trying to stay attuned to their customer base and according to their track record, are capable of offering a unique and vibrant cuisine.
Not hungry enough to eat free tacos at the paradoxical and awesome
Gold Room
bar in Echo Park, we hit up legendary
Tommy's Original
on our way home. I have no nostalgia for gloppy, greezy, mystery meat chili of my old man's generation. Not sure if I even ate a good burger buried in all that muck. I did dig the serve-yourself unlimited pepperoncini/sport pepper-hybrids.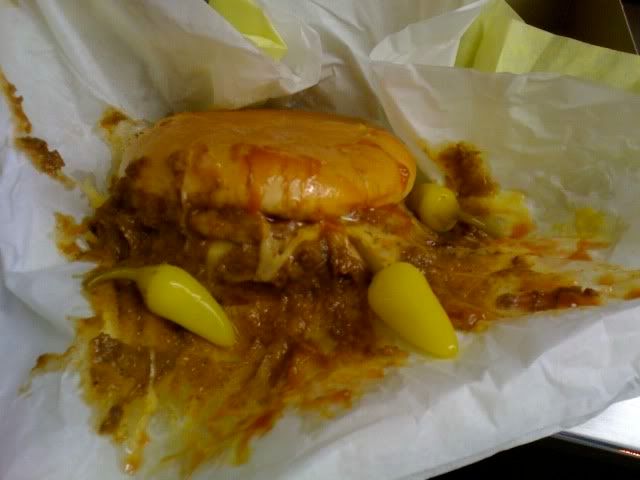 A face only a mother could love.
The next morning we had free time from the group and after a hungover jog around downtown, ramen was on my mind again. With
Daikokuya
opening at 11 am it was perfect timing. The weather was uncharacteristically wet and chilly too, so the warm and welcoming confines of the noodle shop with a cup of green tea could not have made me any happier.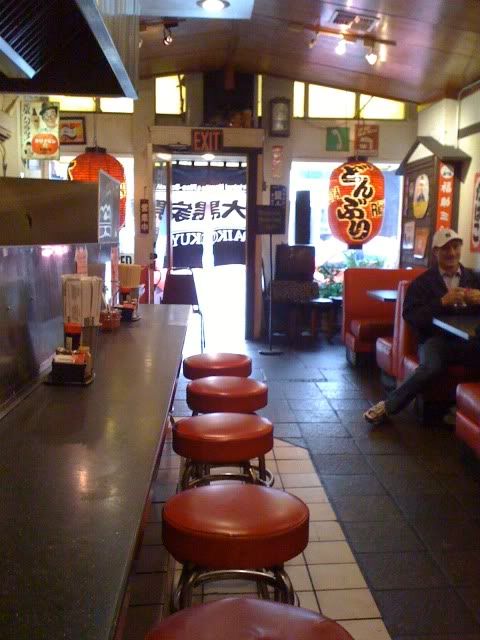 Of course this ramen delivered: silky, umami- smacking broth with perfectly seared and luscious chashu. Sproingy egg noodles, perfect. Beansprouts, scallion, and sesame seeds provided textural intrigue. As discussed in the linked thread above, the egg in this ramen set it apart from my previous crack a few nights before and a few addresses over. The yolk was just set, about at a medium boil- melting away in the already rich-as-could-be broth which really took it over the top. The respite and restorative properties of this bowl of soup were the perfect battery charger for the half way point of this trip and provided the culinary highlight of the whole journey for me.
Dinner was enjoyed at the board recommended
El Parian
, which was the only Mexican I was able to hit in two days in LA on such a tight schedule. We arrived about a half and hour before closing, so I knew this would have some effect on the taco meat we were about to dig in on- likely, the end of the night, clear out the hot-holding-unit carne asada. I ordered three tacos, knowing that birria and carnitas hold up better throughout the day, I ordered one of each and rounded out with a carne asada just to see how it stacked up. These were big honkin tacos, about double what one would find in Mexico City and maybe 50% larger than hereabouts. The tortillas, themselves were on the bigger side and seemed better than commercially made, though not warm enough to be soft and pliable. Garnishes of radish, lime, and a side plate of onion and cilantro rounded things out.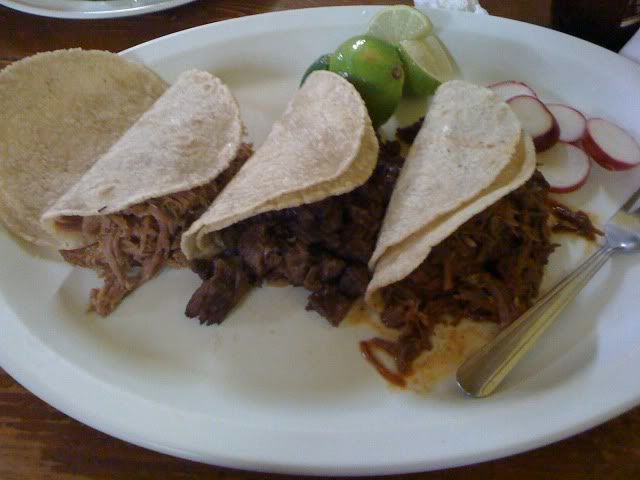 The birria was the clear standout, most likely since it holds well. Juicy, spicy, and redolent of clove, it was one of the better versions I've had.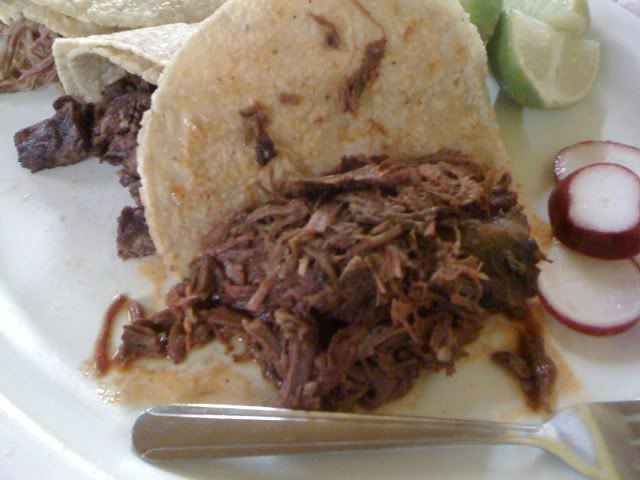 The carnitas were moist, but maybe too much so, lacking the caramelized edges that are so crucial to the preparation. Carne Asada was obviously a few hours old and while flavorful, was not half as enjoyable as freshly charred steak. Speaking of which, my dining companion smartly ordered, a carne asada plate with a freshly grilled, plate sized steak that was absolutely killer.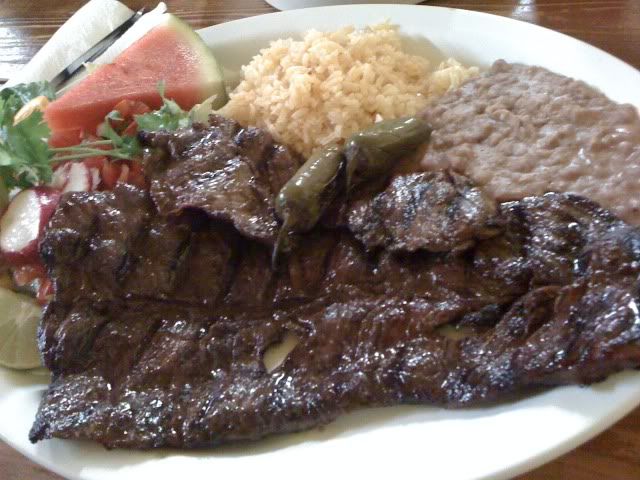 Oh and I should mention that there were rounds of charred jalapenos, which always make me happy. El Parian did not quite convince me that LA Mexican has an edge on our fair city's, though hitting one taqueria at closing time (I do know better), was not a fair survey. Maybe next time.
And we were off east into the deserts of Arizona and New Mexico. We visited the visionary architect, Paolo Soleri's
Arcosanti
which was cool, if somewhat creepy in a cultish commune kind of way.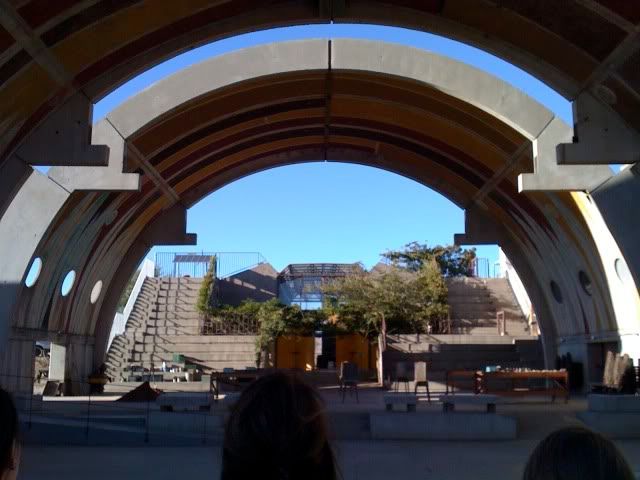 Food at the
Raven in Prescott, AZ
did not do so much for me, I think I had a Sysco quality Cobb Salad. They had a great beer program though and the rooftop patio was quite nice.
Said roadside cafes, largely serving Mexican fare, were welcoming and charming.
I had a pretty damn good plate of my favorite huevos con machacado at this place. Its funny, in many places the only discernible difference between Mexican Mexican and Southwest Mexican was the prevalence of cheddar cheese standing in for queso fresco or chihuahua.
We spent a night at the cabin at
Lightning Field
which was my art highlight of the trip, a spiritual communion of desert and sky. The desert light activated the piece just as powerfully as the (absence) of lightning.
The town of
Quemado
was a tiny intersection and quaint. I really wished we'd have had time to stop at
El Sarape
.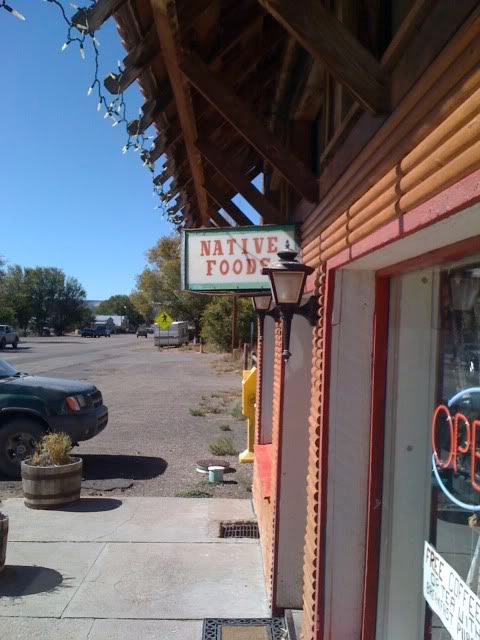 We spent a quick night in
Las Cruces
. We were too road worn to drive down to Chope's and instead tried
Andele's
. Kind of a strip mall Ameri-Mex type of spot which made up for in its quality chow what it lacked in character. I can get into a salsa bar and they had a good range, all with good heat- the verde and salsa de chile arbol standing out. Soy sauce-marinated grilled jalapenos were nice. For my entree I finally got to sample a dish I'd seen on menus all over the southwest, carne adovado, which is much the same dish as carne en chile or versions of puerco guisado. This dish had fork tender stewed chunks of pork in a stand up spicy sauce that must have been mostly red chile. Very nice.
And then to
Marfa
.
We stayed about 15 miles north in Fort Davis and ate at the only open spot, a TexMex joint next to our accommodations (the quirky and comfortable Stone Village Tourist Camp). The Mexican plates ordered by my companions were not looking so hot, but I rather enjoyed my green chile cheeseburger (which I had not had time to try in New Mexico), canned chiles suiting their purpose (a roasted poblano would have been out of the ballpark) and a healthy blanket of chihuahua cheese on a hand formed 1/2 lb. patty was a delicious gutbuster.
The Chinati Foundation at Marfa proved to be Minimalism's greatest hits and in such an austere environment, work that I once found cold and de-humanized actually resonated in its geometry-meets-nature site specificity.
Some of Donald Judd's 100 untitled works: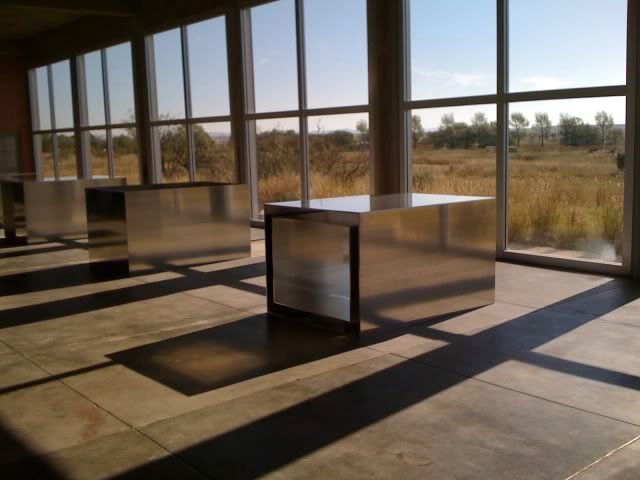 We had a rather special final meal at
Cochineal
in Marfa, an upscale seasonal/local French inflected American restaurant. I had a just dandy Salad Lyonnaise with "Marfa" egg.
Lamb chops done medium rare were just right, though I could have ate 3 or 4 more. The accompanying seared bok choy and white beans were simple, unfussy, and to my taste.
Dessert was also fabulous- date torte my favorite, sticky sweet, and piping hot and moist in the center.
Whew, what a trip, a truly memorable experience of art, land, and food.
Red Iguana
736 W North Temple
Salt Lake City, UT 84116
(801) 322-1489
Peppermill Inn
2985 Las Vegas Blvd S
Las Vegas, NV 89109
(702) 735-4177
Suehiro
337 E 1st St
Los Angeles, CA 90012-3901
(213) 626-9132
Jordan's Cafe
11332 Wilmington Ave
Los Angeles, CA 90059-1248
(323) 566-8629
Jitalda
5233 W Sunset Blvd
Los Angeles, CA 90027
(323) 663-3104
The Gold Room
1558 W Sunset Blvd
Los Angeles, CA 90026-3332
(213) 482-5259
Tommy's Original
2575 Beverly Blvd
Los Angeles, CA 90057-1020
(213) 389-9060
Daikokuya
327 E 1st St
Los Angeles, CA 90012
(213) 626-1680
El Parian
1528 W Pico Blvd
Los Angeles, CA 90015-2408
(213) 386-7361
Raven Cafe
142 N Cortez St
Prescott, AZ 86301-3016
(928) 717-0009
El Sarape Cafe
Hwy 60
Quemado, NM 87829
(505) 773-4620
Andele Restaurante
2184 Avenue De Mesilla
Las Cruces, NM 88005
(505) 526-9631
Cochineal
107 1/2 West San Antonio Street
Marfa, TX 79843
(432) 729-3300