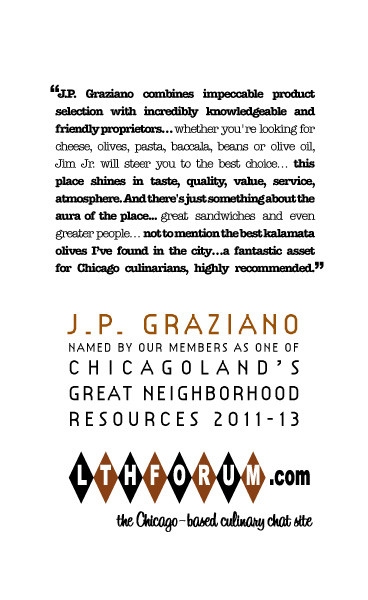 I'm a picky (some say obsessive-compulsive) shopper, so there are few places where I feel confident walking in and just asking: "What do you recommend for ...," and believing in the answer. At J.P. Graziano, no matter what the "..." is, I always find the recommendations to be fantastic. J.P. Graziano combines impeccable product selection with incredibly knowledgeable and friendly proprietors. Whether you're looking for cheese, olives, pasta, baccala, beans or olive oil - just tell Jim Jr. what you're planning to do with it, and he'll steer you to the best choice. What makes the place even better is that the Graziano's are also excellent cooks. So if you're not sure what the heck to do with that baccala or those olives, just ask for a recipe. They know their stuff.
This Great Neighborhood Resource is a fantastic asset for Chicago culinarians, especially those like me who love Italian cooking. I heartily recommend it for this esteemed reward.
Main J.P. Graziano thread
J.P. Graziano Grocery Co., Inc.
901-905 Randolph Street
Chicago, Illinois 60607
312-666-4587
312-666-4604
...defended from strong temptations to social ambition by a still stronger taste for tripe and onions." Screwtape in
The Screwtape Letters
by CS Lewis
Fuckerberg on Food