I'll freely admit, I'm a Connecticut Yankee, born and raised. My entire family is from the Tri-State region (that is CT, NY, NJ for all you other "Johnny-Come-Lately Tri-States"). While this has certainly had advantages such as an innate knowledge of good
thin crust
among other food oriented advantages.
On the other hand, Chicago is my chosen home. So far my two residences in my favorite city have totaled nearly 6 years of my life. Much of this time has been devoted to our wonderful food culture. As most of us with family from elsewhere know, one of the joys of living here is getting to expose our loved ones to the wonders of Chicago food. Before this weekend my mother and my father had each come out twice to visit (my brother… well… he's in 3rd place with zero). The thing is that, when my father came out we usually hade a nice relaxing time with plenty of good food. My mother has, in comparison, received a much less pleasant treatment having come out to help me move and once when I was very ill with the flu… not the best eating times. Moving wasn't horrible but it wasn't nearly as food oriented as we like it.
The good news is that her 3rd visit was solely for enjoyment and for not other reason than it happened to be my 32nd birthday… really it was to eat…
"In the beginning there was Al's…er… um Manny's…"
Well actually… not really. The night Mom came in we actually went to
Sticky Rice
. While Sticky Rice is one of my favorites and, IMHO did a good job on everything we ordered (about half of the menu pictured on page two of the above thread), it was a new cuisine to my mother and didn't knock her socks off. I really think it had more to do with having no benchmark.
So for the first lunch, I figured I would take Mom for some indispensible Chicago food,
Al's No. 1 Italian Beef
. As we drove from Logan Square to Al's we cruised by
Moon's Sandwich Shop
which I pointed out had some very good corned beef. My mother quickly replied, "Why don't we go there?" I told her that if she really wanted deli food we should just head to
Manny's
. A breathless head nod later, Italian beef was out of the question. See, my mother is a New England Jew and grew up on deli food… Jewish deli food… While Western NC has some wonderful food, Jewish delis are NOT one of them… at all… Given the smiles, grunts and groans of happiness, it was the right call. It is an odd thing seeing one's mother giggling like a Japanese school girl, but for this Mom, corned beef does just that…
Happy Mom!!!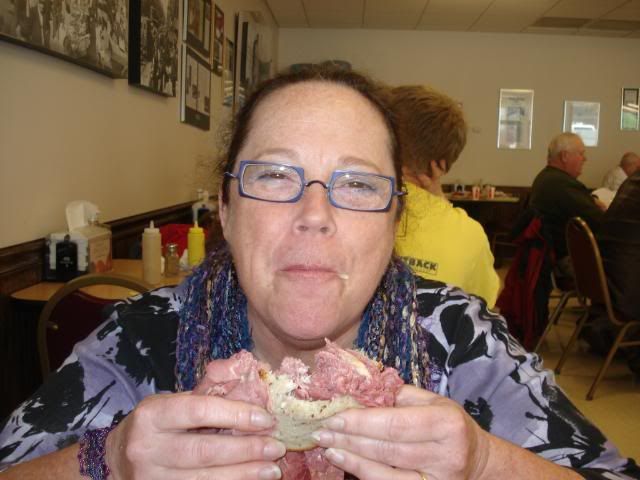 Of 2 massive sandwiches, a couple latkes, slaw, and Cel-Rays… this was all that was left…
What do you eat when you can't eat another bite?
So after Manny's we could hardly walk. We waddled over to
Binny's
to pick up a few bottles of wine and cheese (I was very happy to find some perfectly ripe
Montgomery's Cheddar
possibly my favorite non-bleu cheese in the world). Given it was a fairly rainy day I followed my Mom around at some furniture outlets so she could see some things in person that she had her eye on for her on-going home renovations (I'm such a good son!). While a few hours of walking did relive the urge to fall over and sleep we were both fairly full at nearly 7 hours after lunch at 8PM. While my mother was happy to stay home with some our wine and cheese, there was no way I was letting her off the hook this soon in here visit.
Sushi was really the only follow-up to massive amounts of cured and smoked meats for lunch. While it isn't my favorite place in Chicago for the very best sushi,
Bob San
offered a number of attractive features given the situation. It is close to Logan Square, open late, and right in the middle of possible choices in terms of cost. Again we were not looking for an all out, best-in-the-Midwest meal. Aside from one stumble (if an interesting one), Bob San performed perfectly.
We started with some simple root veg tempura and unfiltered sake, nothing out of the ordinary. What I was reminded of was how sake can stimulate an appetite in someone that didn't really have one possibly better than any other libation on the planet. Given that we were full when we got there, the amount of food we were able to enjoy by the end of the evening was impressive. Thank you sake!!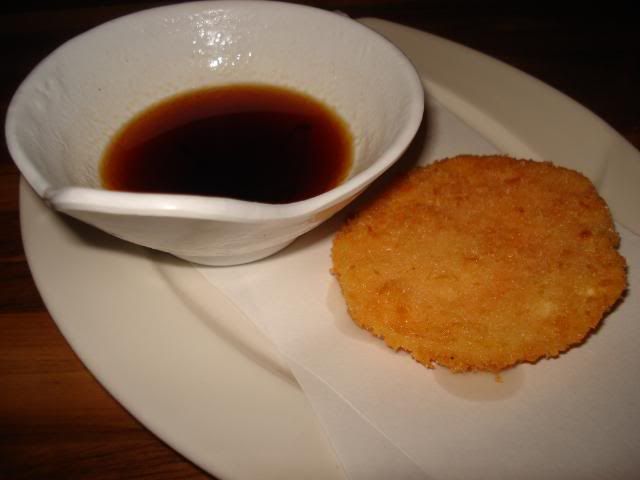 We then moved on to some rolls and nigiri. Again we kept it fairly simple with some soft-shelled crab, spicy tuna (no mayo… a very nice middle of the road roll that isn't some oddly sweet or creamy concoction), bass, creamy scallop, and sweet shrimp.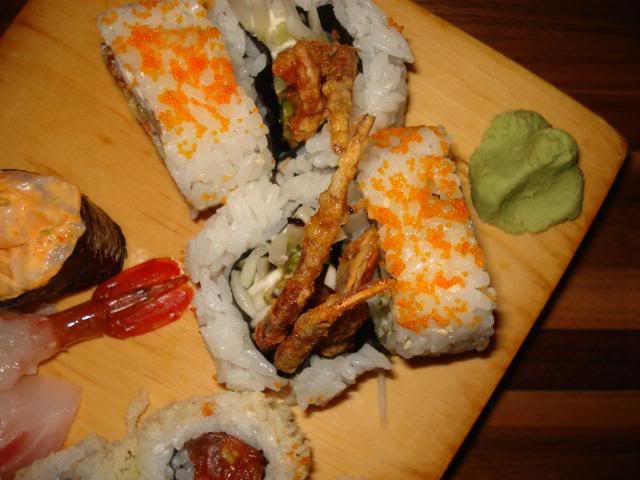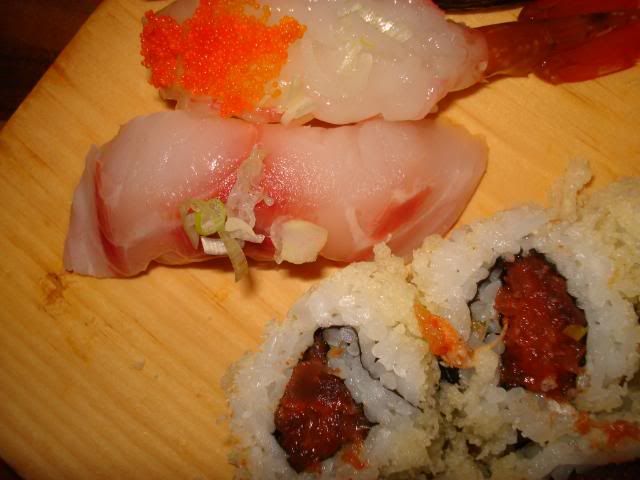 And then there was the fumble…. Or should I say, simply odd dish. The menu described the following dish as "Baked King Crab – may, smelt egg, avocado". When I pictured the dish I thought of something like what appears on page 99 of Morimoto: The New Art of Japanese Cooking. Crab legs split with a sauce on top. Not so…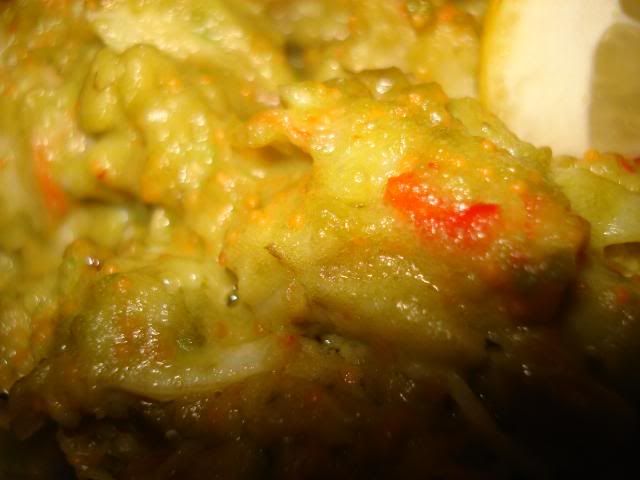 I actually was OK with the taste. It didn't look so freakish in the dim light without the flash. The biggest problem is that it didn't matter what kind of crab they used. Never mind snow crab, they could have put Krab in there and no one could tell the difference. My mother frowned and slid it toward me… /shrug … For a fish desert I ordered a few uni and oyster shooters… they went down just fine…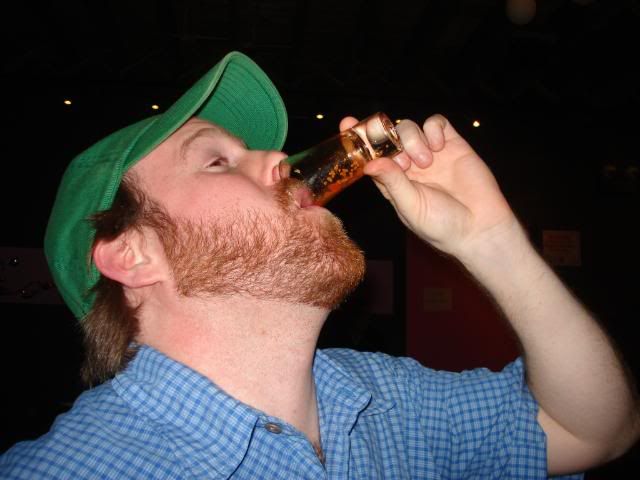 I still think they are better one at a time… but what do I know
Remember that bit about sake?
Remember we left for dinner not hungry? Well by the time we were driving home, I was reminded that my mother's fifth taste is not "umami" but, rather, "hot fudge". We drove by Margie's Candies and her eye's lit-up like a neon sign on acid, and I basically had to E-brake slide my car into a U-turn… Fine by me…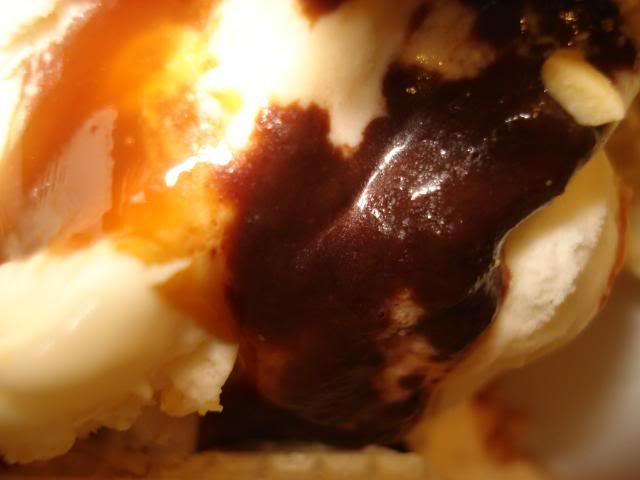 Finding the perfect dumpling…
I have been to
Katy's Dumpling House
a number of times. It has always been some of the best Chinese food available, IMHO. Here is the thing, Chinese fried dumplings have been my favorite food since I was about 5 years old. They are my comfort food… my center when it comes to cuisine. If I have been sick and haven't been able to eat in 3 days, they are the first thing I want when my appetite starts to return. If I go more than a week without eating fried dumplings, I don't feel right. I guess I am saying, I take my dumplings pretty seriously. I have been around for 32 years and have been eating them since I was about five… so 52 weeks in a year… means I have probably had around 1,404 orders of dumplings in my life as a conservative estimate. I like dumplings. The ones we had at Katy's were the best I can remember. I have vague recollections of fist size dumplings of perfection in Boston's Chinatown and again in Manhattan when I was about 8 but I couldn't tell you where or anything. Visual evidence is in order: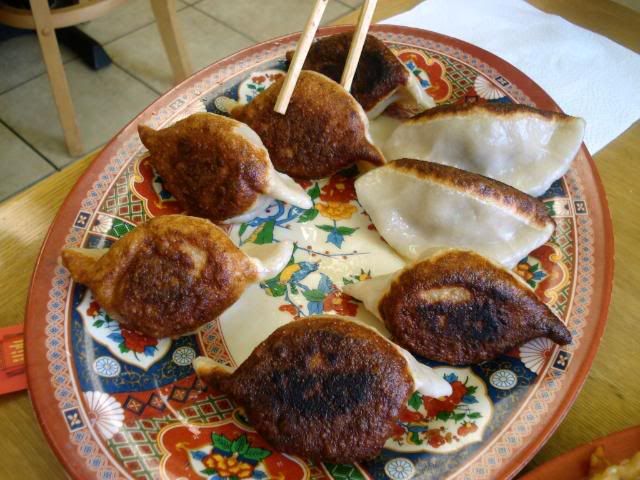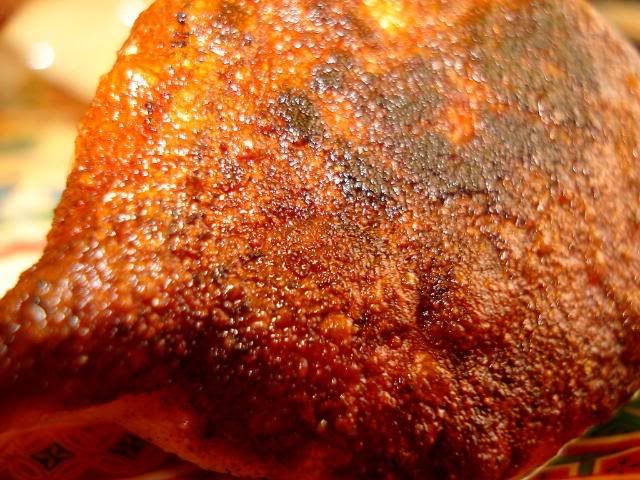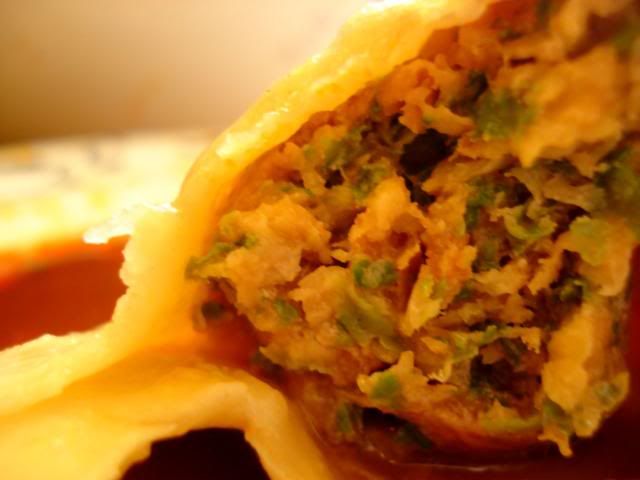 I was almost moved to tears… Oh, of course the dry chile noodles and Szechuan beef noodle soup were good as ever
…but really, does it matter when you have this?
Dinner is better when you can walk there.
Bonsoiree
is about 600 feet from my front door. I have wanted to go there for a good long while but it seemed that I could never interest anyone in a trip. While we had considered one of the longer format tasting menus for my birthday on Sunday, I knew my mother would be happier with something simpler at the end of her visit. We made a reservation at Bonsoiree late (9:30PM) on Friday and planned on the 4 course. Given the short walk to the restaurant, it seemed to make sense. In short, Bonsoiree really is a wonderful neighborhood restaurant. Even with our late reservation, we were never rushed. Shin Thompson was as wonderful a server as he is a chef. The food was certainly creative and while not everything hit on every level, we both admired the chances being taken in the kitchen. The dishes that worked were on par with some of the best creative dishes in the city.
Spring Salad- Shaved cucumber, pickled Japanese eggplant, Verjust-truffle, Shimeji mushroom, bacon cubes, crispy garlic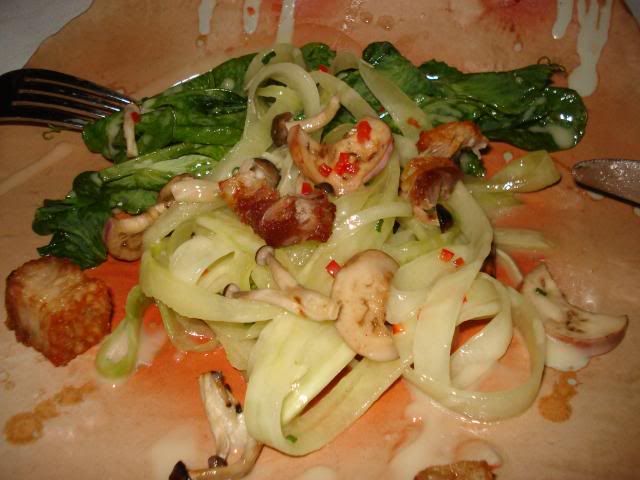 This was an interesting take on a salad. Very light and fresh in flavor and texture. It seemed a bit more evocative of summer than spring but a good sart.
Extra course of baked Scallop – ponzu mayonnaise, fried carrot(?)
This was simple and delicious. The mayonnaise was not heavy in any way and the fried root vegetable gave it a great crunch.
Mussels in Japanese broth – pureed ramp (don't remember what the "puffs" were)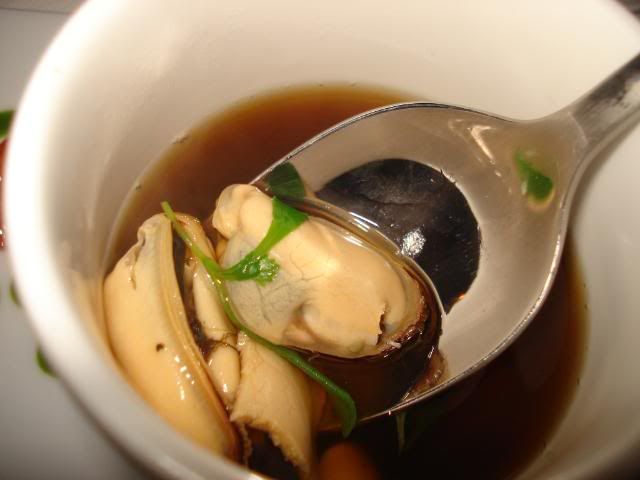 Again, this was simple, delicious and seasonal. I am not the biggest mussel fan but I enjoyed this.
Vanilla basted Pouisson – spring peas, carrot, Vidalia onion, Bourbon curry turnip, purple (!) fingerling chips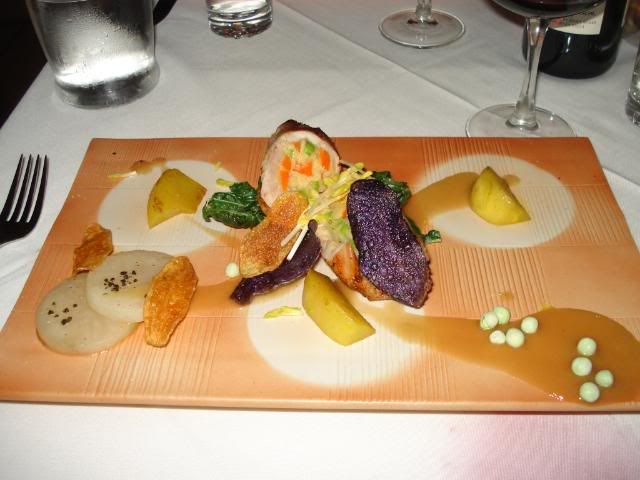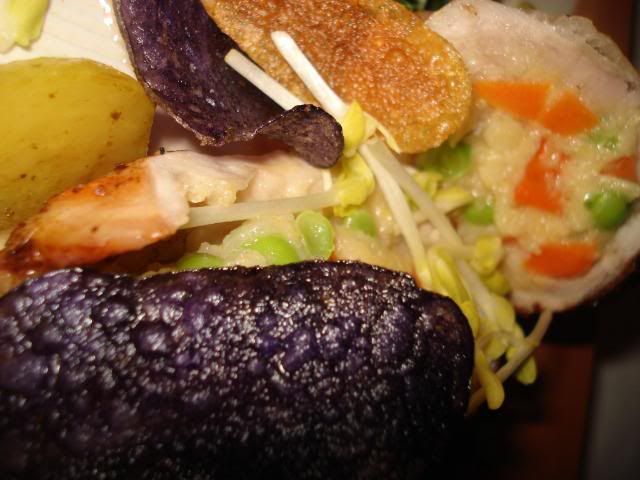 This was one that we couldn't decide on. The dish is visually stunning! I did like it but my first thought was that it tasted like a gourmet TV dinner. I'm not sure if that was what they were going for. I think it was the combination of carrot, pea, and a poultry based gravy.
Dessert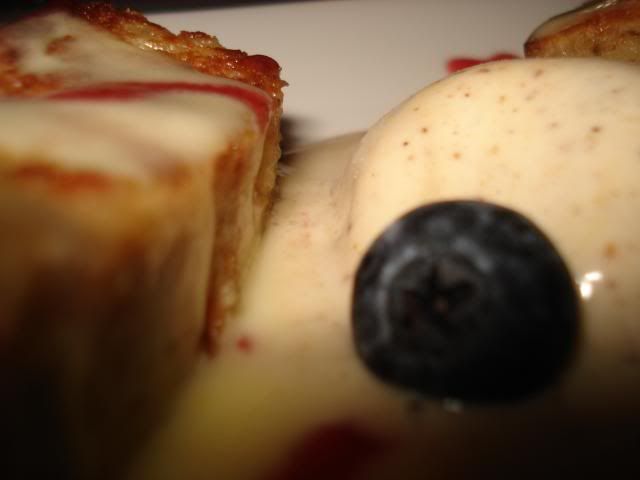 I'll be honest. I don't remember the details on this one other than we both thought it was very good. At this point it was very late and a bit of wine had been consumed. The meal ended on a up note and we made the walk home all smiles. I really dug Bonsoiree. It is a place clearly run by cooks that care about what they are doing and as someone that has spent time on the other side of the stove this scores a lot of points with me.
What dress code?
Interlude: A "simple" dinner at home
After a fully packed Friday, we needed a break. We decided to do a bit of shopping and stay in for one night. On the way to Costco, we grabbed a quick bite of lunch at the
Vienna Beef Cafe & Factory Store
. After trying to convince Mom to get a case of dogs to take home so I didn't have to hear about how there are no natural casing dogs available in NC (and failing… but I'm not hearing any more complaints now!) we picked up a few pounds of King Crab and some sweet corn.
That night, after enjoying the wine and cheese from Binny's, I got down to cooking. Actually, I didn't have to do much… and that was the point. I made a simple garlic lemon butter by melting a stick and a half of sweet cream butter with a few raw garlic cloves, lemon slice, salt and pepper… that's it. Cook down and clarify. This makes a perfect dip for seafood and is very good on steamed corn too. I also made some Asian soy/ginger dip for the crab by making a simple syrup and mixing it with equal parts black vinegar and soy, some Lao Gai Yang chile sauce, facing heaven dry chile, and garlic. In this case the meal was greater than the sum of its parts as conductor Roz illustrates.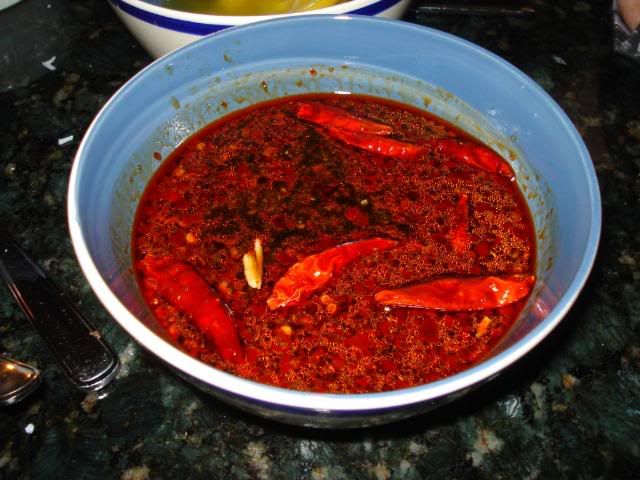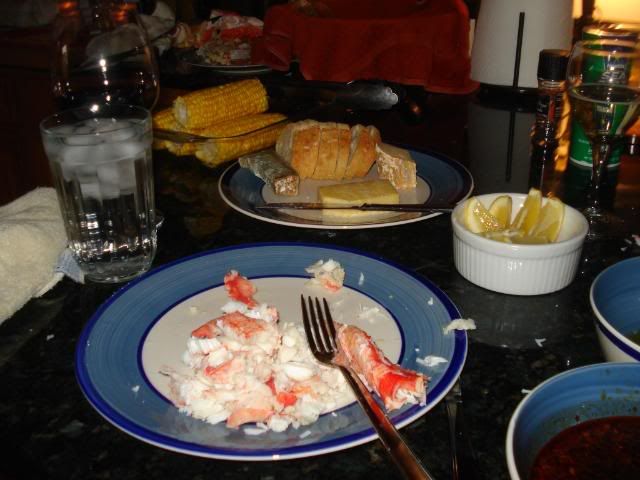 Finale: Café Spiaggia
Sunday the 3rd was my birthday. It was also a perfect day in Chicago. 68 degrees, sunny, with a slight breeze. We spent the day walking through parks, the Shedd Aquarium, a IMAX movie, and finished up with drinks at
The Signature Lounge at the Hancock Tower
. It was a fun and touristy day. We had considered something over the top like L2O, Alinea, or going balls-to-the-wall at Katsu but Café Spiaggia seems the best mix of my Mom's love of simple Italian, my desire for cuisine a cook would like and the fact that we were going to be tired and probably not up for a avant-garde marathon (or the hike out to Katsu). It was a good call. The location was perfect and we didn't have to go home and change for the main dining room. The food was interesting and fresh. We had a wonderful table that faced the street and gave the feeling of being in a private room.
We arranged our courses so that we shared a salad, had two pastas, and split a main which gave a fairly Italian feel to the meal. Rather than give every repetitious detail, I will simply say that everything was as it should be. The service was polished, ingredients were fresh, the saucing was right and the doneness was perfect on the fish. This is a restaurant operating at the peak of polish and is one of the best values in Chicago Italian food.
SPINACI- Nichols Farm spinach and spring garlic with sweet pancetta, Piave cheese and white wine vinaigrette
GNOCCHI- Hand crafted potato gnocchi with wild boar ragu and Parmigiano Reggiano
RAVIOLI- Hand crafted spring garlic and ricotta filled ravioli with peas and orange zest
TROTA- Wood roasted Rushing Waters trout with artichokes, Tuscan beans, roasted shallots and potatoes
Dessert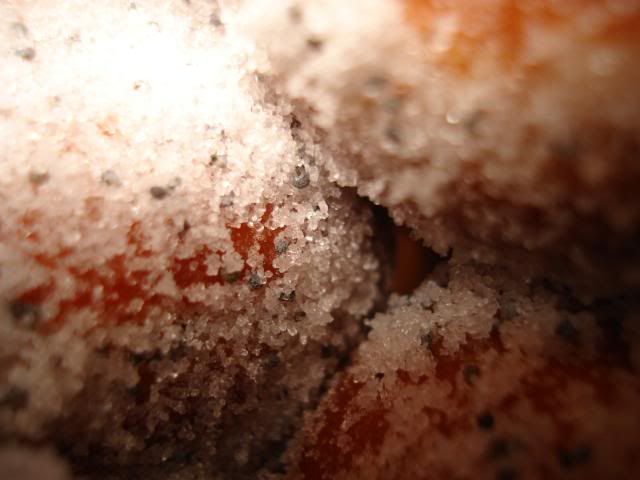 So here's to Mom!
Shortly after this visit I accepted a job back in Connecticut and will be leaving Chicago for a second time in mid-June. For whatever reason I can't seem to stay in the city that is my culinary home. The good thing about all this is that Mom is coming back out to help me move (again…what a trooper). The only problem? What to eat!!! Good thing she is getting a head start on that problem.