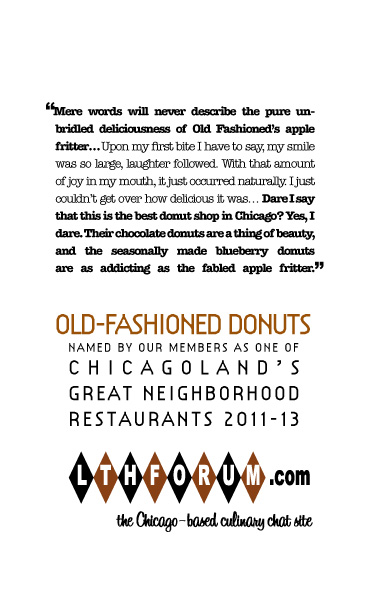 LTHForum Great Neighborhood Restaurant Award Renewals, Announced April 2, 2009
Of the many restaurant awards handed out in Chicago, only one represents the heartfelt opinions of a broad base of ordinary food enthusiasts spending their own money on the food they truly love. That's the LTHForum Great Neighborhood Restaurant designation, nominated and selected by the members of the popular Chicago-based culinary chat site. Its members run the gamut from four-star chefs to hot dog stand proprietors, lawyers, writers, musicians, college students and everything in between, all united by a love of food-- and a willingness to share their finds on the internet.
LTHForum is pleased to announce that 46 restaurants last awarded the Great Neighborhood Restaurant designation in 2007 have been recertified for the award, following a lengthy period of trial, discussion and careful evaluation-- to make sure the places chosen still have their magic that captivated LTHForum posters in the first place. Each restaurant will receive a certificate similar to the one shown above, highlighting some of what makes it special-- and in many cases, recommending specific dishes to try.
Why Great Neighborhood Restaurant
Chicago is a city of great neighborhoods, made distinctive by history, ethnic mix, and vibrant street life and culture. The Great Neighborhood Restaurant awards honor restaurants all over the Chicagoland area which contribute to their neighborhoods' and the city's character by offering outstanding food, an authentic experience of their ethnic culture, and/or a welcoming (or in some cases, belovedly cranky) atmosphere for guests. Many of these are not merely great places to eat but true cross-cultural meeting places, where power brokers and city workers, cops and perps can bump elbows or trays while enjoying honest, handmade food.
Restaurants are nominated by registered members of LTHForum.com, the Chicago-based culinary chat site, and ratified by a committee of board members, based on the degree of discussion and community-wide enthusiasm evidenced on the site. For the renewal process, this meant that each restaurant must either have had ongoing favorable discussion since it last earned the designation in 2007, or members had to try it again and report back to ensure that the restaurant had retained its previous level of quality and distinction.
Click on each restaurant's name to read the nominating thread for more details.
Go here for a handy pocket guide to all 106 current LTHForum Great Neighborhood Restaurants.
LTHForum Great Neighborhood Restaurant Award renewals for 2009-10Al's No. 1 Italian Beef (Taylor Street location)
-- Taylor Street stand serving classic Chicago Italian beef and charcoal-grilled sausage. The designation only applies to this location.
Amanecer Tapatio
-- Mom has retired to Mexico, but the next generation is still putting out great regional Mexican food in Joliet.
Barbara Ann's
-- South side BBQ joint serving excellent ribs and arguably the city's best hot links.
Cafeteria Marianao
-- A little slice of Miami in a busy, ramshackle stand offering Cuban sandwiches and coffee.
La Casa de Isaac
-- A splash of Mexican sun and soul on the Highland Park/Highwood restaurant row, though don't go Friday nights-- though not strict kosher, the restaurant-veteran brothers who own it keep the Jewish sabbath.
Chuck's Southern Comforts Cafe
-- South suburban Burbank's best restaurant by a country mile, a Frontera alum dishing up high-class comfort food.
Coalfire
-- A genuine coal-fired oven is responsible for the tasty char on Italian and New Haven-style thin crust pizzas at this Grand Avenue hot spot.
The Depot American Diner
-- American diner classics beautifully made from scratch, no shortcuts, in a revived old diner space on the Chicago-Cicero border.
Deta's Cafe
-- Homey and incredibly welcoming one-woman restaurant dishing up freshly made Montenegrin
bureks
and soup near the Evanston border.
Ed's Potsticker House
-- Northern and northeastern Chinese restaurant off the beaten path in Bridgeport.
Fabulous Noodles
-- Top-quality & authentic Chinese in a Lisle mini-mall.
Freddy's Pizza
-- Cicero deli offering housemade Italian-American dinners, sausages, pizzas, gelato and breads.
fRedhots & Fries
-- The enthusiastic owner of this Glenview hot dog stand goes beyond the usual red hots for everything from reindeer sausages to homemade aiolis to dip your
frites
in.
Healthy Food
-- Believed to be the oldest surviving Lithuanian restaurant our neck of the woods, maybe the world, a charming slice of old ethnic Chicago serving up beyond-hearty food in Bridgeport.
Katsu
-- On an obscure stretch of Peterson, pristinely fresh and beautifully prepared sushi, sashimi and cooked dishes.
Khan B.B.Q.
-- Devon Avenue Pakistani restaurant offers grilled meats which sizzle with charcoal flavor and pungent eastern spices.
Klas
-- Capone-era Mittel-European fantasy Czech restaurant in Cicero.
Kuma's Corner
-- Avondale standout among Chicago's many pub & grub spots, thanks to imaginative burgers, a serious beer list focused on regional brewers, and a surprisingly welcoming tattooed-and-pierced vibe.
Lao Sze Chuan (Chinatown and Downers Grove locations)
-- Chinatown Mall restaurant (and suburban sibling) serving seemingly endless menu of Western Chinese specialties.
Laschet's Inn
-- Authentic German food, beer and
gemütlichkeit
in the old German St. Ben's neighborhood.
Manny's
-- Cafeteria serving old school Jewish deli classics to a democratic crowd ranging from machers to meshugas.
Maria's Bakery (Il Mulino)
-- Authentic Italian sweets and snacks, plus a lively street cafe atmosphere, in Highwood.
Mario's Italian Lemonade
-- Legendary Taylor Street Italian ice stand (opposite GNR honoree Al's) provides one of summertime Chicago's most vibrant street scenes.
Moto
-- "Scientific" food at the far end of the cutting edge, by a chef who entered our virtual neighborhood to debate his cuisine with us.
La Oaxaqueña
-- Pair of fine family Mexican restaurants on north Milwaukee and west Diversey, serving outstanding freshly-made versions of classics like chicken mole.
Old-Fashioned Doughnuts
-- The anchor of its little-visited Roseland neighborhood on the southeast side, this place cranks out fresh doughnuts and breathtakingly rich apple fritters.
Paradise Pup
-- Fans line up at this tiny spot opposite a forest preserve in Des Plaines for fresh-ground burgers full of smoky grilled flavor.
La Pasadita (east side of Ashland location)
-- Late night revelers from Wicker Park revere this burrito shop (not to be confused with two siblings of the same name within the same block) for top-notch steak tacos and burritos.
Pasticceria Natalina
-- Andersonville bakery turning out magically light and delicate versions of Sicilian and Italian specialties such as
sfogliatelle.
Patty's Diner
-- Ramshackle but lovable Skokie diner run by a female grill cook and her waitress sisters, focused on hearty breakfasts and sandwiches.
Podhalanka
-- A hearty Polish working-man's spot, easily overlooked on fast-gentrifying Division Street.
Riviera Foods
-- West side Italian deli offering outstanding housemade sausages and sandwiches, including the "Will Special" (named for LTHForum member "YourPalWill").
Sabatino's
-- Sinatra-era Italian-American fine dining restaurant serving Chicago classics like Chicken Vesuvio.
Schwa
--Downscale and very creative fine dining blending skillfully into its neighborhood, genuine and personal.
Smoque
-- An instant hit in its underserved Old Irving Park neighborhood, offering smoky brisket, ribs, pulled pork and good sides in an easygoing atmosphere.
Sol de Mexico
-- Mexican sitdown restaurant in the west side Craigin neighborhood, renowned for its complex moles, from yet another branch of the Bahena family.
Spoon
-- Lincoln Square Thai restaurant famous for "secret menu" of brightly authentic Thai dishes.
Stop 50 Woodfired Pizza
-- Authentic Neapolitan-style pizza, topped with homegrown herbs, in the Chicago vacation-home community of Michiana Shores, Indiana.
Sun Wah BBQ
-- Roasted duck, chicken and pork are the stars on display in the window at this Argyle Street Chinese hole in the wall.
TAC Quick
-- Chic Uptown Thai spot serving eye-opening authentic grilled meats and Thai curries.
Tank Noodle (Pho Xe Tang)
-- Bright and welcoming Argyle Street spot serving excellent versions of Vietnamese soups such as pho and entrees.
"Little" Three Happiness
-- Outstanding Chinatown hole-in-the-wall (from which LTHForum takes its name).
Uncle John's BBQ
-- The former pitman at GNR honoree Barbara Ann's serves up delectable rib tips and hot links with a hint of sage at this South Side BBQ hut.
Vie
-- A Blackbird-alum chef with a strong commitment to regional and seasonal flavors brings a downtown foodie outlook to suburban Western Springs, along with a very family-friendly attitude.
Wiener... and Still Champion
-- First-class dogs, grilled burgers and freshcut fries, and hand-dipped corndogs are the highlights of this Evanston stand.
Xni-Pec
-- The area's first Yucatecan restaurant offers homemade seafood and meat dishes and warm service in Cicero.
Many thanks to the GNR Committe for all their excellent work, particularly, but in no particular order, Ramon, MHays, SteveZ, Santander, Suburban Ronnie and G Wiv. Also thanks to David Hammond, Germuska and Cathy2 for their support and invaluable assistance, and of course to all of you for eating, critiquing, posting and caring. It is a great list, and it is your list.