LTH,
Joe G has drawing power, 19 LTHers converged on Great Sea, including a number of first timers, for cha chiang mian, deep flavored murky black bean sauce w/house made noodle, Korean/Chinese style garlic pork and rounds of increasingly spicy crisp fried chicken wing drumettes,.
LTHers at Great Sea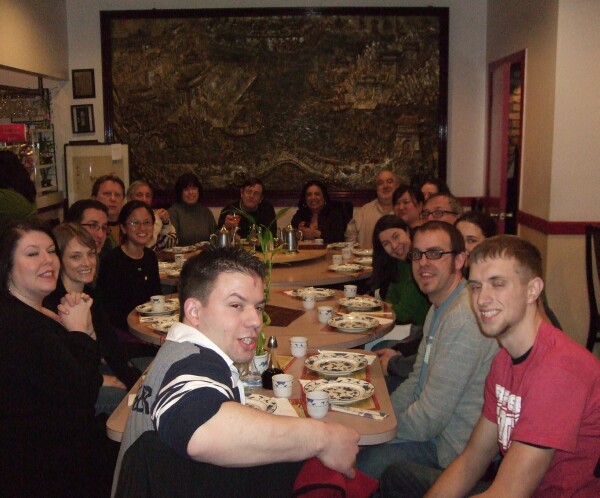 Somewhat apprehensive of a repeat of a
recent Great Sea outing
where my insistence on 10X hot turned Ronnie_Suburban, Jazzfood and my palates into a Superfund site we ordered both mild and hot for the first round of chicken wings. Consensus was hot was not all that hot and we mixed in a 1X for the next round. Ron, Jazzfood's and my tale of blow torch hot wings had piqued the interest of Happyeater, Jyoti, Joe G and Happy_Stomach who suggested a plate of yet spicier wings, Sui Lim, genial owner of Great Sea, accommodated our request.
Turns out the toughest
guy
at the table was Happy_Stomach who, if not for her innate politeness, I'm guessing would have been standing on the table screaming Bring it ON! She was unfazed by half orders both 6X or 10X.
Sui (Owner of Great Sea) brought H_S a
just in case
pitcher of water with the 10X wings. Water was unnecessary.
Sui (Owner/Great Sea), Happy_Stomach, Jazzfood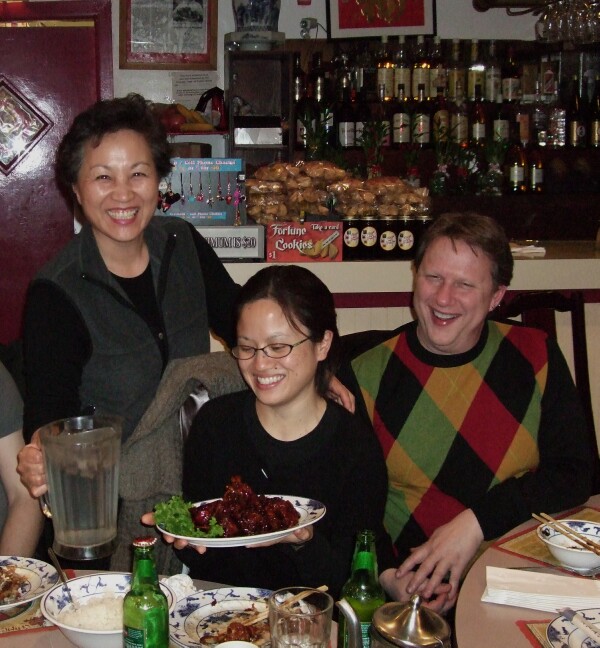 Great Sea is one of my favorites, while it's true I only love one dish there, chicken wing drumettes, I always enjoy cha chiang mian, garlic pork and pot stickers. Unfortunately Great Sea was out of potstickers, though Sui said she is making a batch of a thousand in a couple of days.
Service was exceptional, they graciously accommodated our kooky requests for small batches of killer hot wings, and the price for multiple bowls of cha chiang mian, platters of garlic pork, beer, soda and even a plum wine or two, not to mention mountains of crisp fried spicy delicious chicken wing drumettes, was a very reasonable $17 per person including tax and a 20+% tip.
As an added bonus Karen Lim, Sui's daughter and owner of
Take Me Out
in Pilsen, was on hand helping her mom.
Karen Lim, Sui Lim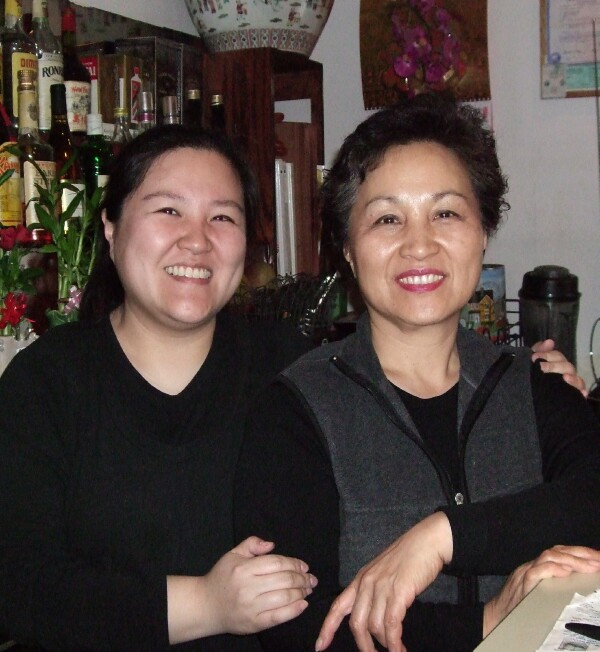 Terrific evening, good food, great conversation, more fun than one should have on a Tuesday night.
A few additional pictures may be found --->
here
Enjoy,
Gary