From the 24 hour/late night restaurants closing earlier - Why?
G Wiv (talking about IHop) wrote:Good one Shecky, you had me going for a second.
riddlemay (Still talking about IHop) wrote:Your incredulousness that I could be serious (which I am) makes me feel less like a comedian than a scientist who's made a major discovery! Moreover one that's been right in front of our faces all along.
Riddlemay,
Fearing I have finally become one of the crowd, in Hammond's wonderfully evocative words, of
overly sensitive coterie of effete and self-important snooty- pants dilettantes
, with my off the cuff dismissal of IHop I had breakfast there yesterday.
First it should be noted that the
IHop, at least the one at 5929 N Lincoln is not 24-hours
, it's open 6am to Midnight. Far as IHop in general, it was a semi regular breakfast stop in the late 70's early 80's when I was a young single fellow living on Oakland Ave in Milwaukee. George Web was my standard breakfast joint, but if I had company for breakfast I would pony up for something a little fancier. Nothing says style like 5-types of syrup and booth seating instead of stools ringed around a horse shoe counter.
I was fairly surprised at how pleasant I found the Lincoln Ave IHop, comfortable tables, clean as a whistle, friendly informed waiter, streaming sunlight for reading the newspaper and taking pictures and a general feeling of good will toward customers, some of which were greeted by name as they entered.
My breakfast was prepared with care by a short order cook with skill, egg still runny, hash browns crisp, pancake light, though grill skill could not elevate the quality of the basic ingredients, watery light cure ham, low grade sausage, tiny egg and shook from a freezer bag hash browns. The food looked good, though there is no comparison to Moon's, Patty's Diner, neither of which are 24-hours, or even Diner Grill, Jeri's, Two Way or White Palace, which are open 24-hours.
IHop Senior Special, $4.99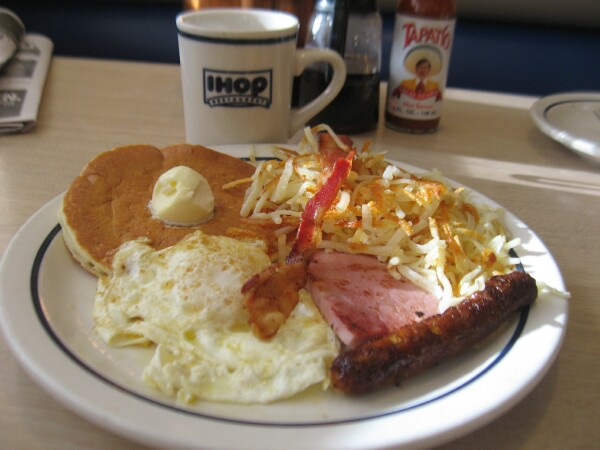 Prices are low, my Senior Special was a reasonable $4.99 and IHop is currently offering the Ultimate Bacon and Sausage combo w/eggs and hash browns which includes all the buttermilk pancakes you can eat for $7.99. There is also a full lunch and dinner menu with chicken fried steak and country gravy and an LTHForum
You Ate What?
bumper sticker to the first to try Grilled Tilapia Hollandaise.
Truthfully IHop, at least the one on Lincoln Ave, is not a bad choice for common denominator dining, friendly people, reasonable prices and just ok food. Not the LTH way, but it seems a good example of the national mass appeal chain.
Enjoy,
Gary
IHop
5929 N Lincoln Ave
Chicago, IL 60659
773-769-1550
6am - Midnight