Mellonhubby and I had a great time in Amman and Jerusalem. Actually, I was really impressed with Amman - Definitely a fabulous place to visit and a really great tourist destination if you're looking for something different than the usual "Euro Vacation".
Amman is laid out in one long stretch that goes from the downtown area (Eastern part of the city) all the way out to the Western part of the city. Along the way there are 8 traffic circles that stand as landmarks. The "First Circle" is just east of downtown. The "Eighth Circle" is the western most Circle a few kilometers to the west. We stayed with Mellonhubby's sister and her family and they live near the Palestinian Embassy between 4th and 5th Circle.
Jordanians don't really use street names (although all the street signs are in Arabic and English) or addresses - many of the street names have changed in the last few years, causing lots of confusion. Mostly, people use landmarks. I'm a VERY bad LTH'er for not providing more specific information on addresses (I'll do the best I can with what I have). But where I can I'll include photos of the restaurants and phone numbers with some landmarks if possible.
And now ... on to the food:
First off we hit a little shawarma place called "Il Haal" near 5th circle (approx).
The shawarma in Jordan is not the Pita-stuffed sandwich that you get here in the States: this was a protein wrapped up in thin bread ('shraak') with a little pickle, parsley and sometimes a "sauce" (sometimes tahina…sometimes something else). Il Haal has great cheap shawarma that's in the "Syrian" style – meaning there's a really nice creamy mayo-like substance slathered on the bread for good measure along with your protein and pickles. It was a brilliant and cheap snack.
We also hit Hasham for a traditional Arabic breakfast.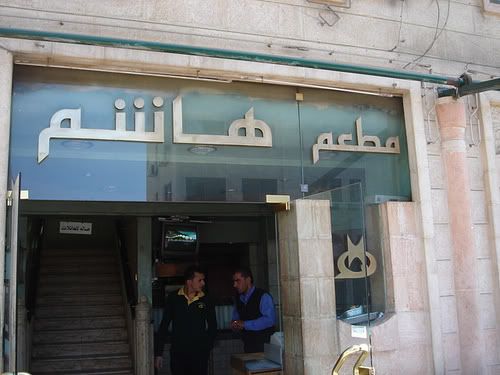 There are 2 locations of Hasham, one in the downtown area near the fresh fruit and vegetable market and the other in Jabal Amman west of downtown. We hit both of these places and it's probably easier to have a cab take you to the one in western Amman as the one downtown is a bit harder to find.
Freshly made falafel and hummos, along with great foul and fresh bread with olive oil and zaatar (dried thyme, salt and sesame seeds) for dipping – this is a breakfast to fill you up for a full day of sight seeing. I don't know why we don't have breakfast like this in America, but the super-protein packed food was filling and healthy considering the variety of legumes and olive oil.
Next up was Reem Al Bawady in Western Amman. This is a very traditional place that's a bit upscale. This was one of the culinary highlights of the trip. FRESH mezza and warm bread started the meal – the traditional "homos" (yes, we giggled like school children when we saw that printed on the menu), baba ganoush, and tabouli, along with spicy olives, grilled veggies, spinach pies, baked "cheese puffs", and other delights. Additionally, we were introduced to Labneh – a very thick strained yogurt – that had garlic and lemon mixed in. Needless to say I wanted to hook this stuff up to an IV drip.
After stuffing ourselves silly…the real meal came and we were happily assaulted with various grilled meats – FABULOUS chicken kebabs, beef and onion kebabs, lamb kebabs, lamb chops – it was endless meat.
We also had the Mensaf – the national dish of Jordan. Mensaf is stewed lamb done in a broth of jameed (dried goat milk yogurt, and broth flavored with marrow) served on rice with pine nuts and shraak. Now – I have a history with Mensaf: Mensaf - my first experience with Mensaf was here in the States and it was so bad I struggled to not spit it in my napkin. However, the Mensaf at Reem al Bawady was delicious. It was unbelievably flavorful – rich and salty, buttery and yet light. It was a revelation.
After eating ourselves silly, we got the bill and realized that we had just fed 4 adults and 3 children for less than $90…needless to say, I was surprised how inexpensive food was in Jordan.
Next up was the drive to Wadi Musa and sight-seeing at the jaw-dropping Petra. We spent the night in the very "grim" but clean Al Anbat hotel. What the place lacked in décor, it made up for with its friendly staff. We ducked out of the hotel for a quick dinner at "Arabiya" right on the main strip facing the traffic circle in Wadi Musa (you really can't miss it – it's right at the traffic circle). Decent and simple, it was somewhat more expensive than the food in Amman - probably due to the hordes of tourists who descend on the town every year - but not a rip-off either. Shawarma was around 3.50 JD (about $4.50) compared to 750 fils ($0.95) at Il Haal in Amman.
The next day we got up and explored the Petra site. After which we hit the Movenpick for a buffet lunch. The Movenpick is the luxury hotel conveniently located right outside the Petra site. Lunch was $74.00 and the buffet was mediocre at best. We should have taken Anthony Bourdain's oft-repeated "No Reservations" advice and ate at a local place. But we were dehydrated, tired, and suckered in by the convenience of air conditioning and "Euro-luxury". Ah chef Bourdain: I will never stray again…
Back in Amman, we decided to take Globetrotter's advice and try the Jordanian take on Chinese food near 4th Circle. We hit the Taipei Tourismo for Chinese and there wasn't a pig to be found! Unfortunately pork was out of the question that night (even though it was on the menu), but we ordered wontons, soup, lumpia-esque "Singapore Rolls", Ginger Chicken, Beef with Garlic, and Szechwan Beef. It was a very "American-style" of Chinese – which surprised me. Everything was competently executed, but it was no Lao Sze Chuan.
We finished off the evening with Ice Cream at Gerard's in the heart of the "Trixi-like" Abdoun neighborhood (Also of note: the restaurant "Noodasia" was down the street and the name was enough to send us into fits of laughter…perhaps we'll try it next time).
After all of this we headed over to Jerusalem for a few days. Unfortunately for this post, we only ate at one restaurant in Jerusalem – Abu Shukri in the Old City. We had a nice, cheap Arabic breakfast served up by an older, quiet and graceful Palestinian gentleman (who I like to think was "abu Shukri" himself…) The rest of our time in Jerusalem was spent with Mellonhubby's Palestinian aunties who proceeded to stuff us with the most fabulous food that I can't describe here - it was dream-like.
We spent one day in Jaffa and were taken for a seafood lunch of deep fried "dineese" (sea bream) at Abu Nassar.
A comfortable restaurant overlooking the sea, any good taxi driver should be able to get you there from Tel Aviv.
Our trip ended in Amman for the last couple of days. We did a quick lunch at Ajeen (which means "dough" in Arabic).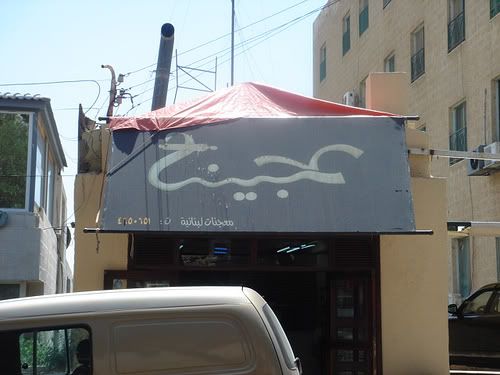 At Ajeen they do various doughy breads stuffed with cheese, hot peppers, zaater, meat, or hotdogs. They're a great quick snack.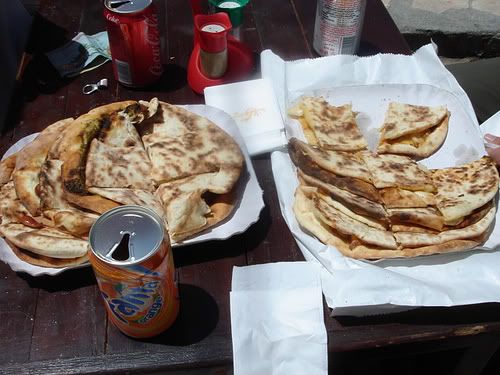 We had dinner at Zuwwadeh in the suburb of Fuheis. We decided to order a dinner of mezza – hummous, fried cauliflower with tahina, spicy olives, Fattoush, kubbeh (stuffed grape leaves), the "hurts-so-good" labneh and garlic, and 2 kinds of Fatteh – eggplant and chicken. It was all spectacular, and well worth the drive to get there (it's about 15 minutes out side of Amman.) We ended the evening in Amman with another stop for ice cream at Bless (right across the street from Gerrard - 4th Circle).
I can't wait to get back to Jordan…I can only imagine what I could have eaten if I spoke the language!
IN AMMAN:
Il Haal
Western Amman (see photo above - any cab driver should be able to get you there)
Hasham
2 locations - Jabal Amman and Downtown near the Fruit and Vegatable market (see photo above).
Reem Al Bawady
phone: 962-5-515419
Ajeen
phone: 465-0651
Taipei Tourismo Chinese restaurant
Near 5th circle, Amman
Gerard Ice Cream
Bless Ice Cream
Both at Abdoun Circle (near the Abdoun bridge)
Zuwwadeh
In Fuheis
phone: 962-6-4721528
http://www.zuwwadeh.com/
IN WADI MUSA, Jordan:
Arabiya
At central traffic circle in the town of Wadi Musa
IN JERUSALEM/ISRAEL
Abu Shukri
phone: 02-627-1538
At the corner of Al Wad and Via Dolorosa
Old City Jerusalem (near the Damascus gate)
Abu Nassar
130 Kedem St., Jaffa