LTHForum,
Met Pigmon for an early lunch at Lao Shanghai, the newest part of Tony Hu's ever expanding empire and came away feeling quite positive given Lao Shanghai has been open less than a week.
Xiao Long Bao (soup dumplings) a specialty of Shanghai were the first order of business, I liked the meat savory bite of the quail egg size filling, though the
soup
was mostly absent, Pigmon, who has eaten, researched generally given more reflective thought to
Xiao Lung Bao
than the most Chinese culinary historians, was objectively honest as to scarcity of soup when Tony Hu came over to inquire.
Xiao Long Bao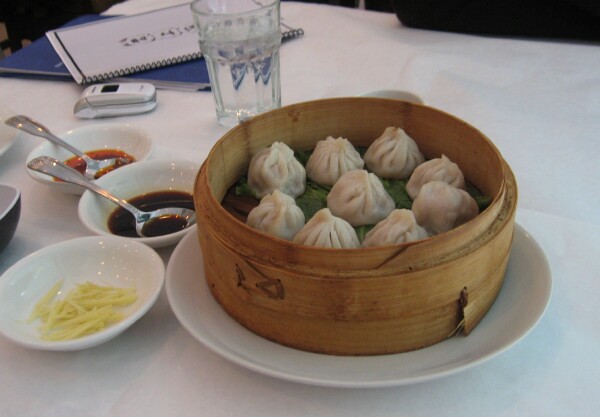 Tony, detail and customer focused fellow he is, immediately had the kitchen prepare another basket, which he ate with us.
Tony Hu, Pigmon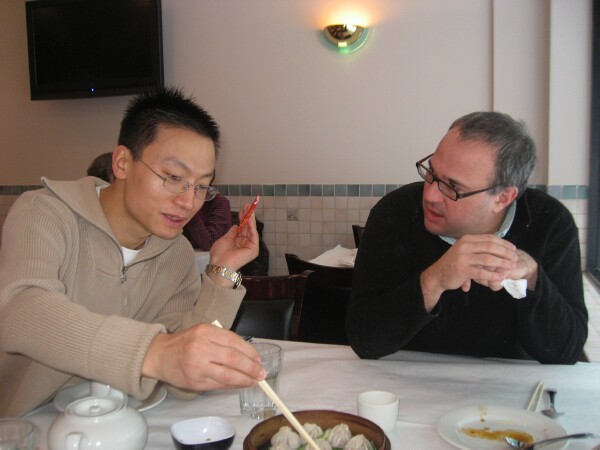 Lao Shanghai's menu contains some crossover from
Lao Sze Chuan
, though we stayed within the Shanghai Specials section, starting with melting tender braised pork belly w/ preserved bean curd (fu yee/
tofu cheese
), which gave the rich belly a mildly salty umami laden tone.
Braised pork belly with preserved bean curd sauce and spinach.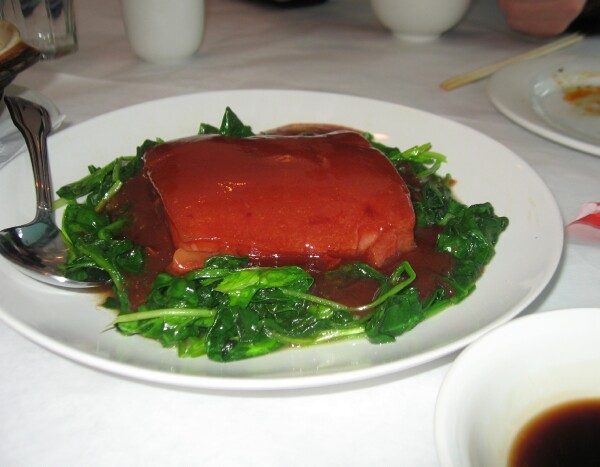 I found the braised meat ball with crab meat bland, though liked the loosely packed structure. It also seemed, given it's one of the more expensive items on the Shanghai menu, crab should be more prominent. It will be interesting to order it in a month and see how it has evolved.
Braised meat ball with crab meat and vegetables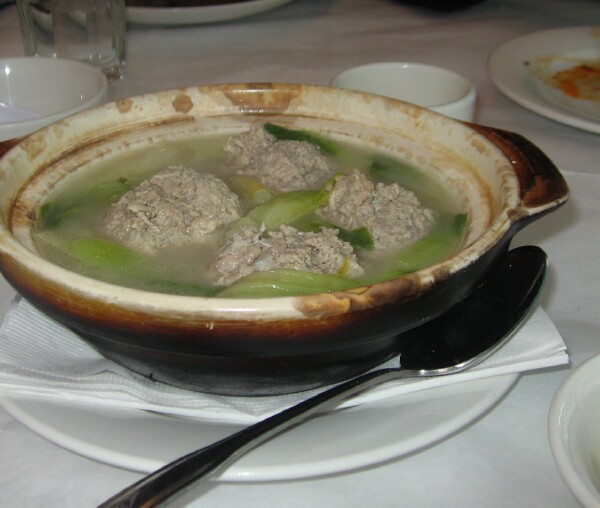 Dried bean curd noodle with Chinese ham (dry cure ham) hit a high note for me, chewy toothsome noodles, dense lightly salty julienne of ham and lovely tender baby bock choy. Light, almost refreshing, perfect counter point to rich pork belly.
Chinese ham with dried bean curd noodle.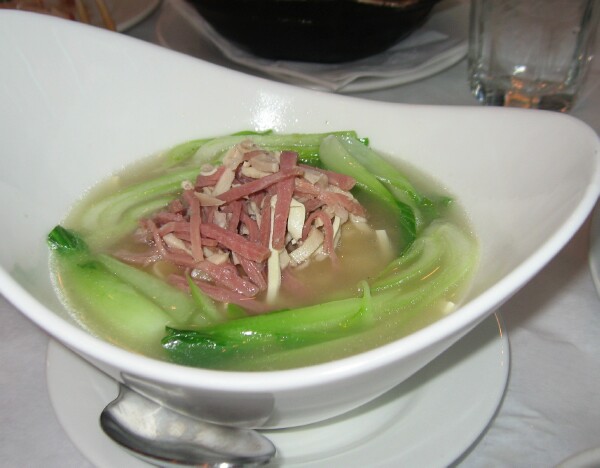 Lao Shanghai open less than a week, has a few minor kinks, though considerably less than most brand new restaurants and, if Lao Sze Chuan is any indication, will quickly become a fine addition to Chicago dining. In addition to Lao Shanghai Tony Hu has opened Lao Beijing, also in China Town Square. There is yet another new restaurant in China Town Square, Hing Kee, which, from a brief glance at the window posted menu, seems a bubble tea pan Asian venture.
In addition to Pigmon's Xiao Long Bao post, referenced above, Trixie-Pea's lovingly detailed
Xiao Long Bao Recipe
post should not be missed.
Enjoy,
Gary
Lao Shanghai
2163 A China Place
Chicago, IL 60616
312-808-0830
Lao Beijing
2138 S. Archer Ave
Chicago, IL 60616