Great time as always at Kuma's. First we had a few drinks at the bar.
(L-R) Steve Z, Kristina, Crrush, KennyZ, Jesteinf, Nelson, MsWiv, Whiskeybent.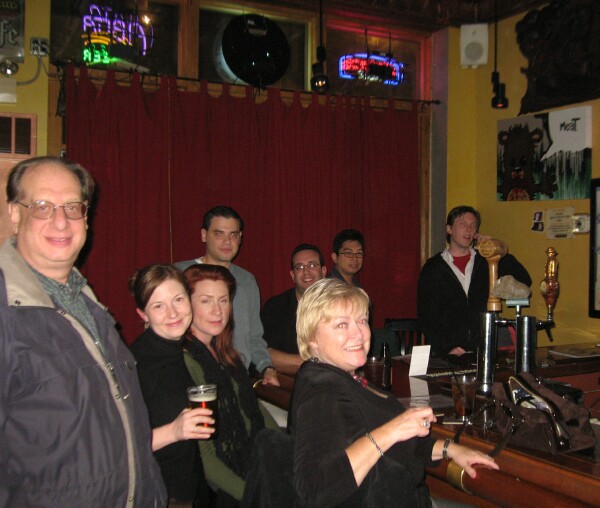 Then Whiskeybent gave Mike, owner of Kuma's, their well deserved
GNR
Mike, Whiskeybent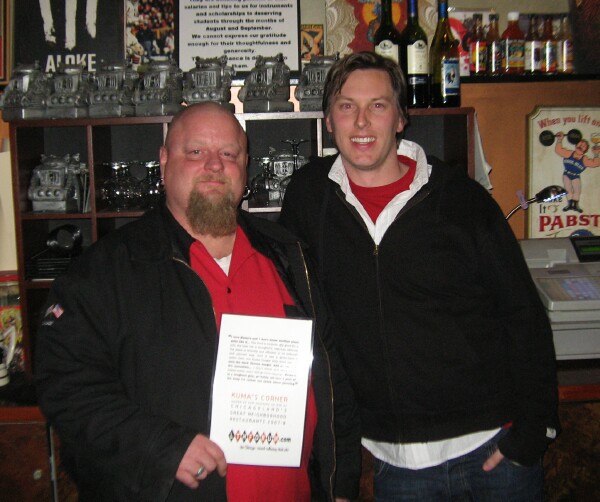 A round of appetizers was ordered for the table, BBQ Pork Fries and Mac and Cheese. They've slightly changed the the Mac and Cheese, it seems a bit thicker and now gets a run under the broiler and I vastly prefer the current version to past.
Kuma's Mac and Cheese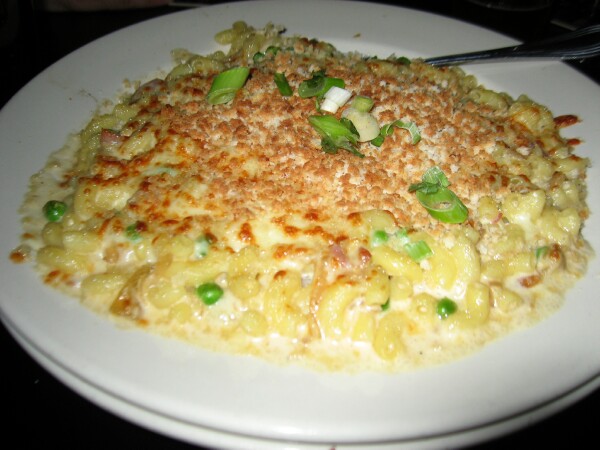 Yes, ok, I admit it, I ordered the Goblin Cock, overkill, yes, absolutely, delicious, surprisingly so.
Goblin Cock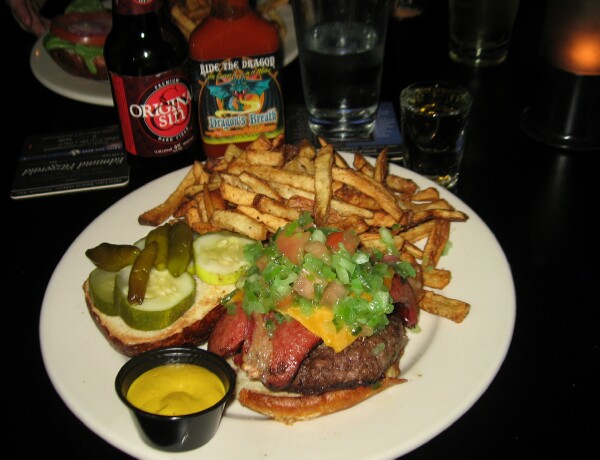 I attribute my enjoyment of the Goblin Cock to quality of ingredients, for example they use a 4 to the lb natural casing Vienna hot dog, attention to detail, the pico de gallo is made with hot dog relish, onion and tomato and the mustard has a light addition of celery salt and balance of ingrediants, in a nothing says excess like excess fashion.
Matt (chef) and Jacob (sous chef) nailed the egg on the Kuma Burger.
Kuma Burger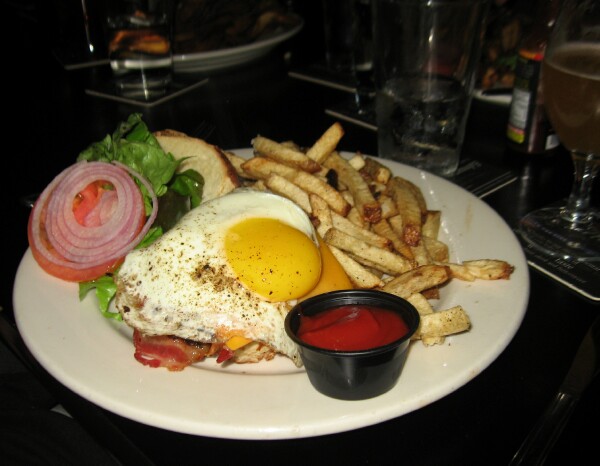 Jacob Greene (Sous Chef), Matt Erpenbach (Chef)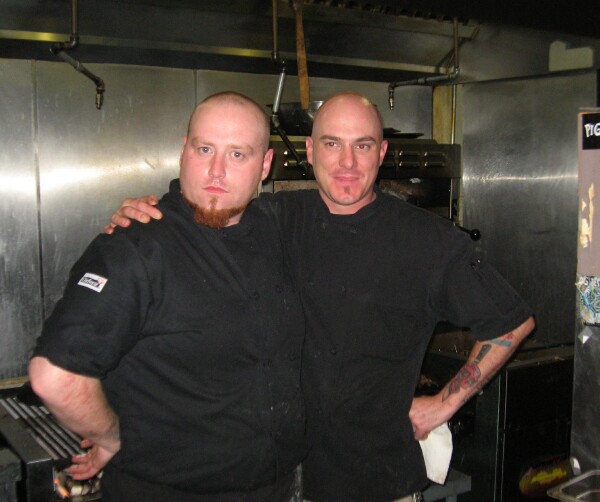 Steve Z's Led Zeppelin, with pulled pork, bacon, cheddar and pickles treads dangerously into Goblin Cock overkill territory.
Led Zeppelin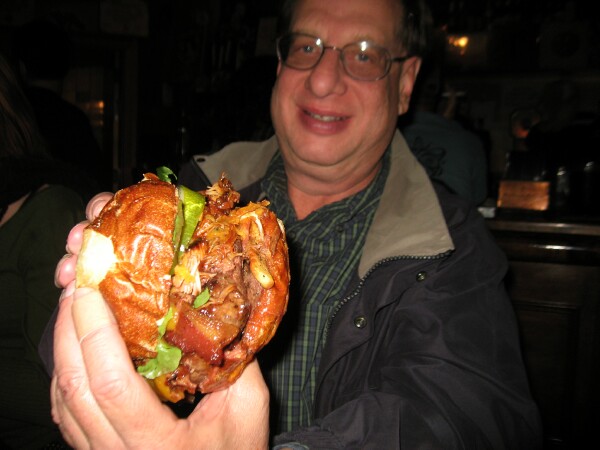 In one of those little touches that elevates Kuma's from typical bar food dessert consisted of Caramel Pecan Gelato with house made Truffle Brownie. I liked the brownie, but was wild about the Caramel Pecan Gelato.
Caramel Pecan Gelato with house made Truffle Brownie.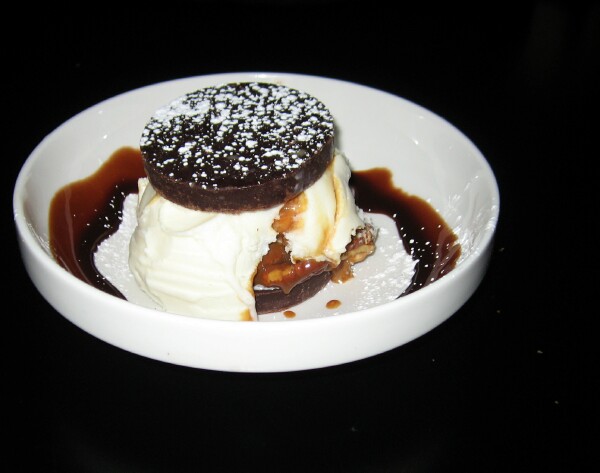 Even in the face of a very busy night service was quite good, prompt, friendly with the typical Kuma's flair.
Rose (bartender), Kati, Becki
Coincidentally, Whiskeybent called the GNR dinner for my favorite Kuma's night, Tuesday, $2 shots of Powers. Here's Alex, Kuma's hyper efficient manager, breaking out another bottle.
Alex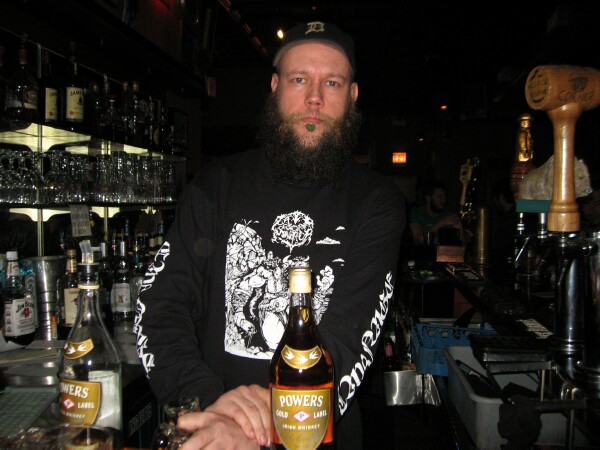 A very nice LTH evening at Kuma's, great nomination Whiskeybent. For a few additional pictures please click
here
and scroll to 10.30.07
Enjoy,
Gary