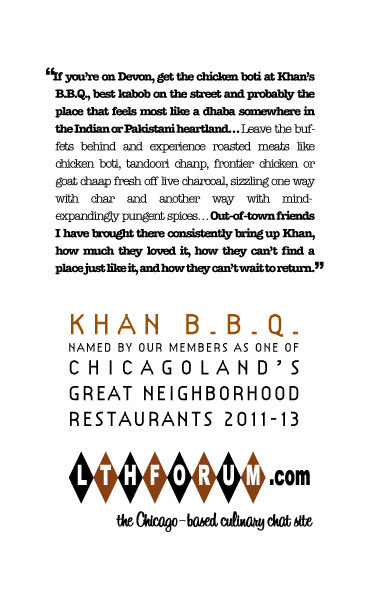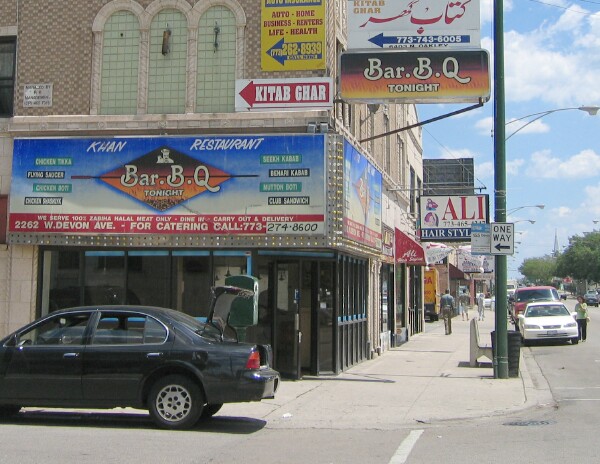 The first Khan BBQ/Photo: G Wiv
When GNR season started this time I had two bits of unfinished business I wanted to take care of. Fortunately, somebody beat me to one of them-- nominating
Kuma's,
to make up for my part in torpedoing it a few rounds back (not that I think I was wrong then... just that I think it's deserving now). So that leaves me free to take care of the other: nominate
Khan BBQ
at long last.
Before I loved Khan BBQ the restaurant, I loved Khan BBQ the
LTHForum thread.
Starting with a brief but notably enthusiastic recommendation from Zim, the thread snaked through such random subjects as where to watch the cricket championships, eating horsemeat, what a
dhaba
feels like, and how to motivate people on LTHForum to try a place, but most of all it vividly conjured up the Khan BBQ experience as it existed then, laminate benches from a 70s fast food joint, Pakistani TV blaring, regular customers wondering who the hell the gringos were, the tiny kitchen pumping out smoke as it produced delectable grilled meats over real charcoal flame, which meant that if it was summer, it was about 140 degrees in there, and if it was winter, the door was open so that 10 below air could catch you from behind as you ate your steaming food. I started to clip some quotes from it, but really, read the thread, it's such a great example of how our community circles around a subject, tossing out new things, people contributing stuff I'd never know in a million years otherwise. You'll see why it's one of my favorite threads ever.
Now, one of the things that bugged me in earlier rounds of the Great Neighborhood Restaurant program was that, despite our obvious enthusiasm for Devon as one of the city's great food streets, we'd never managed to award a GNR to an Indian restaurant. I knew that as long as I personally stuck to the buffets-- which is hard not to do when you're dining alone, given Devon's typically enormous portion sizes, unless you're willing to eat a lot of a single dish-- no place jumped out at me as extraordinary, and besides, nominating the likes of Indian Garden, solid as it is, hardly seemed up to LTHForum standards of adventurousness.
But as our community explored Khan BBQ's menu, as I ate
several
multiple-person, multiple-dish
lunches
there, Khan finally became the restaurant that rose above the others for me, and as we started to plan last summer's round of awards, I was sure Khan would be my nominee and give Devon and Indian food the representation it deserved at last. Great food, culture-shock atmosphere (or as I said then, "Khan BBQ may have about the best ratio of crappy decor to outstanding food in the city"), Khan was a natural GNR candidate.
And then it burned.
Tragedy. I had eaten there a couple of days before with my older son. Cathy had
posted
empathetically about Mr. Khan working 12 hour days and hardly seeing his kids. Myles and I drove by the trashed, ashen interior and felt for Mr. Khan, for his pursuit of the America dream gone up in smoke, for the lunches I wouldn't get to have-- and for the nomination for an award which I obviously wasn't going to make now. Our sadness was
recorded
in real time, in the thread.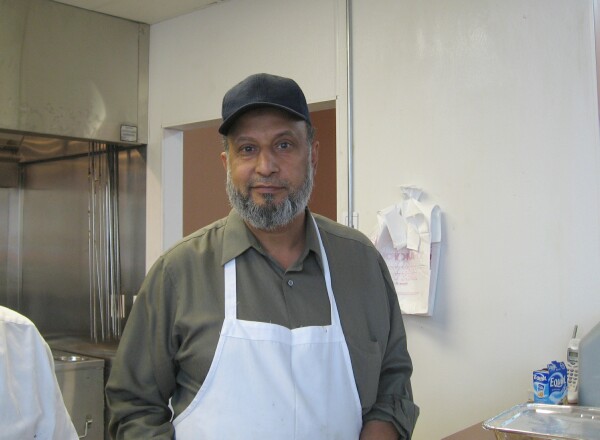 Mr. Khan/Photo: G Wiv
And so, too, was our
joy
when Khan BBQ announced it would reopen in the improbably posh former Jewel of India space, on the much more high profile corner of Devon and Western. But would it be
our
Khan BBQ, if it was actually pleasant to sit in and not a jarring transcultural-displacement experience? Well, it's different, and yet in many ways the posher, more professional Khan still has that teeming dhaba feel, the staff may wear white shirts and black bowties but there's still something random and chaotic about the service, about the people milling about, about Mr. Khan holding court with an old friend or two at the center table.
And the great thing was, with the attention we'd paid to it, with the anticipation of its return chronicled day by day on LTHForum, even without a Great Neighborhood Restaurant award we'd succeeded in turning the local foodie spotlight on Khan BBQ in time for its triumphant return. Mike Nagrant wrote about Mr. Khan in
New City,
I think Mike Sula did too for the Reader but I can't find it, while others did capsule reviews the old place likely would never have enjoyed without our relentless chronicling of meal after meal there. When I got to the new Khan BBQ, Mr. Khan told me that his business had doubled, and while I'm sure location and improved setting are a large part of that, it's also obvious any time you visit that we gringos are a much more common sight than we were two years ago when LTHers first ventured en masse inside that dingy, dissonant storefront. People who would be dining at Tiffin or Hema's are eating at Khan BBQ instead, because we got the word out to people who got the word out. If that isn't an accomplishment to make RST proud, I don't know what is.
And so, anticlimax though it is in some sense, certainly no longer the first Indian food to make the list (Shan beat it), I am pleased to finally have the chance to nominate Khan BBQ as a Great Neighborhood Restaurant. When you're ready to leave the comfort of the Indian buffets behind, go to Khan BBQ and experience roasted meats like chicken boti, tandoori cham, frontier chicken or goat chaap fresh off live charcoal, sizzling one way with char and another way with mind-expandingly pungent spices.
Chicken boti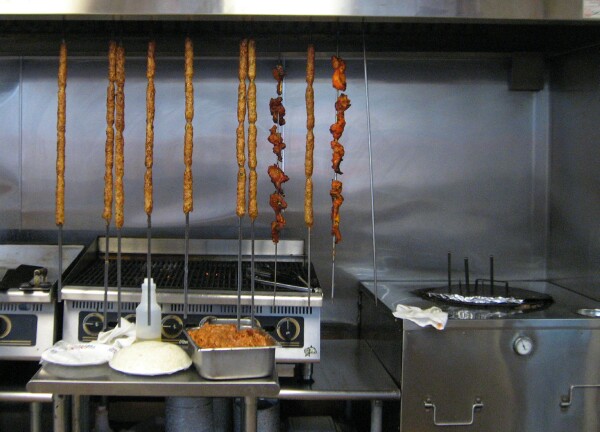 Photo: G Wiv
And though not everyone agrees, I also think that rice and vegetable dishes like biryani and daal palak can be very good:
Biryani
Daal Palak/Photo: Ronnie Suburban
So thanks to everyone who made this nomination possible-- everyone in that great thread, everyone I've ever had lunch with there, and above all to Mr. Amjad Khan for not giving up on his dream. The other day someone posted that he was expanding into the space next door to handle the growing business. Good work, everybody!
Khan B.B.Q
2401 W Devon
Chicago, IL 60645
773-338-2800
Last edited by
Mike G
on October 14th, 2007, 5:44 pm, edited 1 time in total.