From another
thread
*
BuddyRoadhouse wrote:Midas, thanks to G Wiv's visits to Burt's and his penchant for all things hot, Burt now carries two different habanero sauces for those who want something over and above the typical crushed red peppers to sprinkle on their pizza.

He also now uses fresh jalapenos and banana peppers as opposed to the brined variety. Occasionally he will even have a fresh habanero or two lying around. If you want something with a "little more spicing to it", don't be afraid to ask. Frankly, I apologize for not offering it to you in the first place.
Buddy,
Had a very enjoyable meal last evening at Burt's and can attest he completely embraced the heat, next thing you know he will have a meditation mat with Be One With the Habenero.
I brought my own habanero, but Burt had jalapeno and a few types of El Yucateco on hand. Pizza was Burt-a-Rific and Burt and Sharon engaging as always.
Burt's Pizza w/fresh habanero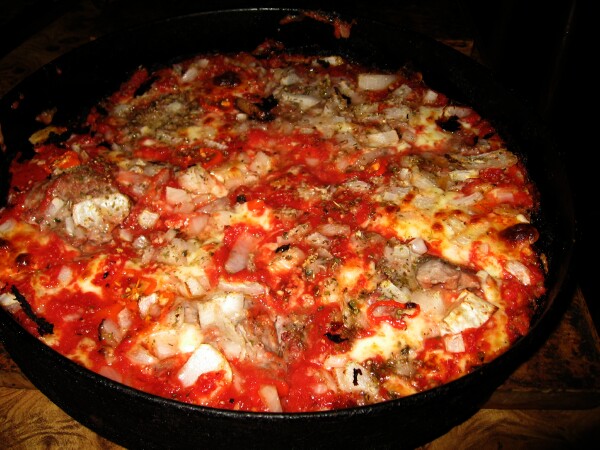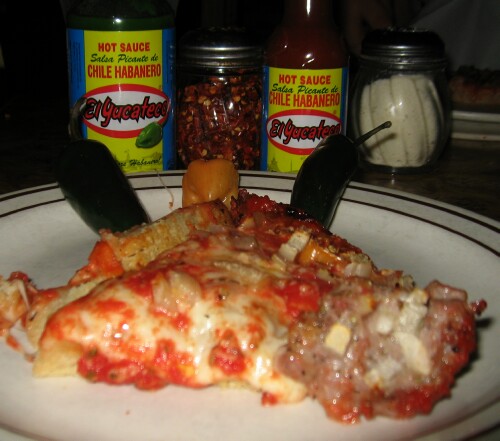 Of course, for those who still have not been to Burt's, there are any number of non spicy options available, there were five of us last evening, we had three medium pizzas, only one was spicy, all three terrific.
Buddy, you should appreciate this picture, falling squarely under the heading of
things I never thought I'd see
. Burt talking on a cell phone.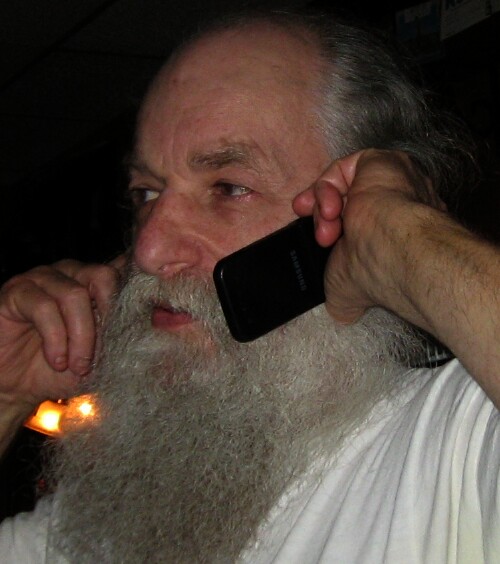 Far as
not telling Rachael Ray
about Burt's as they are already insanely busy, that was not the case last night. We were there from 7:30 on and only one other table of eat-in and a few pick-ups.
Enjoy,
Gary
*
I thought it best to post in Germuska's Burt's thread as opposed to the Pequod's with Burt's intertwined