LTH,
Okay, no resources this year, but you have spoken and we have eleven new Great Neighborhood Restaurants. Please be sure to join us at the GNR dinner on April 15, details to follow soon. Always a fun event, with good food, opportunities to meet many of the GNR owners, and a great, sometime surprising, presentation.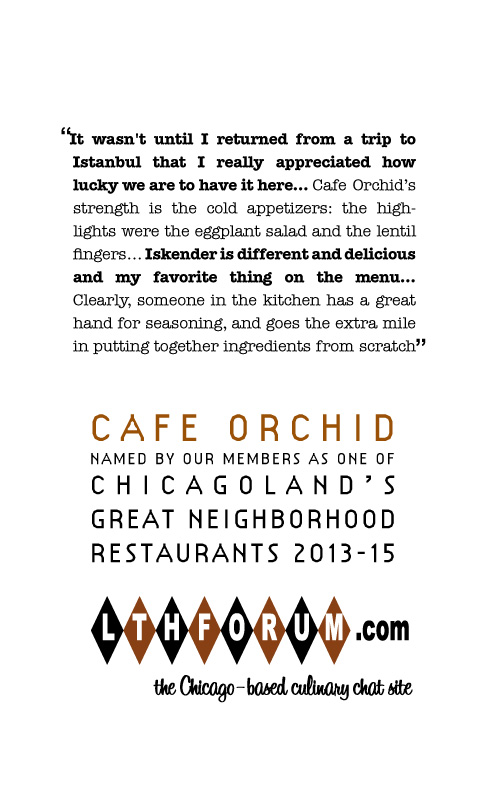 With no further ado, the new GNRs:
Cafe Orchid
-- Turkish classics like imam bayildi (stewed eggplant), sigara borek (feta-stuffed phyllo dough), and iskender kebab (shaved lamb with yogurt and tomato sauce) are just some of the Turkish delights on offer at this West Lakeview spot. The patio area is the perfect place to nibble on meze while taking advantage of the BYOB with a glass of wine or Turkish raki. Afiyet olsun!
Da Rae Jung
-- It's easy to miss this innocuous Lincoln Square mom-and-pop Korean restaurant, but once you're inside, the warmth of the owners will make it hard to keep away. The cold noodles soups (naengmyun) with homemade noodles are perfect on a hot day and the piping hot soups served in a clay pot will keep you warm all winter. It's like visiting the Korean aunt and uncle you wish you had.
Dancen
-- K-Pop blaring on the TV, pitchers of Korean beer, and a wide array of delicious (and adventurous) bar snacks that work up a thirst all make this Lincoln Square Korean dive bar a great night out. The buldak fire chicken that is grilled over charcoal at the bar is the greatest bar snack you didn't realize you can't live without. Wash it all down with a yogurt soju cocktail and call it a night.
El Ideas
--Ever wonder what a dinner party at a professional chef's house would be like? Phillip Foss has created a completely unique fine-dining experience that brings diners as close to the action as possible while serving cutting edge cuisine. Bring your own wine, spend some time helping the chefs plate the next course, and rock out to what some have called the best playlist in the city. It all makes for an intimate and unforgettable experience.
Ghareeb Nawaz
-- This hole-in-the-wall cabbie joint pumps out delicious Indo-Pak fare at unreasonably low prices. Chilli chicken, goat biryani, beef nihari, and a paratha make for quite a feast. Order it all and get change back on a twenty dollar bill. It's open 24/7 so you can quench that curry craving whenever it calls.
Go 4 Food
-- If you're looking for a wide range of Cantonese seafood, look no further than Chinatown's premiere seafood spot. It's tucked away on 23rd street off the main drag, but the mammoth oysters in black bean sauce, scallops served on the shell complete with creamy roe, and countless crab and lobster preparations makes them really stand out. Go 4 C Food.
Monti's
-- The Italian Beef may be the undisputed champion in Chicago, but the Philly Cheesesteak at this Lincoln Square tavern is a worthy contender. They ship in Amoroso rolls from Philadephia and fill them with shaved beef and housemade aged cheddar sauce. Topped with grilled onions or served Rocky style with some seriously hot peppers, this cheesesteak is a worthy underdog in the battle for beef sandwich supremacy.
New England Seafood Company
-- The name says it all. New England-style fried clams, silky smooth lobster bisque, clam chowder chock full of clams, and an unadorned lobster roll that stays true to its roots are just some of the offerings at this West Lakeview seafood spot. They source their seafood from Boston and the results are wicked good.
Nightwood
-- Seasonal, local and distinctive, and virtually all of it made from scratch. A bonafide neighborhood venue in Pilsen without an ounce of pretense. The short rib gnocchi with crème fraîche sauce and chives was amazing. A stellar and remarkably savory bar program accompanies.
Scofflaw
-- What do you get when a former bartender from the Whistler teams up with a former chef from Longman and Eagle? You get a gin-focused cocktail bar that's dedicated to putting out creative mixed drinks and bar food at a reasonable price. Nothing goes better with a sharp, herbal gin cocktail than the decadent guapichosa sandwich with a side of perfectly-fried French fries and spicy pimenton aioli.
Vera
--Spanish-inspired small plates with an emphasis on artisanal products and the best selection of sherry in the city make for a winning combination at this Near West Side gem. Stop by for some bar bites and imported ham at the Otro Bar where you can interact with the chefs or treat yourself to the full menu with a wide range of impeccable ingredients that change with the season. Who knew bread and butter could taste so good?
Thank you to the GNR Committee and the mods for all their work, and to all of you who participate in the GNRs and LTHForum, you who make this happen. On a personal note, let me say that all of you have brought quite a lot of deliciousness and camaraderie to my life that I would not have otherwise enjoyed.
It is an honor to be the custodian of your program.
Now let's eat!
d
for the GNRs