Chicago Foodways Roundtable
Paris à Table, circa 1846
Presented by Joe Weintraub, PhD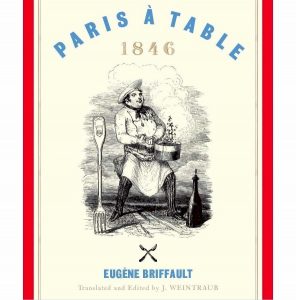 Saturday, May 11, 2019 at 10 AM
Bethany Retirement Community
4950 North Ashland Avenue, Chicago 60640
(West of Clark Street, North of Lawrence Avenue)
Public transportation: Clark St. Bus Route 22 is nearby
Free Parking street parking and a parking lot (info on reverse side)
Cost: $3.
Free to Bethany Retirement Community residents. All are welcome!
Paris à Table: 1846
is the first English translation of an essential text in the literature of gastronomy. Written by the journalist and critic, Eugène Briffault, the book takes readers from the opulence of a meal at the Rothschilds' through every social stratum down to the student on the Left Bank and the laborer eating on the streets. The author surveys the restaurants of the previous generation and his own--from the most elegant to the lowest dive--along with the eating habits of the bourgeoisie, the importance and variety of banquets, and even the plight of "people who do not dine," offering the reader, according to Le Monde, "the richest view of Balzac's time seen from the table."
Its editor and translator, Joe Weintraub, is a writer, playwright, poet, and translator based in Chicago. He holds a PhD in English Literature from the University of Chicago and is a member of the Dramatists Guild.
"An eye-opening chronicle . . . . The book is filled with observations that still apply, like how the newly affluent display money but no taste, how female cooks are undervalued, how off-season vegetables please the eye but not the palate."--New York Times
"Briffault . . . describes not only what Parisians of varying social classes ate but also the circumstances and artifices that made dinner appealing. This is a must-read for social- and cultural-history buffs, especially those with a keen interest in food and eating habits."--Booklist
"Briffault has (very funny) strong opinions about how his countrymen dine, especially those who take part in the "impudent custom" of déjeuner dînatoire, now known as brunch."—Buzzography
Chosen by BookRiot as a "2018 Best of Food Books" selection and by Bon Appétit as one of 2018's "Best of Noncookbooks Food Books."
https://culinaryhistorians.org/paris-a- ... irca-1846/