Culinary Historians of Chicago
How the Frugality of Rural Foodways Reshaped this Nationally Acclaimed Chef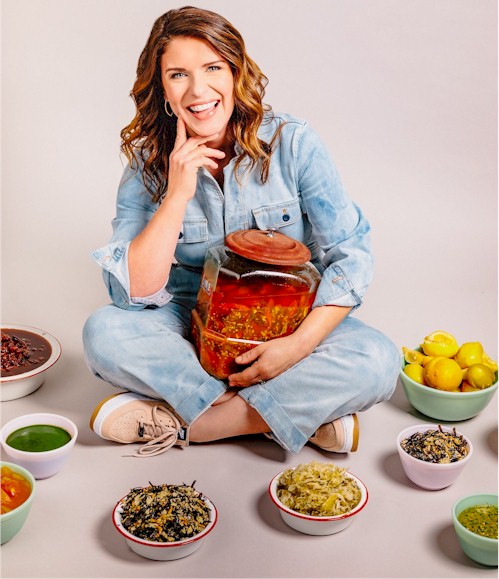 Presented by Vivian Howard
Chef, Author, PBS Host
Wednesday, March 24, 2021
7 p.m. Central Time
Via ZOOM
Please e-mail
Culinary.Historians@gmail.com
for the zoom link.
Vivian Howard moved from New York back to her rural hometown to open a fine-dining restaurant that she hoped would reshape the palates of eastern North Carolina. But an encounter with collard kraut and a trip to "America's largest pork display" ignited her interest in the traditional foods and culinary techniques unique to the Carolina coastal plain she calls home. So instead of changing the way her friends and neighbors eat, her community transformed Vivian's culinary point of view and gave her cooking a singular voice. In this discussion Vivian talks about the food of the frugal farmer and how that approach to the kitchen reshaped the way she cooks in her restaurants and at home. "
* * * *
Vivian Howard is an award-winning cookbook author, tv personality, chef and restaurateur. Her first cookbook,
Deep Run Roots: Stories & Recipes from My Corner of the South
(2016), is a New York Times bestseller and was named "Cookbook of the Year" by the International Association of Culinary Professionals. She created and stars in public television shows Somewhere South and A Chef's Life, for which she has won Peabody, Emmy and James Beard awards. Vivian runs the restaurants Chef & the Farmer in Kinston, NC; Benny's Big Time in Wilmington, NC; Handy & Hot and Lenoir in Charleston, SC. In October 2020, Vivian released her second cookbook,
This Will Make It Taste Good: A New Path to Simple Cooking.
http://www.CulinaryHistorians.com