I had a torrid love affair with Uncle Ray's Chips back when I lived off of Lake Shore Drive and Irving Park. One of the little convenience shops in a nearby condo tower sold them. I was especially smitten with the Coney Island chip, but also enjoyed bags of Dill Pickle, Jalapeno, and Roasted Garlic. Occasionally, I'd have a Ketchup or plain ol' BBQ. Here's some pictures just because I like giving visual aids with my posts...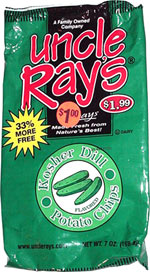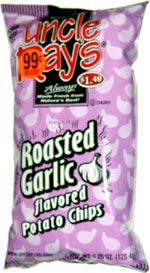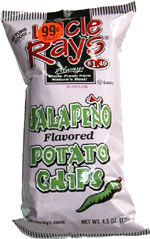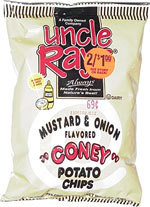 Uncle Ray's aren't so much a great chip as they are a great "trashy" chip. They're not to be savored, so much as devoured. But damn they're good. After a while, though, it seemed like they stopped selling them in Chicago. I did discover, however, on one of our many drives between Chicago and Louisville, that interstate gas station/convenience store chain Family Express sold them, making it the only reason to look forward to the Indiana leg of our journey. I now live in small town Kentucky, and as it turns out, the little grocery store/lunch counter around the corner from our new home sells Uncle Ray's. Sadly, it appears that both the Coney and Jalapeno chips have been discontinued (or are unavailable in our zip), but I get all the Dill Pickle, Garlic, and BBQ I could ask for. The Salt & Vinnegar is okay, but I'm not much of a connoisseur of that kind of chip, so my opinion shouldn't rate much there. In any event, it would appear that my life is fated to live near tiny grocery stores that sell these wonderful chips.
To any of you Uncle Ray's addicts in Chicago, the closest place I could find was the Family Express in northwest Indiana (Wolcott, I think).
I hate kettle cooked chips. It takes too much effort to crunch through them.