Quite often I am seen wearing one of my Daane Hardware T-shirts. The T-shirts not only advertise several firearm manufacturers, but are a convenient ice breaker or conversation starter for my Father, Uncle and Brother's family business Daane Hardware
and my hometown Oostburg; both of which I am very rightfully proud.
I was wearing one of those shirts to a chow/LTH event a while back when Hammy, GWiv, JSM and I got to talking about shooting guns and such and we decided maybe we should arrange an event that included a road trip up to Wisconsin. My family has a few beachfront cabins on Lake Michigan and my good friends Joe K (Joe Sausage) and Debra Usinger (Ma Sausage) also have a summer cabin nearby. The idea was hatched to take a road trip up to Wisconsin, tour the Usinger sausage company and retail shop in Milwaukee, do some trap shooting at Salk Trail Conservation Club where my brother is a member and then spend the evening with a bonfire on the beach.
As we formulated the plans, we had to nix the Usinger tour, as it is the height of Bratwurst season. However, Ma Sausage and Joe Sausage put on a phenomenal spread, complete with several different kinds of sausage. We had three kinds of bratwurst: regular fresh brats; pepper cheese links (not really a brat, but very tasty) and chicken cordon bleu brats. We had four if you count the run of the mill Johnsonville brats we bought off the club; but I dare not speaketh about them in front of Ma and Joe. We also had a few trays of sliced up meats and sausages including: landjagger, braunschwieger, blood and tounge sausage, thuringer (my second fave), yachawurst (my fave, has pistachios in the sausage), garlic summer sausage'.and I may be missing a few. Ma Sausage also brought catalogs which included a special offer discount flyer, just for the LTH'ers. Usinger
We also had nachos that my sister-in-law Tammy fixed, along with the nacho machine (BTW, Gary you were supposed to return it after you got done licking the bowl clean). I made some beans, guac and cole slaw, plus several other brought a dish to pass. In short, this was the wurst part of the day-HAVING TOO MUCH FOOD. We hardley even touched the wursta broogies, a Dutch treat of sausage cooked in side of a bun or biscuit, pig in the blanket style!!
So, anywhooo...I laid down the law with some pretty stringent rules, knowing that keeping it safe, would keep it fun. I invited a limited number of folks for various reasons, including I wanted to know who was standing next to me with a loaded gun. [Note: if you would like to come along on a future event, I suggest you get to know me at a LTH dinner before hand] The strict rules were also to let first timers know that this would be safe and fun and that they didn't have to be nervous if they never held a shotgun before.
About 23 people came up from Chicago. About half LTH'ers and the other half were other friends from the City. My brother, Todd (who is also a firearms safety instructor and leads and assists young adults from the local school districts with their trap shooting programs) led off with a short class on firearm safety and club etiquette, which included things like keep the muzzle pointed down range and leave the chamber open until it is your turn to shoot. Then, we took turns with team of five people at five stations, each with an instructor. Thanks to Salk Trail Conservation Club and its members for allowing the use of the club. [Note: special thanks to club members: Zeke, Bunzeye, Bill and Skip); my nephews (Tyler, David, Mathew, Lucas and Sawyer), my brother-in-law, Richard, and my good buddy Guido, for all their help as instructors, scoring, pulling and loading the trap house]. Thanks also to Betty, Dave and Heidi and more of my family for set-up, cleanup and help when needed.
I was very surprised to see that about 18 people in the class never shot a shotgun at clay targets before; I was absolutely floored when Ryan, who never shot before, shot 10 for 10 one round and Kelly, shot 8 for 10 on her first round ever.
After shooting, we headed down to the cabin for a little beer drinking (no alcohol while shooting) and re-living the day around the campfire. A few stayed over night and Gary and I took a tour of Daane Hardware and Gibbsville Cheese Gibbsville Cheese before heading back on Monday.
Thanks to GWiv and Hammond, who took pictures to memorialize the event. You can see them at Skeet & Eat the web site Gary put together.
The day was great, and a lot of fun. Special thanks to my Brother from all of us. We never would have pulled this off without him and his boundless energy. The guy raises four boys, works six days a week and spends his Sunday off showing a bunch of Illinoisey Folks how to enjoy a sport safely. And, even though it will embarrass the hell out of him, if you really want to see what a stand-up-guy, pillar of the community he is check the name on the back of the fireman's coat in this picture to see what he does in his spare time.
Regards,
Peter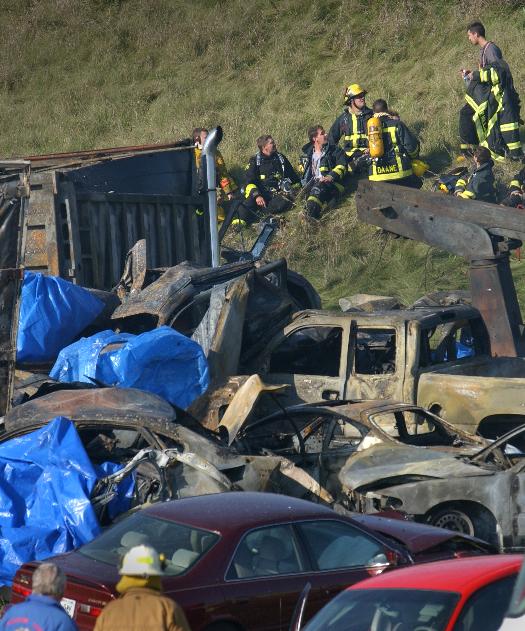 (The picture is from a few years ago at the worst traffic accident in Wisconsin's history).
Last edited by
pdaane
on July 22nd, 2004, 3:44 pm, edited 1 time in total.
Unchain your lunch money!