And now it's time for dinner. As it turned out I ended up in Lima for two Sunday dinners which can be challenging. Most of Lima's best known restaurants are closed on Sundays and those that are open clearly cater to tourists. I might have tried my luck walking around looking for something interesting but I was with a fairly large group so we settled on
Alfresco
and
La Rosa Nautica
. To my surprise both were actually quite good. The menus were virtually identical and didn't offer much in the way of creativity or variety, but I was quite pleased at the quality considering the circumstances. La Rosa Nautica is right on the water so you can hear the waves crash against the shore while you eat (so naturally it was a little more expensive) whereas Alfresco is located on a quiet road a couple blocks in from the Malecon.
Since both restaurants offered essentially the same list of Peruvian classics, I'll describe the meals together.
Both meals began with fairly straightforward ceviche preparations.
Ceviche is usually served with fried corn kernels that come with aji sauce for dipping. This picture shows them next to a classic octopus ceviche, but usually they're served in a cup separate from the fish.
There are three classic ceviche flavors. The white one is a simple garlic, onion, lime juice ceviche, the orange one adds aji amarillo paste and the green one has cilantro and parsley (I'm pretty sure it's not just cilantro though I'm not 100% sure). It was common to see the fish of the day offered on a plate with the three flavors. The fourth one (at the end) on this plate had passionfruit juice in it as well but I didn't enjoy that as much as the classic flavors.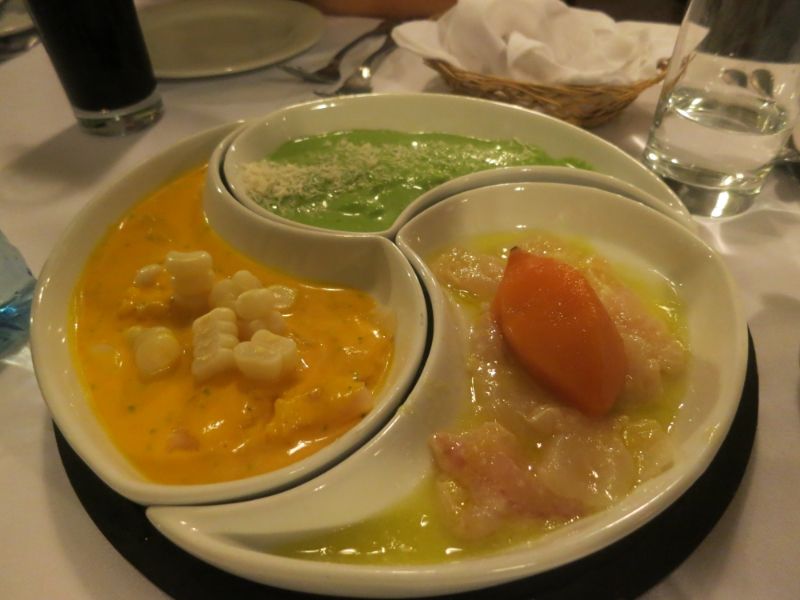 The classic ceviche and the tiradito are virtually identical, with the only difference, as far as I could tell, being the way the fish is cut. The tiradito slices the fish thin like sashimi whereas the classic cuts the fish into small cubes. I preferred the tiradito cut because the bites of fish are more tender, but I can see why someone would prefer the chewier texture of the classic ceviche.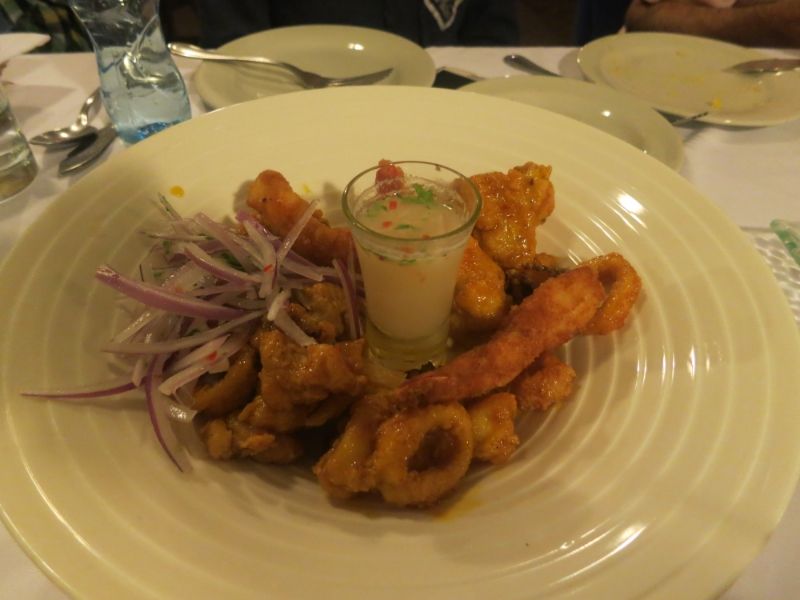 Jalea is Peruvian fried seafood. The breading is generally quite light and crispy and it's frequently served with leche de tigre which is the juice leftover from making ceviche. The acidic Leche de tigre is a superb sauce for fried seafood.
They also grill a lot of seafood over charcoal and serve it with aji sauce. Aji really does taste good with just about everything and grilled seafood is no exception.
Causas are another classic Peruvian dish. They are essentially stuffed mashed potatoes. Menus would typically feature 4-5 different causas stuffed with meat, chicken, or seafood. These causas were stuffed with a mayo-based shrimp salad. Next to all the bright seafood preparations I wasn't crazy about the mouthfuls of mashed potatoes, but I could see enjoying the meatier versions of this dish in a colder climate (like the Andes where I imagine this comes from).
Overall I felt Alfresco and La Rosa Nautica provided a nice cross section of coastal Peruvian cuisine. They highlighted fresh seafood prepared simply and lots of pisco sours to keep the evening interesting.
Astrid y Gaston
And finally, I saved Peru's most famous restaurant for last. Astrid y Gaston is the flagship restaurant of Gaston Acurio's empire. Gaston is a local food celebrity who is famous for elevating Peru's traditional cuisine and influencing an entire generation of chefs that have been bringing a lot of attention to Peruvian cuisine internationally. He opened Astrid y Gaston in 1994 which defined Peruvian haute cuisine and has since opened a cevicheria (La Mar), an anticucheria (Panchita), and a sangucheria (Pasquale Hnos, with which he is no longer affiliated). I only made it to Astrid y Gaston, but his take on Peruvian classics is hugely popular and I would love to check out more of his restaurants on a future trip.
I have to admit to being a little disappointed by Astrid y Gaston. It was recently named the
14th best
restaurant in the world, and I know most people don't put much stock into that sort of thing, but the comparisons to many of the most ambitious and creative restaurants in the world took some of the luster off of the experience for me. I got a sense that on some level Gaston is a victim of his own success. His vision and techniques have become commonplace across the city so the food really didn't stand out as much as I would have expected. Certainly this was an excellent meal and I would gladly recommend it to anyone, but I have to think there are newer restaurants pushing the envelope a little more and executing more exciting takes on the cuisine.
On many levels this was an outstanding experience. The pisco list was quite impressive and since I was with a big group we got to sample a wide range of piscos. Pisco ranges from fruity and rich to bone dry and medicinal and everything in between. The pisco lists in Peru aren't generally very long, so if you do make it to Astrid y Gaston, definitely take advantage of the variety.
The service was excellent across the board and the environment is casual which makes for a relaxed experience. My group requested to have the dishes served in waves so we could share everything and the service was spot on delivering two dishes every 15 minutes or so. They offer a tasting menu, but I felt like we were able to try a wider range of items (for less money at that) by ordering a variety of dishes for the table. I really appreciated the restaurant's flexibility in this way and I think my group enjoyed the experience far more because of it.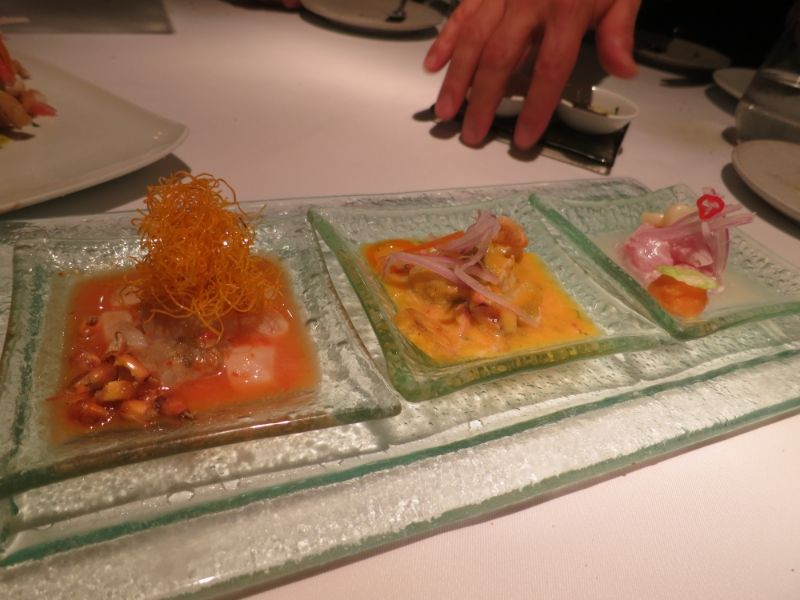 As with most meals in Lima, we started off with a couple different ceviches. The servings were small and really didn't stick out from what we'd had around town. If you're seeking a premium ceviche experience, the cevicherias, which are dedicated to ceviche and are only open for lunch, delivered much more innovative takes on Peru's national dish. I think this was the biggest issue for me. Everything was great, but so much of it wasn't appreciably different than what we'd had around town. For those new to Peruvian cuisine the ceviches would dazzle, but for those with a little more experience, I was hoping for something more exciting.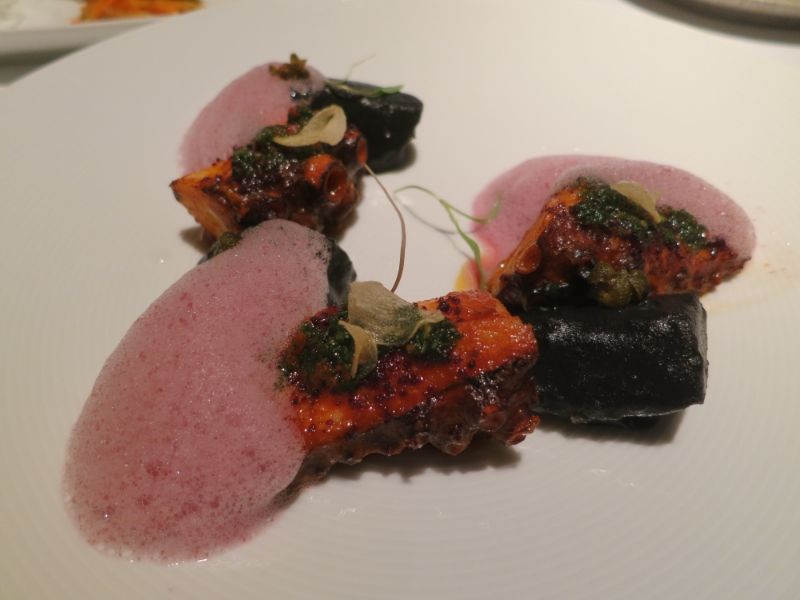 The smoked octopus, while delicious, didn't really pop for me. It's served with a black olive foam that was mild and really just an artistic flare more than anything else. Very good octopus but I preferred the charcoal grilled octopuses that deliver more intense smoke and seafood flavors.
The lomo saltado was my favorite dish in the meal. Lomo saltado is a Peruvian classic that was more common in Cusco than in Lima. It's a sirloin that is stewed in soy sauce and tomatoes and served with fried potatoes. This beef had an intensely beefy flavor and the potatoes were beautifully crispy on the outside and soft on the inside. This really stood out as a wonderful preparation of a humble dish.
And finally, their signature dish, the peking guinea pig. When I read about the peking guinea pig, I was kind of hoping they would carve it at the table. This was probably too much to ask. Guinea pig (which they call cuy) is a common dish in the Andes region and something we didn't encounter very much in Lima. This preparation was a confit guinea pig topped with crispy skin and served with a blue corn tortilla. The dollops of dark sauce are made from chicha morada which is a beverage made from the blue corn. I really enjoyed the bites of guinea pig which were quite rich and the crispy skin was fantastic, but I didn't think the whole was greater than the sum of its parts. The fusion seemed a little forced on this dish. And man it would have been cool if they'd carved a guinea pig at the table.
Overall Astrid y Gaston is a very good restaurant whose influence on Lima's culinary reputation is undeniable. There are countless modern Peruvian restaurants around town and the cuisine has started spreading across the continent and beyond. I didn't have any issues with the preparation of the food and everything tasted good, but for me, the expectations I had coming in left me wanting a little more ingenuity.