Snap and I made it out to Montreal for a weekend recently. I was excited to visit Montreal for a variety of reasons, but none of my reasons could compare to my wife's passion for fries covered in cheese and gravy. She grew up eating at diners in New Jersey where the local specialty of french fries covered in mozzarella cheese and brown gravy was known as disco fries. She's loved gravy covered cheese fries since she was a teenager and a trip to Montreal for her was a pilgrimage to the culinary capital of the gravy-doused fry world.
Poutine is probably the most famous rendition of this dish. It's available all over Montreal; as common as burgers and hot dogs in Chicago. The classic poutine is simply french fries, cheese curds, and brown gravy. With the growing popularity in Chicago and beyond, poutine has been elevated and reinvented in countless ways, see:
Poutine Fest
.
Though the classic poutine certainly isn't hard to find, the proliferation of poutine with unqiue toppings and different gravies was on display in Montreal in full force. Even relatively humble poutineries offer dozens of toppings and combinations. What I found most interesting was that shops specializing in something else felt compelled to offer a poutine featuring their signature ingredient. Schwartz's deli offers a poutine with their smoked meat, Rotisserie Ramados makes a poutine with their Portuguese chicken, and even Au Pied de Cochon tops their poutine with foie gras. We wanted to eat other things too (well maybe just me) so we limited ourselves to four different poutines on this two day trip but we easily could have eaten poutine the entire time and still enjoyed a wide range of flavors and quality ingredients. Montreal is a poutine loving town for sure.
Restaurant A.A.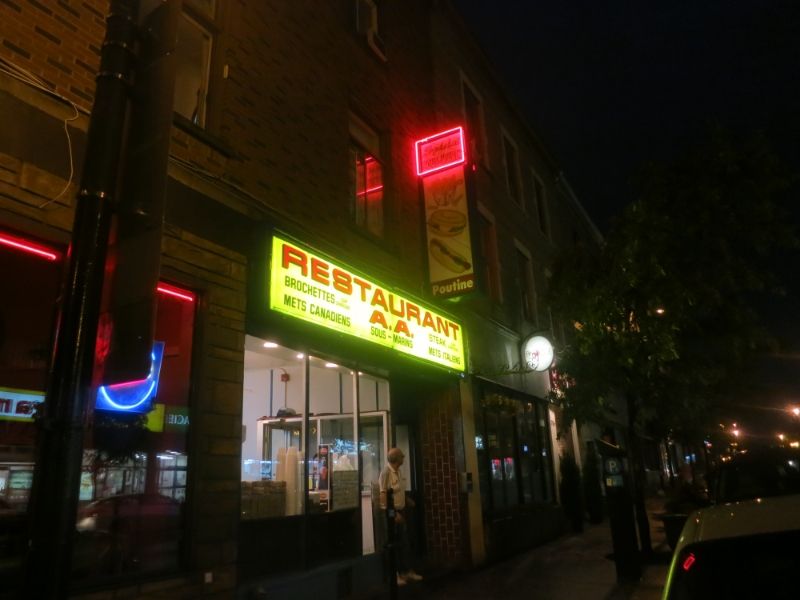 I did lots of research on where to get the best poutine in the city, and many of the same places showed up on list after list. But as it so frequently turns out, one of the best renditions we had was at the most unexpected of places. We had some time to kill before dinner, and none of the bars were calling out to us, so when we walked by a dingy looking diner with a picture of poutine on the sign, we decided we had to try it.
There were a couple tables in the back filled with older men who were sipping on coffee and watching an old French spy movie. Most of the action was at the counter where there was someone almost completely dedicated to cutting potatoes and frying them to order. There was a stack of fries that had already been fried once that were put back into the fryer for crisping after we ordered. We ordered the petit, and good thing, because it was huge. We decided to take it to go so they piled our fries into a plastic container. The curds were pressed down on top, then the entire thing was smothered in gravy. The result was the epitome of simple food done well. The curds were nice and squeaky, the gravy was peppery and hearty, and the fries were crispy and potatoey. It was was everything poutine should be.
Snap was happy!
La Banquise
My favorite poutine of the weekend was at the extremely popular La Banquise. It's open 24 hours a day and when we walked by one night the line was down the street. We stopped by for breakfast and the place was empty. Good timing.
I had intended to order their classic poutine, but it was breakfast, and the fried egg on the table next to ours looked good, we asked for a fried egg on top. It was a nice addition and also didn't interfere with the base ingredients. La Banquise truly has poutine down to a science. It succeeded on every level. The gravy had wonderful beefy flavor and was thick enough so it didn't make many of the fries soggy. The fries were crispy and brown, clearly double fried from fresh potatoes. The curds were squeaky and fresh. They have a wide array of over-the-top combinations on the menu, but I was perfectly happy with the classic (with an egg on top).
Maamm Bolduc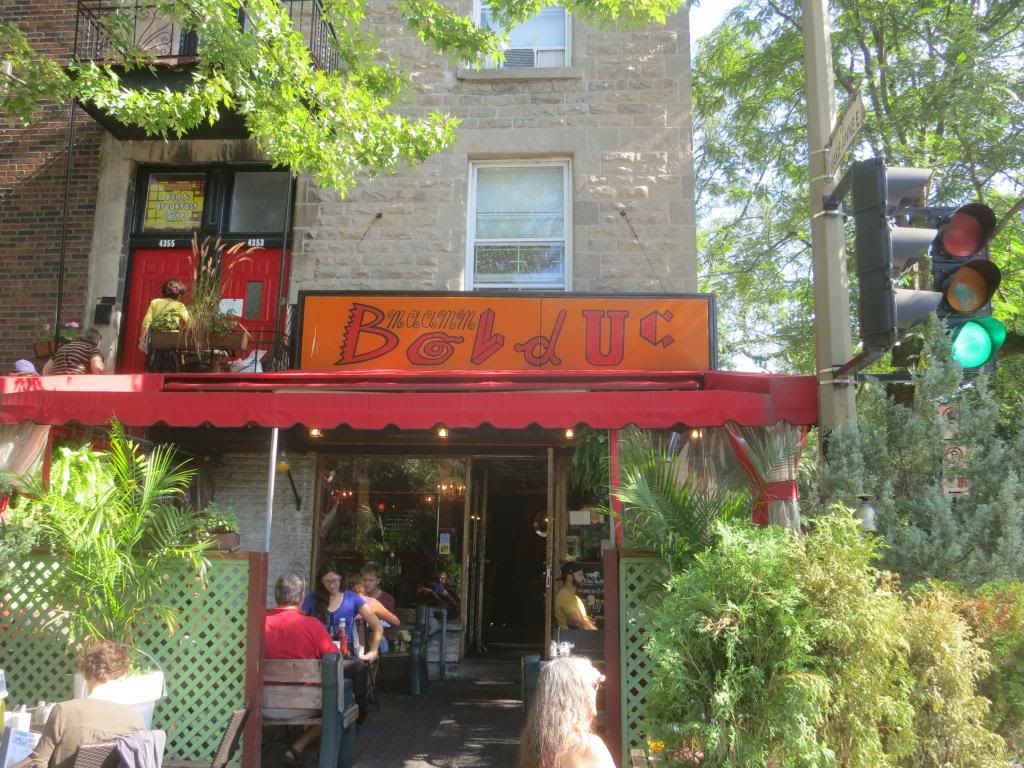 Maamm Bolduc shows up on many best-of lists of poutine and even the website claims theirs as the best in town, so I was surprised to see that it's really a brunch/lunch joint. The poutine is at the end of the menu and they only offer a couple different options. I didn't see poutine on any other tables, though granted this was early in the day.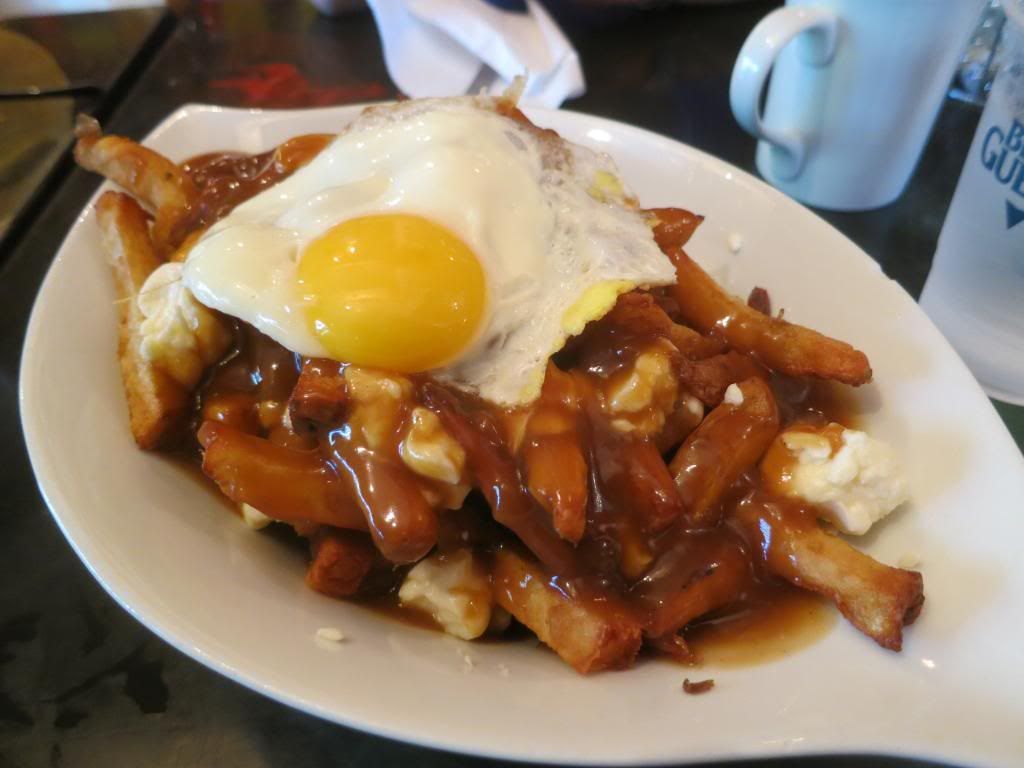 Once again we opted for a fried egg on top, and once again I have to say I was happy with the decision. There is a big pile of fresh cut potatoes in the back so clearly they're taking the poutine seriously. It was a good version but a step behind the other two. The fries weren't as crispy, the gravy had worcestershire sauce in it which I thought overpowered the other flavors, and the curds were more mild and not squeaky. Definitely still a good poutine, but not in the same league La Banquise.
Poutineville
The last poutine of the weekend was my least favorite. Poutineville shares many of the same accolades as La Banquise though it's much newer. They are famous for their make your own poutine option which you order from a menu like you'd see at a sushi or dim sum restaurant. Pick your fries (different cuts), pick your gravy, pick your cheese, pick your meat. There are countless combinations.
We went with the classic fries, gravy, and curds, but added smoked meat and shredded mozzarella. This one just didn't compare to the others. The fries were single fried and bland, the smoked meat was flavorless, the curds were sparse and not fresh, and the gravy tasted mostly like red wine.
We ate other things while we were in Montreal, but the poutine is what we'll remember most.