Le Chateaubriand receives a heavy dose of international recognition, most notably from it's recent San Pellegrino world rankings (9th in 2011, 15th in 2012). However, it is not the rankings that piqued my interest, but the raves from a vast number of industry folks whom I respect. When planning our recent trip to Paris, it was at the top of my list of places I had to try. Our hotel concierge was kind enough to make us a reservation, though it ended up being the first night of our arrival, so we were a bit tired.
The restaurant is in the 11th arrondissement, a neighborhood which reminded me a bit of Wicker Park, with a fairly even distribution of yuppies and hipsters. Av. Parmentier where it is located is rather sleepy, at least south of the restaurant, as we walked north from the Bastille metro station.
We were in the first seating, so when we arrived the dining room was sparsely populated. We were placed in the back, tighter, less desirable seating area. But I was here for the food, so wasn't too perturbed until well after the dinner when I saw accusations online that they seat English speakers in the back (we ended up adjacent to a British couple and another American couple). I'm not sure if my experience was coincidence, or further proof, but it does seem a bit strange in hindsight.
View From Our Seats (I believe I inadvertently snagged a photo of Executive Chef Inaki Aizparte)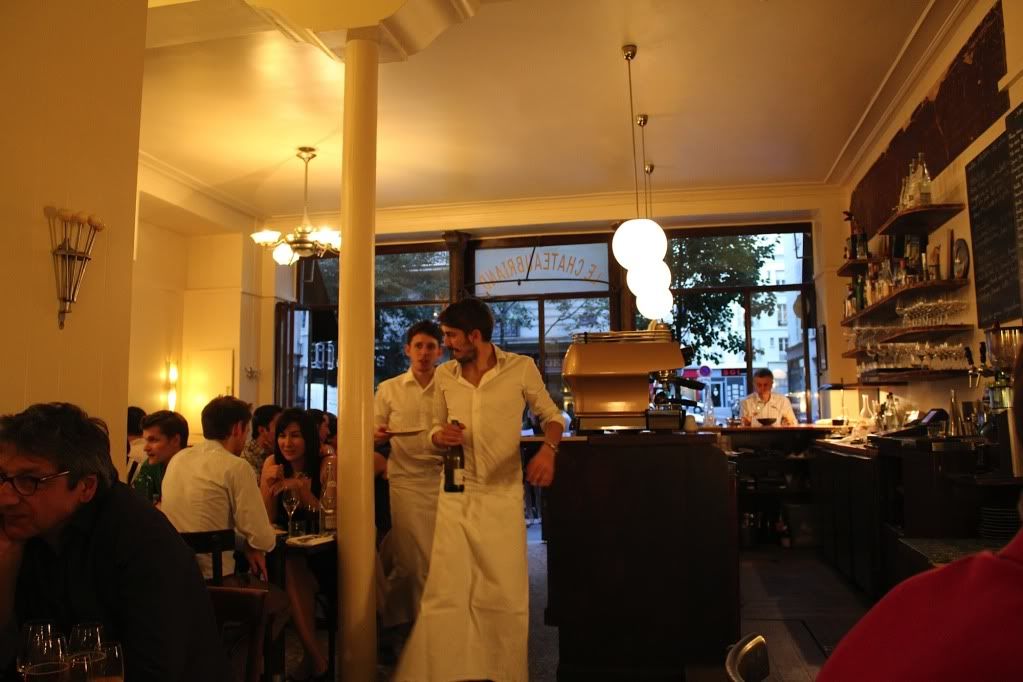 A server explained the menu and we asked for wine recommendations. He sent over who I assumed at the time was the sommelier. But after viewing Chef Aizparte's visage, I'm pretty sure it was him. My wife asked about the lone Sancerre on the menu in our price range. He steered us away and to a bottle of 2010 Mosse Arena. The wine had a nice tart apple crispness and we ended up greatly enjoying it throughout our meal.
Chateaubriand serves one menu a night and the only choice is cheese or dessert at the finish. We started with a small plate of gougeres that I believe are served nightly. As expected, these were airy cheesy delights.
Our first course was three successive amuse bouches (amuse bouchie? amuse beeche?).
"Ceviche" - Tuna in ceviche juice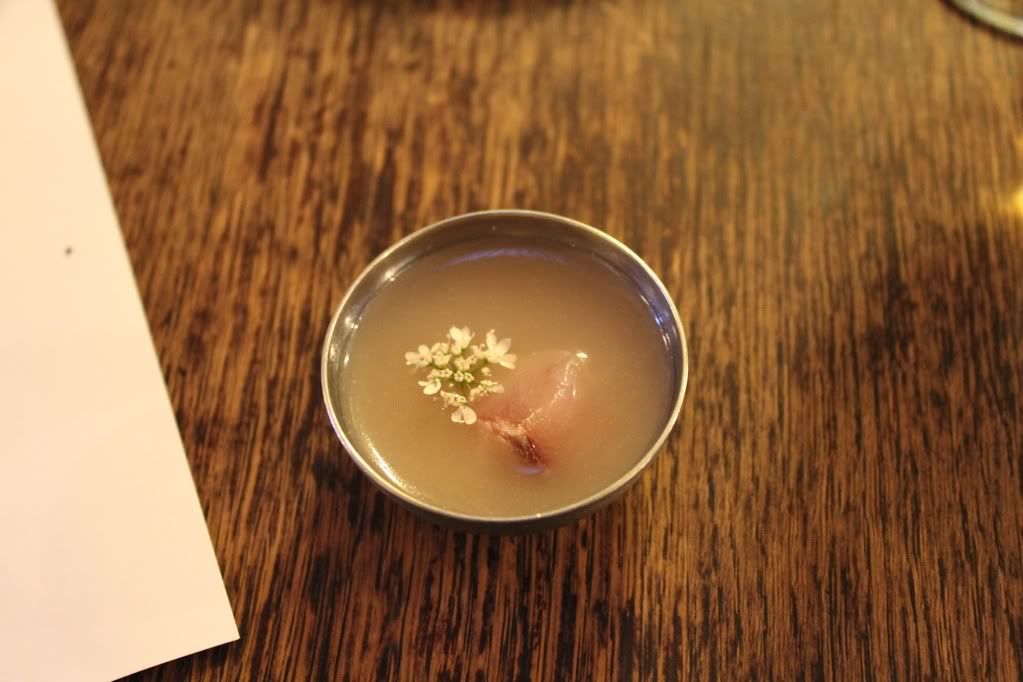 As with a proper amuse bouche, we were instructed to finish this dish in one bite, i.e. shot. It was a delicious limey, salty bite, and the micro flowers added wonderful herbaceous punch at the end.
Tuna with Corn and Bottarga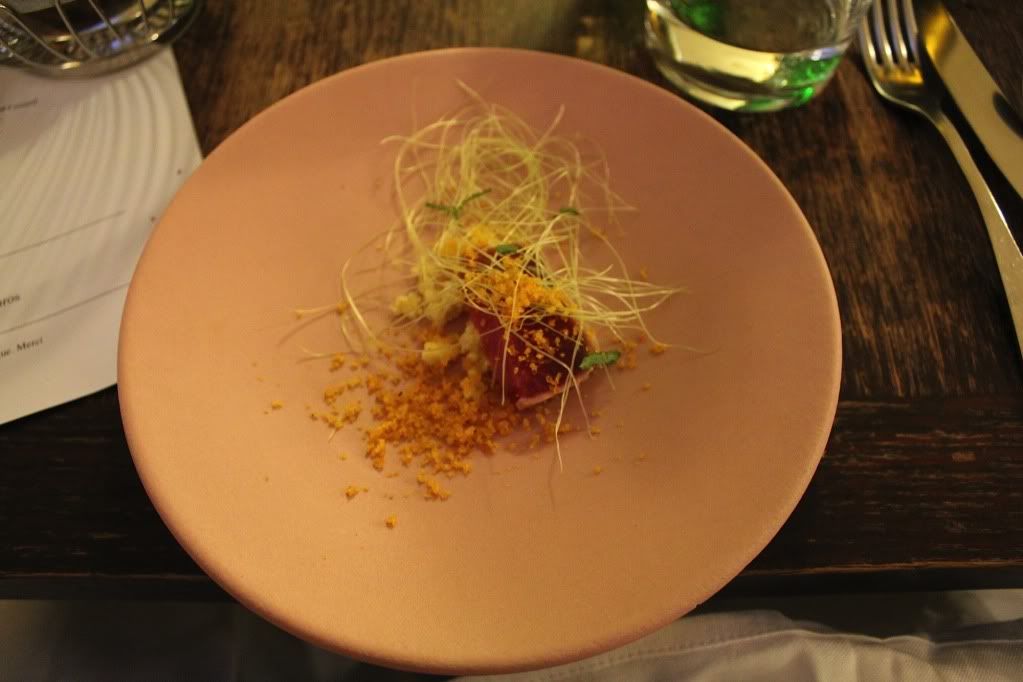 Definitely more than a bite. The tuna was seared rare and the corn was in the form of both corn hair and corn powder. We enjoyed it;the bottarga added a nice funk. The sear on the tuna seemed unnecessary - didn't add anything to the plate.
Watermelon & Cucumber Water
This was the nightly soup course. Garnished with some nice olive oil. Simple and tasty.
Skate Wing in Brown Butter with Celeriac and Cocoa
Forgot a pic on this one. The skate was served rare. The course was under-seasoned; very delicate, and in the end forgettable.
Pollock with Dill, Almond, Tomatoes
Again forgot a picture. Wine and jet lag taking affect. This was a perfectly cooked piece of fish in a delicious indeterminate yellow sauce.
Unknown Fish with Greens and Oyster Roe (?)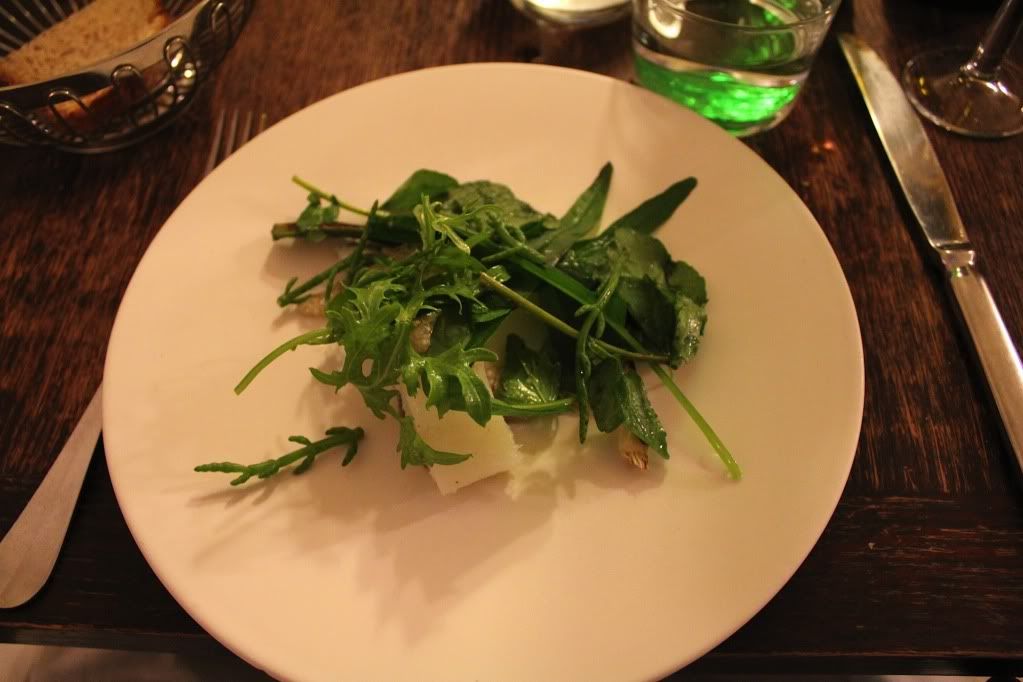 Another well cooked piece of fish, but we didn't understand the food runners explanation and never did get confirmation what type it was. It was very hearty/meaty. We also were confused on the Oyster Roe. My wife and I both agreed that's what he said. Not sure if it was El Bulli-esque fake roe, or something else. It was clear with a dark/black center and had a nice clean sea flavor. If anyone has any insight, I'd love to hear it.
Sometimes a minor component can take an average dish and make it fantastic. That was the case with the charred green onion that was hidden under the greens on the plate. I didn't notice it my first couple of bites. When I got some on the fork, it added a nice char taste that rounded out the flavor of the dish.
Chicken with Green Strawberries & Chanterelles
The meat course. Chicken leg and breast pieces along with some chicken liver mouse. All the components came together nicely, but wished the chicken skin had at least some crispness to it.
Herb Ice Cream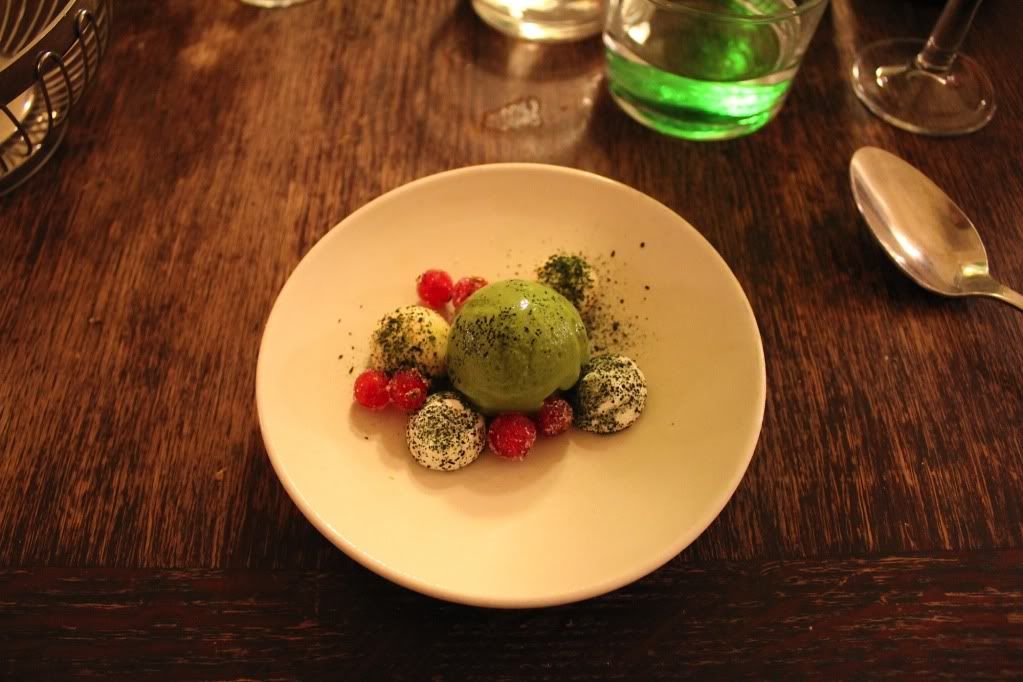 Came with berries, meringue and raw mushrooms. The mushrooms were definitely a strange addition and did nothing for me. Seemed like a visual trick aside the meringues that just didn't work when eaten.
Meringue & Egg Yolk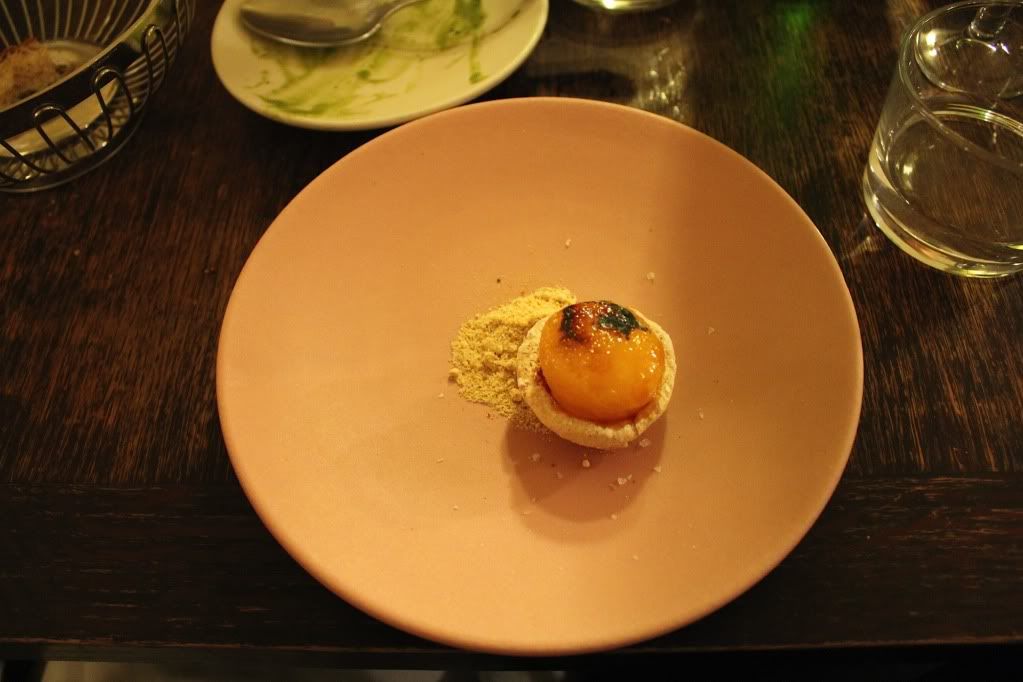 Carmelized cap on the raw egg yolk (poached in syrup per some internet searching) atop a chewy meringue cookie. Was instructed to eat in one bite and it was glorious. My favorite dish of the evening.
My wife had the cheese plate. There was a funky blue, a farmy creamy one as well as a nice aged cow's cheese. All were excellent.
Strawberries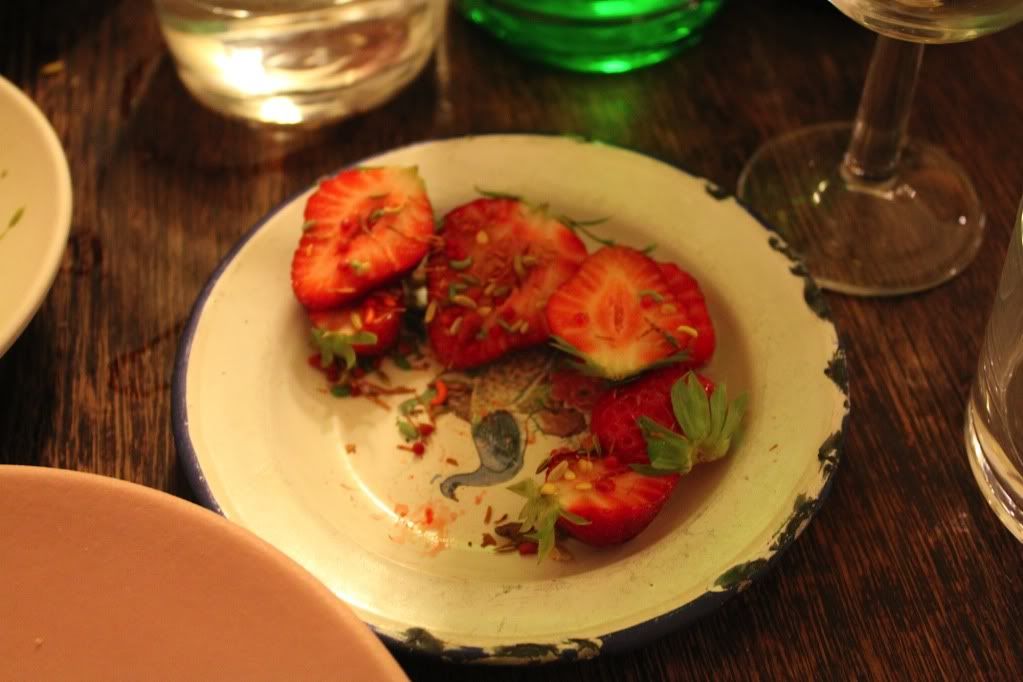 Dessert also came with a plate of small strawberries with herbs and some candied bits that reminder me of nerds. These were exquisite.
Overall, Chateaubriand was a very good meal, and the 60 euro menu, a bargain. But given the hype and my extremely high expectations, I was disappointed. I think it is definitely worth a visit, but I don't think it is a required consideration when traveling to Paris. I'm glad I went. I wouldn't discourage someone from visiting if they were intent on it, but I would recommend that they temper their expectations.