Made it to Toronto for a long weekend recently and I must say we ate well. It's an extremely multicultural city, and the variety of foods is impressive.
St Lawrence Market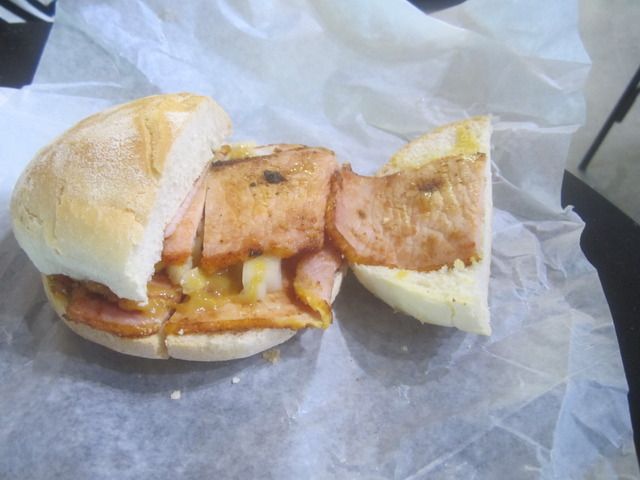 No trip to St Lawrence Market would be complete without sampling a peameal bacon sandwich. Peameal Bacon is back bacon (Canadian bacon, much leaner) rolled in corn meal. There are a couple shops in the market famous for the sandwich and we got to try one at Carousel Bakery and one at Paddington's. Carousel was much more popular and they grabbed your sandwich from a pile after you ordered. The bun was bland and the meat itself was rubbery and lacking in flavor. Paddington's was quite the opposite. There was no line, they cooked the bacon to order, and they top it with honey mustard and onions before they serve it. The bread was pretty ordinary once again, but the meat was quite tasty and the condiments were an important component of the flavor profile. It's not a great sandwich, but it's something worth picking up when you're at St Lawrence Market. The market itself is bustling. There are dozens of different butcher and cheese shops. I was a little disappointed by the fruits and vegetables, but the meats and fish looked great.
Smoke's Poutinerie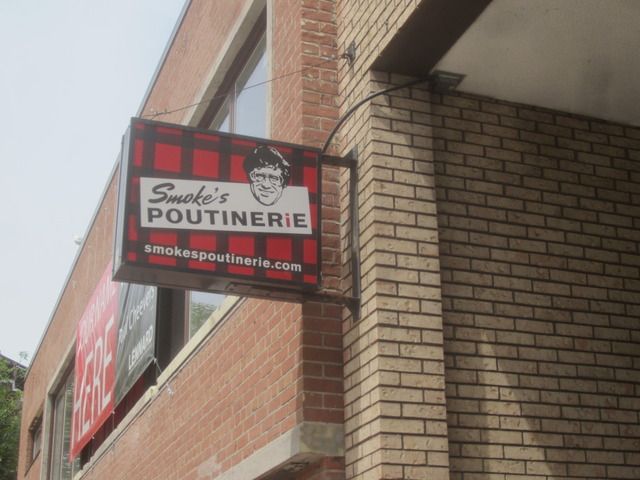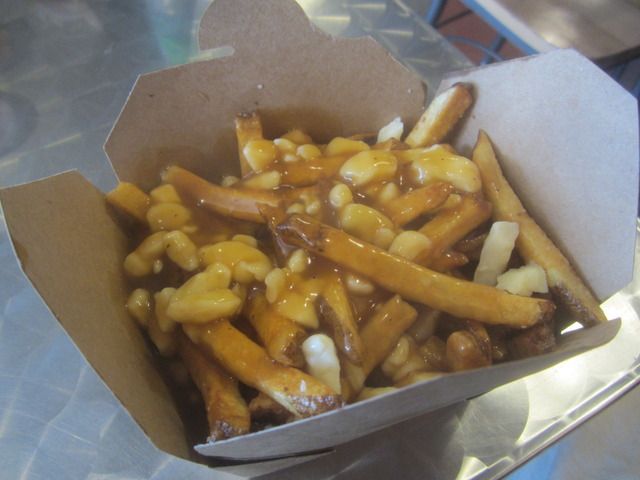 We got to try a couple different poutines in Toronto, and the best by far was at Smoke's. You can see them cutting the potatoes in the back and the fries are fried to order. They construct the poutine in layers so you get gravy, curds, and spuds in every bite, even at the bottom where many other poutines become a soggy layer of starchy potatoes. I particularly liked that the gravy was thick so it stuck to the fries and the curds were melted throughout. Not sure why so many places miss these details that seem so easy to get right, but Smoke's got it right on. I can't imagine a more satisfying post bar meal (all the poutine shops are open late for just that reason).
Bar Chef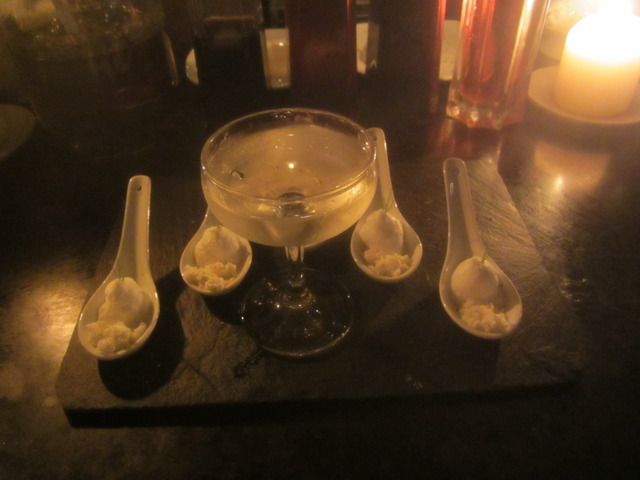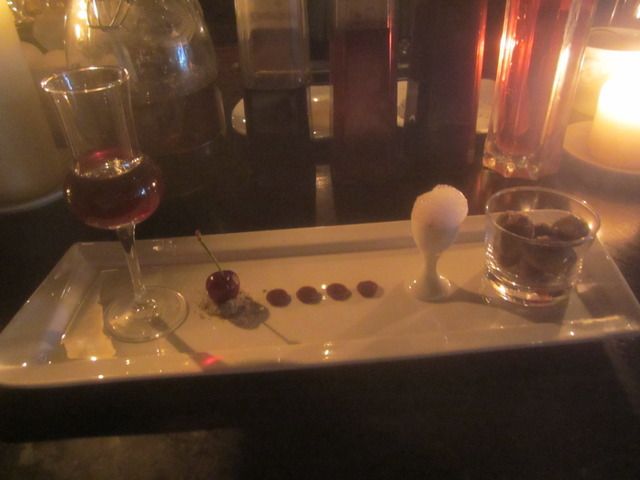 I've read that Barchef gets very crowded on Saturday nights, so we showed up a little after 6PM and had the place to ourselves. It's a good thing too, because their brand of molecular cocktails is pretty demanding on the bar tender and I can't imagine how overwhelmed they get later in the night when the orders are coming faster than they can make drinks. The drinks are pretty pricey, but I understood given the complexity of the preparation. Really, each drink is more like a course at a molecular gastronomy restaurant. I could easily imagine these drinks showing up on the menus at Alinea or Schwa. The first drink I ordered was the Black Truffle. The cocktail itself was a mixture of coconut, elderflower, and gin, though it wasn't too sweet at all. The spoons had a mixture of "truffle snow" and smoked salt. The result was a pretty savory dish that blended the umami of the truffle with the brightness of gin beautifully. It was quite satisfying, particularly since they give you four spoonfuls of the truffle foam. The second drink was a mixture of cherry, lavender, and olive, though it was quite briney. The concept behind the course was that you take a sip of the drink with each of the accompaniments, and each brings out a different flavor in the drink. When you took a bite of the cherry leather, it accentuated the olive flavors in the drink. When you took a bite of the olive, it accentuated the cherry flavors in the drink. It was pretty interesting and I appreciated the creativity. It's a unique concept and I thought it was well executed even though I'm not sure I'd return unless I'm with someone who really wanted to experience it. They also serve a Manhattan that they smoke to order with live coals. Pretty impressive presentation. It's more show than great drinks, but I enjoyed the show.
The Black Hoof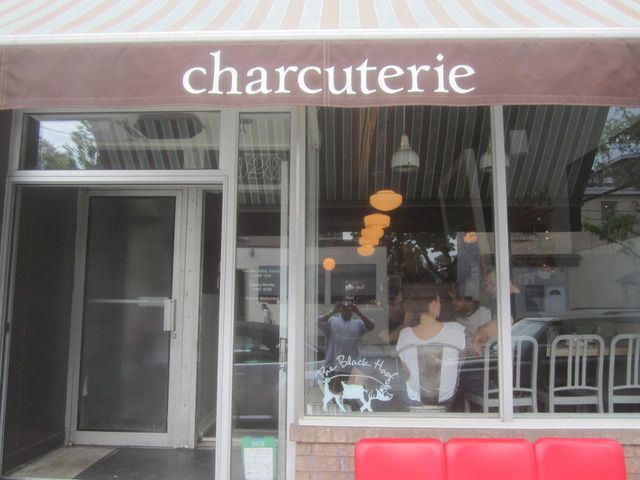 The Black Hoof is probably Toronto's most famous snout-to-tail restaurant, and it opened to great fanfare a couple years ago. Based on my single experience there, I have to say I think the place deserves all the good press it has gotten. I genuinely enjoyed every dish we were served, but a couple really stood out as memorable. The horse tartare (pictured above) was served with a bright citrusy sauce, crispy potatoes, and enough herbs to accent the meat without overpowering it. I've had horse a couple times, but this is the first time I can say I really enjoyed the subtle, but gamey flavor particularly since the textures played so well together in the dish. Also memorable was the blood custard that was mixed with dark chocolate and topped with shaved fennel. The custard was rich and smooth and balanced the slightly metallic flavor of the blood with a little sweetness to great effect. The poached mackerel was excellent as well. So many times poached mackerel has all the fishy flavor poached out of it. This preparation nailed it with perfectly flaky, fishy flesh, crispy skin (finished with a torch I assume), and a light, citrusy tartare sauce on top. I like fishy fish, and this mackerel was on the money. If I had to gripe, the local beers were pretty lousy and I would've appreciated a couple vegetable-focused dishes even if they had some meat in them, just to round things out, but that's picking nits. I enjoyed the meal a lot and would recommend it to anyone.
Dumpling House
We elected to stay in Chinatown precisely so we could discover places like Dumpling House. As we were walking down Spadina, we saw two people furiously rolling out dough and folding dumplings. They were going pretty much all day, the same two, probably for 10 hours if not more. So we figured we had to give the place a try. When we ordered a sampler, someone had to go to the kitchen in the back to fetch the freshly made stuffings we requested. I guess most people stick to the standard pork and cabbage, which they have in a gigantic bowl next to the dumpling makers. The dumplings were folded to order and boiled as we watched. They were pretty much spot on. Dough that was thick enough so it was chewy but soft and stuffings that were assertive (plenty of white pepper). We tried the shrimp, the pork and chives, and the lamb. Everything was good, and fresh, as you'd expect.
Mother's Dumplings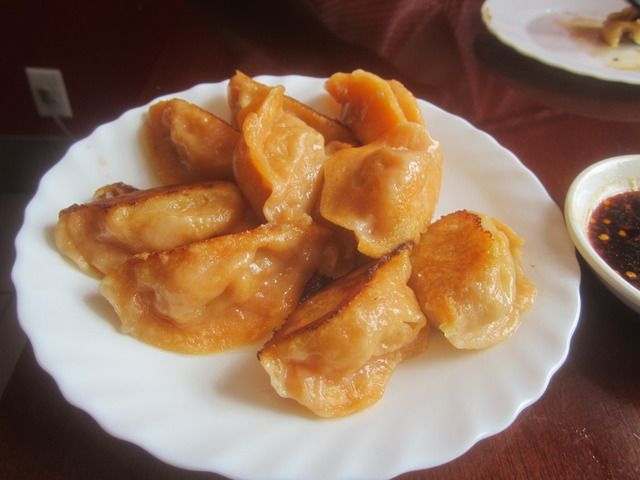 Mother's is the most famous dumpling shop in Toronto's Chinatown, and the place fills quickly after it opens. They make quite a show of rolling out all the dough in the middle of the restaurant. In the interest of mixing it up, we ordered the lamb shui mai and the soup dumplings (Xao Long Bao) along with some pan fried dumplings. The lamb shui mai were pretty uninteresting. The lamb was underseasoned and not particularly lamby, and the wrapper was lost under all the bland meat. The soup dumplings were too thin so they tore easily, and even when we were super careful not to tear, there was almost no soup in the dumpling. Also there was an unmistakeable coconut flavor which really didn't work for me. The dumplings, on the other hand, were excellent. They were fried perfectly so the edges were crispy but the dough was still soft and served with a vinegary hot sauce that was awesome. We looked around and saw all the tables had ordered dumplings and scallion pancakes (that looked great) so I have to think we ordered wrong. Still, some damn good dumplings to be had in Toronto.
Lai Wah Heen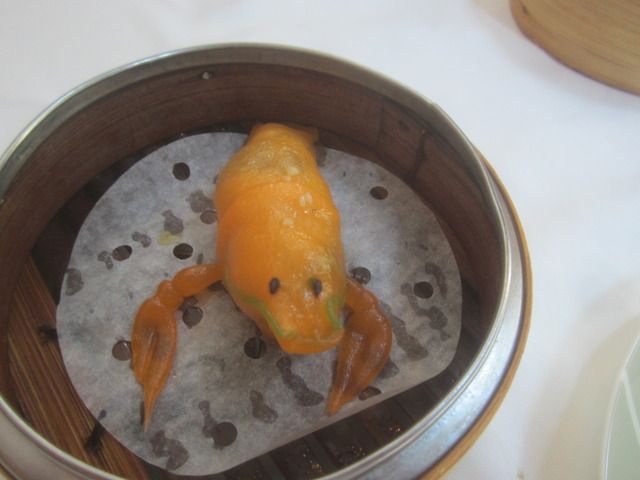 When you research "best dim sum in Toronto", inevitably Lai Wah Heen will make the list. It's located in the posh Metropolitan hotel, and the dining room is nice without being stuffy. The clientele was mostly business people, though there were some tourists in shorts. I'm not sure what I was expecting, but our overall impression was that more effort was spent on presentation than on flavor. That's not to say the food wasn't tasty, rather that it wasn't memorably delicious dim sum. The dumpling wrappers were delicate and the fried dishes were crispy and greaseless. The lobster dumpling was shaped like a lobster and the fried taro was shaped like a camel. Everything was good, nothing was great. Though I should mention that I kept reading about how expensive it was, and I didn't feel like it was that bad at all. I think it ended up being 30 dollars per person and we left fully satisfied. Sure that's more than most dim sum joints, but nothing noteworthy for an upscale lunch.
India Paan & Cold Drink House
I have to preface this review by saying that we walked all the way to Little India from downtown. It ended up being a much longer walk than we expected (the tram is super convenient and we took it on the way back) so I had worked up quite an appetite when we arrived. This was late afternoon and we were still planning on getting dinner so we didn't go all out, but when we walked by a restaurant making chaat to order on the street, we had no choice but to order a couple chaats and chow down. Man did these snacks hit the spot. The sev puri (pictured above) were excellent. The shells were particularly crispy so they popped when you bit into them and the tamarind sauce was tangy and pretty spicy. We also got the papri chaat which had nice, crunchy papri wafers and a seriously spicy mint chutney to counter the cooling, sour yogurt. This was exactly the carbo-loaded snack I was looking for after a long walk. The neighborhood reminded me a lot of Devon though remarkably there were nowhere near as many Desi-owned shops and restaurant.
Sugar Marmalade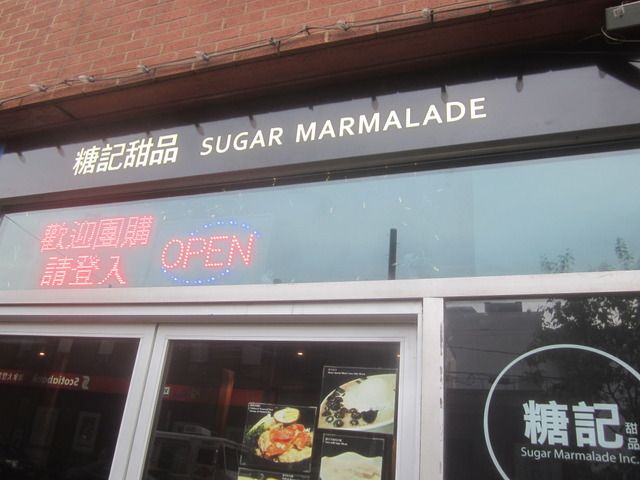 They claim to be Toronto's first Hong Kong Style dessert shop. My wife was eager to try one of the coconut milk desserts so we stopped in and ordered the house special. It has grass jelly, sago, tapioca, and something they call yogurt bubble all floating in a bowl of coconut milk with sweetened condensed milk and topped with vanilla ice cream. This dessert was firing on all cylinders. The range of textures was incredible, each bite featured a different combination of chewy, gooey, and cooling. The yogurt bubbles popped when you bit into them and released a tangy (presumably yogurt-based) liquid. The menu features a wide range of fruit and coconut based desserts and simple egg and toast preparations. Toronto's Chinatown is seemingly full of interesting little shops like Sugar Marmalade.
Mashion Bakery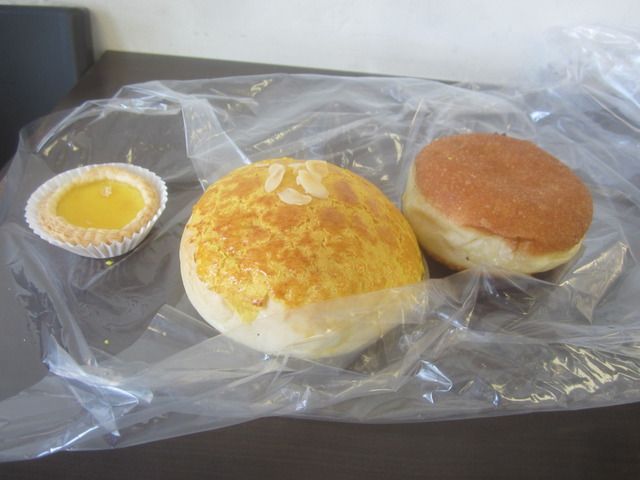 We tried probably 6 different pineapple buns on this trip, and Mashion was the best of the bunch. I fell in love with pineapple buns when I was in
Hong Kong
earlier this year. When made well, the top is slightly sweet and crunchy while the bun is moist and soft like a pillow with a distinct yeastiness. All the baked goods at Mashion were pretty good, but their pineapple bun really reminded us of our favorite from our trip to Hong Kong. Note that we went early in the morning when the buns were still hot from the oven, no promises about later in the day. Also, don't pay attention to the grand opening sign, as far as I can tell it's been there since they opened over a year ago.
Patty King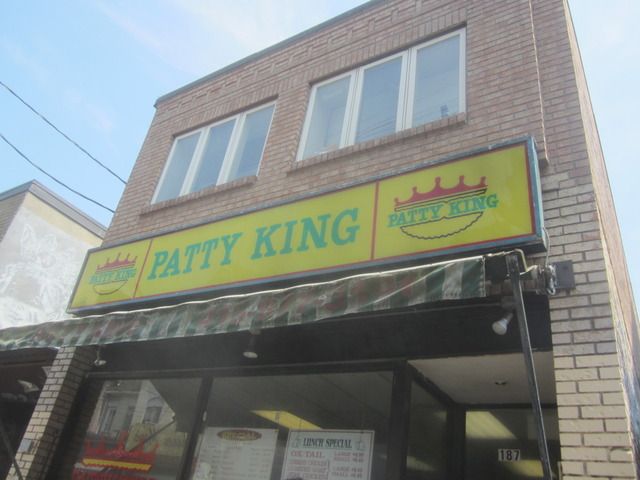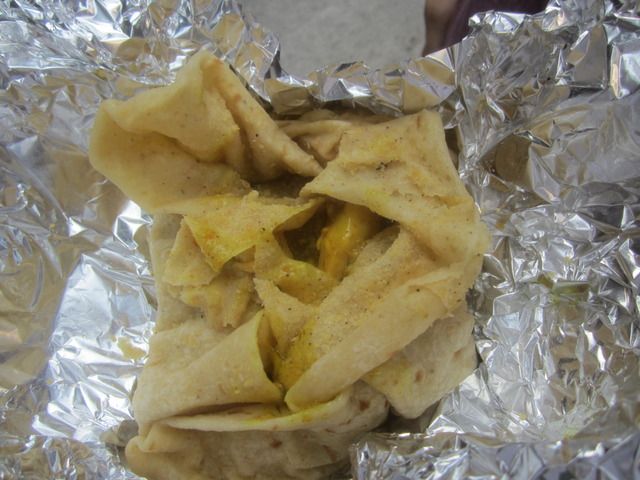 I'd read a lot about the Caribbean food in Toronto and enjoyed an excellent roti in Missisauga a couple years ago, so getting some street roti was high on my list for this trip. We got to try a couple different rotis, but remarkably, our favorite came from the unheralded Patty King which is located in Kensington Market. It's a total dive complete with no AC and flies buzzing around the counter. Most of their business is grab and go doubles and beef patties that they have pre-made sitting in warming trays. We went for the chicken curry roti which was stuffed with a seriously spicy and earthy stew. The roti itself was dusted with corn meal and had an awesome springy texture that actually stood up to the stew so it didn't spill everywhere. I'd like to head back to Patty King to try their other rotis and grab a beef patty or two while I'm at it.
El Almacen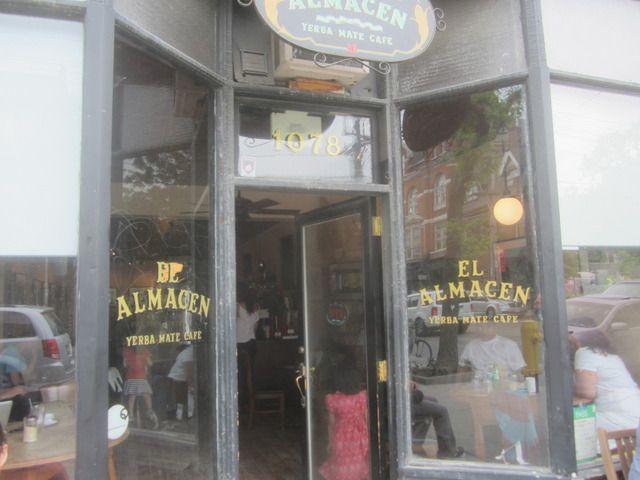 Even with all the different ethnic foods we got to try on this trip, perhaps the most unique experience for us was sipping yerba mate at El Almacen. Toronto really stood out to me as a place where it was remarkably easy to find great and interesting food without having to do too much research. We discovered so many great spots on this trip just by walking around the neighborhoods and trying whatever looked good. As we were walking down Queen Street, we were thinking about stopping somewhere to get a cup of coffee and relax before dinner. I spied a cafe specializing in yerba mate, which I had read about but never tried before, so we figured we'd give it a try. We ordered two mates served in the gourd and the barista informed us that this drink is typically shared by friends. It was great of her to steer us correctly, because it really was cool to share the drink, handing the gourd back and forth while people watching on a nice sunny day. The drink itself is a type of tea that is typically served in South America. You fill the gourd with powdered mate leaves and top it with hot water. It is sipped through a metal straw that has a filter at the bottom so you don't suck up leaves. One gourd yielded probably ten servings of tea and took close to an hour to get through. It really was the perfect afternoon relaxation activity.