Last week the boys laikom and Da Beef and I hit the road to explore the Burmese scene of Fort Wayne and soak in a little history while we were there. Firstly, I'll keep it brief on the other spots, maybe the other two will chime in, and then focus mainly on my thoughts about the Burmese offerings that we checked out.
We began our tear with some of the worst tacos the three of us, collectively, have ever eaten. I guess don't trust a taco spot with
Amish
in its name. Who knew a follow up of a braunschweiger sandwich on squishy white with mustard and pickles could provide such a palatte cleanser at our next stop at the cute-as-a-button soda counter at the historic
Lincoln Tower
. On our way out I spied these gorgeous art deco murals adorning the walls of the bank in this wonderful 1930's building. This was a non-food highlight of the trip for me.
Next stop was the dark, cozy, and frozen in time
Oyster Bar
where we ate one of the better shrimp cocktails I can remember enjoying in recent past. Oysters in Fort Wayne? Based on the freshness of the cocktail, I'm guessing these Hoosiers do it right. For next time. Good local drafts on tap too.
Fast forward to our last stop,
Power's
, was requisite. I was surprised by the postage stamp sized griddle at the equally diminutive lunch counter. I liked the burgers fine. I'd never actually had a slider from anywhere but Whitey's or some lame-o mini pulled pork sandwich from an airport bar. Not really like either of these two slider varietals, these are smallish griddled burgers, smashed fresh and piled with onions. With a hawk's eye view of the griddle, I noted one iffy practice that I thought came through in the final product. The onions go on the griddle raw and are very hastily scattered around the grill, picking up their color from the meat grease and seasoning of the grill, resulting in what might look like deeply caramelized onions, but are cooked quickly to a just-soft consistency. As an onion fiend, I still dug these, but wished for a more developed, Big Baby- level sweetness.
My experiences with Burmese have been limited to a few trips to trendy joints in the Bay Area and cooking recipes from Naomi Duguid's "Rivers of Flavor" with friends. So what did we learn about Burmese in Fort Wayne on this sunny afternoon?
1. Apparently Tuesday afternoon is not the best time to hit Fort Wayne to check out their Burmese restaurants. Our first stop, Mahnin was closed on Tuesdays. Though we were hoping to sample a range of places, laikom had recently visited and seemed to prefer their Thai offerings to the Burmese. And then the second spot, Sone Sea Yar closed at 4 and were closed up already when we rolled up at 3:45.
2. Most of the Burmese restaurants are not Burmese owned. The one we finally landed at,
A Kaung Zarr
is Thai owned as is Mahnin and Sone Sea Yar is Indian owned.
3. There are more Burmese-catering grocery stores than restaurants. We visited three and passed another two. All three were stocked with pretty common items to any SE Asian grocer. The one laikom had recently visited,
Mon Asian Store
, where he picked up fried grasshoppers and non-commercially packaged fermented tea leaves was out of all that good stuff that particular day. I did score a jar of tea leaves and the non-English speaking shopkeep was eager to grab me a bag of assorted fried legumes to complete my fixins for a salad of lahpet thoke. Our second stop,
Little Burma
, actually had a dedicated Burmese aisle, which was stocked with a pretty wide assortment of supplies to make lahpet thoke. There were plenty of unusual packaged goods like acacia leaves and cryovac packs of dark, sticky looking pickled mango. Many of the products were produced by Yoma Myanmar brand.
I liked this trippy label design
The very friendly woman at the counter here was quite easy to communicate with and she guided me through stacks of pint containers full of locally made ngapi, some with big old chunks of preserved fish sitting right on the counter at room temp. I opted for a quite fragrant balachuang, which once I opened at home and sampled a bite, was treated to an intensely savory, funky, and creepingly spicy mouthful. I can't wait to whip up a light summer meal of crudite and this shallot/shrimp/chile paste to go alongside my tea leaf salad.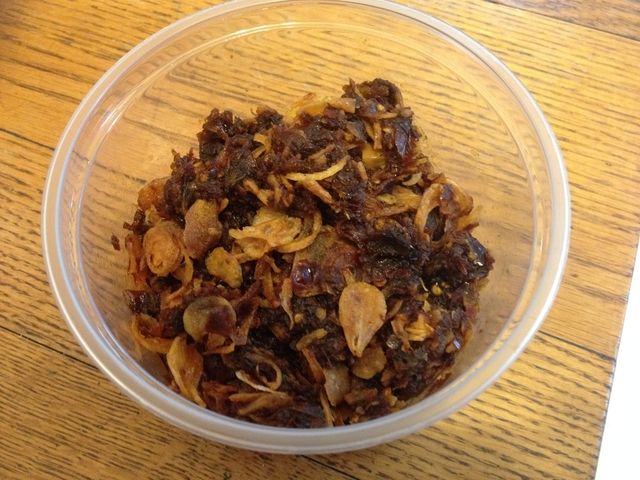 We also learned from the counter lady at Little Burma that the restaurants in Fort Wayne don't regularly serve lahpet thoke. Though we found one that did…
The one restaurant we found open that day,
A Kaung Zarr
, was just a bit out of town in a neighborhood where we saw folks wearing brilliantly colored folk dress; women, presumably Muslim, with their heads wrapped. The restaurant was nearly empty. And the menu, which deduced from Matt's limited experiences at the other spot, had quite a few more strictly Burmese offerings. We ordered all the Burmese dishes except a light soup and a noodle dish that seemed very close to another one we opted to order.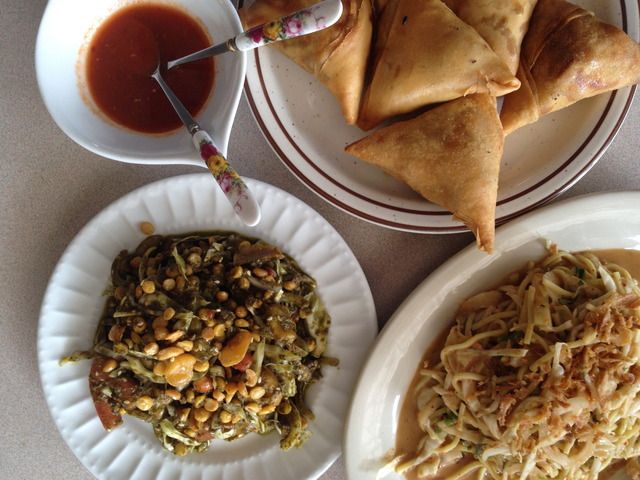 Clockwise from upper left: Samusa dipping sauce, Samusas, Khot swea tok, Lahpet thoke
I loved this meal! Everything was vibrantly fresh and perfectly seasoned. Not once did we reach for any accoutrements from the spice caddy. The off menu special of Lahpet thoke might have been a shade too ferment-alicious to wantonly inhale, but it was intense in all the right ways. It differed from the versions I'd had in the Bay Area in that it was pre-mixed rather than presented with separate quadrants of ingredients on a platter, mixed tableside. It also seemed to have a higher ratio of tea leaves to other ingredients, contributing to that funk. Crunchy lentil bits, raw garlic, and decent early summer tomatoes rounded it out.
I was really impressed with the cold noodle, salad-like dish of Khot swea tok- (lomein salad in burmese style), which Matt warned us might be overcooked slop like something he'd had at the other place. Not at all– the noodles weren't quite toothsome, but played a supporting role to crunchy cabbage and cucumber and rich strips of egg and fried tofu. It was tossed in a slightly tangy, just-chile-hot, and peanut-based creamy sauce. It reminded me of the kind of un-specific-ally Asian cold peanut noodle dishes I whip up at home on a hot summer night. Comfort food I guess I would call it, but prepared deftly.
Samusas were a hit at the table, brittle crisp, oily, and packed with curried veggies that each maintained their individual integrity. Addictive dipped in the vinegar-y hot sauce they were served with.
Finally a requisite bowl of Mohinga (on this menu translated as Moke hin kar) (also,
not pictured
). I know the fish is typically almost pulverized into this stew, though I forgot entirely about fishiness eating this. I suppose it may have contributed to the thickness of the broth, which was quite creamy and I may have misinterpreted as peanut- fortified. The rice noodles were on their way past soft, but no worse than most a bowl of pho in Chicagoland. Banana leaf piths were in the house and to me had an eggplant-like consistency. I also loved the textural contrast of a garnish of fried clusters of lentils. Creamy, aromatic, and spicy, a pretty wonderful bowl of soup. Had I not overlooked the bowl of limes on the table, I probably would have given a squeeze to cut the richness a bit. At the end of the meal I realized it had been almost entirely vegetarian. The pairing of rich legumes (fried bits and peanutty sauces) with complex and aromatic spices makes for very substantial and soul satisfying stuff.
A repeat of this meal alone would be worth a trip back to Fort Wayne for me, if nothing else. Burmese food, I know so little about you, but I love your humble, yet complex flavors.
Tacos Arandas "El Amish"
2012 Broadway, Fort Wayne, IN 46802
(260) 420-2731
Lincoln Tower
116 E Berry St., Fort Wayne, IN 46802
Number for Soda Fountain: (260) 422-6688
Oyster Bar
1830 S Calhoun St, Fort Wayne, IN 46802
(260) 744-9490
Power's
1402 S Harrison St, Fort Wayne, IN 46802
Phone:(260) 422-6620
Mon Asian Store
3030 S Calhoun St, Fort Wayne, IN 46807
(260) 444-2161
Little Burma
3230 S Calhoun St, Fort Wayne, IN 46807
(260) 745-3721
Mahnin
2701 S Calhoun St, Fort Wayne, IN 46807
(260) 744-3584
Sone Sea Yar
5527 S Anthony Blvd, Fort Wayne, Indiana 46806-3317
(260) 441-8881
A Kaung Zarr
5205 Decatur Rd, Fort Wayne, IN 46806
(260) 203-9056