LTH,
Went with the dueling banjos of Kuma's Corner, Steve Z and Mike G, for dinner last night and I'd say we were unanimous, we, certainly me, had an enjoyable meal. Friendly efficient waitress, cozy, comfortable tables, nicely set up bar, good selection of booze, including beer list, and a corner bar cook who was really good at her job.
We started off with Prince Edward Island mussels in a white Belgian-style ale, the chile laced broth was good, though the mussels themselves had a bit of the Monday mussel blahs.
Mussels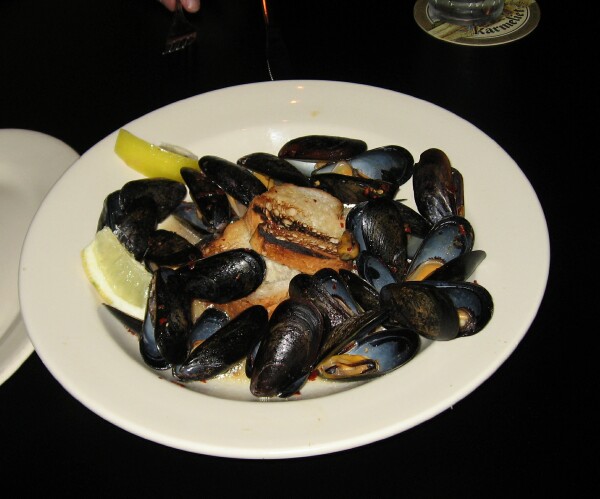 Minor mussel issues aside, the Pan Seared Scallops wrapped in bacon were terrific. Perfectly cooked, nicely accented with baby arugula, lemon butter sauce and orange segments. I really liked this dish.
Pan Seared Scallops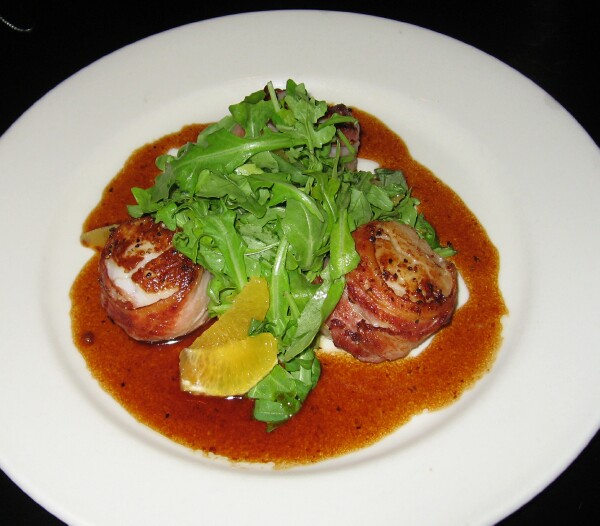 I went with the Kuma Burger, a manageable 8-oz of Angus with cheddar, bacon and fried egg on a pretzel bun. Right at med-rare, as I asked, and the runny yoke fried egg was the perfect compliment, I really liked this burger.
Kuma Burger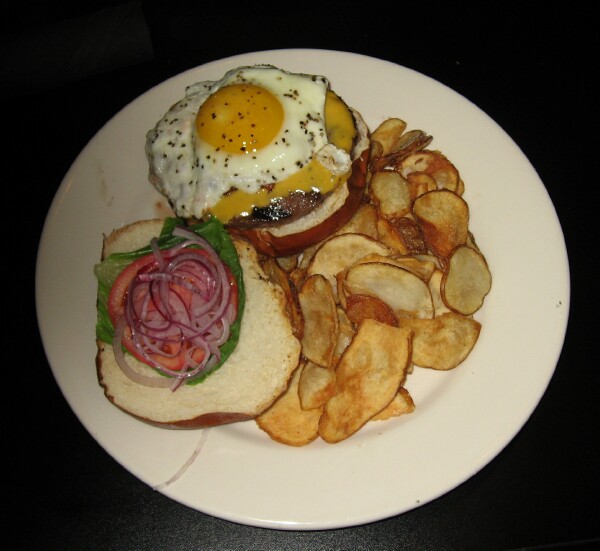 Mike G had the Kaijo Burger, 8-oz of Angus, blue cheese, bacon, frizzled onions on a pretzel bun. This was a damn good burger as well, I particularly liked the frizzled onions (thin strands of fried onion) and stole a few off Mike's plate. The chef, Demara, saw me nabbing the onions and sent out a small plate of them. I think she was looking over to see how we liked the food, this is a woman who cares.
Kaijo Burger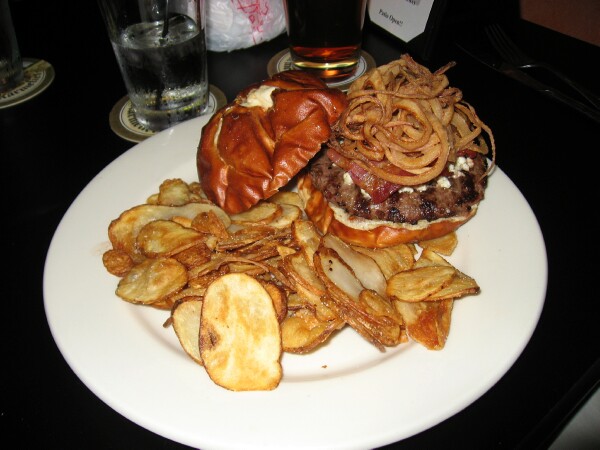 Steve went with make your own Mac and Cheese, he opted for peas and prosciutto. Not bad, though for my taste it could have used a couple of minutes in the oven or under a broiler.
Mac and Cheese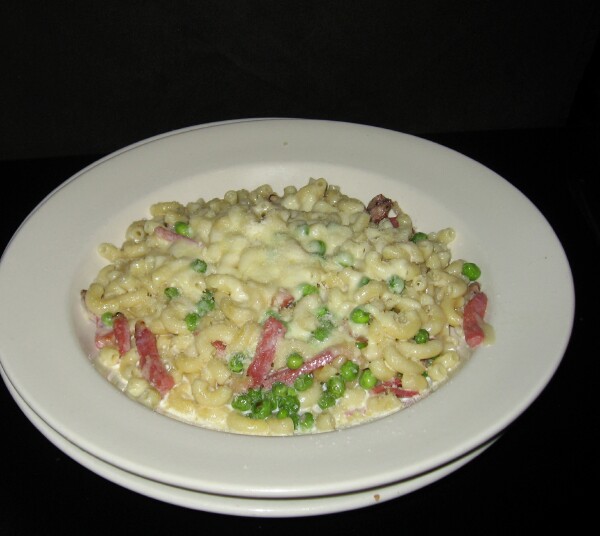 We split Key Lime Pie for dessert, good flavor, perked up by grated lime rind, but slightly on the dense side.
Key Lime Pie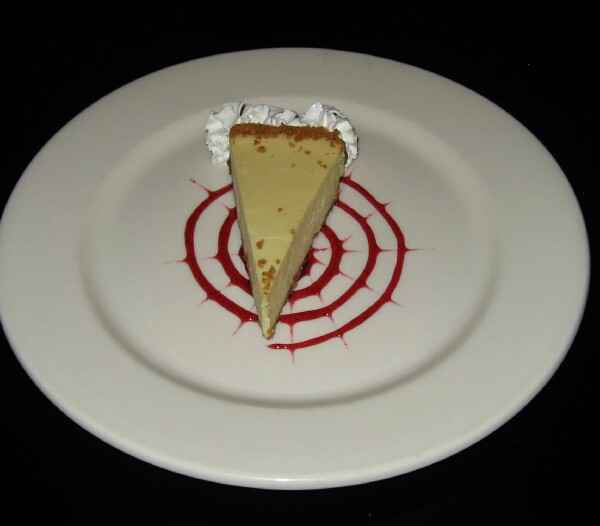 Overall nice vibe to the place, even for three guys who are not really Kuma's demographic, a big part of the reason being our very friendly waitress, Erin.
Erin at Kuma's Corner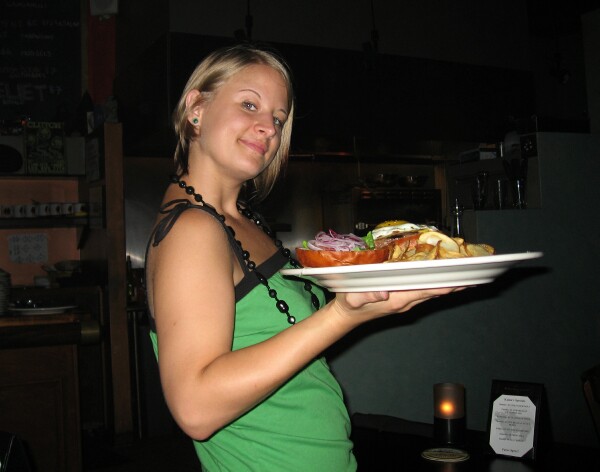 I complimented Demara, the chef, on nailing the scallops and she immediately engaged me in a discussion of ideal internal temps for scallops and the
Press Test
. She's a fan of Mario Batali and keeps his cookbooks on hand for inspiration, M Batali should feel complimented.
Demara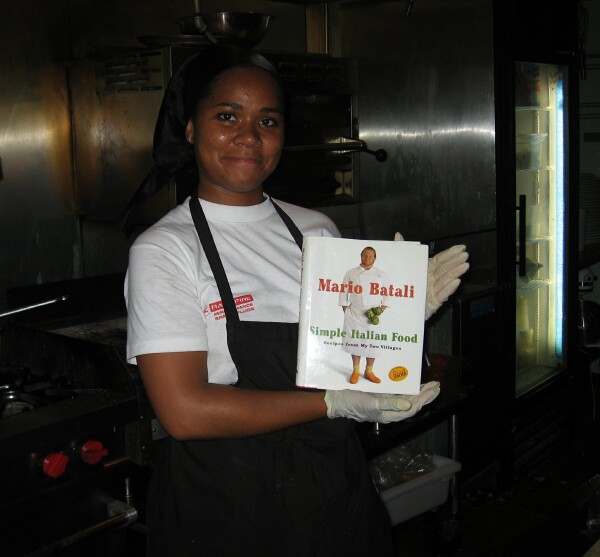 Thanks to Fujisan, FoodNut, JimInLoganSq, EatChicago and Steve Z, who are fans and wrote about Kuma's, I agree, it's a nice place with good food.
Enjoy,
Gary