Dare I post this in the Katy's thread? No.
No need to bring them down.
This thread is about Oak Park evolving? Well, Katys Oak Park has evolved. Before I start in on it, I should say that for the most part, today's food was better than our last visit. Our last visit was pretty much total slop. This time, there was indeed, a glimmer of hope along with some slop. See? That's better than total slop.
Orange Chicken, ordered by jr as expected. Getting it out of the way first. Standard slop:
Chengdu Dumplings - a step in the right direction. Not special or great, but not horrible. Filling wasn't sweet, chili sauce/oil was decent.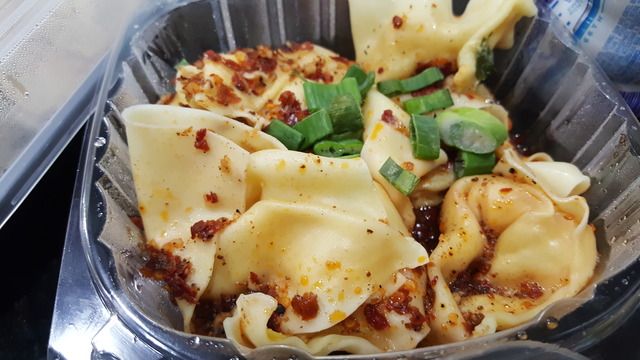 Potstickers - inoffensive, totally edible. Last time, these were bigger, fatter, and full of sweet, brown, meat mixure - completely gross. Today, they were much smaller, filling was white-ish (pork/chicken, perhaps?) not exactly bursting with flavor, but completely edible.
Beef and scallion dumplings, pan fried. Decent. My guess is they are from a frozen bag you can buy if you know which brand. These aren't Katy's of old, but still decent. Not bad.
Three Chili Fish. This was the tallest midget. Even with travel involved that sucked the crunch out, I still think these saved the meal, and offered a glimpse of hope that someone over there is trying to make decent food again. From this alone, I'll entertain the thought of returning for another trial. Breading/coating was nice, not too salty, and the fish, which was probably the dreaded tilapia, had no muddiness - completely clean, so the flavor of chili oil/ peppery stuff cam through nicely. Apologies for not rotating, but, it's fried fish chunks and rice. It was good tho.
And now, I saved the slop for last. There's probably statistically no way that if you order Dan Dan from here, you'll get this stuff that was as I bad as I got. Ladies and Germs, this, is complete Dan Dan failure:
The first thing I noticed was the gray / brown sludge surrounding these overcooked, mealy noodles. Before scooping some out, I wanted a closer pic of it. Kinda looks like refried beans:
Worse than it looked. The noodles were shot. Mushy spots and hard spots, but the sauce "stuff" - it ran sweet, which is just sad. Not sure I can stomach this as leftovers. And that brown meat topping? No. Pork particles in grown gravy that was saltier than balls. Just no. I won't dwell on it too much, but it was, in a word - crap.
Someone's at least trying. As a whole, it was still better than last visit.
We cannot be friends if you do not know the difference between Mayo and Miracle Whip.