One of the great things about LTH group outings is the ordering power. How often can you go to a restaurant and say "We'll order one of every entree on your menu?"
That's what we did yesterday at boltwood.
The first thing we had we didn't even order.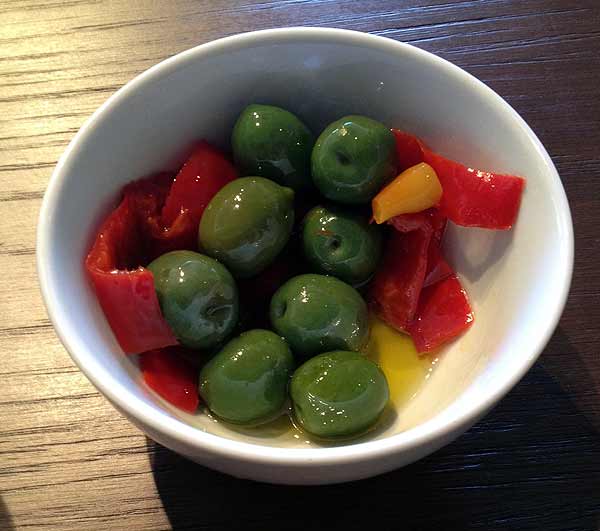 The kitchen sent out a
complementary amuse of olives, red pepper and a little onion
. I was impressed that they accompanied it with a small bowl for the olive pits. A nice way to begin the meal.
We ordered two salads.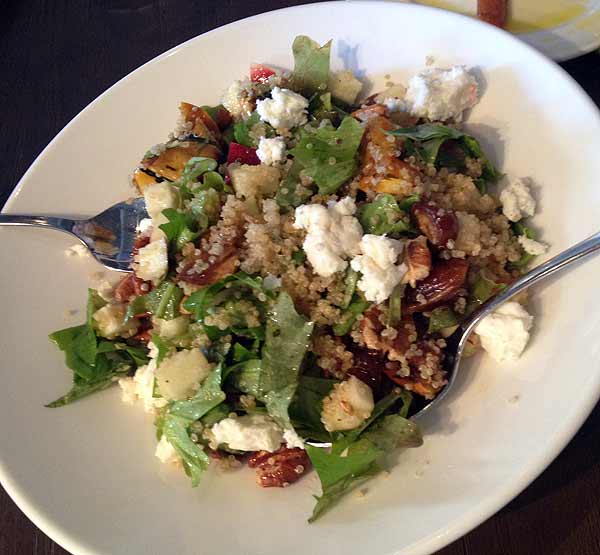 This
apple salad
included grilled squash and goat cheese. I've had similar salads elsewhere, but this one's combination of flavors and textures came together nicely.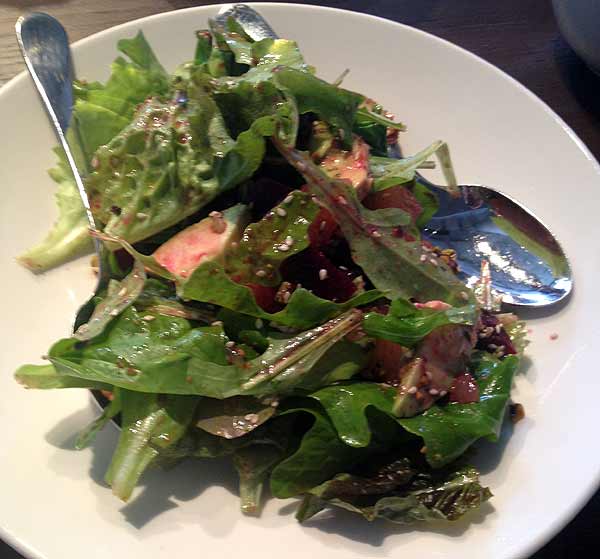 The
beet salad
, also, wasn't extraordinary, but it was well executed and tasty.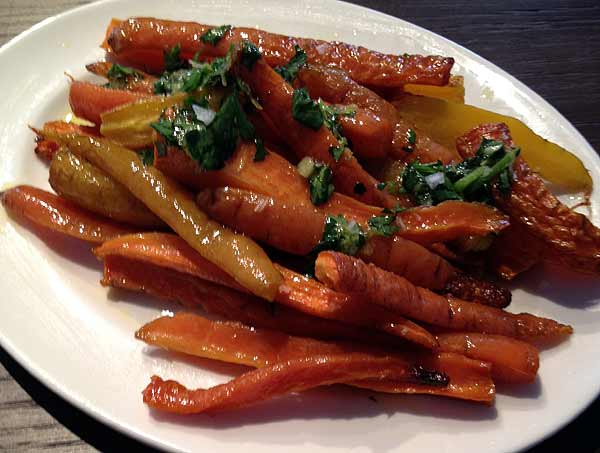 We also ordered
oven roasted carrots
, which were fine as a side dish, but having had the carrot salad at Jibek Jolu with the LTH Small Household Food Exchange on Tuesday, I preferred the thinner sliced, lightly marinated version of carrots there.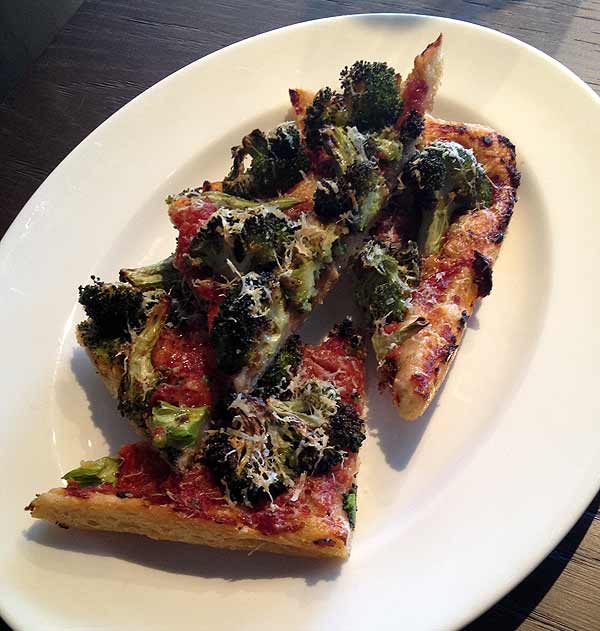 Among the entrees, the
pan pizza
with tomato, garlic, broccoli and pecorino didn't have as thick a crust as other pan pizzas I've had (e.g. Burt's, Pequod), but it was flavorful, with a nice char. I liked the light char on the broccoli - it added a slight, unexpected textural element to the dish. I don't remember getting a large hit of garlic from it, but for a place that doesn't claim to specialize in pizza, for the style it was among the better pizzas I've had lately.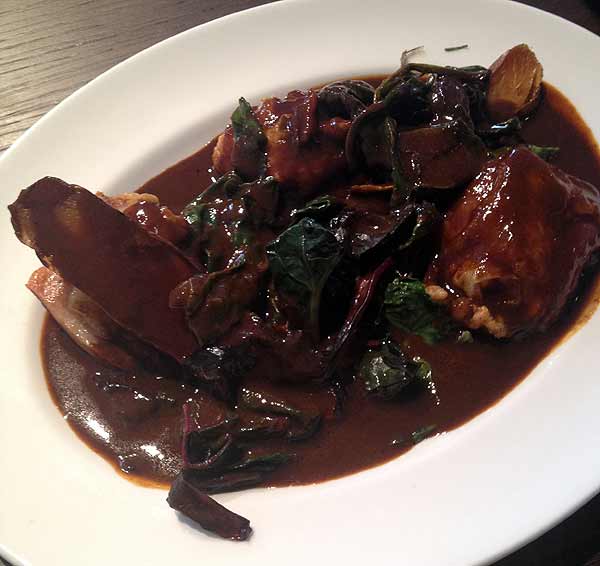 Chicken Mole with sweet potato
was arguably the richest dish we had, with an interesting density of flavors. I agree with EvA, though, that the mole could have used a bit more heat.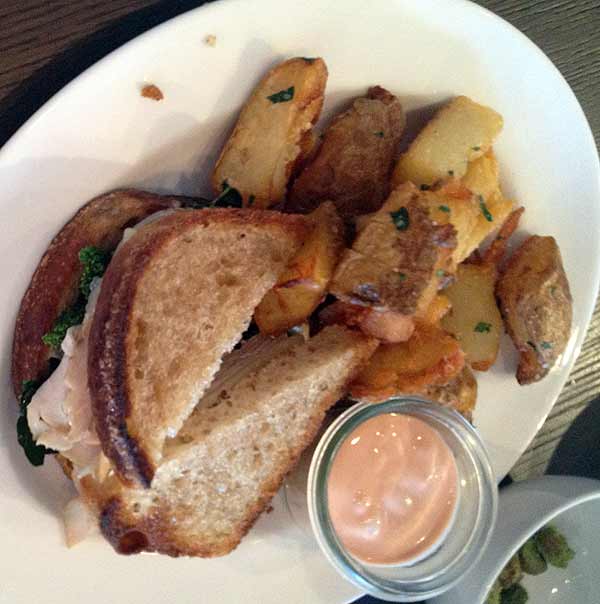 Both of the sandwiches were well executed, but, as Eva wrote, nothing special. The
turkey sandwich
with kale and swiss cheese was accompanied with what seemed like a light, tasty, mayo-based sauce (identified as "special sauce"), which I'd personally have preferred to actually be part of the sandwich, rather than served on the side (although that may have been a function of trying to share one sandwich among eight people).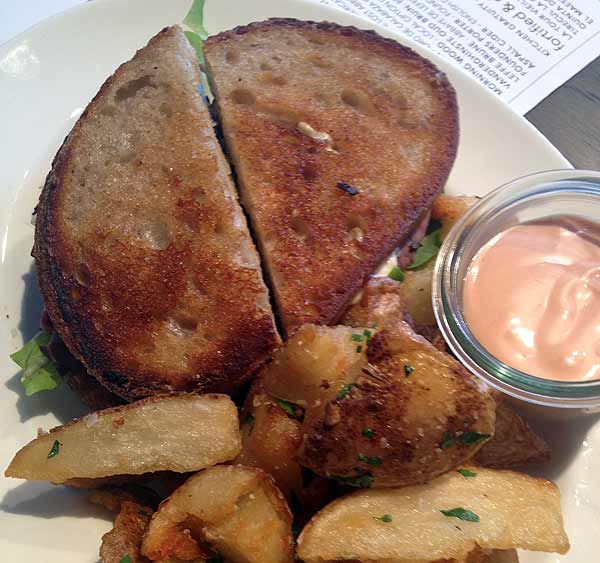 I liked the caramelized onions on the
roast beef sandwich
, but again, the same sauce on the side didn't wow me.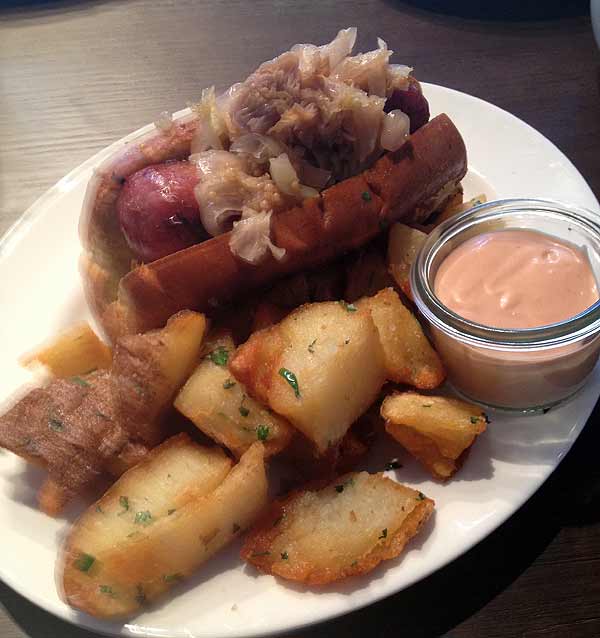 The
polish sausage
with sauerkraut and grainy mustard was, again, well executed, but didn't outshine renditions of the dish at other top-notch joints. And there's that sauce again, which I didn't think worked as well with the sausage as it did with the sandwiches.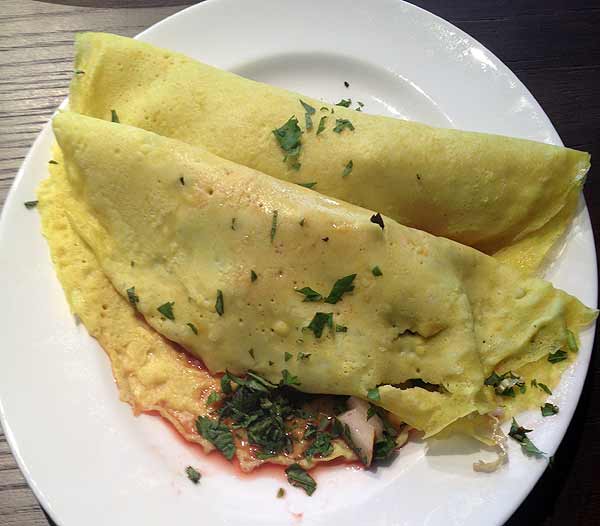 Vietnamese pancake
with pears, black radish and soy lime sauce was the most interesting of our entrees. The pancake seemed like a very eggy crepe, with varied flavors and textures that I enjoyed.
Both of the sandwiches and the polish came with
crispy potatoes + garlic schmaltz
. We also ordered another separate plate. The chunks of crisp potato were an excellent alternative to french fries, although the garlic was rather subdued.
For what it's worth, I thought service was top-notch, and I appreciated that they offered Primo, a sessionable IPA from Evanston's newest brewery, Sketchbook.
In general, I think boltwood has great potential. Many of the criticisms here could probably, and justifiably, called nitpicking, but overall it was among the best lunches I've had in a long time (however, I don't go out for lunch much).
I'm not sure they've yet hit their stride for the lunch crowd. I suppose serving sandwiches and polish sausage makes some sense for lunch, but I'd much rather see more of the less-expected offerings, like the chicken mole and Vietnamese pancake. My impression was that it's a dinner-focused restaurant that's still trying to figure out how to develop their lunch menu.
I'll be anxious to try it for dinner.