LTH,
Big & Little was off my radar until Jazzfood's suggestion, I glanced at it on Ronnie_S's
Media Digest
saw Gordon Ramsay/Hell's Kitchen and glossed over, a mistake on my part. Big & Little is a high-water mark quick food joint in an unassuming package
Big & Little's, former home of Kababish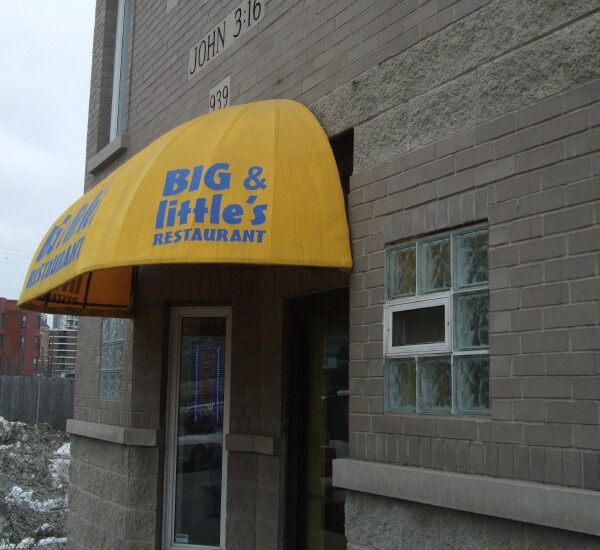 Focused, reasonably priced menu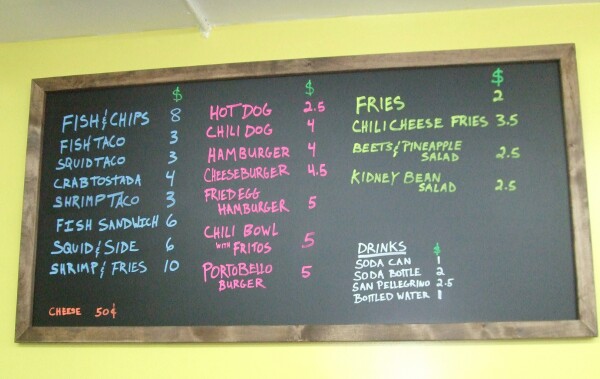 Meaty juicy beef, runny yolk egg, grilled bun, one of the better burgers. I just about polished off my half, I split fish and chips/burger with Jazzfood, before realizing I didn't take a picture of the lovely med-rare interior.
Fried Egg Hamburger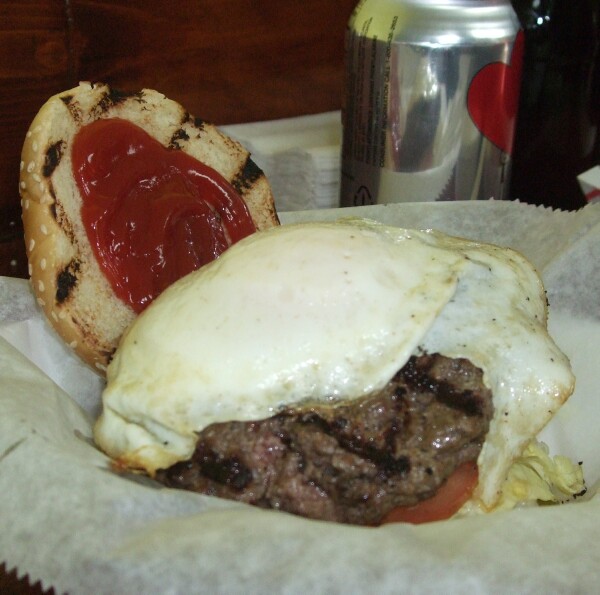 Fish & Chips, light crisp batter encasing moist cod, fresh cut fries with made in house tarter sauce. The F/C will draw me back sooner rather than later.
Fish and Chips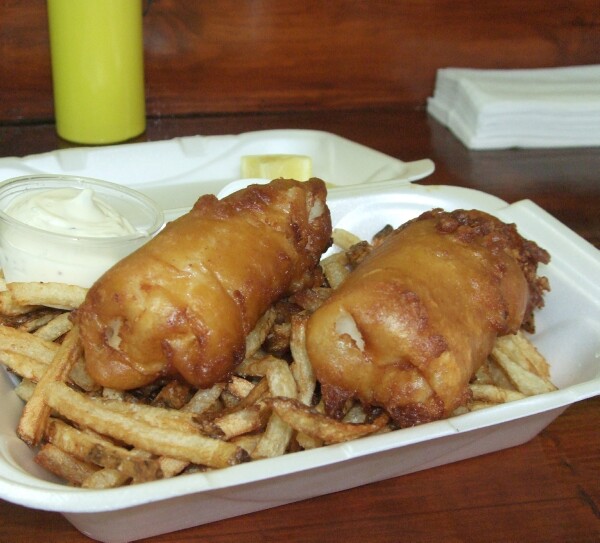 Grilled tilapia fillet hidden under a mound of purple cabbage is out of balance, though a quick slaw swipe and you have a very reasonable fish taco. Interestingly VitalInformation liked former occupant Kabbabish, a 24/7 IndoPak 'cabbie' joint, for do-it-yourself fish tacos, naan, grilled fish and veg from the gratis salad, an innovative and delicious idea.
Fish Taco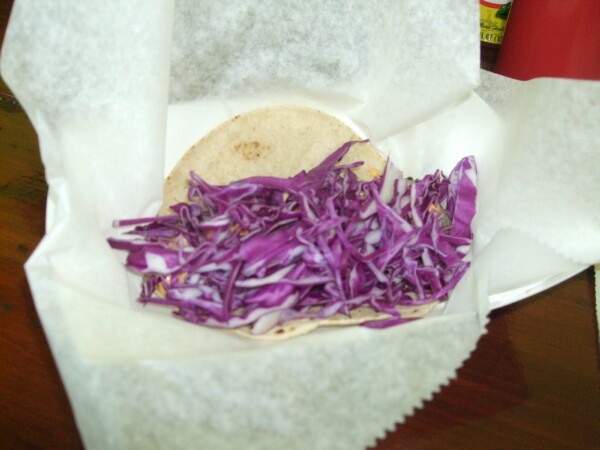 Big & Little stocks El Yucateco, one of my favorite hot sauces though today we used a little of the
freshly made chili oil
I brought for Jazzfood.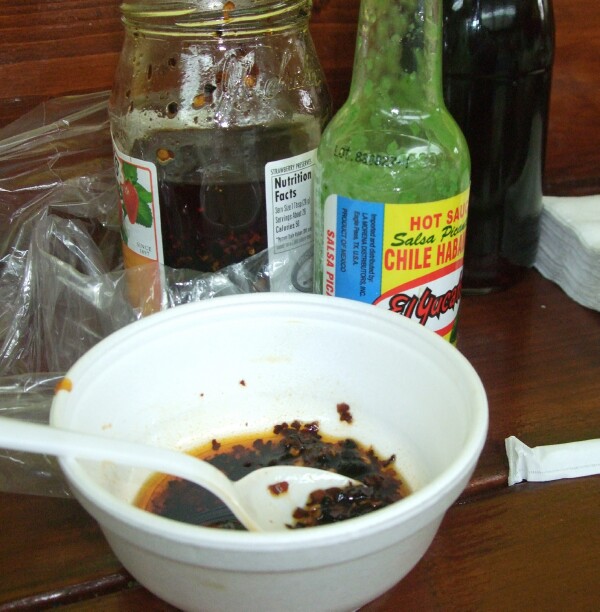 There's been mention of melting cheddar cheese chunks to order for cheese fries, this is not accurate, Jazzfood specifically asked.
Interesting sounding special, Foie Gras and Fries for $10, two pieces of foie draped over fries with sauce.
Daily Special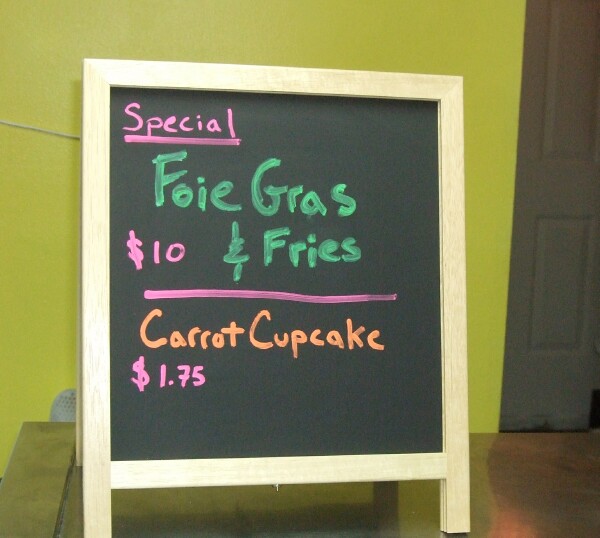 Spotless minimalist interior, some seating though when Big & Little really catches on, and it will, space and seating will be a tough ticket at peak hours.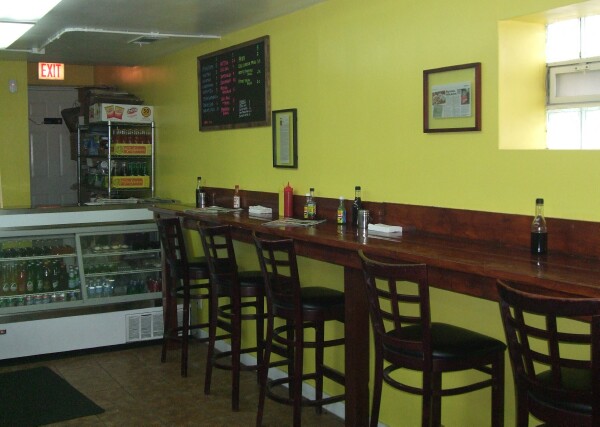 Good call on Jazzfood's part, Big & Little's, count me a fan.
Mogadishu Restaurant "Somalian Finest Food" is just South of Big & Little, we stopped to take a look-see and the delicious aromas were so enticing we almost called an audible. Two types of goat on the daily menu and a room full of people plates overflowing. I can't wait to check out Mogadishu, if the food tastes even half as good as it smells it will be fantastic.
Enjoy,
Gary
Big and Little's
939 N. Orleans St.
Chicago, IL 60610
312-943-0000
Mogadishu Restaurant "Somalian Finest Food"
931 N Orleans St.
Chicago, Il 60610