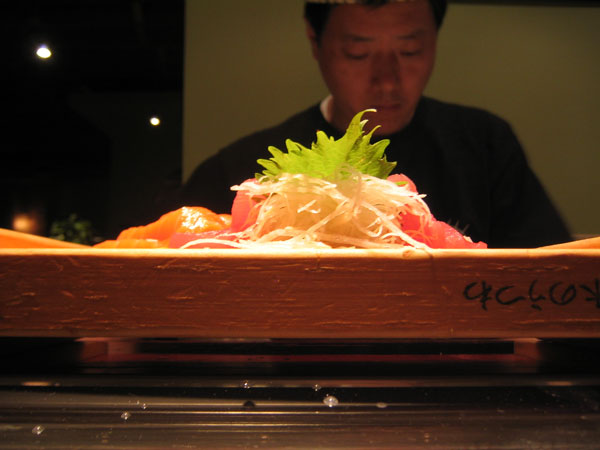 So I was in the mood for sushi last night-- actually I thought about inviting Hungry Rabbi out for Chicago pizza, but couldn't find his number-- anyway, sushi seemed like something I'd been missing in these weeks of highway driving and Rudy's Taste dinner planning, so I called GWiv up and suggested we go to Katsu. "Sure thing, I'll even buy you a $300 bottle of sake," he said.
Now I knew something had to be up. "It's
not
Tuesday," I said, referring to the day they're closed.
"No, but they're on vacation," he said, beaming with the same confidence Sky Masterson had had when getting suckers to bet on the amount of strudel and cheesecake sold at Mindy's.
So, needing an alternative to the great god Katsu, we thought of Erik's Suggest-A-Meal above and decided to live the life of Wicker Park trendies at
Bob
San
. He, the lovely Ms. Wiv and I settled in at the sushi bar (where two of us felt like we needed phone books to sit on) and immediately decided, if
Bob
San
has nothing else going for it, it gives good photo. But in fact, it has quite a lot going for it, starting with luscious-looking trays of pretty fresh fish and such: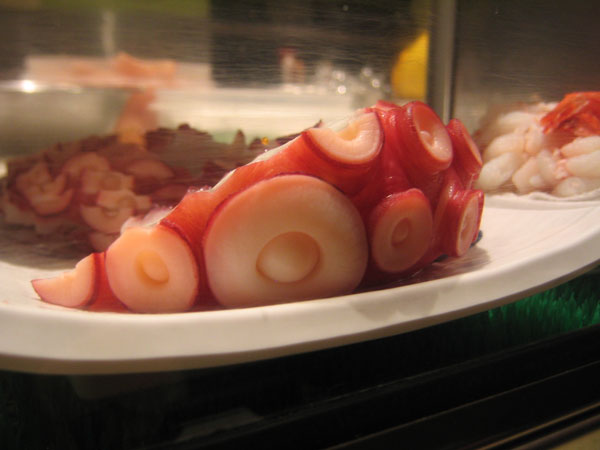 Hmm, I have a sudden urge to go see War of the Worlds.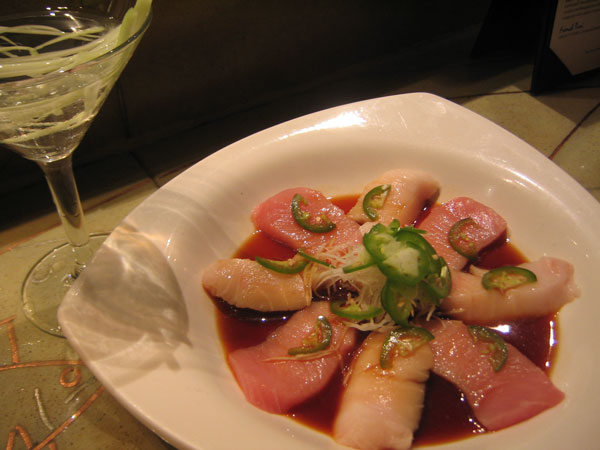 Another view of the jalapeno sushi, I think this was hamachi and escolar, and my oh-so-trendy sakatini next to it. (Frankly, it tasted like drinking the water a cucumber had been sitting in.) Hamachi was probably the best thing we had, you'll see it again, melt-in-your-mouth delicate. I agree with Erik that there was a bit too much sauce, and I didn't chomp the jalapeno directly, just let it impart some flavor to the sauce and fish. Well, at least it was kind of cool watching the guy (Johnson) slice paper thin slices of jalapeno at a rate of about 200 per minute.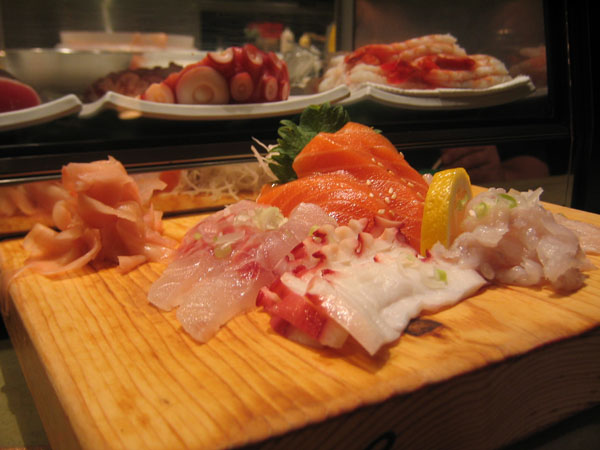 This platter included, at left, sea bass as suggested by one of the chefs, and at right, the fluke fin muscle described above, which was interesting, definitely had a more muscular or cartilaginous texture than most sashimi you try.
One of us had to try one of these. It was not me.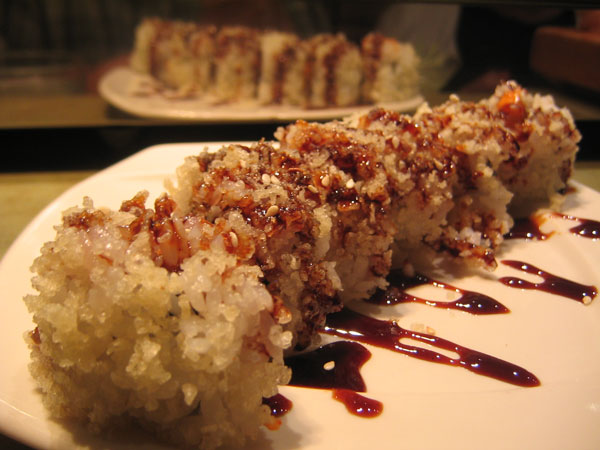 Nice picture of the roll crusted with the stuff that isn't panko (which is actually how we ordered it-- "What's the roll that's covered with the stuff that isn't panko?") With the sauce on it, this was
way
too sweet for me, but I can see the young and trendy scarfing it up like sushi candy.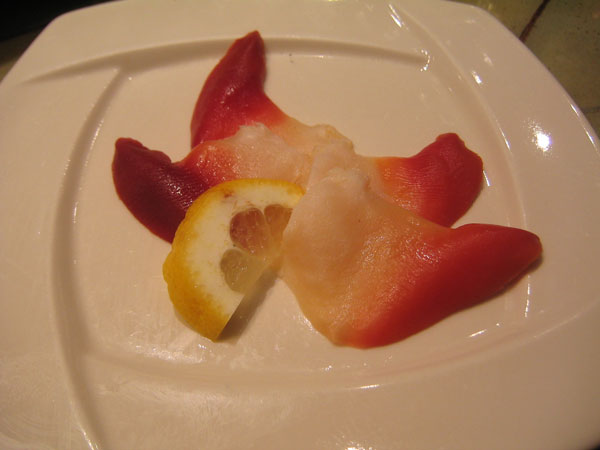 GWiv is enamored of clams, and kept trying to sell me on the giant clam ("Didn't it taste like the ocean?" "Isn't it amazing that you're in Chicago and something tastes like the ocean?" "LOVE THE GODDAM CLAM YOU BASTARD!") This is the not so giant clam. Clams, well, they make really good pictures, I can at least say that for them.
So, overall impression of
Bob
San
? As Gary said, given the trendy crowd mostly ordering pretty traditional stuff, it's way better than it has to be. Only the hamachi quite gave me a swooning, delirious raw fish moment like Katsu regularly does, and considering that it's more expensive than Katsu, it's unlikely to become my standard drop-in spot (at least not before I get a completely new wardrobe and tax bracket), but I also admit to having not the most adventuresome taste for raw fish and fish parts out there, and anyway, nobody said this was a zero-sum competition;
Bob
San
is an estimable place with different things on its menu and unmistakably high standards, no question there are many delights to be found in exploring its menu. And in looking around the room at all the people dressed like rock stars, brokers, and rock star brokers.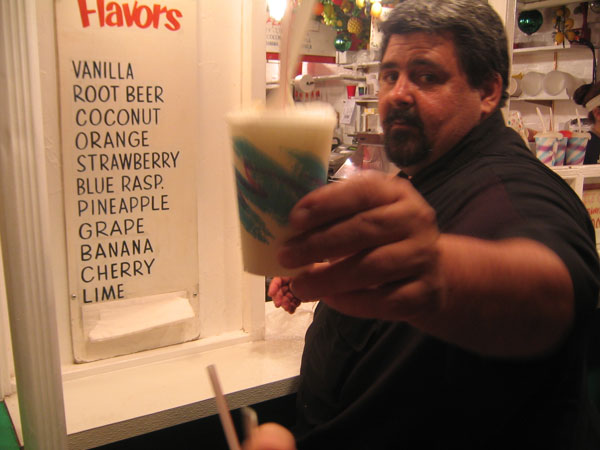 Whoops, how'd that get in here? Uh, afterwards, since it was only 26 blocks away, we swung by Mario's. I think I have never actually had Mario's, although I've been to this Al's and if Mario's was open at the same time hard to imagine I'd have skipped it. I must admit, although the texture is terrific, smooth and creamy, I found the lemon too sugary and not lemony enough, compared to others I've had around town; the watermelon was better (though it had an odd bubble gum note that seemed a tad unnatural). I'll have to give it another shot when peach is in season.