LTHForum,
Had the pleasure dining at Double Li Friday night and, as in subsequent visits, thoroughly enjoyed the meal. My wife and I were the first of our small group to arrive, we had been at the
Matchbox
, and ordered a few appetizers to get the ball rolling, pot stickers, Szechwan tendon and scallion pancakes. Scallion pancake used like naan/tortilla/injera makes a tasty scoop for spicy tendon with a quick stop in Double Li's table side chili oil, pot stickers were a delicious rendition, crisp, moist, with a peppery meat filling that put me in mind of a Jewish style
kreplach
.
Pot Stickers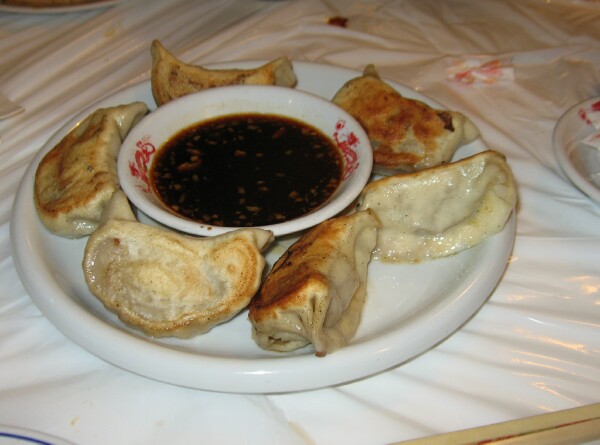 Pocket tofu, the ethereally light quenelles, were tasty, but not quite as cloud light as in the past, though they remain my brides favorite Double Li dish.
Kodai Tofu (Pocket Tofu) (R)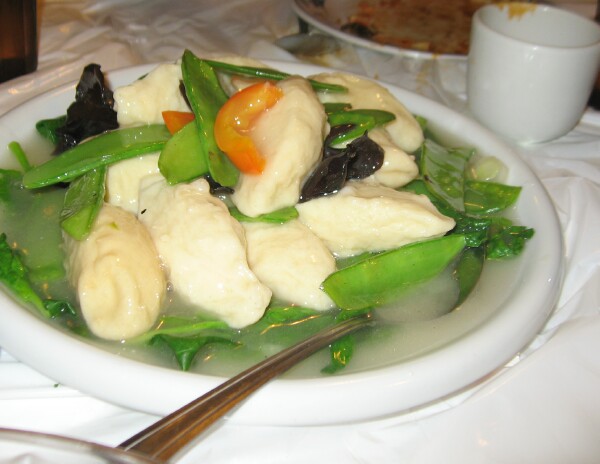 Black Pepper Beef with Garlic has become a signature at Double Li, a
craveable
wake up in the morning thinking I 'gotta have that' dish.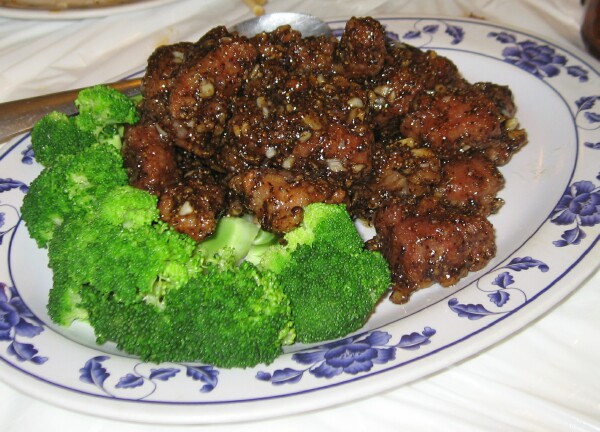 Trixie-Pea had noted
Lao Sze Chuan
had a very similar menu item and, in a burst of compare and contrast genius, picked up an order on the way to Double Li. While I am a long time fan of LSC, their version of Black Pepper Beef did not hold a candle to Double Li's. In fairness to LSC, I should point out that, as has been discussed upthread, DL's Black Pepper Beef with garlic is not a Szechuan dish, but a fusion of Chef Li's experience in both Szechuan and Western kitchens.
Lao Sze Chuan Black Pepper Beef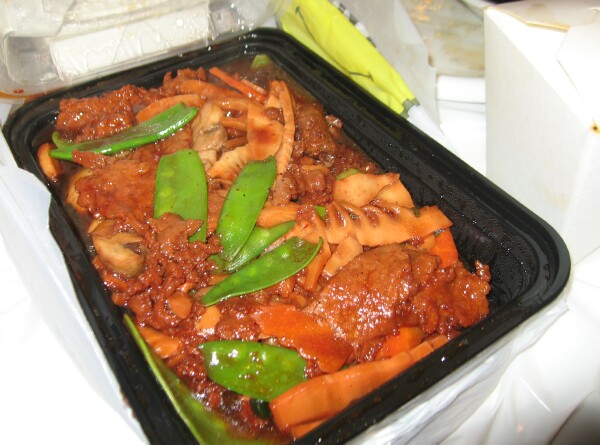 From the soon to be translated Chinese menu we had Shrimp with preserved egg yolk, the salty preserved egg yolk adding a rich full note to the light batter.
Shrimp with preserved egg yolk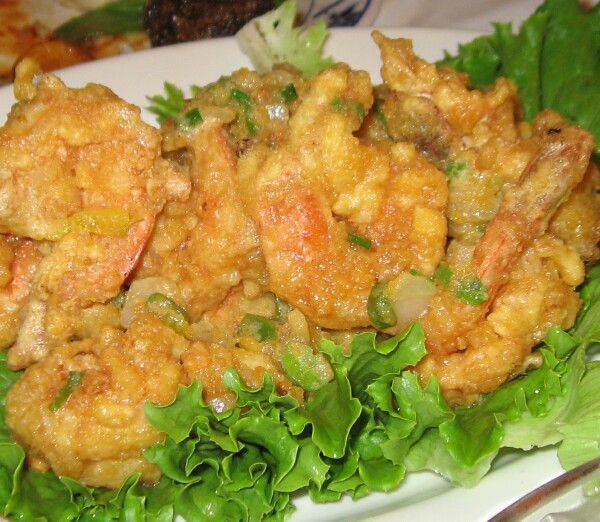 Mr. Li likes to surprise with a dish he feels may be out of ones comfort zone. Not only that, he won't tell you what it is until you have either eaten most of it or guessed correctly. Last time it was duck tongue, pictured upthread, this time Eel with garlic, both of which were guessed without Mr. Li informing the table.
Eel with Garlic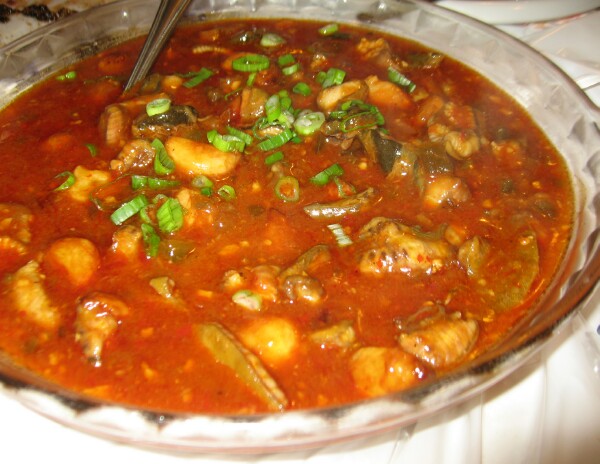 Mike Sula (m'th'su), who has been in Double Li's kitchen in preparation for an upcoming
Chicago Reader
article he is doing, spotted bacon curing in-house. When Mike inquired if that was available Mr. Li put together a dish of House cured bacon, which is finished with hoisin, leek, wood ear mushroom and pea pods. The bacon is terrific, complex, fatty, meaty, salty sweet, a quick drunk in the table chili oil and it was the best bite of the night.
House cured bacon finished with hoisin. Sliced thin and stir fried with pea pods, wood ear mushrooms and leeks.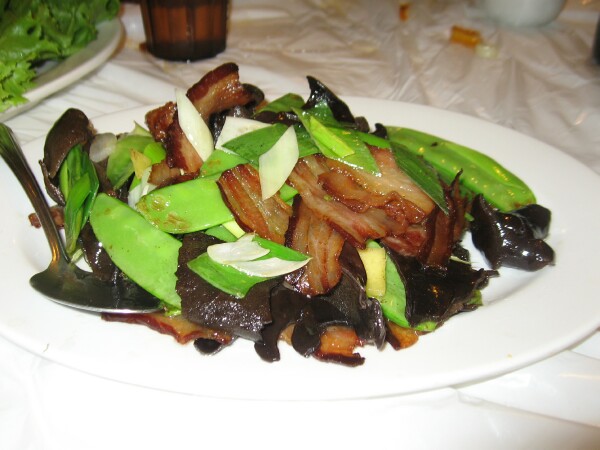 Mr. Li with house cured bacon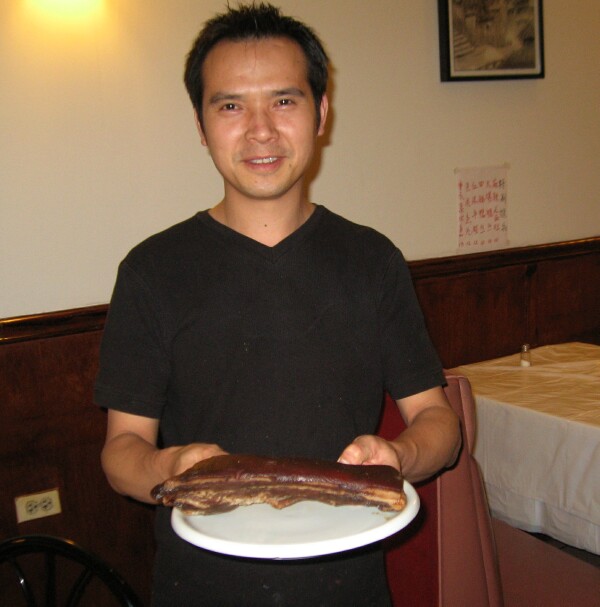 The
other
Mr. Li of Double Li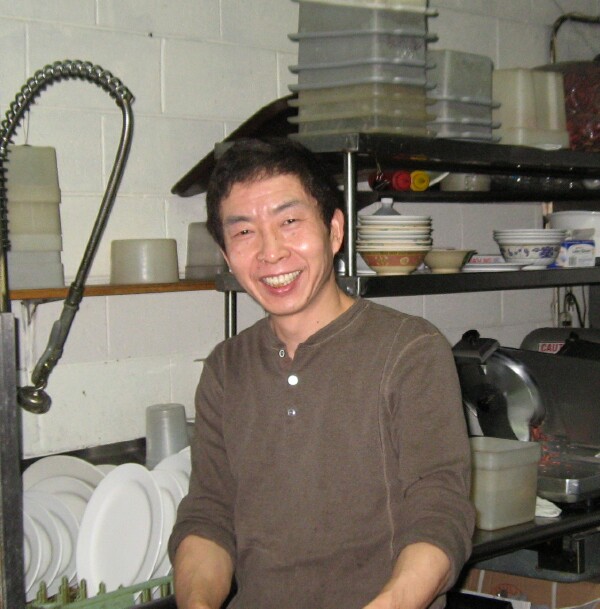 Ronnie_S, thanks again for the heads up on Double Li
Enjoy,
Gary
Double Li
228 W. Cermak
Chicago, IL
312 842-7818
Lao Sze Chuan
2172 S Archer Ave
Chicago, IL 60616
312-326-5040
Last edited by
G Wiv
on November 4th, 2007, 2:42 pm, edited 1 time in total.