Saturday, September 6th, some
http://www.Tulum.info
travel forum members met for drinks and dinner at Rick Bayless' Frontera Grill, in Chicago.
It was a beautiful night in Chicago for a party! Seven members from the Chicago area attended, including a couple who took an 8 hour train ride from Minnesota to join us, and spend a few nights in the Windy City.
After we all arrived and took our table, and ordered a round of drinks.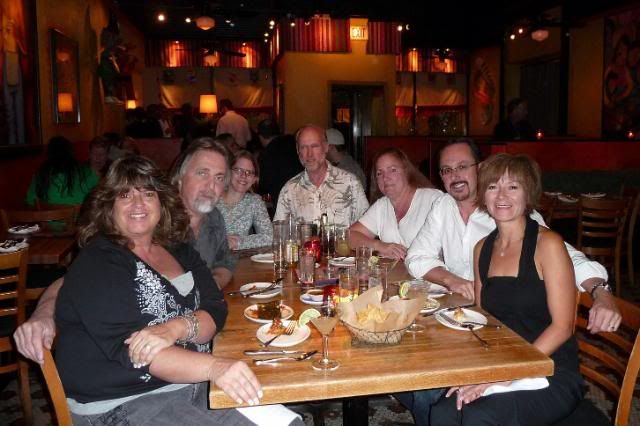 Our favorite is the
Topolo Margarita
, made with tequila, Gran Torres, and house limeade. Very smooth! Actually, dangerously smooth!
The walls are decorated with fine Mexican artwork: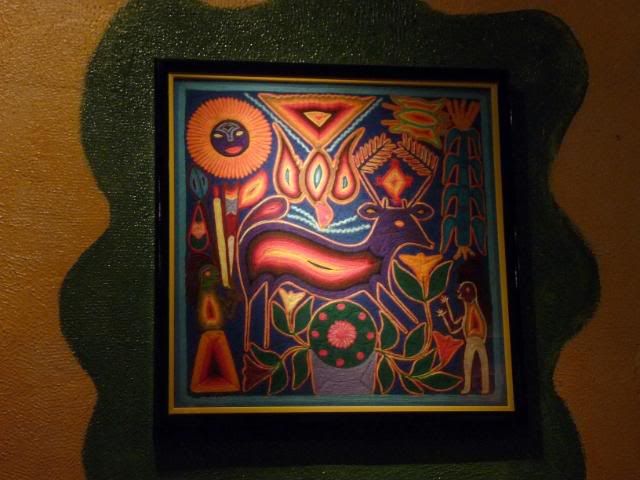 After we had been enjoying drinks and conversation for a while, we saw
Rick Bayless
making rounds through the restaurant. My wife asked his assistant if he could make a stop at our table, which he obliged. We explained a little about our group, and I think he was impressed to learn that two came all the way from Minnesota to be there this evening: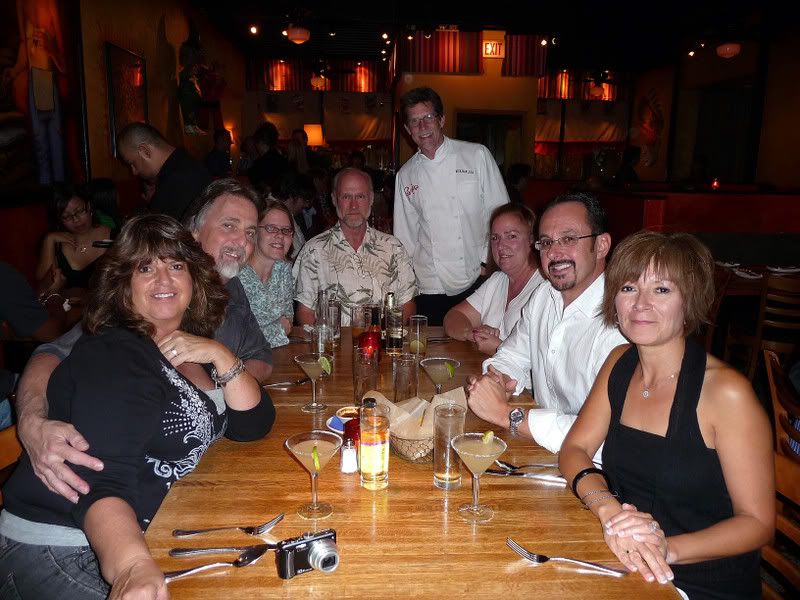 Well, that was an honor to finally meet "the man"! But it's was time to eat! As an appetizer, my wife and I ordered the
Enchiladas de Pescado
: homemade tortillas rolled around poached Alaskan black cod, potatoes, grilled onions and epazote. Tomato-habanero sauce, smoked homemade queso fresco, shoestring jicama-cucumber salad:
We had another round of Topolo Margs, prepared tableside by Edgar: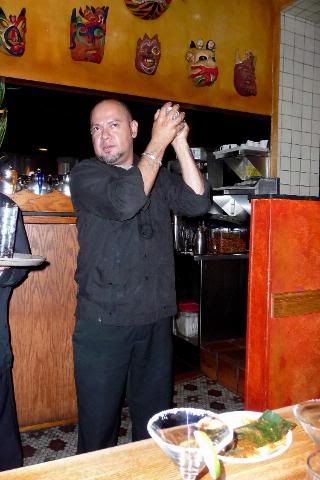 For our entrees, my wife ordered the Pato en
Mole de Xico
: wood-grilled, red chile-rubbed Gunthorp duck breast with Xico's famous fruity dark chile mole. Black beans and fresh fig salsa.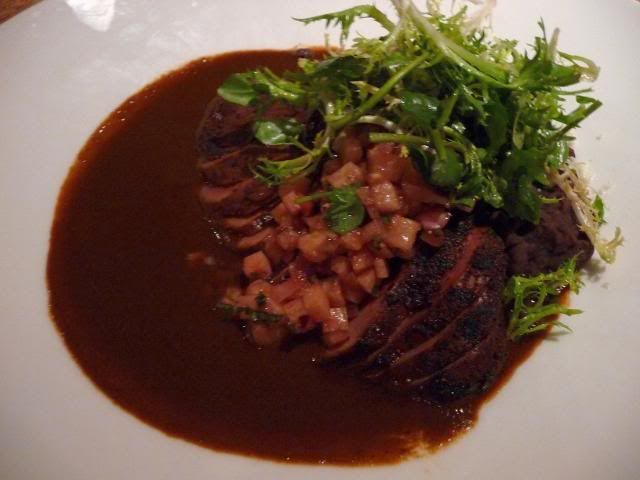 My wife was in mole heaven once again! It reminded me of our recent trip to the markets of Tulum, MX, at Pool, and the San Franciso mercados, bringing back four different moles. And still, none matched the unique taste of this style mole at Frontera Grill! I sampled the mole, and wished I had a side of it to add to the tacos I was assembling from my steak. It was really smooth, more fruity and less peppery.
I ( as well as all the guys present!) ordered the
Carne Asada "Brava":
serrano-marinated grass fed rib steak (from Bill Kurtis' Tall Grass) with salsa de molcajete (hand-crushed roasted tomatoes, serranos and garlic), spicy seared chiles toreados and sweet corn tamales (topped with homemade sour cream and fresh cheese: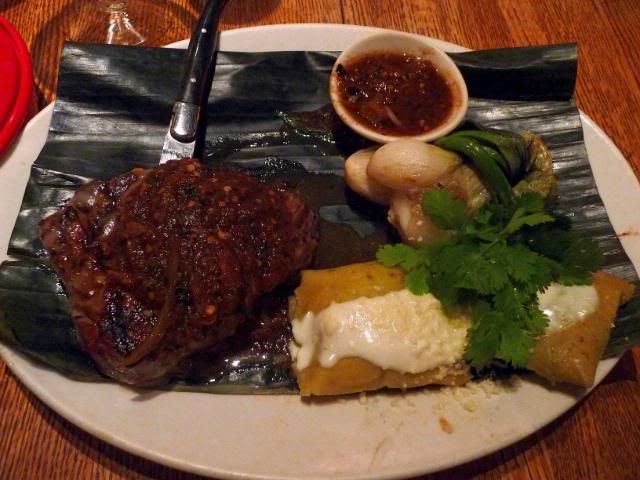 The steak was cooked as ordered, and was really flavorful! The waiter said this was the spiciest dish on the menu, and it was indeed! The tamale was not filled, but was a sweetened masa, topped with a crema (sweet crema, not really sour.)
During our dinner, there was suddenly a lot of comotion and cheering near an exit up front. It was
Barack Obama
exiting after his dinner! Our waiter said he is a regular there. I caught a glimpse of him as he turned back around to wave, and saw his limo Escalade take him away quickly. Sorry, no pics...he was too quick!
For dessert, we ordered a chocolate, crumb-crusted cake, served warm, with raspberries and mint icecream: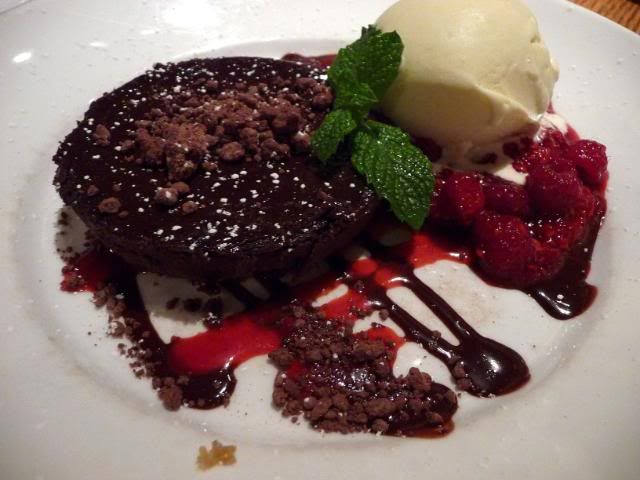 It was so good! The mint flavor was very mild and added the right compliment to the dish. Also, I had a cup of my favorite coffee, after seeing Rick prepare and explain it on the beach in the Yucatan, as the subject of one of his shows, the Cafe de Olla. It is coffee, simmmered with orange rind, piloncillo (a type of Mexican solidified dark cane sugar), canela stick (cinnamon):
Well, it certainly was a great night, seeing fellow travel forum posters, some for the first time, and also Bayless and Barack! We had a great night of conversation great food, and drink. When shall we meet again?