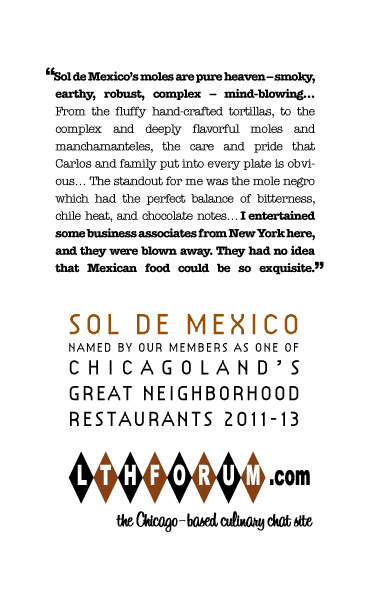 I cannot believe that we are half way through the GNR nomination season, and nobody has submitted Sol de Mexico for consideration. I guess I will have to step up and do it.
From the very first time that annieb posted about an interesting new storefront Mexican restaurant she had discovered in the Belmont-Cragin neighborhood, it became apparent to LTH forum members that Sol de Mexico was something special. Dozens (if not hundreds) of subsequent visits by forum members, many of which are documented in
this thread
, and including an LTHForum group dinner, confirmed that the initial assessment of Sol de Mexico was indeed accurate. From the fluffy handcrafted tortillas, to the quality fresh ingredients, to the complex and deeply flavorful moles and manchamanteles, to the simple but attractive presentations, the care and pride that Carlos and family put into every plate is obvious.
During its brief 14 months of existence, Sol de Mexico has matured into one of Chicago's true culinary treasures. The inevitable start-up problems and service issues have long been forgotten, and it has grown into a smoothly run and efficient establishment, serving some of the better (if not the best) higher-end regional Mexican cuisine in the city. More remarkably, Carlos has managed to keep the prices in a very accessible range. While admittedly significantly more expensive than the average taqueria, Sol de Mexico's prices are much more affordable than its more famous, and some say less authentic, downtown equivalents in the Frontera empire. This has not only made Sol de Mexico a destination restaurant, but also a special occasion restaurant for neighborhood family celebrations. Carlos has opened the domain of fine regional Mexican cookery to a much wider and more diverse audience. I just wish more people would take advantage of this amazing gastronomic resource. I, myself, don't get there often enough.
I don't mean to sell the kid from Oklahoma short. If it were not for Rick Bayless, and his dedication to teaching the American public that Mexican Cuisine goes far beyond tacos and burritos, Sol de Mexico would likely not exist. In fact, it was Mr. Bayless who first recognized and encouraged Señora Clementina's remarkable sauce making techniques through her son, Geno Bahena. Those are the same techniques and recipes that are proudly and expertly employed at Sol de Mexico. When La Doña's distinctive sauces are combined with Chef Carlos' expert culinary skills, the end-product is simply amazing. I can honestly say that every meal I have enjoyed there has been outstanding.
I consider restaurants like Sol de Mexico and last year's GNR winner Fonda del Mar to be Chicago's second generation of fine regional Mexican restaurants. It is a fledgling market that really needs to be nurtured and supported if it is to thrive outside of FronTopo's celebrity aura. I recently entertained some business associates from New York at Sol de Mexico, and they were blown away. They had no idea that Mexican food could be so exquisite, and still talk about the meal.
Hopefully, one day in the near future, Chicago will be known as the place to go (outside of Mexico City) for creative and well-crafted regional Mexican cuisine, just as New York has elevated Italian cooking in America to a higher level of sophistication. In order for that vision to come to realization, it is vitally important that we continue to recognize and encourage restaurants like Sol de Mexico, so that other Mexican Chefs see that there is indeed an audience for food that goes beyond the boundaries of what Americans typically consider to be Mexican food. Therefore, I am not only honored to nominate Sol de Mexico as a Great Neighborhood Restaurant, but I also feel privileged to be part of a group that honors, promotes and fosters such exceptional establishments.
http://lthforum.com/bb/viewtopic.php?t=9213
--dave
Restaurant Sol de Mexico
3018 N Cicero Ave
Chicago, IL 60641
(773) 282-4119
edited to add address