LTH,
Went with out of town friends to the Phoenix for dim sum Sunday and it was really hitting on all 8-cylinders. Steamed items light with bright individual flavors shinning through. Fried items crisp and greaseless, with the taro dumplings w/shrimp especially good. Fresh steamed chow fun w/fresh shrimp as good as I've had, shrimp so fresh it was practically swimming. BBQ items, which I've learned to order as soon as we sit down, were dead-on as well, BBQ ribs meaty and juicy, roast duck, succulent. We also had a really nice version of crispy skin chicken, served with airy shrimp chips and salt/Szechuan pepper dredging dip and, speaking of chicken, yesterdays chicken feet walked over previous versions.*
Phoenix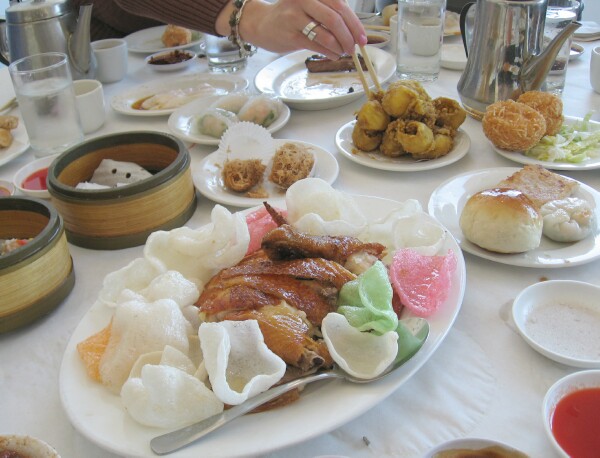 In the past I've thought the best day to go to the Phoenix was Saturday, they are ramping up, item wise, for the weekend, but you don't have to suffer the long Sunday waits. Though after yesterday, I'd say 10:30 - 11am on a Sunday is the best time to go, they are just starting to get busy, fully ramped up for the crowds, every thing is hot and perfectly fresh, they're loaded with staff, a noticeably higher ratio than usual, and, at 10:45am, the wait, is if at all, short, yesterday was 10-minutes.
Yes, Shui Wah for dim sum is very good, but with out of town visitors, especially if there is one or two in the group not familiar with the joys of dim sum, the Phoenix is the clear choice. Sitting at a sunny window table watching crowds of chopstick wielding people happily munching away as rolling steam cars work the room is a lovely, and delicious, way to spend a Chicago morning.
Enjoy,
Gary
Phoenix
2131 S. Archer Ave
Chicago
312-328-0848.
*
Ok, the chicken feet weren't that much better than usual, I just wanted to say "chicken feet walked over"