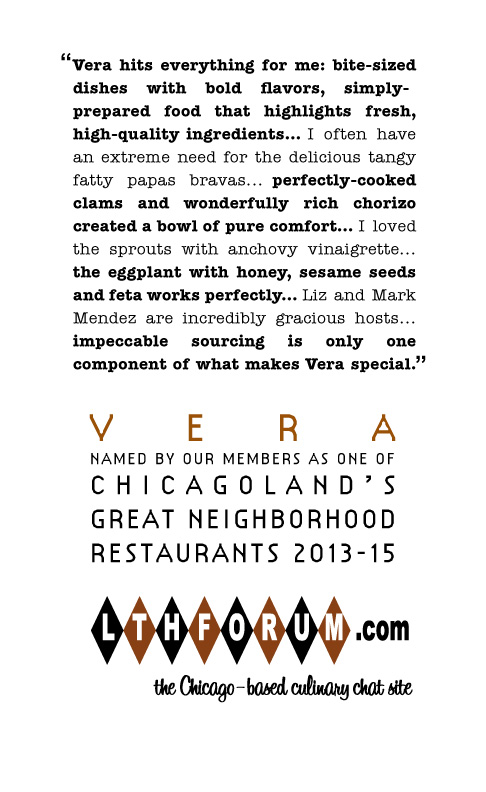 My first visit to Vera was last summer when I stopped in after work with a friend for a quick drink. We couldn't resist turning the visit into a light dinner with grilled onions (with an extra bit of their excellent romanesco sauce), chicken liver pate, and clams and chorizo. I was hooked. Vera hits everything for me: bite-sized dishes with bold flavors meant to me be eaten along side a glass of wine or sherry. Simply-prepared food that highlights fresh, high-quality ingredients. A place that I can stop in after work for a drink or have a longer meal, exploring the menu. Despite being so close to the Randolph Street corridor, to me Vera has the feel and style of a neighborhood restaurant. A great neighborhood restaurant, in fact.
Last August I posted "My wife and I had excellent meal at Vera on Saturday night. The simple, flavorful small plates are exactly the kind of cooking we love. This is fast becoming one of my favorite restaurants in the city. Some of the standouts from my last two meals were the octopus pinxto, the pisto manchego (see above), the lamb and beef albondigas (also see above), a tuna conserva (think homemade canned tuna that's actually really good), tomato bread, anchovies, and of course cheese, sherry, and great wines by the glass." While Vera is known for the small plates, they don't phone it in on the larger plates. On my last visit our group shared an excellent lamb cocido and perhaps the best paella I've had in years.
The main thread on Vera is
here
and it contains some stunning photographs.
Here is a sampling of some of the good things that others are saying about their meals at Vera:
ronnie_suburban:
"I'm thrilled for Chef Mendez and Liz to have their own place and as a diner, I'm really excited about Vera, where I plan to return on a regular basis."
bfolds:
"We echo others' enthusiasm and encourage folks to give Vera a try."
JLenart:
"I had a great meal at Vera Friday night. I'll blow the lead here and tell you, that after one visit during it's first week in business, Vera has made it's way into my regular rotation"
Han:
"Shrimp. Good. Especially sucking the head."
chezbrad:
"There is not much to add to the chorus above, so let me reiterate: the mushroom and squash dishes are must-orders, as is a platter of Iberico (nutty, unctuous, gorgeous) and cheese to finish (Hooligan and Mont St. Francis are musts)..."
incite:
"Had another amazing meal at Vera last week. The last time I was there they had just begun to hit their stride. Now? I would nominate them for a GNR if it wasn't too early..."
jesteinf:
"Vera has quickly become one of my favorite restaurants in the city. I love the food, the atmosphere, the staff, everything."
mgmcewen:
"I work next door and it's often crowded enough that I can't get a seat at the bar, which is sad because I often have an extreme need for the delicious tangy fatty papas bravas and the divine deviled eggs topped with whatever the special for the night is like silky uni or a gollop of savory lobster."
BR:
"I was lucky enough to visit Vera last night - my very first visit - with a couple of LTHers and I was just blown away by both the food and the service (okay, wine/sherry too)."
boudreaulicious:
"...there are so many solidly good restaurants in the "Vera" space--not too expensive, interesting menu, good beverage choices--places like Sirena Clandestina, Avec and Carriage House come to mind--but I often find that while I enjoy the places when I'm there, I usually don't rush back because there's always a new place to go. Vera really breaks through the crowd for me and I bet I'll be back there sooner than later."
ChitownJackson:
"Overall just a great experience. ...Vera's food is excellent."
One of my favorite dishes is the Pisto Manchego with a fried egg, of which
wino66
wrote "a flavorful veggie meld, similar to ratatouille, over toast and topped with a runny-yolked egg. TRY THIS ONE!"
Of the clam and chorizo dish that I had on my first visit,
BR
wrote "Perhaps my favorite dish of the night, however, was the clams, chorizo and squid ink fideos. Perfectly cooked clams, a delicious house-made Spanish chorizo (one of the best I've tasted) and perfectly cooked noodles. This was seemingly such a simple dish, but the combination of the clams and their juices and the wonderfully rich chorizo with just the right amount of smokiness from paprika created a bowl of pure comfort - easily one of the best things I've eaten this year. And the colors were just beautiful."
Vera Chicago
1023 W. Lake St.
Chicago, IL 60607
312.243.9770
Email:
info@verachicago.com
http://www.verachicago.com
Reservations accepted.
Hours
Tuesday – Thursday: 5:00pm – 10:00pm*
Friday – Saturday: 5:00pm – 11:00pm*
Sunday: 5:00pm – 10:00pm*
Mon: Closed
* Bar open one hour later